Australia's drug regulator considers referring vaccine hesitant Facebook posts to police
The regulator cited potential two-year jail terms in some instances
Australia's drug regulator, the Therapeutic Goods Administration (TGA), is considering referring Facebook posts containing claims about COVID vaccine deaths to the police after a post showing Labor backbencher Julian Hill getting his vaccine was met with mass pushback from vaccine skeptics.
The post was ratioed with almost twice the number of comments to engagements – a common sign that a post is unpopular.
Many of the comments noted that the vaccine is "experimental," described Hill's post as "propaganda," and voiced their objections to the vaccine.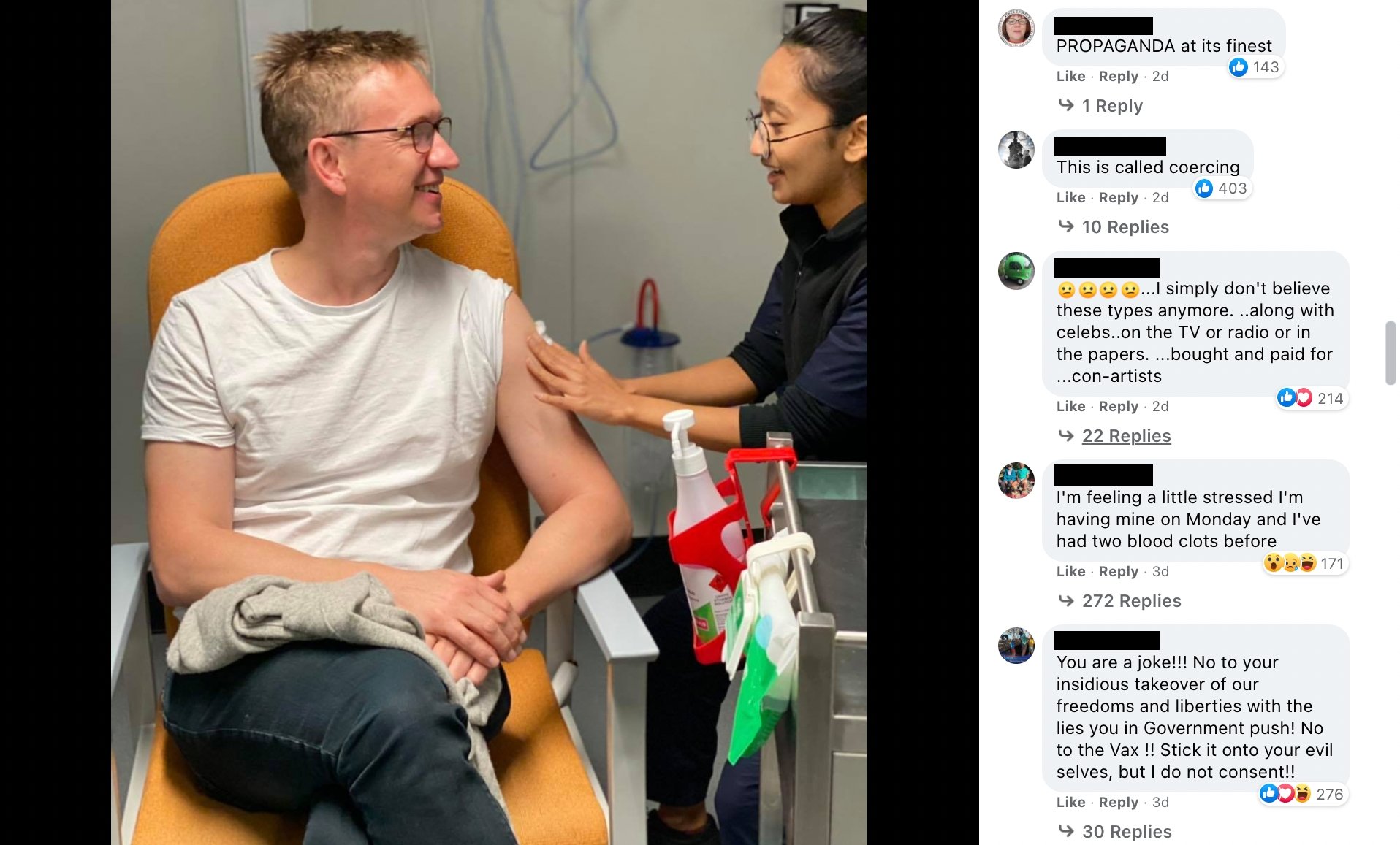 But The Guardian Australia focused on alleged posts from some Facebook users that purportedly contained an image that cited the TGA and claimed that COVID-19 vaccines have caused more than 200 deaths.
The figure is a reference to the TGA's disclosure in its May 27 COVID-19 vaccine weekly safety report that it has received "210 reports of deaths following immunisation." However, the TGA insists that only one of these deaths was caused by the vaccines.
After The Guardian Australia contacted the TGA, it said the alleged posting of claims that the vaccine had caused more than 200 deaths were "particularly concerning" and that it would consider referring these posts to the federal police.
Additionally, the TGA noted that it's a criminal offense, punishable by two years in prison, to represent oneself as a commonwealth body or claim to act on behalf of one.
The Guardian Australia also contacted Facebook which swiftly removed the posts for violating its far-reaching "COVID-19 misinformation" rules.
Despite the threat of police referrals from the TGA and Facebook removing the posts, Hill demanded that Australia's health minister, Greg Hunt, take further action to "combat vaccine hesitancy, and the bat shit crazy conspiracy theories circulating online."
He also warned "Australians will continue to be exposed to restrictions and lockdowns… until enough of the population is vaccinated."
These developments come months after Australian lawmaker Craig Kelly had one of his Facebook posts about masks removed after complaints from the opposition party. Days after this post removal, his account was temporarily suspended and he was then permanently banned a couple of months later.
Facebook also expanded its crackdown on vaccine skeptic content last month by starting to "fact-check" and suppress individual users that repeatedly share misinformation. This followed whistleblowers exposing the tech giant's secret algorithm that suppresses negative vaccine experiences.
1 Comment »
It seems that there is almost "Panic" amongst the Ruling elites in Australia(and the USA and elsewhere as well) that people are waking up to their lies and 'bovine exreta'. There is ample evidence available which indicates that we are being lied to about this Covid "Pandemic"………and the fact that real experts in the field are being threatened for questioning the MSM's scary stories about Covid, is an indication that "something is not right in this matter.
It's my body and I will decide who sticks a needle in it, thank you.

LikeLike

Comment by brianharryaustralia | June 1, 2021 |
Visits Since December 2009

Looking for something?

Archives

Calendar

Categories

Tags

Recent Comments
More Links

Contact:

atheonews (at) gmail.com

Disclaimer

This site is provided as a research and reference tool. Although we make every reasonable effort to ensure that the information and data provided at this site are useful, accurate, and current, we cannot guarantee that the information and data provided here will be error-free. By using this site, you assume all responsibility for and risk arising from your use of and reliance upon the contents of this site.

This site and the information available through it do not, and are not intended to constitute legal advice. Should you require legal advice, you should consult your own attorney.

Nothing within this site or linked to by this site constitutes investment advice or medical advice.

Materials accessible from or added to this site by third parties, such as comments posted, are strictly the responsibility of the third party who added such materials or made them accessible and we neither endorse nor undertake to control, monitor, edit or assume responsibility for any such third-party material.

The posting of stories, commentaries, reports, documents and links (embedded or otherwise) on this site does not in any way, shape or form, implied or otherwise, necessarily express or suggest endorsement or support of any of such posted material or parts therein.

The word "alleged" is deemed to occur before the word "fraud." Since the rule of law still applies. To peasants, at least.

Fair Use

This site contains copyrighted material the use of which has not always been specifically authorized by the copyright owner. We are making such material available in our efforts to advance understanding of environmental, political, human rights, economic, democracy, scientific, and social justice issues, etc. We believe this constitutes a 'fair use' of any such copyrighted material as provided for in section 107 of the US Copyright Law. In accordance with Title 17 U.S.C. Section 107, the material on this site is distributed without profit to those who have expressed a prior interest in receiving the included information for research and educational purposes. For more info go to: http://www.law.cornell.edu/uscode/17/107.shtml. If you wish to use copyrighted material from this site for purposes of your own that go beyond 'fair use', you must obtain permission from the copyright owner.

DMCA Contact

This is information for anyone that wishes to challenge our "fair use" of copyrighted material.

If you are a legal copyright holder or a designated agent for such and you believe that content residing on or accessible through our website infringes a copyright and falls outside the boundaries of "Fair Use", please send a notice of infringement by contacting atheonews@gmail.com.

We will respond and take necessary action immediately.

If notice is given of an alleged copyright violation we will act expeditiously to remove or disable access to the material(s) in question.

All 3rd party material posted on this website is copyright the respective owners / authors. Aletho News makes no claim of copyright on such material.