CDC: Over 500 Deaths Following mRNA Experimental Injections thru 1/29/21
The CDC has done another data dump into the Vaccine Adverse Event Reporting System (VAERS), a U.S. Government funded database that tracks injuries and deaths caused by vaccines.
The data goes through January 29, 2021, with 11,249 recorded adverse events, including 501 deaths following injections of the experimental COVID mRNA shots by Pfizer and Moderna.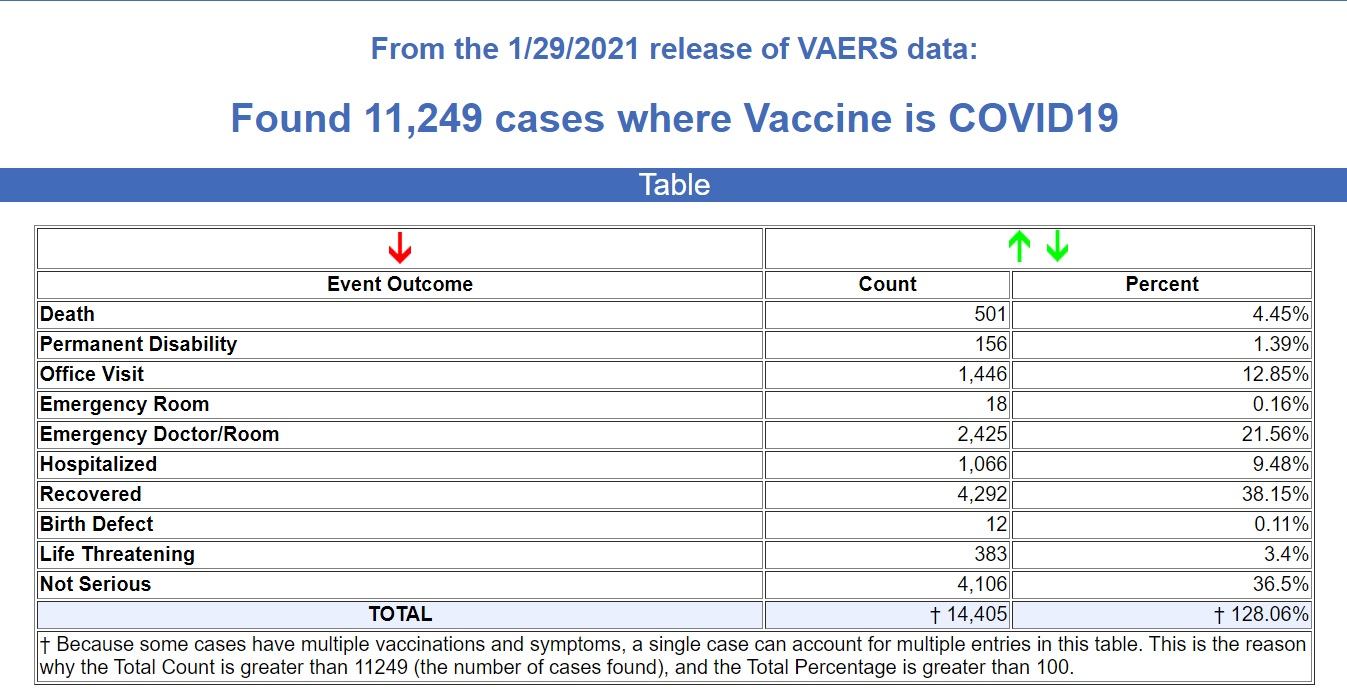 Besides the recorded 501 deaths, there were 2443 visits to Emergency Room doctors, 156 permanent disabilities, and 1066 hospitalizations.

Almost 70% of the recorded deaths were among people over the age of 65.
As we have previously reported, because the VAERS reporting system is voluntary, studies show that less than 1% of all vaccine injuries and deaths are recorded.
A 2011 report by Harvard Pilgrim Health Care, Inc. for the U.S. Department of Health and Human Services (HHS) stated that fewer than one percent of all vaccine adverse events are reported to the government:
Although 25% of ambulatory patients experience an adverse drug event, less than 0.3% of all adverse drug events and 1-13% of serious events are reported to the Food and Drug Administration (FDA).

Likewise, fewer than 1% of vaccine adverse events are reported. Low reporting rates preclude or slow the identification of "problem" drugs and vaccines that endanger public health. New surveillance methods for drug and vaccine adverse effects are needed. (Source.)
When reading the accompanying notes from these cases that were reported to VAERS, it is clear that many healthcare professionals are reluctant to report these cases, probably fearing repercussions for doing so.
In some cases, family members filed the report because the healthcare facility refused to do so.
Some examples:
(VAERS ID # 913733) My grandmother died a few hours after receiving the moderna covid vaccine booster 1. While I don't expect that the events are related, the treating hospital did not acknowledge this and I wanted to be sure a report was made.

(VAERS ID # 914621) Resident in our long term care facility who received first dose of Moderna COVID-19 Vaccine on 12/22/2020, only documented side effect was mild fatigue after receiving. She passed away on 12/27/2020 of natural causes per report. Has previously been in & out of hospice care, resided in nursing home for 9+ years, elderly with dementia. Due to proximity of vaccination we felt we should report the death, even though it is not believed to be related.

(VAERS ID # 914895) Injection given on 12/28/20 – no adverse events and no issues yesterday; Death today, 12/30/20, approx.. 2am today (unknown if related – Administrator marked as natural causes)
It is important to note that the official CDC's position on these recorded injuries and deaths in the VAERS database is that NONE of them are related to the COVID mRNA injections.
The CDC does not even have a category for "vaccine deaths," and hence, there has never been a recorded incident on a death certificate of a vaccine death. … Full article
1 Comment »
"The data goes through January 29, 2021, with 11,249 recorded adverse events, including 501 deaths following injections of the experimental COVID mRNA shots by Pfizer and Moderna".

"Surely you can't be serious"……Those figures are appalling. It's like, the American people are being used as Guinea Pigs, by the Vaccine companies. Is it any wonder that there are so many "anti-Vaxers" around today. And, 'they' try to tell us that the American medical system is the best in the World.

LikeLike

Comment by brianharryaustralia | February 5, 2021 |
Visits Since December 2009

Looking for something?

Archives

Calendar

Categories

Tags

Recent Comments
More Links

Contact:

atheonews (at) gmail.com

Disclaimer

This site is provided as a research and reference tool. Although we make every reasonable effort to ensure that the information and data provided at this site are useful, accurate, and current, we cannot guarantee that the information and data provided here will be error-free. By using this site, you assume all responsibility for and risk arising from your use of and reliance upon the contents of this site.

This site and the information available through it do not, and are not intended to constitute legal advice. Should you require legal advice, you should consult your own attorney.

Nothing within this site or linked to by this site constitutes investment advice or medical advice.

Materials accessible from or added to this site by third parties, such as comments posted, are strictly the responsibility of the third party who added such materials or made them accessible and we neither endorse nor undertake to control, monitor, edit or assume responsibility for any such third-party material.

The posting of stories, commentaries, reports, documents and links (embedded or otherwise) on this site does not in any way, shape or form, implied or otherwise, necessarily express or suggest endorsement or support of any of such posted material or parts therein.

The word "alleged" is deemed to occur before the word "fraud." Since the rule of law still applies. To peasants, at least.

Fair Use

This site contains copyrighted material the use of which has not always been specifically authorized by the copyright owner. We are making such material available in our efforts to advance understanding of environmental, political, human rights, economic, democracy, scientific, and social justice issues, etc. We believe this constitutes a 'fair use' of any such copyrighted material as provided for in section 107 of the US Copyright Law. In accordance with Title 17 U.S.C. Section 107, the material on this site is distributed without profit to those who have expressed a prior interest in receiving the included information for research and educational purposes. For more info go to: http://www.law.cornell.edu/uscode/17/107.shtml. If you wish to use copyrighted material from this site for purposes of your own that go beyond 'fair use', you must obtain permission from the copyright owner.

DMCA Contact

This is information for anyone that wishes to challenge our "fair use" of copyrighted material.

If you are a legal copyright holder or a designated agent for such and you believe that content residing on or accessible through our website infringes a copyright and falls outside the boundaries of "Fair Use", please send a notice of infringement by contacting atheonews@gmail.com.

We will respond and take necessary action immediately.

If notice is given of an alleged copyright violation we will act expeditiously to remove or disable access to the material(s) in question.

All 3rd party material posted on this website is copyright the respective owners / authors. Aletho News makes no claim of copyright on such material.