Pro-Israeli Terror Threat at Labour Conference Covered Up By MSM
A fringe venue at the Labour conference was evacuated last night after the screening of a film about my friend Jackie Walker was cancelled by a terrorist bomb threat. Jackie, a black Jewish prominent critic of Israel, is currently among those suspended from the Labour Party over accusations of anti-semitism which are, in her case, nonsense.
What is astonishing is that the state and corporate media, which has made huge play around the entirely fake news of threats to pro-Israel MP Luciana Berger leading to her being given a police escort to protect her from ordinary delegates, has completely ignored this actual and disruptive pro-Israeli threat – except where they have reported the bomb threat, using the big lie technique, as a further example of anti-semitism in the Labour Party!
The Guardian's report in this respect is simply unbelievable. Headed "Jewish event at Labour conference abandoned after bomb scare" it fails to note that Jewish Voice for Labour is a pro-Corbyn organisation and the film, "The Political Lynching of Jackie Walker", exposes the evil machinations of the organised witch-hunt against Palestinian activists orchestrated by Labour Friends of Israel and the Israeli Embassy. It is not that the Guardian does not know this – it has carried several articles calling for Jackie Walker's expulsion.
The attempt to spin this as the precise opposite of what it was continues on social media. This chap is followed on Twitter by the Foreign Office.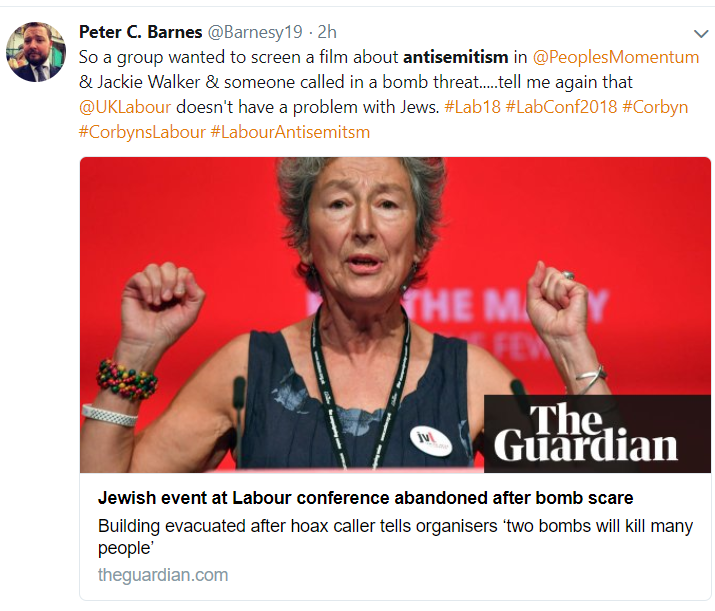 I want you to undertake a little mental exercise for me, and try it seriously. Just imagine the coverage on Newsnight, the Today Programme and Channel 4 News if a Labour Friends of Israel meeting had been cancelled by a bomb scare. Imagine through the experience of seeing or listening to the coverage, on each of those in turn, of a bomb threat to Labour Friends of Israel.
Done that?
Well the bomb threat to the pro-Palestinian rights Jewish Voice for Labour has so far received zero coverage on those programmes.
9 Comments »
JEREMY CORBYN UNMASKED

https://barbaramckenzie.wordpress.com/2017/06/18/jeremy-corbyn-and-george-soros/

(…) Corbyn's first act as leader of the Labour Party was to lend moral support to George Soros's most ambitious projects: externally created regime change and mass migration (…)

https://wideawakegentile.wordpress.com/2017/05/31/jeremy-corbyn-controlled-opposition/

Corbyn called for complete rehabilitation of Leon Trotsky in Parliament:

vid : 4.42

LEON TROTSKY:

The commenters voice is of Juri Lina. Read his pdf books free on line:

http://www.peerage.org/genealogy/2002_Juri_Lina_Under_the_Sign_of_the_Scorpion.pdf

https://www.barruel.com/architects-of-deception.pdf

CIA O

Comment by Gabreal Jones | September 26, 2018 |

Yes, quite a few of Trump's positions are impossible to condone as well. Even Putin.

Comment by aletho | September 26, 2018 |

Why do you people behave as if all of this news is real, and actually happened, and is happening? You can mock me all you want, but you're all looking at VIDEOS, and computer screens, reading and listening to human WORDS, as if it's all even true. Baa-ah.

Comment by tsisageya | September 26, 2018 |

I long for the day when humans will simply stop talking.

Comment by tsisageya | September 26, 2018 |

…me included.

Comment by tsisageya | September 26, 2018 |

However, Israel is evil and the United States of America is her whore. It's a terrible thing.

Comment by tsisageya | September 26, 2018 |

That's fine aletho. I'm used to being ghosted and kicked to the curb. Please, don't worry about it.

Comment by tsisageya | September 26, 2018 |

Thanks, JEWS. Good job. Not.

Comment by tsisageya | September 26, 2018 |

@tsisageya

´you're all looking at VIDEOS, and computer screens, reading and listening to human WORDS, as if it's all even true. Baa-ah´

A perfect self-description, madam, know you from Goon Squad, read my comments there, You sound very confused and desperate. Don´t drink too much or whatever. That will certainly not help you.

Jeremy C. is more jew than he admits. What about you? Is that what you are trying to say? Nuffsaid.

CIA O

Comment by Gabreal Jones | September 27, 2018 |
Visits Since December 2009

Looking for something?

Archives

Calendar

Categories

Tags

Latest Comments
More Links

Contact:

atheonews (at) gmail.com

disclaimer

This site is provided as a research and reference tool. Although we make every reasonable effort to ensure that the information and data provided at this site are useful, accurate, and current, we cannot guarantee that the information and data provided here will be error-free. By using this site, you assume all responsibility for and risk arising from your use of and reliance upon the contents of this site.

This site and the information available through it do not, and are not intended to constitute legal advice. Should you require legal advice, you should consult your own attorney.

Nothing within this site or linked to by this site constitutes investment advice or medical advice.

Materials accessible from or added to this site by third parties, such as comments posted, are strictly the responsibility of the third party who added such materials or made them accessible and we neither endorse nor undertake to control, monitor, edit or assume responsibility for any such third-party material.

The posting of stories, commentaries, reports, documents and links (embedded or otherwise) on this site does not in any way, shape or form, implied or otherwise, necessarily express or suggest endorsement or support of any of such posted material or parts therein.

The word "alleged" is deemed to occur before the word "fraud." Since the rule of law still applies. To peasants, at least.

Fair Use

This site contains copyrighted material the use of which has not always been specifically authorized by the copyright owner. We are making such material available in our efforts to advance understanding of environmental, political, human rights, economic, democracy, scientific, and social justice issues, etc. We believe this constitutes a 'fair use' of any such copyrighted material as provided for in section 107 of the US Copyright Law. In accordance with Title 17 U.S.C. Section 107, the material on this site is distributed without profit to those who have expressed a prior interest in receiving the included information for research and educational purposes. For more info go to: http://www.law.cornell.edu/uscode/17/107.shtml. If you wish to use copyrighted material from this site for purposes of your own that go beyond 'fair use', you must obtain permission from the copyright owner.

DMCA Contact

This is information for anyone that wishes to challenge our "fair use" of copyrighted material.

If you are a legal copyright holder or a designated agent for such and you believe that content residing on or accessible through our website infringes a copyright and falls outside the boundaries of "Fair Use", please send a notice of infringement by contacting atheonews@gmail.com.

We will respond and take necessary action immediately.

If notice is given of an alleged copyright violation we will act expeditiously to remove or disable access to the material(s) in question.

All 3rd party material posted on this website is copyright the respective owners / authors. Aletho News makes no claim of copyright on such material.