Media outlets try to deflect from lab leak theory and censorship
Mainstream media, now embarrassingly forced to follow President Biden's policy and abruptly reverse course on the Wuhan lab leak theory – after branding and ridiculing it as a conspiracy theory for months – are working to downplay the importance of censorship around the topic that was enforced until just a few days ago.
One would think it would be hard to find a single person who has been through more than a year of lockdowns and myriads of restrictions who would not be interested to learn what the virus is and where it came from – but apparently, such people exist, in media outlets like The Verge.
An article that could easily be described as a distraction in its own right from the topic of why the lab leak theory was suppressed and censored so vigorously, now claims that the origin of coronavirus doesn't really matter and suggests that it should be swept under the rug as a distraction from truly important topics.
While briefly paying lip service to the importance of discovering the origin of the virus, the article's real goal is to convince its readers to change the topic. Forced to eat their own words, this class of media are no longer calling the Wuhan theory a fringe conspiracy, but "an extraordinary claim" that is "technically possible."
But discussing the topic is discouraged as no less than "a distraction from the rest of the urgent work governments and health agencies around the world need to do in order to end this pandemic and prepare for the next one" – while at the same time calling for vaccination efforts to be doubled.
And as scientists who have tried to study the origin of coronavirus, including the possibility that it was artificially created, are finally getting a chance to speak after being censored and ostracized for a long time – mainstream media are scrambling to adjust to the new reality around the topic.
The New York Times has already done its U-turn, reporting on Friday that US intelligence agencies have a large amount of evidence concerning the Wuhan lab – but one of its reporters, Apoorva Mandavilli, didn't get the memo immediately.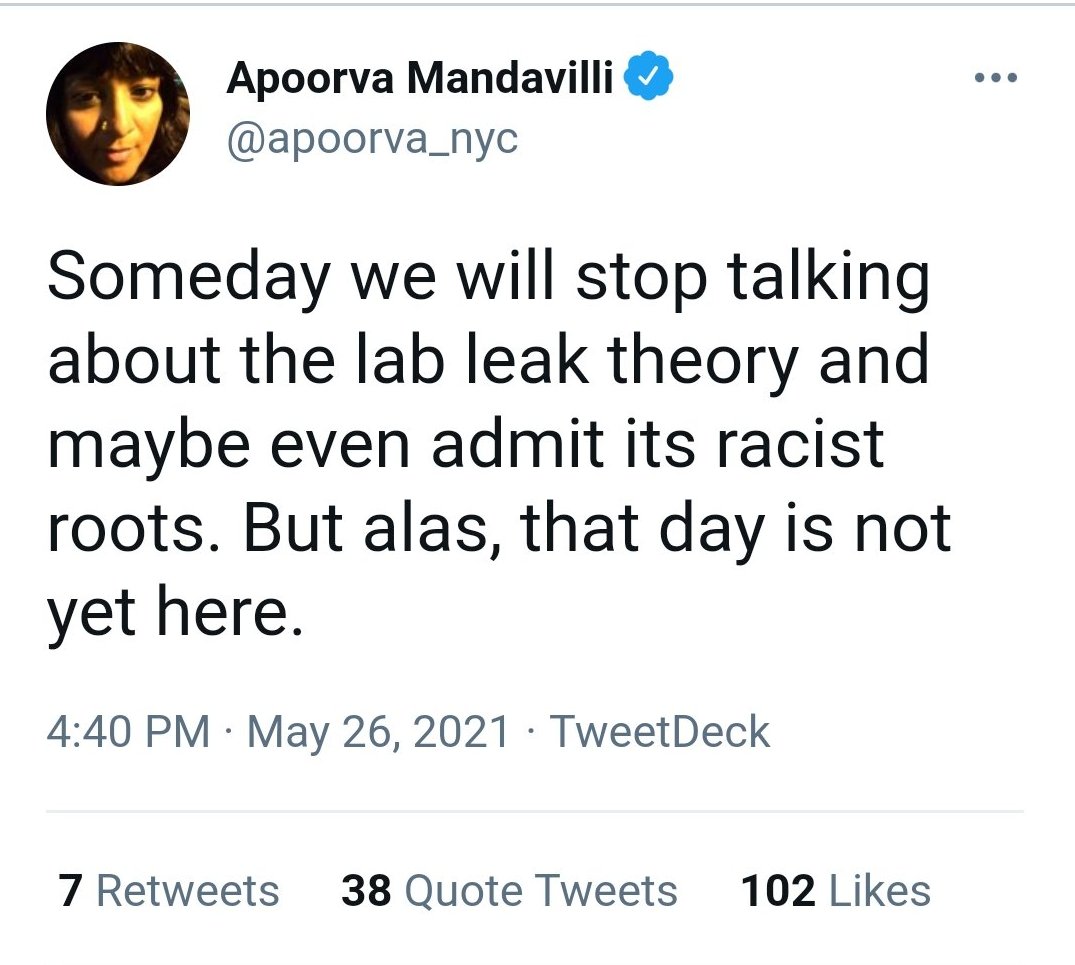 On the same day President Biden announced an investigation, Mandavilli tweeted, "Someday we will stop talking about the lab leak theory and maybe even admit its racist roots. But alas, that day is not yet here" – only to quickly delete the post after receiving backlash for making the claim that it was "racist" to consider the possibility that the virus was engineered by humans.
No comments yet.
More Links

Contact:

atheonews (at) gmail.com

Disclaimer

This site is provided as a research and reference tool. Although we make every reasonable effort to ensure that the information and data provided at this site are useful, accurate, and current, we cannot guarantee that the information and data provided here will be error-free. By using this site, you assume all responsibility for and risk arising from your use of and reliance upon the contents of this site.

This site and the information available through it do not, and are not intended to constitute legal advice. Should you require legal advice, you should consult your own attorney.

Nothing within this site or linked to by this site constitutes investment advice or medical advice.

Materials accessible from or added to this site by third parties, such as comments posted, are strictly the responsibility of the third party who added such materials or made them accessible and we neither endorse nor undertake to control, monitor, edit or assume responsibility for any such third-party material.

The posting of stories, commentaries, reports, documents and links (embedded or otherwise) on this site does not in any way, shape or form, implied or otherwise, necessarily express or suggest endorsement or support of any of such posted material or parts therein.

The word "alleged" is deemed to occur before the word "fraud." Since the rule of law still applies. To peasants, at least.

Fair Use

This site contains copyrighted material the use of which has not always been specifically authorized by the copyright owner. We are making such material available in our efforts to advance understanding of environmental, political, human rights, economic, democracy, scientific, and social justice issues, etc. We believe this constitutes a 'fair use' of any such copyrighted material as provided for in section 107 of the US Copyright Law. In accordance with Title 17 U.S.C. Section 107, the material on this site is distributed without profit to those who have expressed a prior interest in receiving the included information for research and educational purposes. For more info go to: http://www.law.cornell.edu/uscode/17/107.shtml. If you wish to use copyrighted material from this site for purposes of your own that go beyond 'fair use', you must obtain permission from the copyright owner.

DMCA Contact

This is information for anyone that wishes to challenge our "fair use" of copyrighted material.

If you are a legal copyright holder or a designated agent for such and you believe that content residing on or accessible through our website infringes a copyright and falls outside the boundaries of "Fair Use", please send a notice of infringement by contacting atheonews@gmail.com.

We will respond and take necessary action immediately.

If notice is given of an alleged copyright violation we will act expeditiously to remove or disable access to the material(s) in question.

All 3rd party material posted on this website is copyright the respective owners / authors. Aletho News makes no claim of copyright on such material.