YouTube censors Brett Weinstein ivermectin clip
Big Tech's social media platforms, as well as a plethora of corporate media, must still be nursing what is highly likely to feel like some very unpleasant "fresh and raw" egg on their face – after they were "forced" to take an abrupt U-turn in the wake of months of draconian censoring of any mention, and even the very possibility that coronavirus might have been human-engineered – instead of occurring naturally, randomly among China's wildlife – as the previously approved narrative went.
What "forced" them to do it – (in reality, in a true democracy, nothing should ever be able to force a media outlet to do anything) – was the imperative of always aligning their editorial/moderation/censorship policies with a "preferred" narrative.
But after "the Wuhan lab theory" suddenly gained legit "citizenship status" in the media – it became clear that when the government says "JUMP" – this particular class of social and legacy media will only ever have this one "journalistic" question: "How high?"
It warrants keeping this big, overall picture in mind when considering how other Covid-related censorship topics are now being treated on the internet – and how quickly and seemingly inexplicably the tide may or may not turn on those as well. Whatever that tendency may be – it surely is not a "symptom" of free and independent journalism. Quite the opposite.
And as we wait to see where the "brave new world" might take us next, here's an example: the censorship evolutionary biologist and DarkHorse Podcast host Brett Weinstein is now facing on YouTube – for exploring another previously outlawed as "heresy" topic – that of the drug Ivermectin's merit, or lack thereof, in treating Covid patients.
YouTube has deleted a video of Weinstein discussing the topic with one of his peers, Heather Heying. More precisely, the video, "Why is Ivermectin not being used in other countries?," is now gone from Weinstein's "podcast clips" channel – while the full-length video still remains available on the main channel.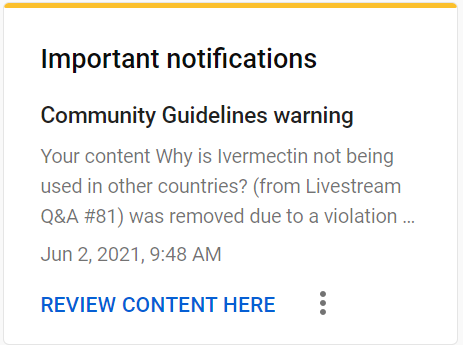 Does YouTube's left censorship hand not know what the right hand is doing?
All joking aside, YouTube normally operates on a "three strikes" system – and it's not at all clear how this might affect Weinstein's channel, going forward.
No comments yet.
Visits Since December 2009

Looking for something?

Archives

Calendar

Categories

Tags

Recent Comments
More Links

Contact:

atheonews (at) gmail.com

Disclaimer

This site is provided as a research and reference tool. Although we make every reasonable effort to ensure that the information and data provided at this site are useful, accurate, and current, we cannot guarantee that the information and data provided here will be error-free. By using this site, you assume all responsibility for and risk arising from your use of and reliance upon the contents of this site.

This site and the information available through it do not, and are not intended to constitute legal advice. Should you require legal advice, you should consult your own attorney.

Nothing within this site or linked to by this site constitutes investment advice or medical advice.

Materials accessible from or added to this site by third parties, such as comments posted, are strictly the responsibility of the third party who added such materials or made them accessible and we neither endorse nor undertake to control, monitor, edit or assume responsibility for any such third-party material.

The posting of stories, commentaries, reports, documents and links (embedded or otherwise) on this site does not in any way, shape or form, implied or otherwise, necessarily express or suggest endorsement or support of any of such posted material or parts therein.

The word "alleged" is deemed to occur before the word "fraud." Since the rule of law still applies. To peasants, at least.

Fair Use

This site contains copyrighted material the use of which has not always been specifically authorized by the copyright owner. We are making such material available in our efforts to advance understanding of environmental, political, human rights, economic, democracy, scientific, and social justice issues, etc. We believe this constitutes a 'fair use' of any such copyrighted material as provided for in section 107 of the US Copyright Law. In accordance with Title 17 U.S.C. Section 107, the material on this site is distributed without profit to those who have expressed a prior interest in receiving the included information for research and educational purposes. For more info go to: http://www.law.cornell.edu/uscode/17/107.shtml. If you wish to use copyrighted material from this site for purposes of your own that go beyond 'fair use', you must obtain permission from the copyright owner.

DMCA Contact

This is information for anyone that wishes to challenge our "fair use" of copyrighted material.

If you are a legal copyright holder or a designated agent for such and you believe that content residing on or accessible through our website infringes a copyright and falls outside the boundaries of "Fair Use", please send a notice of infringement by contacting atheonews@gmail.com.

We will respond and take necessary action immediately.

If notice is given of an alleged copyright violation we will act expeditiously to remove or disable access to the material(s) in question.

All 3rd party material posted on this website is copyright the respective owners / authors. Aletho News makes no claim of copyright on such material.