Lawmakers demand answers on Facebook censorship at behest of Biden administration
Following the revelation that Facebook's CEO Mark Zuckerberg was in email communication with the country's top epidemiologist Dr. Anthony Fauci, House Republicans sent a letter demanding answers on why the company censored lab leak theories.
According to the Republican legislators, the emails suggest that Fauci advised Facebook to censor the lab leak theories.
Ranking members of the House Judiciary Committee and House Oversight Committee, Jim Jordan and James Comer wrote a letter addressed to Zuckerberg demanding answers on why his company censored content suggesting COVID-19 leaked from a lab.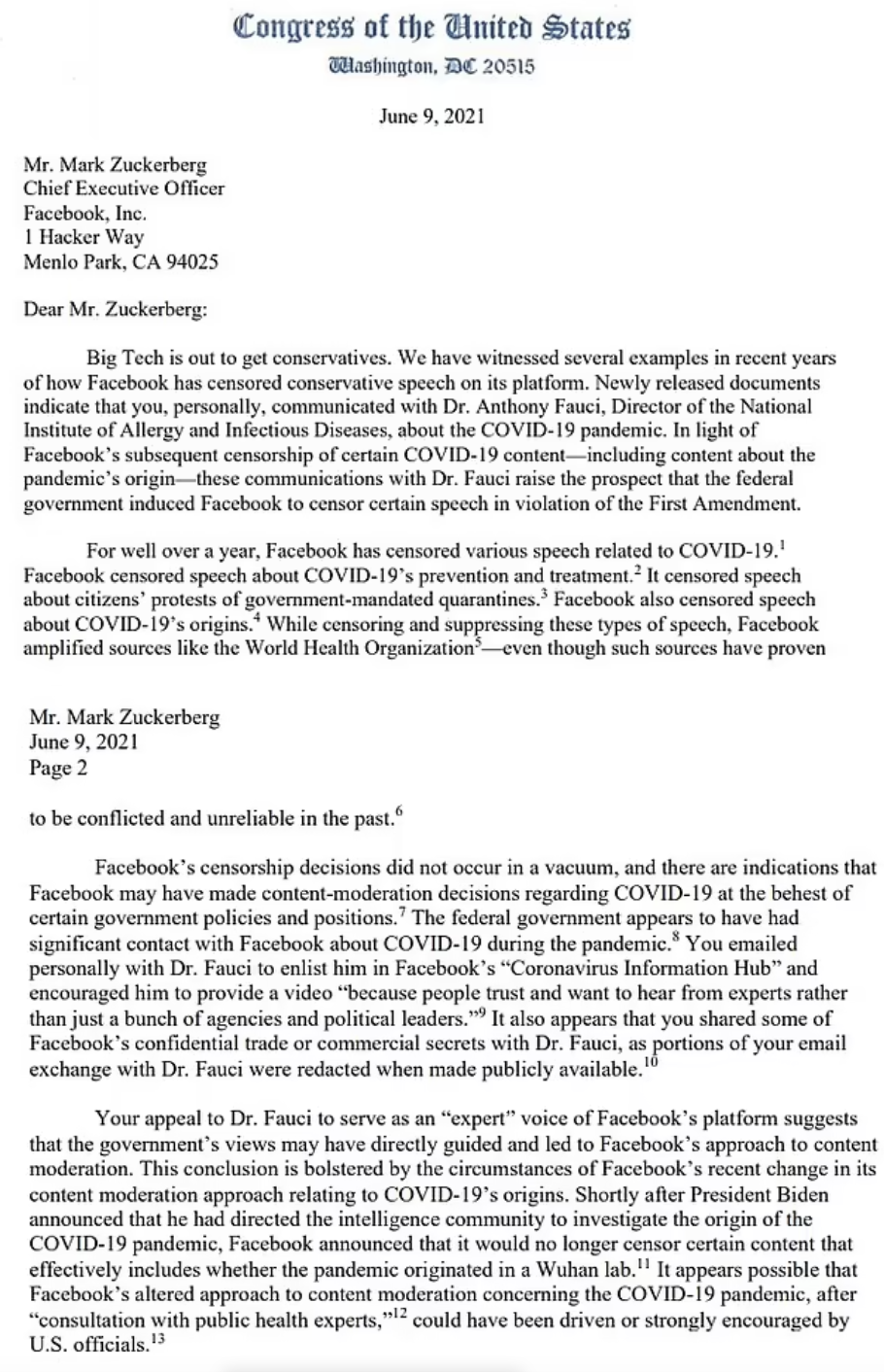 The letter accuses the government of using a private company to violate free speech. It requested Facebook to provide all documents and communication between its employees and government officials.
"In light of Facebook's subsequent censorship of certain COVID-19 content – including content about the pandemic's origin – these communications with Dr Fauci raise the prospect that the federal government induced Facebook to censor certain free speech in violation of the First Amendment," the letter states.
"Facebook's censorship decisions did not occur in a vacuum, and there are indications that Facebook may have made content-moderation decisions regarding COVID-19 at the behest of certain government policies and positions," the legislators added.
Until recently, most scientists dismissed the idea that the virus leaked from a lab in China. However, in recent weeks, evidence supporting the lab leak theory has emerged, forcing Facebook to review its COVID-19 misinformation policies.
In late May, after President Joe Biden announced that the lab leak theory needed more investigation, Facebook announced it would no longer flag content suggesting that COVID 19 was man-made.
The legislators gave Facebook two weeks to respond to the letter.
3 Comments »
Another distraction to buy time. If there had been a lab leak, i.e. accidental release, there would have been an almighty effort to ensure it did not spread. But, because there wasn't, and covid-19 appeared almost simultaneously in most 'western' countries, and all those governments responded in similar fashion (except Sweden), it can be concluded that its release was calculated and deliberate. Eventually the truth will come out and the fraud exposed, but in the meantime every means of obfuscation will continue – at least until the aim of vaccinating everyone is achieved.

LikeLike

Comment by Bill Francis | June 10, 2021 |

Do you still have a Falsebook account? Do you still support Zuckurberg? Even after this?

LikeLike

Comment by Vladimir | June 10, 2021 |

is this article written by uou Mrs Harper? Is this you or another cindy harper?

Sonia Mancini 514-617-7751 ________________________________ De : Aletho News Envoyé : 10 juin 2021 17:06 À : sonia_mancini@hotmail.com Objet : [New post] Lawmakers demand answers on Facebook censorship at behest of Biden administration

aletho posted: " By Cindy Harper | Reclaim the Net | June 10, 2021 Following the revelation that Facebook's CEO Mark Zuckerberg was in email communication with the country's top epidemiologist Dr. Anthony Fauci, House Republicans sent a letter demanding answers on wh"

LikeLike

Comment by Sophie Mallozza | June 24, 2021 |
Visits Since December 2009

Looking for something?

Archives

Calendar

Categories

Tags

Recent Comments
More Links

Contact:

atheonews (at) gmail.com

Disclaimer

This site is provided as a research and reference tool. Although we make every reasonable effort to ensure that the information and data provided at this site are useful, accurate, and current, we cannot guarantee that the information and data provided here will be error-free. By using this site, you assume all responsibility for and risk arising from your use of and reliance upon the contents of this site.

This site and the information available through it do not, and are not intended to constitute legal advice. Should you require legal advice, you should consult your own attorney.

Nothing within this site or linked to by this site constitutes investment advice or medical advice.

Materials accessible from or added to this site by third parties, such as comments posted, are strictly the responsibility of the third party who added such materials or made them accessible and we neither endorse nor undertake to control, monitor, edit or assume responsibility for any such third-party material.

The posting of stories, commentaries, reports, documents and links (embedded or otherwise) on this site does not in any way, shape or form, implied or otherwise, necessarily express or suggest endorsement or support of any of such posted material or parts therein.

The word "alleged" is deemed to occur before the word "fraud." Since the rule of law still applies. To peasants, at least.

Fair Use

This site contains copyrighted material the use of which has not always been specifically authorized by the copyright owner. We are making such material available in our efforts to advance understanding of environmental, political, human rights, economic, democracy, scientific, and social justice issues, etc. We believe this constitutes a 'fair use' of any such copyrighted material as provided for in section 107 of the US Copyright Law. In accordance with Title 17 U.S.C. Section 107, the material on this site is distributed without profit to those who have expressed a prior interest in receiving the included information for research and educational purposes. For more info go to: http://www.law.cornell.edu/uscode/17/107.shtml. If you wish to use copyrighted material from this site for purposes of your own that go beyond 'fair use', you must obtain permission from the copyright owner.

DMCA Contact

This is information for anyone that wishes to challenge our "fair use" of copyrighted material.

If you are a legal copyright holder or a designated agent for such and you believe that content residing on or accessible through our website infringes a copyright and falls outside the boundaries of "Fair Use", please send a notice of infringement by contacting atheonews@gmail.com.

We will respond and take necessary action immediately.

If notice is given of an alleged copyright violation we will act expeditiously to remove or disable access to the material(s) in question.

All 3rd party material posted on this website is copyright the respective owners / authors. Aletho News makes no claim of copyright on such material.