YouTube censors video of Nobel Prize winner Dr. Satoshi Ōmura discussing ivermectin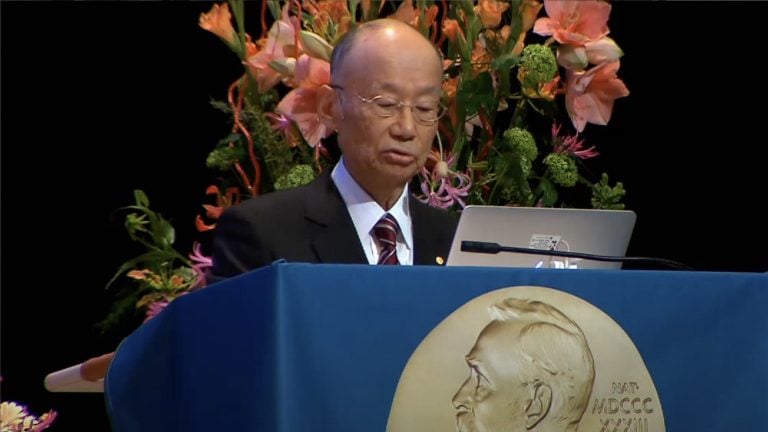 Before the coronavirus pandemic, ivermectin was described as a "wonder" drug by the medical community. And in 2015, Dr. Satoshi Ōmura and Dr. William C. Campbell were awarded half the Nobel prize in Physiology or Medicine for their work that led to the development of ivermectin.
"The importance of Ivermectin for improving the health and wellbeing of millions of individuals with River Blindness and Lymphatic Filariasis, primarily in the poorest regions of the world, is immeasurable," the Nobel Assembly stated in its press release for the 2015 Nobel Prize in Physiology or Medicine.
But after the pandemic began, the tech giants have gone all out to purge content that recommends ivermectin as a treatment for COVID-19.
And today, these Big Tech policies against ivermectin resulted in one of Ōmura's speeches where he discussed ivermectin being struck down for "violating YouTube's community guidelines."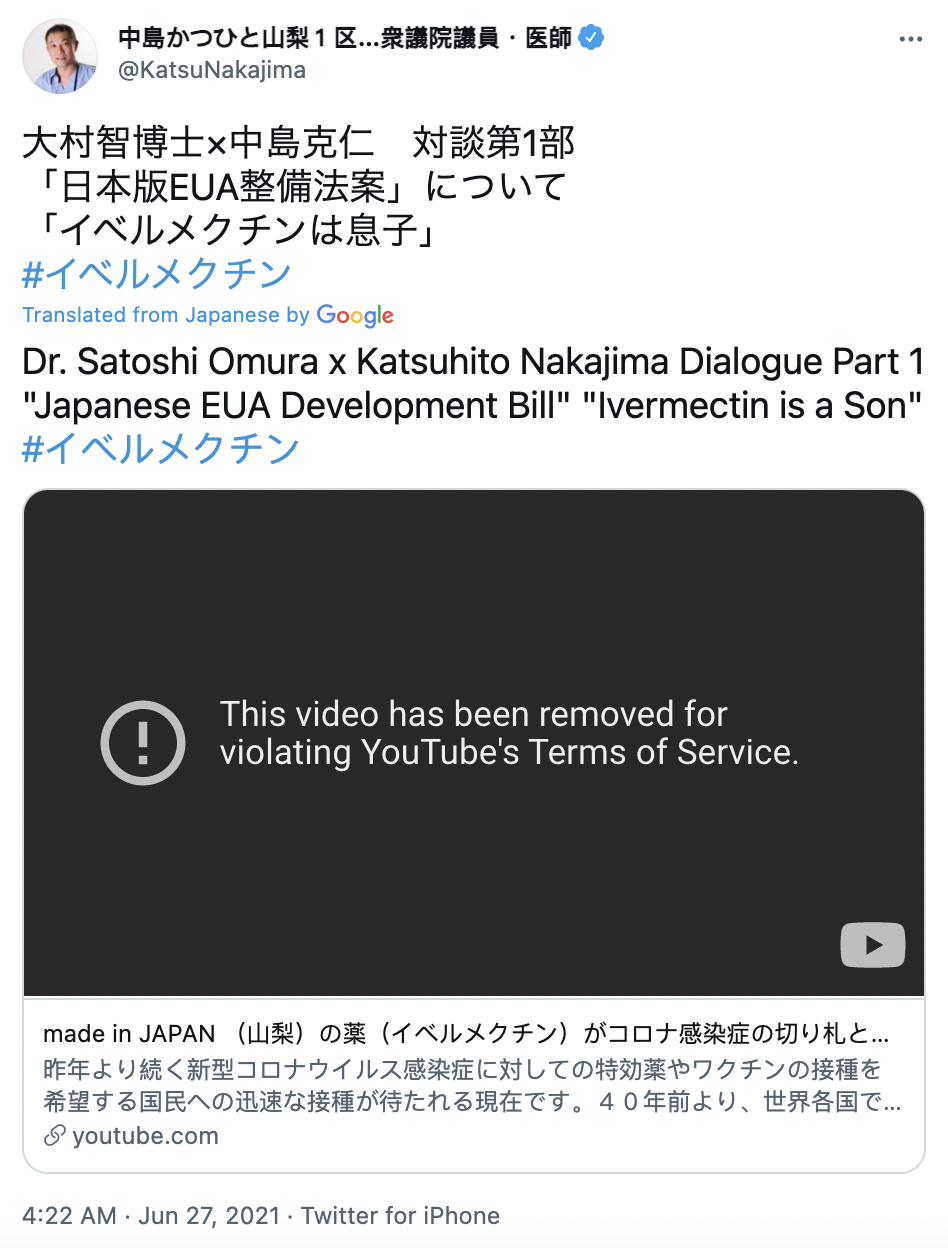 "When the fascists at YouTube censor the Noble Prize winner Dr. Satoshi Omura, a man whose discoveries have saved a hundred million + from blindness, the world has entered a very, very dark place," Australian Member of Parliament Craig Kelly tweeted. "I cannot express in words how angry & sad this makes me & fearful for the future."
Frontline Covid-19 Critical Care, an alliance of physicians and scholars that has committed to "research and develop lifesaving protocols for the prevention and treatment of COVID-19 in all stages of illness," also spoke out against the censorship and warned that "brilliant scientists and lifesaving science are systematically being gagged."
Ōmura joins the ranks of many other senators, lawmakers, medical journals, biologists, and YouTubers who have been censored by Big Tech for discussing ivermectin.
1 Comment »
Youtube is owned by Google who has stock in AstroZenica.

LikeLike

Comment by Val Valerian | July 3, 2021 |
Visits Since December 2009

Looking for something?

Archives

Calendar

Categories

Tags

Recent Comments
More Links

Contact:

atheonews (at) gmail.com

Disclaimer

This site is provided as a research and reference tool. Although we make every reasonable effort to ensure that the information and data provided at this site are useful, accurate, and current, we cannot guarantee that the information and data provided here will be error-free. By using this site, you assume all responsibility for and risk arising from your use of and reliance upon the contents of this site.

This site and the information available through it do not, and are not intended to constitute legal advice. Should you require legal advice, you should consult your own attorney.

Nothing within this site or linked to by this site constitutes investment advice or medical advice.

Materials accessible from or added to this site by third parties, such as comments posted, are strictly the responsibility of the third party who added such materials or made them accessible and we neither endorse nor undertake to control, monitor, edit or assume responsibility for any such third-party material.

The posting of stories, commentaries, reports, documents and links (embedded or otherwise) on this site does not in any way, shape or form, implied or otherwise, necessarily express or suggest endorsement or support of any of such posted material or parts therein.

The word "alleged" is deemed to occur before the word "fraud." Since the rule of law still applies. To peasants, at least.

Fair Use

This site contains copyrighted material the use of which has not always been specifically authorized by the copyright owner. We are making such material available in our efforts to advance understanding of environmental, political, human rights, economic, democracy, scientific, and social justice issues, etc. We believe this constitutes a 'fair use' of any such copyrighted material as provided for in section 107 of the US Copyright Law. In accordance with Title 17 U.S.C. Section 107, the material on this site is distributed without profit to those who have expressed a prior interest in receiving the included information for research and educational purposes. For more info go to: http://www.law.cornell.edu/uscode/17/107.shtml. If you wish to use copyrighted material from this site for purposes of your own that go beyond 'fair use', you must obtain permission from the copyright owner.

DMCA Contact

This is information for anyone that wishes to challenge our "fair use" of copyrighted material.

If you are a legal copyright holder or a designated agent for such and you believe that content residing on or accessible through our website infringes a copyright and falls outside the boundaries of "Fair Use", please send a notice of infringement by contacting atheonews@gmail.com.

We will respond and take necessary action immediately.

If notice is given of an alleged copyright violation we will act expeditiously to remove or disable access to the material(s) in question.

All 3rd party material posted on this website is copyright the respective owners / authors. Aletho News makes no claim of copyright on such material.