Fauci Flop? New Documentary About COVID Czar Fails To Disclose Box Office Results
A new documentary called "Fauci," released by National Geographic Documentary Films two weeks ago, honors Dr. Anthony Fauci's work to combat the HIV/AIDS epidemic and COVID-19 pandemic. Since the release two weeks ago, there's been no data on ticket sales by major film sites, according to Just The News.
The new documentary was released in theaters across York, Los Angeles, San Francisco, D.C., and New Orleans on Sept. 10. No major film site, including RottenTomatoes.com, Boxoffice Pro, IMDB.com, and BoxOfficeMojo.com, has calculated ticket sales or earnings for the film.
The documentary "follows the renowned infectious disease specialist's work in two health crises: AIDS and the coronavirus pandemic. Dr. Fauci agreed to participate as long as it didn't interfere with his work," NYT tweeted.
Shawn Robbins, the chief analyst with Boxoffice Pro, said it's "incredibly uncommon" for a major studio not to release box office earnings.
"Niche distributors often lack the proper resources for data reporting. That may or may not be the case with this particular documentary," said Robbins. He said it's too early to suggest "Fauci" has become a flop at theaters, but time will tell.
Just The News said the film had one condition before seeing it: patrons of the theater had to show their vaccine cards.
On IMDB, the documentary has a 2.2 rating out of 10. About 80% of the reviews rate it as a 1 star.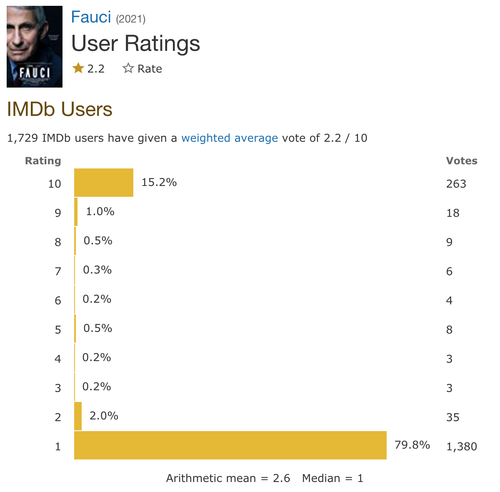 IMDB users criticized the documentary as establishment-backed propaganda. Here's one review:
Hilarious how this movie uses George Bush, and Susan Rice, to ascribe credibility for Dr. Fauci 😂 Bush's false "Weapons of Mass Destruction" Iraq War, and Susan Rice's "Benghazi" debacle speak for themselves.

The movie does indeed humanize Fauci with stories about his family. He said they are being harassed because of his work. So what do they do? They put their images and information in the movie….😧

Then along comes Bono's interview. I'm still trying to figure out what a singer really has to do with any of this.

It has interesting interviews, but is a very one sided movie. It's mostly politicos trying to dig out poor ole Dr. Fauci from the avalanche of his massive PR nightmare. He's 80 years old, maybe just maybe it's time to relax and retire.
The mystery remains why National Geographic continues to withhold the box office earnings of Fauci, but the poor reviews at IMBD suggest the flick might have been a flop, and that is why.
1 Comment »
Maybe the American people are waking up, and instead of praising these "Public Servants" they have realised that America's "1%" cannot be trusted in ANY way at all……

LikeLike

Comment by brianharryaustralia | September 26, 2021 |
Visits Since December 2009

Looking for something?

Archives

Calendar

Categories

Tags

Recent Comments
More Links

Contact:

atheonews (at) gmail.com

Disclaimer

This site is provided as a research and reference tool. Although we make every reasonable effort to ensure that the information and data provided at this site are useful, accurate, and current, we cannot guarantee that the information and data provided here will be error-free. By using this site, you assume all responsibility for and risk arising from your use of and reliance upon the contents of this site.

This site and the information available through it do not, and are not intended to constitute legal advice. Should you require legal advice, you should consult your own attorney.

Nothing within this site or linked to by this site constitutes investment advice or medical advice.

Materials accessible from or added to this site by third parties, such as comments posted, are strictly the responsibility of the third party who added such materials or made them accessible and we neither endorse nor undertake to control, monitor, edit or assume responsibility for any such third-party material.

The posting of stories, commentaries, reports, documents and links (embedded or otherwise) on this site does not in any way, shape or form, implied or otherwise, necessarily express or suggest endorsement or support of any of such posted material or parts therein.

The word "alleged" is deemed to occur before the word "fraud." Since the rule of law still applies. To peasants, at least.

Fair Use

This site contains copyrighted material the use of which has not always been specifically authorized by the copyright owner. We are making such material available in our efforts to advance understanding of environmental, political, human rights, economic, democracy, scientific, and social justice issues, etc. We believe this constitutes a 'fair use' of any such copyrighted material as provided for in section 107 of the US Copyright Law. In accordance with Title 17 U.S.C. Section 107, the material on this site is distributed without profit to those who have expressed a prior interest in receiving the included information for research and educational purposes. For more info go to: http://www.law.cornell.edu/uscode/17/107.shtml. If you wish to use copyrighted material from this site for purposes of your own that go beyond 'fair use', you must obtain permission from the copyright owner.

DMCA Contact

This is information for anyone that wishes to challenge our "fair use" of copyrighted material.

If you are a legal copyright holder or a designated agent for such and you believe that content residing on or accessible through our website infringes a copyright and falls outside the boundaries of "Fair Use", please send a notice of infringement by contacting atheonews@gmail.com.

We will respond and take necessary action immediately.

If notice is given of an alleged copyright violation we will act expeditiously to remove or disable access to the material(s) in question.

All 3rd party material posted on this website is copyright the respective owners / authors. Aletho News makes no claim of copyright on such material.