Twitter backtracks after censoring a mother's obituary
Twitter's fact-checkers appended a "misleading" alert to an obituary about a young woman who allegedly died after contracting a rare blood-clotting condition provoked by the COVID-19 vaccine.
After being accused of going so far with its censorship that it would resort to censoring an obituary, Twitter relented to the backlash and reversed the censorship.
The woman in question, Jessica Berg Wilson, a 37-year-old mother of two, died in the first week of September from Vaccine-Induced Thrombotic Thrombocytopenia, a rare blood disorder in which small clots grow throughout the body, damaging platelets and preventing blood from reaching key organs. According to her obituary, Wilson's greatest life ambition was to "be the best mother possible" to her daughters Bridget and Clara.
"She had been vehemently opposed to taking the vaccine, knowing she was in good health and of a young age and thus not at risk for serious illness. In her mind, the known and unknown risks of the unproven vaccine were more of a threat," it read.
Kelly Bee, a Twitter user, posted Jessica Berg Wilson's obituary with the statement, "an 'exceptionally healthy and vibrant 37-year-old young mother with no underlying health conditions,' passed away from COVID Vaccine-Induced Thrombotic Thrombocytopenia. She did not want to get vaccinated."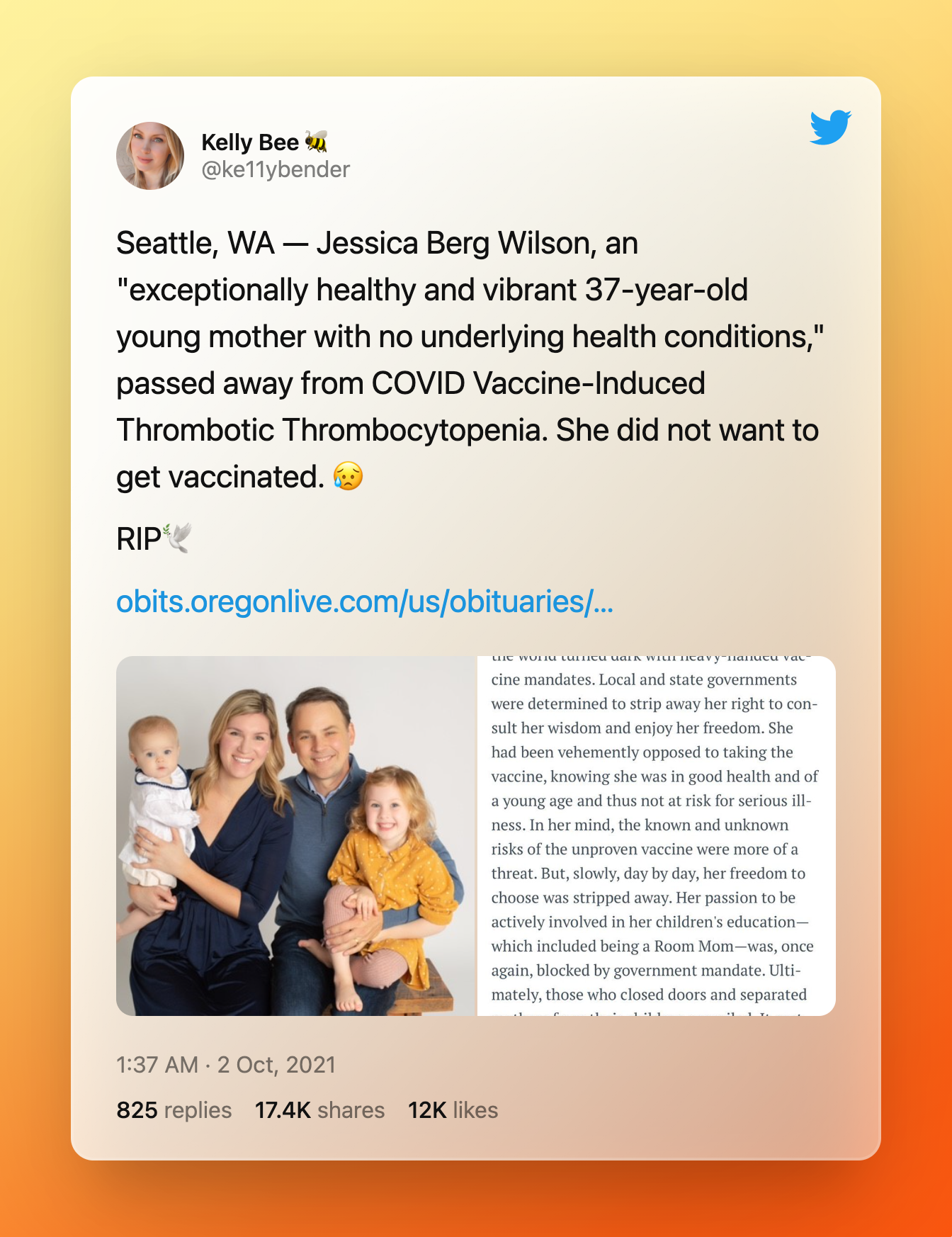 However, Twitter flagged the post as "misleading" and blocked it from being replied to, shared, or liked.
The majority of critics were outraged that Twitter was censoring an obituary and they responded by urging their followers to help the tweet go viral in violation of the company's warning. Twitter has since removed the "misleading" designation and revoked the shadowban.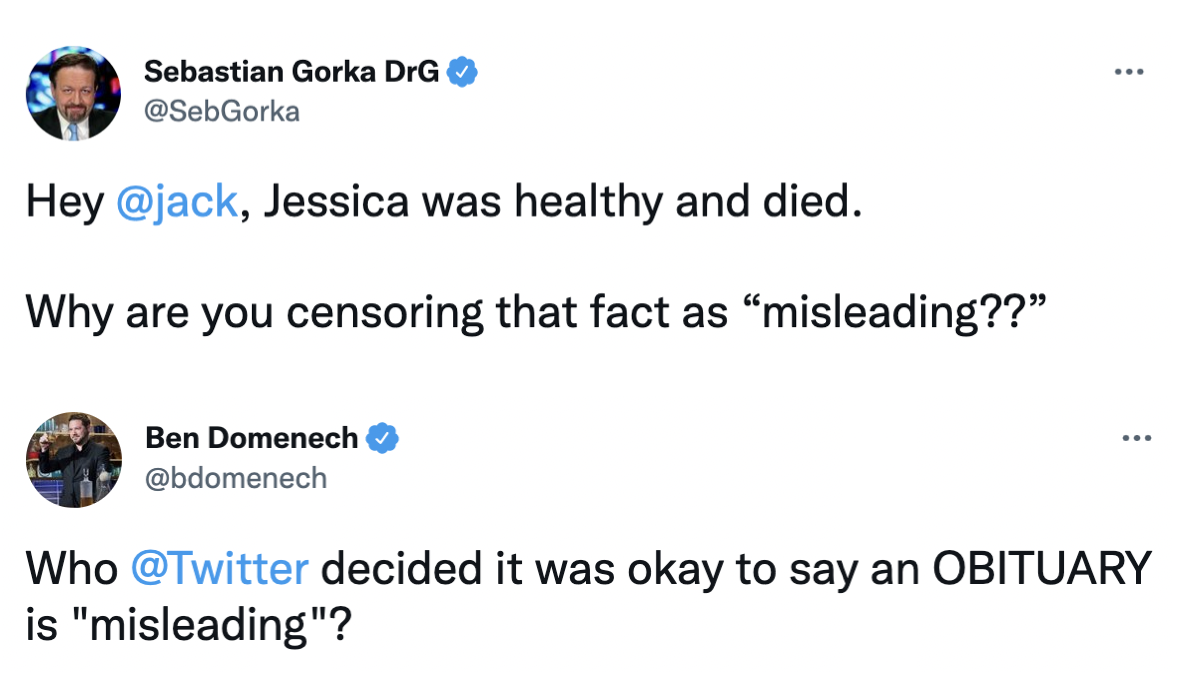 Additionally, several bloggers, including Ben Domenech of The Federalist, retweeted the obituary. Ben's tweet reads: Who @Twitter decided it was okay to say an OBITUARY is 'misleading' ?"
Another tweet said "Twitter is now censoring obituaries," – posted by Sean Davis.
Furthermore, Sebastian Gorka, who worked in the Trump administration's Department of Defense, tagged Twitter CEO Jack Dorsey in a tweet asking what aspect of the obituary was incorrect or "misleading."
"Hey @jack, Jessica was healthy and died. Why are you censoring that fact as 'misleading??" he said.
No comments yet.
Visits Since December 2009

Looking for something?

Archives

Calendar

Categories

Tags

Recent Comments
More Links

Contact:

atheonews (at) gmail.com

Disclaimer

This site is provided as a research and reference tool. Although we make every reasonable effort to ensure that the information and data provided at this site are useful, accurate, and current, we cannot guarantee that the information and data provided here will be error-free. By using this site, you assume all responsibility for and risk arising from your use of and reliance upon the contents of this site.

This site and the information available through it do not, and are not intended to constitute legal advice. Should you require legal advice, you should consult your own attorney.

Nothing within this site or linked to by this site constitutes investment advice or medical advice.

Materials accessible from or added to this site by third parties, such as comments posted, are strictly the responsibility of the third party who added such materials or made them accessible and we neither endorse nor undertake to control, monitor, edit or assume responsibility for any such third-party material.

The posting of stories, commentaries, reports, documents and links (embedded or otherwise) on this site does not in any way, shape or form, implied or otherwise, necessarily express or suggest endorsement or support of any of such posted material or parts therein.

The word "alleged" is deemed to occur before the word "fraud." Since the rule of law still applies. To peasants, at least.

Fair Use

This site contains copyrighted material the use of which has not always been specifically authorized by the copyright owner. We are making such material available in our efforts to advance understanding of environmental, political, human rights, economic, democracy, scientific, and social justice issues, etc. We believe this constitutes a 'fair use' of any such copyrighted material as provided for in section 107 of the US Copyright Law. In accordance with Title 17 U.S.C. Section 107, the material on this site is distributed without profit to those who have expressed a prior interest in receiving the included information for research and educational purposes. For more info go to: http://www.law.cornell.edu/uscode/17/107.shtml. If you wish to use copyrighted material from this site for purposes of your own that go beyond 'fair use', you must obtain permission from the copyright owner.

DMCA Contact

This is information for anyone that wishes to challenge our "fair use" of copyrighted material.

If you are a legal copyright holder or a designated agent for such and you believe that content residing on or accessible through our website infringes a copyright and falls outside the boundaries of "Fair Use", please send a notice of infringement by contacting atheonews@gmail.com.

We will respond and take necessary action immediately.

If notice is given of an alleged copyright violation we will act expeditiously to remove or disable access to the material(s) in question.

All 3rd party material posted on this website is copyright the respective owners / authors. Aletho News makes no claim of copyright on such material.