Podcasting is likely the next censorship target
Legacy mainstream media has been sporadically bringing up the topic of podcasts for a while now, in search of ways to enforce censorship in this media format as well; and the New York Times has now done it again:
"The lack of moderation on podcast apps is particularly complicated for Alphabet, the parent company of Google and YouTube. The video streaming site cracked down on videos about election fraud, the conspiracy theory QAnon, and vaccine misinformation, prompting some podcast episodes hosted there to be removed. But the same episodes remained accessible on Google's Podcasts app. Mr. Bannon's show was removed from YouTube shortly after Jan. 6, for instance, but the podcast remains available on Google's Podcasts app.

"Google has argued that its Podcasts app more closely resembles a search engine than a publishing service because no audio is hosted by the company. A Google spokesman, Farshad Shadloo, said the app simply "crawls and indexes audio content" hosted elsewhere and that they have "policies against recommending podcasts that contain harmful misinformation, including misinformation about the 2020 U.S. elections."
This latest attack against podcasts comes as reports indicate that the medium has gained serious momentum and therefore influence. Joe Rogan, for example, has a larger audience than CNN and Fox News shows.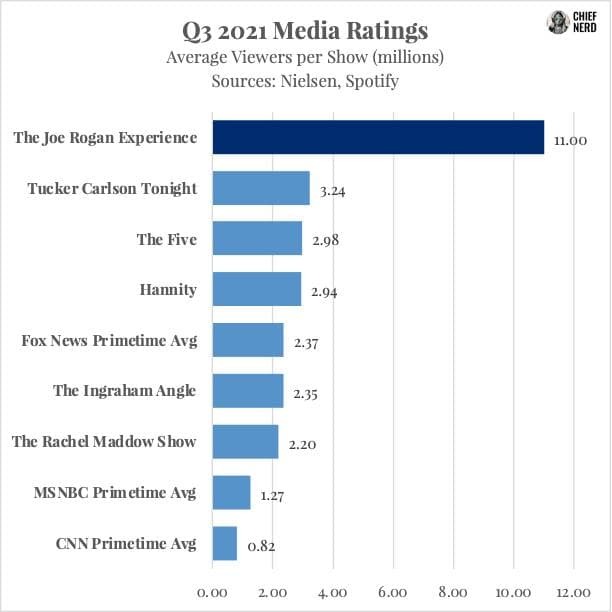 And that's not even by a narrow margin, if media ratings statistics for the third quarter of last year from Nielsen and Spotify are to be believed: Rogan's podcast episodes averaged an audience of 11 million, while Tucker Carlson Tonight was second with 3.24 million. CNN's Primetime had only 822,000.
Podcasts, whose popularity is generally on the rise, have proven far more resilient to censorship than other platforms and given the content Rogan puts out it would seem that he chose his medium well. Rogan's success is attributed to his honest and respectful approach to the topics he covers and to his audience.
As social media platforms and networks are under massive pressure to censor content during the pandemic and the US presidential election, podcast creators can speak freely. But would-be censors are clearly trying to find a solution to that "problem" as well.
No comments yet.
Visits Since December 2009

Looking for something?

Archives

Calendar

Categories

Tags

Recent Comments
More Links

Contact:

atheonews (at) gmail.com

Disclaimer

This site is provided as a research and reference tool. Although we make every reasonable effort to ensure that the information and data provided at this site are useful, accurate, and current, we cannot guarantee that the information and data provided here will be error-free. By using this site, you assume all responsibility for and risk arising from your use of and reliance upon the contents of this site.

This site and the information available through it do not, and are not intended to constitute legal advice. Should you require legal advice, you should consult your own attorney.

Nothing within this site or linked to by this site constitutes investment advice or medical advice.

Materials accessible from or added to this site by third parties, such as comments posted, are strictly the responsibility of the third party who added such materials or made them accessible and we neither endorse nor undertake to control, monitor, edit or assume responsibility for any such third-party material.

The posting of stories, commentaries, reports, documents and links (embedded or otherwise) on this site does not in any way, shape or form, implied or otherwise, necessarily express or suggest endorsement or support of any of such posted material or parts therein.

The word "alleged" is deemed to occur before the word "fraud." Since the rule of law still applies. To peasants, at least.

Fair Use

This site contains copyrighted material the use of which has not always been specifically authorized by the copyright owner. We are making such material available in our efforts to advance understanding of environmental, political, human rights, economic, democracy, scientific, and social justice issues, etc. We believe this constitutes a 'fair use' of any such copyrighted material as provided for in section 107 of the US Copyright Law. In accordance with Title 17 U.S.C. Section 107, the material on this site is distributed without profit to those who have expressed a prior interest in receiving the included information for research and educational purposes. For more info go to: http://www.law.cornell.edu/uscode/17/107.shtml. If you wish to use copyrighted material from this site for purposes of your own that go beyond 'fair use', you must obtain permission from the copyright owner.

DMCA Contact

This is information for anyone that wishes to challenge our "fair use" of copyrighted material.

If you are a legal copyright holder or a designated agent for such and you believe that content residing on or accessible through our website infringes a copyright and falls outside the boundaries of "Fair Use", please send a notice of infringement by contacting atheonews@gmail.com.

We will respond and take necessary action immediately.

If notice is given of an alleged copyright violation we will act expeditiously to remove or disable access to the material(s) in question.

All 3rd party material posted on this website is copyright the respective owners / authors. Aletho News makes no claim of copyright on such material.