Australian state of Victoria demands removal of online police body cam footage
Rebel News journalist Avi Yemini is having to defend himself after deciding not to remove an online video the police in Australia's state of Victoria want taken down.
Yemini revealed that he had a letter, signed by a Victoria Police Crime Squad detective sergeant, sent to his home, threatening that unless he complied and deleted the video, he could end up serving two years in prison.
The journalist published photos of the letter, which notified him of committing an "apparent" breach of the Surveillance Devices Act.
The letter asserts that information protected under this act appeared in a video Yemini uploaded to his YouTube channel in September, under the title, "Police bodycam proves the mainstream media is HIDING the truth."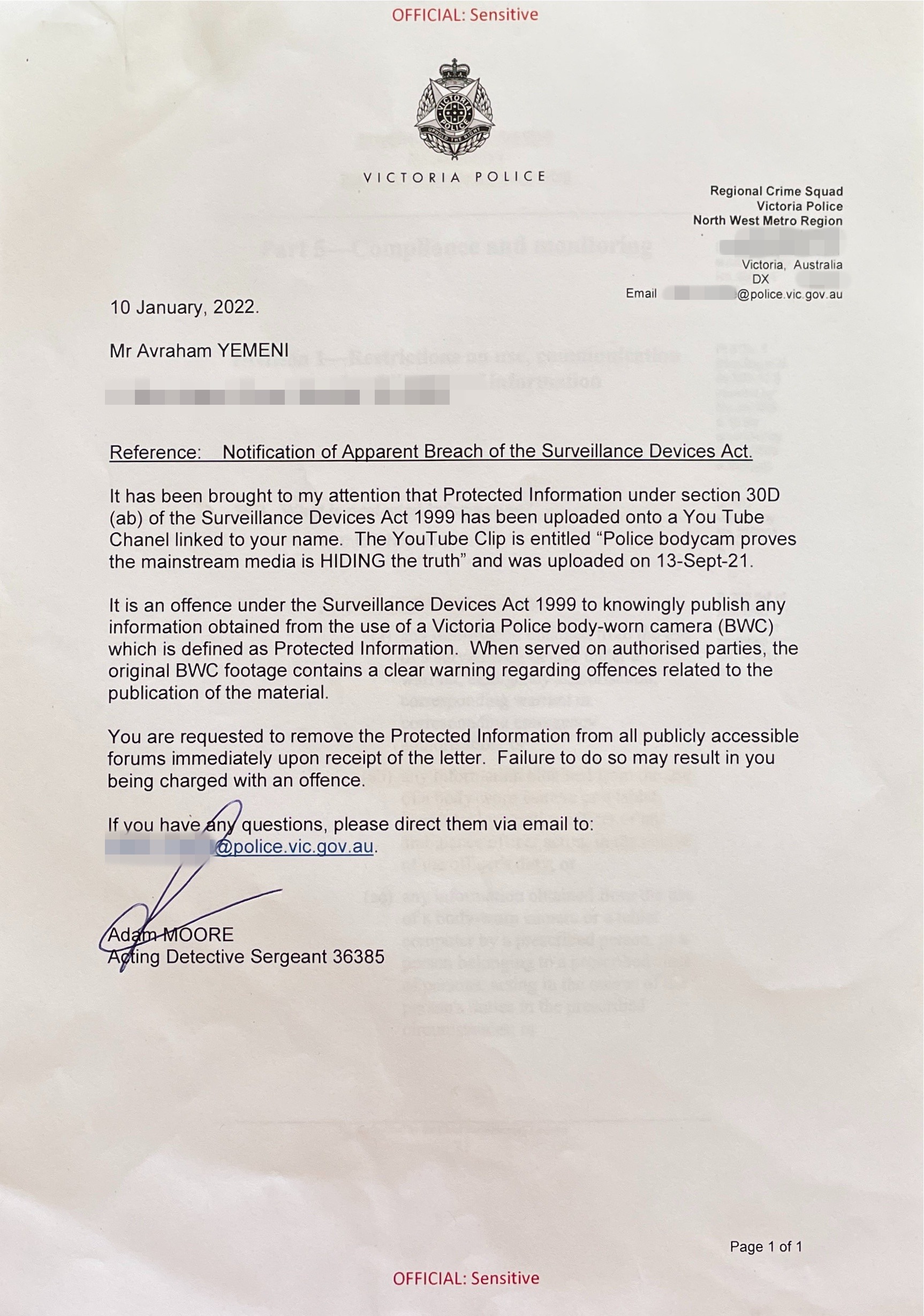 The police letter further states that knowingly publishing information obtained from police bodycams is an offense, and demands that he immediately remove the video from all public forums, or face charges.
If found guilty, Yemini could be sent to prison for two years maximum, be forced to pay a fine, defined as "240 penalty units maximum" – or both.
But Yemini, who says he has previously been arrested, assaulted, and intimidated by the police for his work, has decided to fight back, as another letter, this one penned by his legal representative, shows. It reads that under a subsection of the act the police refer to as being violated, the footage used in the report was already in the public domain.
"In a free country, that would be the end of it. In fact, in a genuinely free country, I never would have received that threat letter from the police in the first place," Yemini writes.
But the journalist doesn't expect this outcome, and is instead ready to engage in a legal battle with the Victoria police, whom he says have "unlimited resources to bully anyone who doesn't submit to them."
"We've never lost a case yet, and I've never removed a story, even when a gangland lawyer tried to sue me. With your help, I promise not to cower in 2022 either," Yemini concludes.
3 Comments »
I would not pay any attention to Rebel News and the ISRAELI MOSSAD Army operative Agent AVI YEMENI who is controlled Opposition duping Australians. Why he is given any credibilty is beyond me, The man is an Infiltrator deceiving Australians into believiing he cares about their lives and freedoms when he openly stated he as very happy having killed many Palestinian Civilians. Bloody Israeli hypocrite. Ok to kill Palestinians and erpive them of their rights and freedoms but he goes onto Aussie streets filming how they are being treated by the Police etc. AVI YEMENI is a bloody under cover Plant working for the Zionist led Governent of Australia and no doubt he also has links to BNAI BRITH

Comment by Maisoon | January 28, 2022 |

They're everywhere…vermin/jackals feasting off their gullible goyim…. (A Chinese-American friend filled me in briefly earlier today as to Zio machinations/predatorship in Hong Kong….)

LikeLike

Comment by roberthstiver | January 29, 2022 |

I had never heard his name before but I was able to verify that he is indeed a zionist:
https://hodjasblog.one/avi-yemini-saadan-overlever-min-onkel-i-israel/
(The video is in English)

It is still unclear to me whether he is controlled opposition.

I also found this:
"Rukshan started filming Morgan Jonas at the start who along with Yemini are authors at Tommy Robinson News before 2020 and Avi has a longstanding connection/friendship with Tommy Robinson who has been associated with MI5 and Mossad, and declared he was a Zionist. And has a long history of fake arrests.

Interestingly, given Yemeni's fake 'arrest' and Jonas by police, Robinson also has a history of media-hyped arrests, that shine a spotlight on right wing extremism in the UK and make excuses for increased surveillance and fascist control of people."
https://www.biblaridion.info/blog/bar-kochba/dan-andrews/

It makes me very suspicious but unfortunately it does not provide hard indications.

Comment by Balthasar Gerards | January 29, 2022 |
More Links

Contact:

atheonews (at) gmail.com

Disclaimer

This site is provided as a research and reference tool. Although we make every reasonable effort to ensure that the information and data provided at this site are useful, accurate, and current, we cannot guarantee that the information and data provided here will be error-free. By using this site, you assume all responsibility for and risk arising from your use of and reliance upon the contents of this site.

This site and the information available through it do not, and are not intended to constitute legal advice. Should you require legal advice, you should consult your own attorney.

Nothing within this site or linked to by this site constitutes investment advice or medical advice.

Materials accessible from or added to this site by third parties, such as comments posted, are strictly the responsibility of the third party who added such materials or made them accessible and we neither endorse nor undertake to control, monitor, edit or assume responsibility for any such third-party material.

The posting of stories, commentaries, reports, documents and links (embedded or otherwise) on this site does not in any way, shape or form, implied or otherwise, necessarily express or suggest endorsement or support of any of such posted material or parts therein.

The word "alleged" is deemed to occur before the word "fraud." Since the rule of law still applies. To peasants, at least.

Fair Use

This site contains copyrighted material the use of which has not always been specifically authorized by the copyright owner. We are making such material available in our efforts to advance understanding of environmental, political, human rights, economic, democracy, scientific, and social justice issues, etc. We believe this constitutes a 'fair use' of any such copyrighted material as provided for in section 107 of the US Copyright Law. In accordance with Title 17 U.S.C. Section 107, the material on this site is distributed without profit to those who have expressed a prior interest in receiving the included information for research and educational purposes. For more info go to: http://www.law.cornell.edu/uscode/17/107.shtml. If you wish to use copyrighted material from this site for purposes of your own that go beyond 'fair use', you must obtain permission from the copyright owner.

DMCA Contact

This is information for anyone that wishes to challenge our "fair use" of copyrighted material.

If you are a legal copyright holder or a designated agent for such and you believe that content residing on or accessible through our website infringes a copyright and falls outside the boundaries of "Fair Use", please send a notice of infringement by contacting atheonews@gmail.com.

We will respond and take necessary action immediately.

If notice is given of an alleged copyright violation we will act expeditiously to remove or disable access to the material(s) in question.

All 3rd party material posted on this website is copyright the respective owners / authors. Aletho News makes no claim of copyright on such material.