Israel Uses US Weapons To Blow Up US Humanitarian Projects in Gaza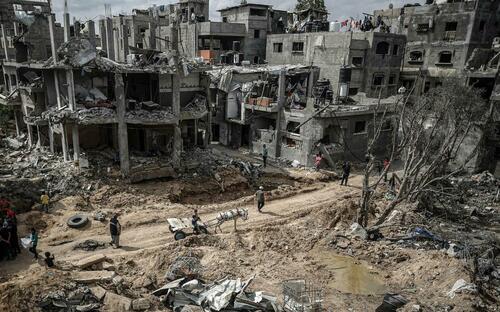 Palestinians return to a devastated Gaza neighborhood in May 2021 (Ali Jadallah/Anadolu Agency via Getty)
In its May 2021 war with Gaza militants, Israel used American weapons to destroy U.S. humanitarian projects and damage an American-owned Coca-Cola bottling plant, according to a report by The Intercept.
Damaged or destroyed facilities included:
Hospitals, water treatment and sanitation facilities funded by the U.S. Agency for International Development (USAID)
A dozen factories built with USAID money
Dozens of schools operated by the U.S. State Department-backed United Nations Relief and Works Agency for Palestine Refugees in the Near East (UNRWA)
More than a hundred UNRWA facilities were struck, causing more than a million dollars in damage.
The impact is far more than financial. As The Intercept's Daniel Boguslaw elaborates:
In Khan Yunis, Rafa, and Beit Lahia, wastewater treatment infrastructure and water reservoirs funded by USAID, which the U.S. government spent millions to construct, were destroyed by aerial attacks that affected more than 300,000 civilians. Ninety-seven percent of the water in Gaza is contaminated, resulting in a widespread public health crisis, rendered even worse by the destruction of U.S.-funded water infrastructure.
The May 2021 war took a steep toll on Gaza, with more than 240 Palestinians killed and nearly 2,000 wounded. Four thousand rocket attacks from Gaza on Israel killed 12.
Israel's periodic devastation of Gaza is often characterized as "mowing the grass." Yoav Galant, a former Israeli military commander, embraced the philosophy in a radio interview: "This sort of maintenance needs to be carried out from time to time, perhaps even more often."
Though Galant and others would suggest such "mowing" is focused on Palestinian military power, Israel's routine destruction of hospitals, water treatment facilities and other civilian infrastructure suggests Israel strives to keep Gaza in a state of perpetual economic devastation.
A Coca-Cola factory also came under 2021 Israeli bombardment. Its owner, U.S. citizen Zahi Khouri, said, "We had thousands of pallets burned, and there was damage to the logistics area. There was damage in the industrial estate, but what was also damaged was the investment of Coca-Cola in a project through Mercy Corps where we built a water purification station for a refugee camp."
In a dark twist, the destruction of U.S.-funded civilian infrastructure is accomplished with American-made and/or -funded weapons. The United States and Israel are currently operating within a memorandum of understanding by which Americans are on the hook for $38 billion in military aid over a 10-year period ending in 2028.
That's just a minimum. Congress is free to throw more money at Israel along the way—such as the $1 billion for Iron Dome missile defense it approved in March by a 420-9 vote in the House.
Per The Intercept, there's more to the "special relationship":
The aid system also provides cash-flow financing, a system resembling layaway, that allows Israel to purchase weapons in the present using money from the future. And it contains an offshore procurement exemption—offered to no other country—that allows Israel to spend U.S. tax dollars on its own weapons industry without disclosing how it spent the money to Congress or the American public.
2 Comments »
Gaza has some of the best agricultural land in all Palestine. The Zios covet it, but naturally they don't want it infested with a lot of grunting subhuman goyim. Hence their ongoing effort to "encourage the goyim to emigrate", as they themselves like to put it. Destroying the people's water supply, hospitals and industries are viewed as useful means to that end.

Comment by traducteur | June 4, 2022 |

An example of why American alliance with Israel makes America complicit to the Israeli war-crimes on its subjugated people of Palestine.

The murder of Palestinians week after week after week, the imprisonment without any habeas corpus, the imprisonment of children…

the list of human rights violations is the worst in the world.

Why does America align with this terrorist state? It is to its shame, its regard as a partner in all that Israel does. What a ruination to America because of this alignment.

And the lack of reporting it to the mainstream media shows that the control is undeniably jewish control, to protect Israel from exposure.

Israel is not an ally to America. It is the opposite.

Comment by michael | June 4, 2022 |
More Links

Contact:

atheonews (at) gmail.com

Disclaimer

This site is provided as a research and reference tool. Although we make every reasonable effort to ensure that the information and data provided at this site are useful, accurate, and current, we cannot guarantee that the information and data provided here will be error-free. By using this site, you assume all responsibility for and risk arising from your use of and reliance upon the contents of this site.

This site and the information available through it do not, and are not intended to constitute legal advice. Should you require legal advice, you should consult your own attorney.

Nothing within this site or linked to by this site constitutes investment advice or medical advice.

Materials accessible from or added to this site by third parties, such as comments posted, are strictly the responsibility of the third party who added such materials or made them accessible and we neither endorse nor undertake to control, monitor, edit or assume responsibility for any such third-party material.

The posting of stories, commentaries, reports, documents and links (embedded or otherwise) on this site does not in any way, shape or form, implied or otherwise, necessarily express or suggest endorsement or support of any of such posted material or parts therein.

The word "alleged" is deemed to occur before the word "fraud." Since the rule of law still applies. To peasants, at least.

Fair Use

This site contains copyrighted material the use of which has not always been specifically authorized by the copyright owner. We are making such material available in our efforts to advance understanding of environmental, political, human rights, economic, democracy, scientific, and social justice issues, etc. We believe this constitutes a 'fair use' of any such copyrighted material as provided for in section 107 of the US Copyright Law. In accordance with Title 17 U.S.C. Section 107, the material on this site is distributed without profit to those who have expressed a prior interest in receiving the included information for research and educational purposes. For more info go to: http://www.law.cornell.edu/uscode/17/107.shtml. If you wish to use copyrighted material from this site for purposes of your own that go beyond 'fair use', you must obtain permission from the copyright owner.

DMCA Contact

This is information for anyone that wishes to challenge our "fair use" of copyrighted material.

If you are a legal copyright holder or a designated agent for such and you believe that content residing on or accessible through our website infringes a copyright and falls outside the boundaries of "Fair Use", please send a notice of infringement by contacting atheonews@gmail.com.

We will respond and take necessary action immediately.

If notice is given of an alleged copyright violation we will act expeditiously to remove or disable access to the material(s) in question.

All 3rd party material posted on this website is copyright the respective owners / authors. Aletho News makes no claim of copyright on such material.