EcoHealth Alliance Gets Fresh $3 Million DOD Grant
Business as usual for key developer of SARS-CoV-2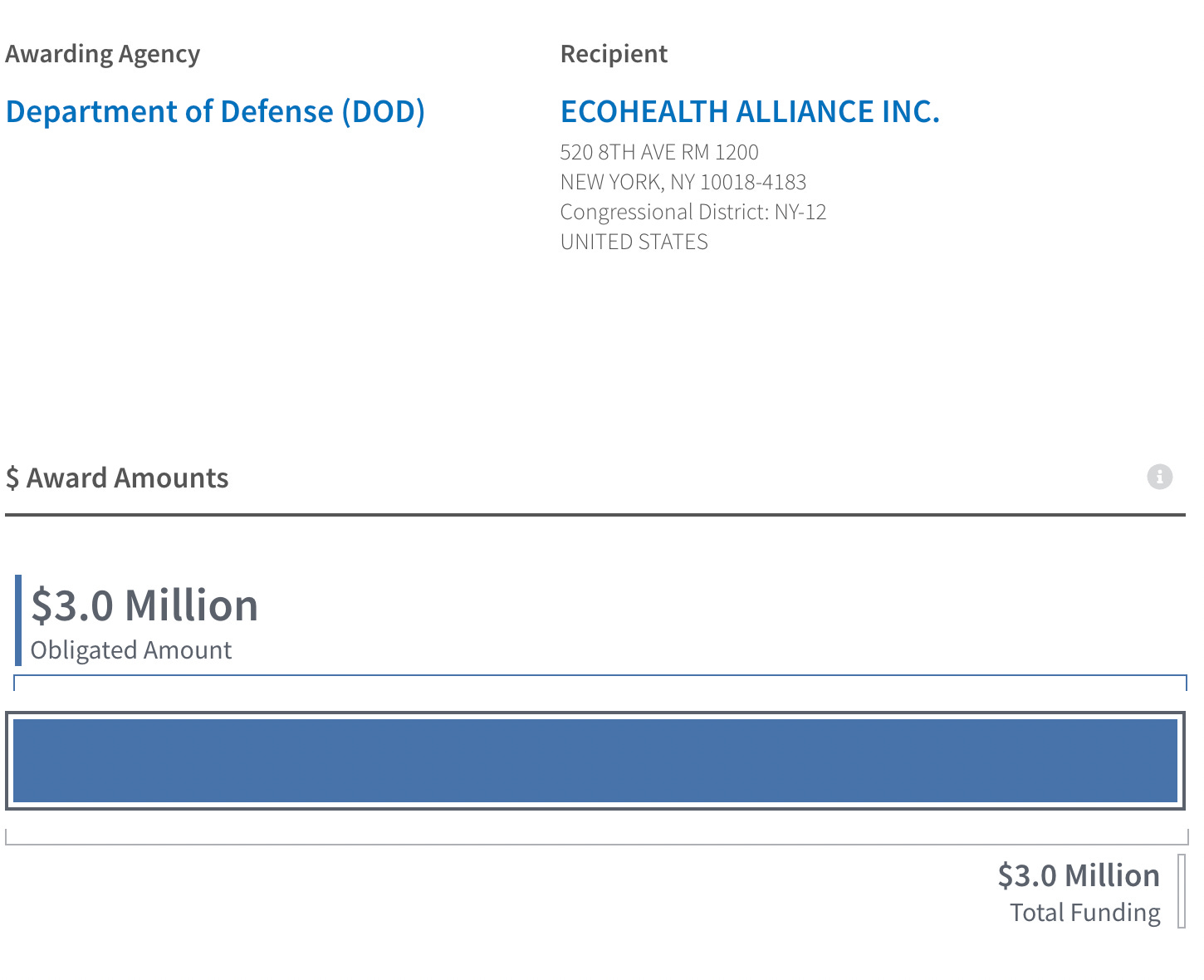 Just last month, Dr. Andrew Huff—former senior scientist and vice president at EcoHealth Alliance—published The Truth About Wuhan, in which he details how SARS-CoV-2 was engineered in a lab, and how its leak from the lab was covered up by EcoHealth Alliance president and CEO Dr. Peter Daszak in collaboration with NIAID Director, Anthony Fauci.
That SARS-CoV-2 emerged from a lab is no secret. Even the U.S. Senate acknowledged this reality last October. In 2015, Dr. Ralph Baric published a paper in which he plainly stated that he and his colleagues at the Wuhan Institute of Virology were performing gain of function work on bat coronaviruses in order to make them transmissible to humans.
It is surely one of most bizarre events in history that none of the men who developed SARS-CoV-2 are even the subject of an official investigation. On the contrary, they remain in business and continue to receive taxpayer money. As Rutgers University Professor, Richard H. Ebright recently tweeted, EcoHealth Alliance just got another $3 million Department of Defense Grant. For years, Dr. Ebright has been warning about the extreme danger of gain of function research. In 2017, he raised the alarm about lax security at the BSL-4 lab in Wuhan. No one in our government listened to him then, and it seems he continues to be ignored.
For a long time I have suspected that the Bio-Pharmaceutical Complex of international foundations and U.S. federal agencies is now operating outside of the law. The key players in this Complex are untouchable. No legislator or law enforcement officer has the heart to challenge their power. The latest Eco-Health Alliance grant is further evidence that "We the People" no longer count.
No comments yet.
An error has occurred; the feed is probably down. Try again later.

More Links

Contact:

atheonews (at) gmail.com

Disclaimer

This site is provided as a research and reference tool. Although we make every reasonable effort to ensure that the information and data provided at this site are useful, accurate, and current, we cannot guarantee that the information and data provided here will be error-free. By using this site, you assume all responsibility for and risk arising from your use of and reliance upon the contents of this site.

This site and the information available through it do not, and are not intended to constitute legal advice. Should you require legal advice, you should consult your own attorney.

Nothing within this site or linked to by this site constitutes investment advice or medical advice.

Materials accessible from or added to this site by third parties, such as comments posted, are strictly the responsibility of the third party who added such materials or made them accessible and we neither endorse nor undertake to control, monitor, edit or assume responsibility for any such third-party material.

The posting of stories, commentaries, reports, documents and links (embedded or otherwise) on this site does not in any way, shape or form, implied or otherwise, necessarily express or suggest endorsement or support of any of such posted material or parts therein.

The word "alleged" is deemed to occur before the word "fraud." Since the rule of law still applies. To peasants, at least.

Fair Use

This site contains copyrighted material the use of which has not always been specifically authorized by the copyright owner. We are making such material available in our efforts to advance understanding of environmental, political, human rights, economic, democracy, scientific, and social justice issues, etc. We believe this constitutes a 'fair use' of any such copyrighted material as provided for in section 107 of the US Copyright Law. In accordance with Title 17 U.S.C. Section 107, the material on this site is distributed without profit to those who have expressed a prior interest in receiving the included information for research and educational purposes. For more info go to: http://www.law.cornell.edu/uscode/17/107.shtml. If you wish to use copyrighted material from this site for purposes of your own that go beyond 'fair use', you must obtain permission from the copyright owner.

DMCA Contact

This is information for anyone that wishes to challenge our "fair use" of copyrighted material.

If you are a legal copyright holder or a designated agent for such and you believe that content residing on or accessible through our website infringes a copyright and falls outside the boundaries of "Fair Use", please send a notice of infringement by contacting atheonews@gmail.com.

We will respond and take necessary action immediately.

If notice is given of an alleged copyright violation we will act expeditiously to remove or disable access to the material(s) in question.

All 3rd party material posted on this website is copyright the respective owners / authors. Aletho News makes no claim of copyright on such material.