Disgraceful BBC Panorama Propaganda Hides Grim Truth About Britain
Richard Bilton of the BBC today exposed himself as the most corrupt and bankrupt of state media shills – while pretending to be fronting an expose of corruption. There could not be a more perfect example of the western state and corporate media pretending to reveal the Panama leak data while actually engaging in pure misdirection.
In a BBC Panorama documentary entitled Tax Havens of the Rich and Powerful Exposed, they actually did precisely the opposite. The BBC related at length the stories of the money laundering companies of the Icelandic PM and Putin's alleged cellist. The impression was definitely given and reinforced that these companies were in Panama.
Richard Bilton deliberately suppressed the information that all the companies involved were in fact not Panamanian but in the corrupt British colony of the British Virgin Islands. At no stage did Bilton even mention the British Virgin Islands.
Company documents were flashed momentarily on screen, in some cases for a split second, and against deliberately unclear backgrounds. There is no chance that 99.9% of viewers would notice they referred to British Virgin Islands companies. But instantly reading a glimpsed document is an essential skill for a career diplomat, and of course I happen to know immediately what BVI or Tortola mean on a document. So I have been back and got screenshots of those brief flashes.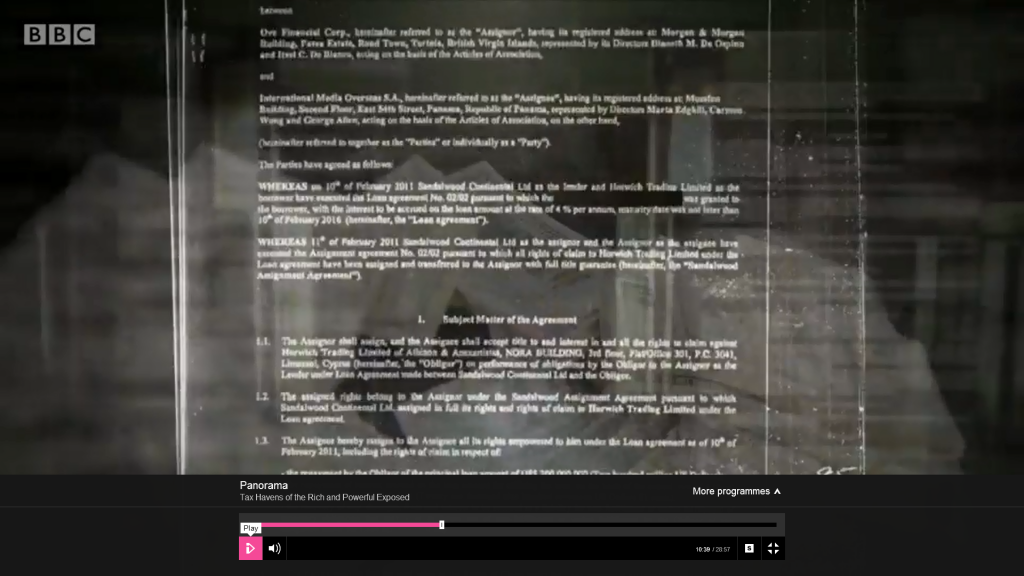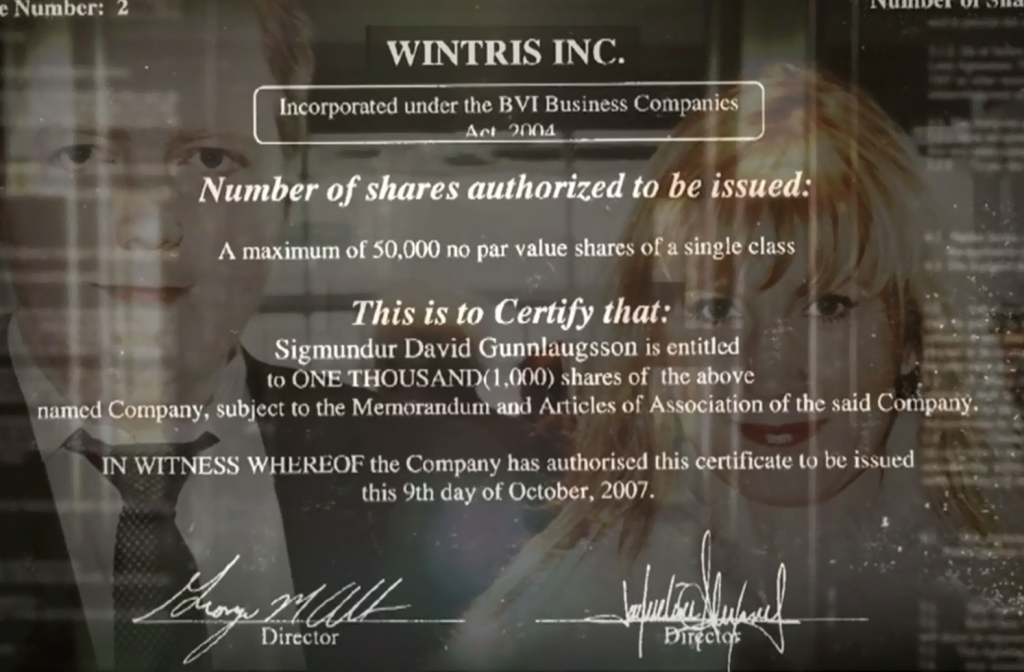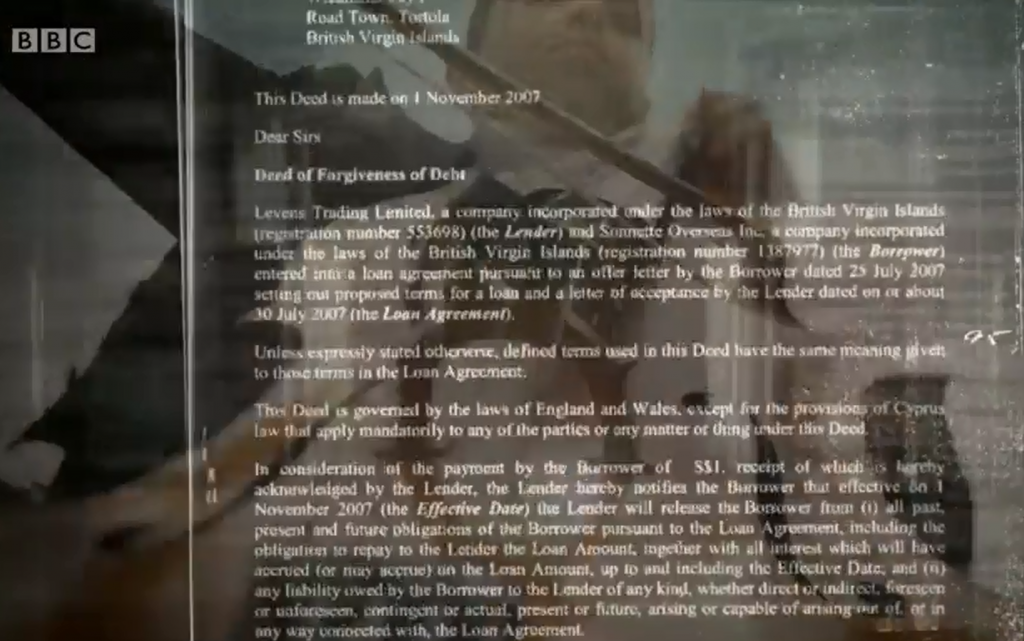 Is it not truly, truly, astonishing the British Virgin Islands were not even mentioned when the BBC broadcast their "investigation" of these documents?
In deliberately obscuring the key role of the British money-laundering base of British Virgin Islands in these transactions, the BBC have demonstrated precisely why the entire database has to be released to the scrutiny of the people, rather than being filtered by the dubious honesty of state and corporate journalists. The BBC targeting of two very low level British minions at the end of their programme does not alter this.
The BBC could also address why their Pacific Quay HQ in Glasgow is leased for £100 million from a hidden ownership company in the Cayman Islands.
1 Comment »
I discovered years ago, that the 'PEOPLE' are being deliberately 'drowned in Bullshit'. Not one member of the British or American 'Establishment' has been mentioned yet, even though the system is run more or less by the British……….

LikeLike

Comment by Brian Harry, Australia | April 5, 2016 |
Visits Since December 2009

Looking for something?

Archives

Calendar

Categories

Tags

Latest Comments
More Links

Contact:

atheonews (at) gmail.com

Disclaimer

This site is provided as a research and reference tool. Although we make every reasonable effort to ensure that the information and data provided at this site are useful, accurate, and current, we cannot guarantee that the information and data provided here will be error-free. By using this site, you assume all responsibility for and risk arising from your use of and reliance upon the contents of this site.

This site and the information available through it do not, and are not intended to constitute legal advice. Should you require legal advice, you should consult your own attorney.

Nothing within this site or linked to by this site constitutes investment advice or medical advice.

Materials accessible from or added to this site by third parties, such as comments posted, are strictly the responsibility of the third party who added such materials or made them accessible and we neither endorse nor undertake to control, monitor, edit or assume responsibility for any such third-party material.

The posting of stories, commentaries, reports, documents and links (embedded or otherwise) on this site does not in any way, shape or form, implied or otherwise, necessarily express or suggest endorsement or support of any of such posted material or parts therein.

The word "alleged" is deemed to occur before the word "fraud." Since the rule of law still applies. To peasants, at least.

Fair Use

This site contains copyrighted material the use of which has not always been specifically authorized by the copyright owner. We are making such material available in our efforts to advance understanding of environmental, political, human rights, economic, democracy, scientific, and social justice issues, etc. We believe this constitutes a 'fair use' of any such copyrighted material as provided for in section 107 of the US Copyright Law. In accordance with Title 17 U.S.C. Section 107, the material on this site is distributed without profit to those who have expressed a prior interest in receiving the included information for research and educational purposes. For more info go to: http://www.law.cornell.edu/uscode/17/107.shtml. If you wish to use copyrighted material from this site for purposes of your own that go beyond 'fair use', you must obtain permission from the copyright owner.

DMCA Contact

This is information for anyone that wishes to challenge our "fair use" of copyrighted material.

If you are a legal copyright holder or a designated agent for such and you believe that content residing on or accessible through our website infringes a copyright and falls outside the boundaries of "Fair Use", please send a notice of infringement by contacting atheonews@gmail.com.

We will respond and take necessary action immediately.

If notice is given of an alleged copyright violation we will act expeditiously to remove or disable access to the material(s) in question.

All 3rd party material posted on this website is copyright the respective owners / authors. Aletho News makes no claim of copyright on such material.