The Guardian's vernacular shield of Ukraine's TV attack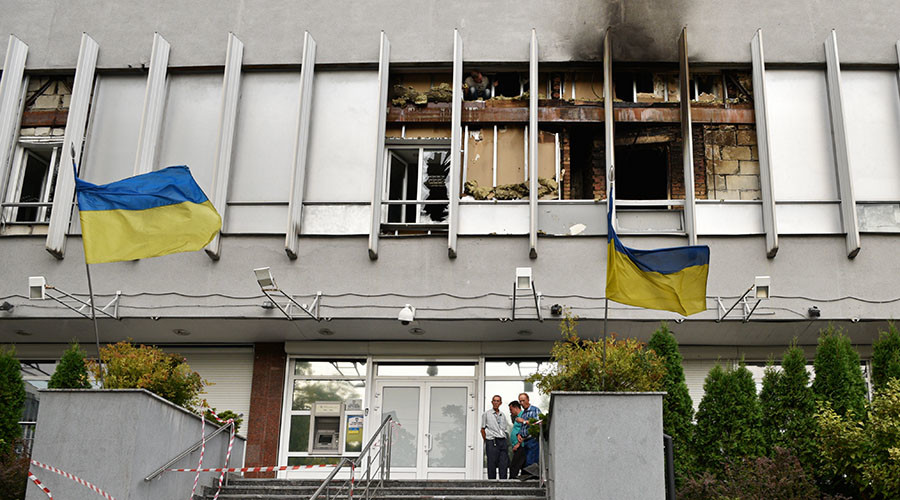 The Ukrainian Inter TV Channel building in Kiev, which was set on fire on September 4, 2016. © Sputnik
The Guardian's report this week into an apparent arson attack on a Ukrainian TV station is the latest entry in the 'do as we say, not as we do' textbook of mainstream journalism.
After the Kiev offices of the building housing studios and offices of Ukrainian broadcaster Inter were set on fire by former military personnel, the British newspaper used copy from the Associated Press and the US state news agency RFE/RL, which has its own agenda, to report on the event. The added spin, however, is all their own.
The headline states: "Pro-Russia TV station in Kiev evacuated after fire." For starters, there is no evidence that Inter TV, the channel affected, is especially favorable towards Moscow. In reality, Ukraine watchers believe it's more pertinent to describe it as simply opposed to the current regime in Kiev. The comments beneath the Guardian's own twitter post promoting the piece would appear to back that up.
Looking at the headline, the impression given is of the local authorities as good guys, practically saving the "pro-Russia" opposition. Quite a pleasant surprise, considering that the current government in Kiev allows private armies, representing nationalist and oligarchic interests – which often align – to run amok in the country and this is why episodes of this nature occur. How do we know there's a connection? Why, Ukrainian Interior Minister Arsen Avakov himself stated that it was former Ukrainian military personnel that carried out this attack. This statement is conspicuously missing from the Guardian piece altogether.
Isn't it remarkable how oblique Western mainstream media's language becomes when "their guys" are caught out doing something wrong?
The incident is reminiscent of the 2014 Odessa Trade Union building fire and the reaction to it. Back then the Guardian's headline was "Ukraine clashes: dozens dead after trade union building fire." There was no mention of the nationalist groups involved and the headline didn't explain that all the deaths were on the anti-government side, once again dubbed "pro-Russian." Despite the fact that no weapons were found in the building, Western media has pretty much ignored the massacre, in which 42 people died.
Many reports then referred to the building "catching" fire, as if by accident, and ignored ample video evidence of Molotov cocktails being hurled by the Kiev supporters.
In reporting on the story, The Guardian's unquestioning reliance on RFE/RL text is particularly telling. After all, we regularly hear self-congratulatory boasting from the Western press about their commitment to objectivity, rejection of political agendas and a tradition of holding authority accountable – usually coupled with scolding of RT and other news outlets that dare to present an alternative interpretation of events. Well, RFE/RL is controlled by the Broadcasting Board of Governors (BBG), which is funded to the tune of nearly $800 million annually by the US government and its first listed principle is to "be consistent with the broad foreign policy objectives of the United States."
Currently the primary aim of US policy in Ukraine is to support the Poroshenko adminstration, seemingly without any caveats, and presumably because the regime is useful for balancing Russia's influence in the region.
So much for speaking truth to power, G.
No comments yet.
Visits Since December 2009

Looking for something?

Archives

Calendar

Categories

Tags

Recent Comments
More Links

Contact:

atheonews (at) gmail.com

Disclaimer

This site is provided as a research and reference tool. Although we make every reasonable effort to ensure that the information and data provided at this site are useful, accurate, and current, we cannot guarantee that the information and data provided here will be error-free. By using this site, you assume all responsibility for and risk arising from your use of and reliance upon the contents of this site.

This site and the information available through it do not, and are not intended to constitute legal advice. Should you require legal advice, you should consult your own attorney.

Nothing within this site or linked to by this site constitutes investment advice or medical advice.

Materials accessible from or added to this site by third parties, such as comments posted, are strictly the responsibility of the third party who added such materials or made them accessible and we neither endorse nor undertake to control, monitor, edit or assume responsibility for any such third-party material.

The posting of stories, commentaries, reports, documents and links (embedded or otherwise) on this site does not in any way, shape or form, implied or otherwise, necessarily express or suggest endorsement or support of any of such posted material or parts therein.

The word "alleged" is deemed to occur before the word "fraud." Since the rule of law still applies. To peasants, at least.

Fair Use

This site contains copyrighted material the use of which has not always been specifically authorized by the copyright owner. We are making such material available in our efforts to advance understanding of environmental, political, human rights, economic, democracy, scientific, and social justice issues, etc. We believe this constitutes a 'fair use' of any such copyrighted material as provided for in section 107 of the US Copyright Law. In accordance with Title 17 U.S.C. Section 107, the material on this site is distributed without profit to those who have expressed a prior interest in receiving the included information for research and educational purposes. For more info go to: http://www.law.cornell.edu/uscode/17/107.shtml. If you wish to use copyrighted material from this site for purposes of your own that go beyond 'fair use', you must obtain permission from the copyright owner.

DMCA Contact

This is information for anyone that wishes to challenge our "fair use" of copyrighted material.

If you are a legal copyright holder or a designated agent for such and you believe that content residing on or accessible through our website infringes a copyright and falls outside the boundaries of "Fair Use", please send a notice of infringement by contacting atheonews@gmail.com.

We will respond and take necessary action immediately.

If notice is given of an alleged copyright violation we will act expeditiously to remove or disable access to the material(s) in question.

All 3rd party material posted on this website is copyright the respective owners / authors. Aletho News makes no claim of copyright on such material.