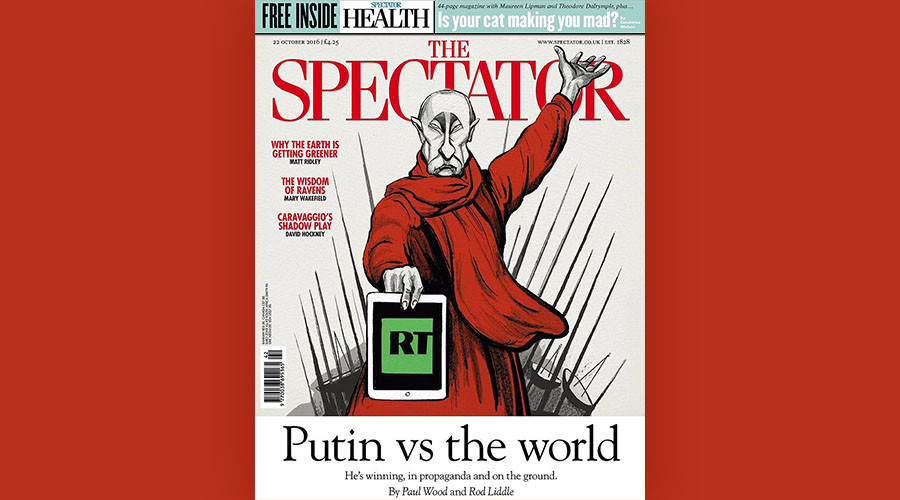 The NatWest account closure is only the latest entry in the channel's saga in the UK.
Over the last couple of years, certain voices in the UK media – and the wider establishment –  have been feeding a wave of hysteria over the channel's presence in the British market. Here are the highlights:
October 2014 – Posters for RT's "Second Opinion" ad campaign are rejected for outdoor posting by several London platforms for having what they called "political undertones." Instead, RT puts up a "redacted" version of the posters, which use the example of the Iraq War to draw attention to the importance of diversity in the news media.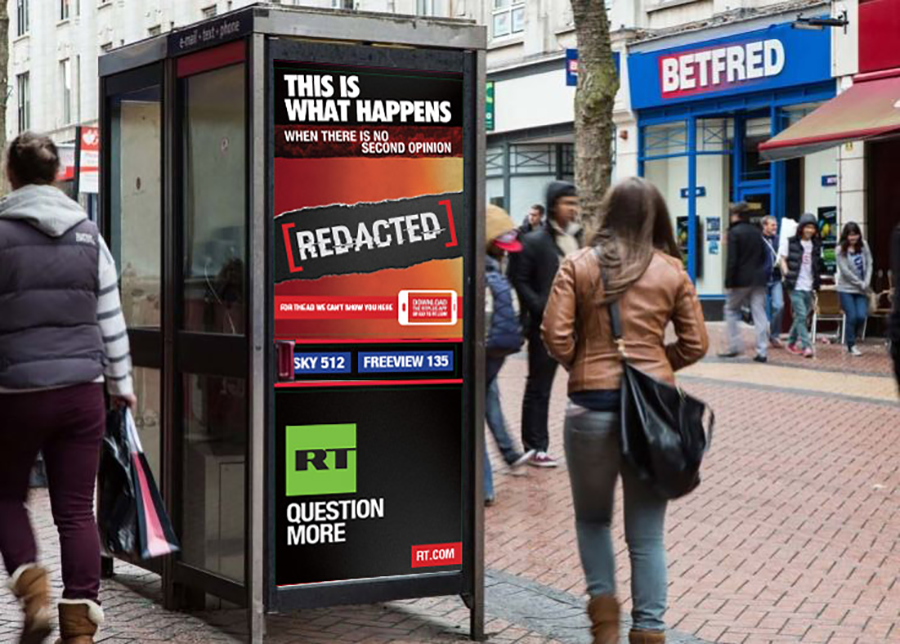 November 2014 – The network officially launches RT UK, a dedicated channel broadcasting from its own studios in London. The British mainstream media, predictably, freaks out.
December 2014 – John Whittingdale, chair of the Commons Culture, Media and Sport Select Committee, lamented "It is frightening, the extent to which we are losing the information war," with Peter Horrocks, a former top executive of the BBC's global news operation, explaining to The Guardian that the Beeb was losing ground to RT because it is "financially outgunned."  The problem with Horrock's contention is that it simply isn't true. That year, the BBC World Service ALONE was allocated a 2014 budget of £245 million ($382 million at that time), primarily for radio and online services.  RT, with its much costlier TV signal distribution, received 15.38 billion rubles ($271 million then).
January 2015 – The British Army announces it is creating a special force of "Facebook warriors" – a 1,500-strong brigade of professional soldiers to promote UK narratives on social media platforms. According to the Guardian, part of the justification for the move was that Russia's point of view is resonating with the UK audience.
February 2015 – The Economist's senior editor, Ed Lucas, pays a lot of attention to RT – especially in his other gig as a lobbyist for American weapons manufacturers. In this instance, he calls for KGB methods to be used against RT's staff. "I think we could do a bit more ostracism," Lucas said at a Munich security conference," just as RT journalists were coming under fire near Donetsk. "Far too many people see a job at RT as the first stage on a career ladder. It's not. It's the last stage on a career ladder," he said.
November 2015 – Larry King comes to London to promote his two shows "Larry King Now" and "Politicking," which have been coming out on RT America and are about to start airing on RT UK. He grants an interview to BBC's Evan Davis, who tries to give the legendary King of Chat a very hard time about working with RT. But BBC's own viewers are not impressed.
Eventually, even Newsnight's own Editor, Ian Katz, throws in the towel, writing "in case you missed… Larry King schooling our Evan Davis on the art of the interview."
February 2016 – The BBC submits written testimony (made public over the summer) to Westminster's Foreign Affairs Committee to justify demands for more funding, despite having just received £289 million for four years from the UK's defense budget. The report outlines the reasons why RT's success should create panic among the UK establishment: "Viewing figures for RT, Russia's international news channel, have seen a sharp increase… It also operates very successfully on social media."  The Russians are coming! The British government nods along in response.
August 2016 – The Times' UK publishes seven pieces on the dangers of Russian media, mostly RT, over a single weekend. Obsessing much?
October 2016 – NatWest Bank, a subsidiary of Britain's majority state-controlled Royal Bank of Scotland, gives notice that it is closing RT's accounts – without explanation. Hundreds of messages and statements of support pour in from RT's audience, NatWest/RBS customers, and UK public figures, who criticize the move as an affront to the UK's principles of freedom of speech.
Stay tuned!
READ MORE: 
RT responds to 'ostracism' calls by Economist editor at Munich conference
More Links

Contact:

atheonews (at) gmail.com

Disclaimer

This site is provided as a research and reference tool. Although we make every reasonable effort to ensure that the information and data provided at this site are useful, accurate, and current, we cannot guarantee that the information and data provided here will be error-free. By using this site, you assume all responsibility for and risk arising from your use of and reliance upon the contents of this site.

This site and the information available through it do not, and are not intended to constitute legal advice. Should you require legal advice, you should consult your own attorney.

Nothing within this site or linked to by this site constitutes investment advice or medical advice.

Materials accessible from or added to this site by third parties, such as comments posted, are strictly the responsibility of the third party who added such materials or made them accessible and we neither endorse nor undertake to control, monitor, edit or assume responsibility for any such third-party material.

The posting of stories, commentaries, reports, documents and links (embedded or otherwise) on this site does not in any way, shape or form, implied or otherwise, necessarily express or suggest endorsement or support of any of such posted material or parts therein.

The word "alleged" is deemed to occur before the word "fraud." Since the rule of law still applies. To peasants, at least.

Fair Use

This site contains copyrighted material the use of which has not always been specifically authorized by the copyright owner. We are making such material available in our efforts to advance understanding of environmental, political, human rights, economic, democracy, scientific, and social justice issues, etc. We believe this constitutes a 'fair use' of any such copyrighted material as provided for in section 107 of the US Copyright Law. In accordance with Title 17 U.S.C. Section 107, the material on this site is distributed without profit to those who have expressed a prior interest in receiving the included information for research and educational purposes. For more info go to: http://www.law.cornell.edu/uscode/17/107.shtml. If you wish to use copyrighted material from this site for purposes of your own that go beyond 'fair use', you must obtain permission from the copyright owner.

DMCA Contact

This is information for anyone that wishes to challenge our "fair use" of copyrighted material.

If you are a legal copyright holder or a designated agent for such and you believe that content residing on or accessible through our website infringes a copyright and falls outside the boundaries of "Fair Use", please send a notice of infringement by contacting atheonews@gmail.com.

We will respond and take necessary action immediately.

If notice is given of an alleged copyright violation we will act expeditiously to remove or disable access to the material(s) in question.

All 3rd party material posted on this website is copyright the respective owners / authors. Aletho News makes no claim of copyright on such material.