Facebook Suppresses Truth
So far 564 people believe they have shared on Facebook my article conclusively refuting the CIA's invention of lies about Russia hacking the DNC, using the share button on this site. Another 78 have tried to share it from my Facebook page. The total amount of incoming traffic from these 650 people sharing? 22 people. Almost nobody can currently reach this site through Facebook, as the "came from" interface on my statcounter below shows. Nothing from Facebook. Facebook are actively colluding in preventing social media from contradicting the mainstream media lies about Russian involvement in the US election campaign.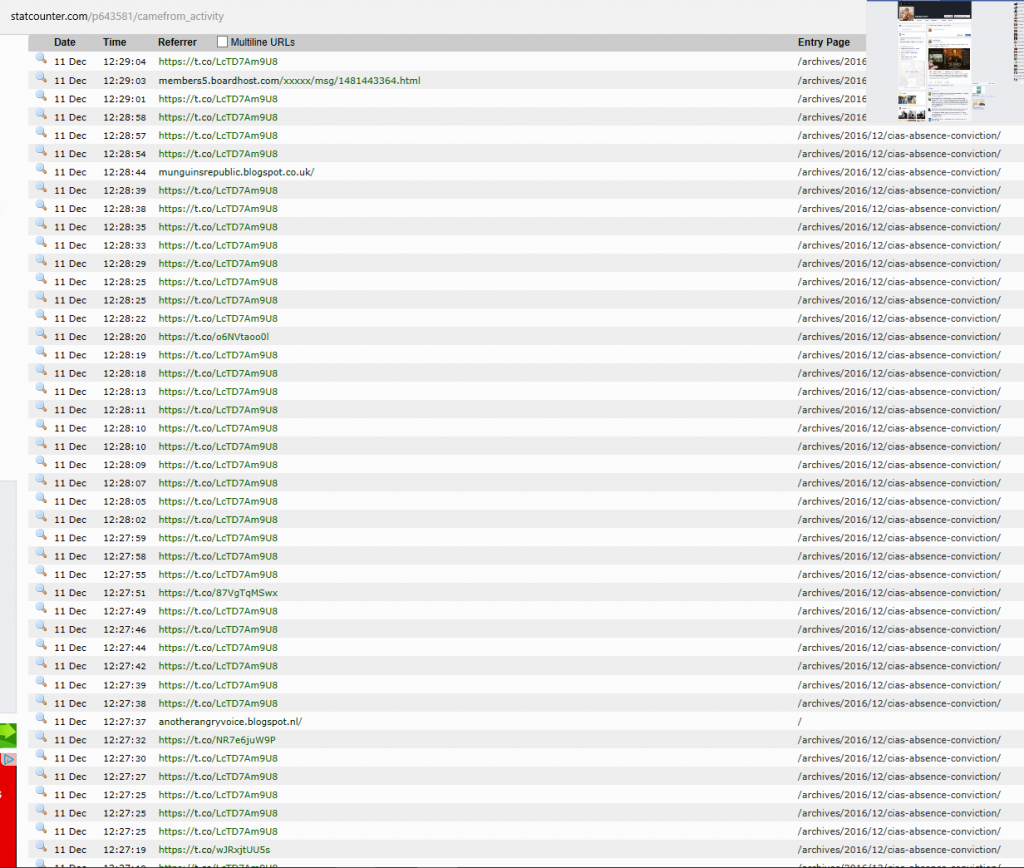 Don't believe me? If you think you shared the article on Facebook, phone one of your Facebook friends and ask if it appeared for them.
The only way to defeat this is to republish the article yourself. I waive any copyright. If you have access to a blog, copy and paste it there and post a link to that blog on Facebook. Or simply cut and paste my whole article and copy it to your Facebook page, in sections if required.
I am similarly ghost banned on Twitter. The work round to this, which plenty of people have found, is to create a new tweet yourself with a link to my site, rather than retweet one of my tweets. As with the Facebook share, if you do retweet you will be unaware it doesn't work.
There are profound implications for society in the compliance of the major social media corporations with establishment demands to prevent social media from effectively challenging the mainstream media narrative – and I cannot think of a more classic example than this case. I do urge you to take action as described above, to show that the people will not stand for it.
1 Comment »
The Bastards have thought of every thing……They won't rest until we're completely "in the dark" again

"Well know that our disinformation is complete when everything the American public believes is false"…..William Casey C.I.A. Director 1980

LikeLike

Comment by Brian Harry Australia | December 11, 2016 |
Visits Since December 2009

Looking for something?

Archives

Calendar

Categories

Tags

Recent Comments
More Links

Contact:

atheonews (at) gmail.com

Disclaimer

This site is provided as a research and reference tool. Although we make every reasonable effort to ensure that the information and data provided at this site are useful, accurate, and current, we cannot guarantee that the information and data provided here will be error-free. By using this site, you assume all responsibility for and risk arising from your use of and reliance upon the contents of this site.

This site and the information available through it do not, and are not intended to constitute legal advice. Should you require legal advice, you should consult your own attorney.

Nothing within this site or linked to by this site constitutes investment advice or medical advice.

Materials accessible from or added to this site by third parties, such as comments posted, are strictly the responsibility of the third party who added such materials or made them accessible and we neither endorse nor undertake to control, monitor, edit or assume responsibility for any such third-party material.

The posting of stories, commentaries, reports, documents and links (embedded or otherwise) on this site does not in any way, shape or form, implied or otherwise, necessarily express or suggest endorsement or support of any of such posted material or parts therein.

The word "alleged" is deemed to occur before the word "fraud." Since the rule of law still applies. To peasants, at least.

Fair Use

This site contains copyrighted material the use of which has not always been specifically authorized by the copyright owner. We are making such material available in our efforts to advance understanding of environmental, political, human rights, economic, democracy, scientific, and social justice issues, etc. We believe this constitutes a 'fair use' of any such copyrighted material as provided for in section 107 of the US Copyright Law. In accordance with Title 17 U.S.C. Section 107, the material on this site is distributed without profit to those who have expressed a prior interest in receiving the included information for research and educational purposes. For more info go to: http://www.law.cornell.edu/uscode/17/107.shtml. If you wish to use copyrighted material from this site for purposes of your own that go beyond 'fair use', you must obtain permission from the copyright owner.

DMCA Contact

This is information for anyone that wishes to challenge our "fair use" of copyrighted material.

If you are a legal copyright holder or a designated agent for such and you believe that content residing on or accessible through our website infringes a copyright and falls outside the boundaries of "Fair Use", please send a notice of infringement by contacting atheonews@gmail.com.

We will respond and take necessary action immediately.

If notice is given of an alleged copyright violation we will act expeditiously to remove or disable access to the material(s) in question.

All 3rd party material posted on this website is copyright the respective owners / authors. Aletho News makes no claim of copyright on such material.