Clinton Gang Push for War with Iran
So what are the Clinton gang doing while Trump introduces anti-Muslim immigration discrimination? Oh, they are pushing for war with Iran, which might give pause to some who think the world would have been less awful had Hillary won.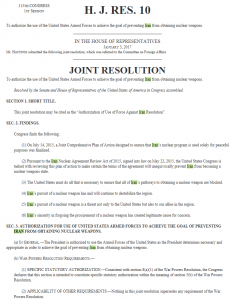 Here is the front page of the resolution introduced into the House of Representatives by Democrat Alcee L Hastings, an extremely close ally of Debbie Wasserman Schultz, who had to resign in disgrace as chair of the Democratic National Committee after WikiLeaks published emails establishing her corrupt endeavours to fix the primary elections for Hillary against Bernie Sanders.
The Resolution reads "To authorize the use of the United States Armed Forces to achieve the goal of preventing Iran from obtaining nuclear weapons."
There is in fact no evidence that Iran is continuing a covert programme to produce nuclear weapons. British, French and Russian intelligence all assess that Iran is sticking to its agreements and – here is a key point – so do the CIA. But when did politicians ever let facts stand in their way?
Trump's mad visa ban, which excludes Saudi Arabia and the Gulf States which are the main financiers, armers, ideologues and exporters of Salafist terrorism, turns out to be imposed on the countries which were on Obama's watchlist. As the Hastings resolution shows, the anti-Iranian and pro-Saudi madness is bipartisan. To include Iran but exclude Saudi Arabia is further evidence of the twisting of US foreign policy to serve the interests of Saudi Arabia and its ally Israel. […]
These are dangerous times. And with the Democrats vying for "dumb patriot" support and seeking to outflank Trump to the right by roaring him on to a military attack on Iran, and seeking to push through legislation to promote that, there appear few influential voices of reason in the USA at present. – Full article
1 Comment »
"There is in fact no evidence that Iran is continuing a covert programme to produce nuclear weapons. British, French and Russian intelligence all assess that Iran is sticking to its agreements and – here is a key point – so do the CIA"

Are there NO checks and balances in the Congress these days? If ALL the evidence suggests there is no program for Iran to produce Nuclear Weapons, what are these idiots going on about? These people are a danger to the USA, and should be held to account, but then again, no one was really held to account for 9/11 either.

LikeLike

Comment by Brian Harry, Australia | January 30, 2017 |
Visits Since December 2009

Looking for something?

Archives

Calendar

Categories

Tags

Recent Comments
More Links

Contact:

atheonews (at) gmail.com

Disclaimer

This site is provided as a research and reference tool. Although we make every reasonable effort to ensure that the information and data provided at this site are useful, accurate, and current, we cannot guarantee that the information and data provided here will be error-free. By using this site, you assume all responsibility for and risk arising from your use of and reliance upon the contents of this site.

This site and the information available through it do not, and are not intended to constitute legal advice. Should you require legal advice, you should consult your own attorney.

Nothing within this site or linked to by this site constitutes investment advice or medical advice.

Materials accessible from or added to this site by third parties, such as comments posted, are strictly the responsibility of the third party who added such materials or made them accessible and we neither endorse nor undertake to control, monitor, edit or assume responsibility for any such third-party material.

The posting of stories, commentaries, reports, documents and links (embedded or otherwise) on this site does not in any way, shape or form, implied or otherwise, necessarily express or suggest endorsement or support of any of such posted material or parts therein.

The word "alleged" is deemed to occur before the word "fraud." Since the rule of law still applies. To peasants, at least.

Fair Use

This site contains copyrighted material the use of which has not always been specifically authorized by the copyright owner. We are making such material available in our efforts to advance understanding of environmental, political, human rights, economic, democracy, scientific, and social justice issues, etc. We believe this constitutes a 'fair use' of any such copyrighted material as provided for in section 107 of the US Copyright Law. In accordance with Title 17 U.S.C. Section 107, the material on this site is distributed without profit to those who have expressed a prior interest in receiving the included information for research and educational purposes. For more info go to: http://www.law.cornell.edu/uscode/17/107.shtml. If you wish to use copyrighted material from this site for purposes of your own that go beyond 'fair use', you must obtain permission from the copyright owner.

DMCA Contact

This is information for anyone that wishes to challenge our "fair use" of copyrighted material.

If you are a legal copyright holder or a designated agent for such and you believe that content residing on or accessible through our website infringes a copyright and falls outside the boundaries of "Fair Use", please send a notice of infringement by contacting atheonews@gmail.com.

We will respond and take necessary action immediately.

If notice is given of an alleged copyright violation we will act expeditiously to remove or disable access to the material(s) in question.

All 3rd party material posted on this website is copyright the respective owners / authors. Aletho News makes no claim of copyright on such material.