Read the CIA's 1951 listicle comparing U.S and Soviet Propaganda
Agency memo found 33 similarities between Voice of America and its USSR counterparts
In 1951, as the Cold War was intensifying, the CIA decided to see how Voice of America radio broadcasts into Eastern Europe compared with Soviet efforts. In a remarkably candid document, the Agency critically assessed the similarities and differences between U.S. and Soviet propaganda.
Today, VOA claims that it was founded during the Second World War to provide "Unbiased and accurate information." The CIA officers assessing VOA in 1951, though, saw the service as essentially similar to Soviet propaganda, going so far as saying that most Americans would be surprised by the similarities between the two.

The document proposes that similarities could be the result of opposing countries imitating the propaganda put out by their rivals, and even posits the existence of an "international propagandists culture" that tended to produce similar techniques

The document includes a list of 33 main similarities between Soviet and American propaganda, including the "impression of objectivity," "avoiding obvious lying on tangible facts," blurring distinctions within enemy camp," and "not dignifying opponent's position by quoting it."
However, it was in identifying where the two styles differed that the Agency saw the most strategic value.

Some of the differences that the CIA identified included "Soviet Conflict-Mindedness" …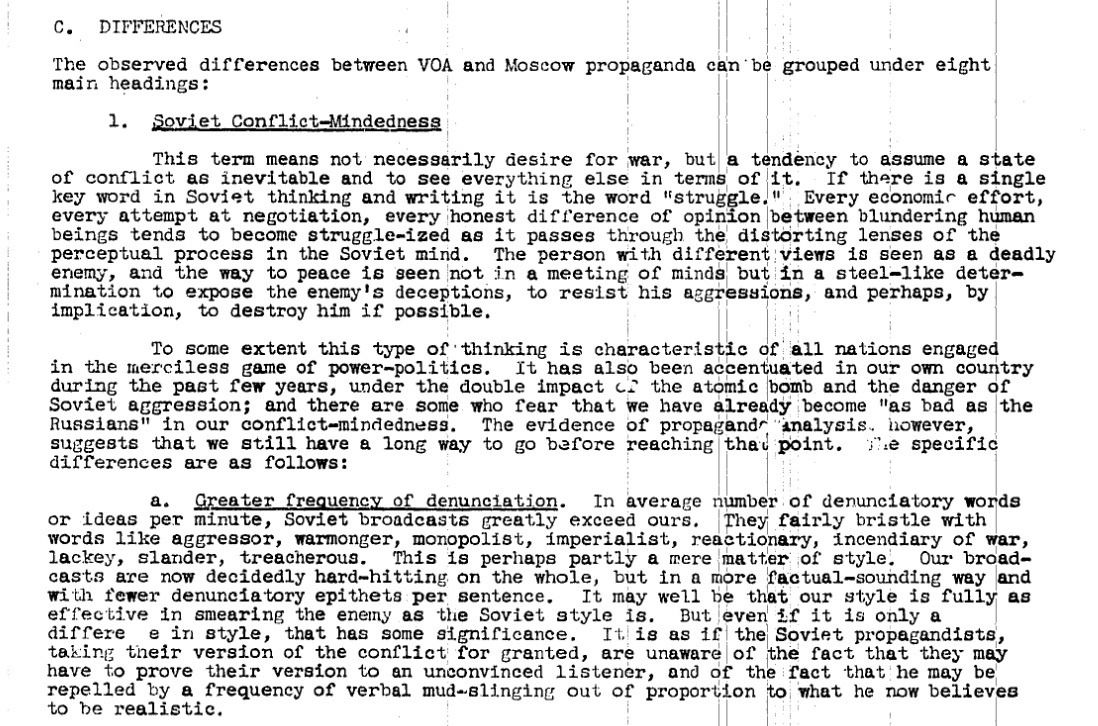 which was directly opposed to "Greater American Fact-Mindedness"

Changes in the National Defense Authorization Act this year ignited fears that VOA could be marketing itself to an American audience. If it does, the American public may get a direct demonstration of exactly what the "international propagandists culture" looks like today.
Read the complete report.
Edited by JPat Brown
1 Comment »
"The people will believe what the Media tell them to believe"……George Orwell.

"Facts do not cease to exist because they are ignored"…..Aldous Huxley.

"It is the absolute right of the State to supervise the formation of Public Opinion"…..Joseph Goebbels.

"We'll know our disinformation is complete, when everything the American people believe is false"….William Casey C.I.A Director 1981.

"The News and the Truth are not the same thing"…..Walter Lippmann.

Comment by Brian Harry, Australia | July 12, 2017 |
Visits Since December 2009

Follow Aletho News on Twitter

My Tweets

Looking for something?

Archives

Calendar

Categories

Tags

Latest Comments
More Links

Contact:

atheonews (at) gmail.com

disclaimer

This site is provided as a research and reference tool. Although we make every reasonable effort to ensure that the information and data provided at this site are useful, accurate, and current, we cannot guarantee that the information and data provided here will be error-free. By using this site, you assume all responsibility for and risk arising from your use of and reliance upon the contents of this site.

This site and the information available through it do not, and are not intended to constitute legal advice. Should you require legal advice, you should consult your own attorney.

Nothing within this site or linked to by this site constitutes investment advice or medical advice.

Materials accessible from or added to this site by third parties, such as comments posted, are strictly the responsibility of the third party who added such materials or made them accessible and we neither endorse nor undertake to control, monitor, edit or assume responsibility for any such third-party material.

The posting of stories, commentaries, reports, documents and links (embedded or otherwise) on this site does not in any way, shape or form, implied or otherwise, necessarily express or suggest endorsement or support of any of such posted material or parts therein.

The word "alleged" is deemed to occur before the word "fraud." Since the rule of law still applies. To peasants, at least.

Fair Use

This site contains copyrighted material the use of which has not always been specifically authorized by the copyright owner. We are making such material available in our efforts to advance understanding of environmental, political, human rights, economic, democracy, scientific, and social justice issues, etc. We believe this constitutes a 'fair use' of any such copyrighted material as provided for in section 107 of the US Copyright Law. In accordance with Title 17 U.S.C. Section 107, the material on this site is distributed without profit to those who have expressed a prior interest in receiving the included information for research and educational purposes. For more info go to: http://www.law.cornell.edu/uscode/17/107.shtml. If you wish to use copyrighted material from this site for purposes of your own that go beyond 'fair use', you must obtain permission from the copyright owner.

DMCA Contact

This is information for anyone that wishes to challenge our "fair use" of copyrighted material.

If you are a legal copyright holder or a designated agent for such and you believe that content residing on or accessible through our website infringes a copyright and falls outside the boundaries of "Fair Use", please send a notice of infringement by contacting atheonews@gmail.com.

We will respond and take necessary action immediately.

If notice is given of an alleged copyright violation we will act expeditiously to remove or disable access to the material(s) in question.

All 3rd party material posted on this website is copyright the respective owners / authors. Aletho News makes no claim of copyright on such material.