Mattis claims UN let US intervene in Syria, although it never did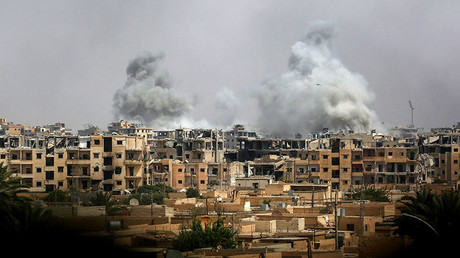 US Defense Secretary James Mattis has recently claimed that Washington received a mandate to operate in Syria from no less than the UN itself. The problem is the UN never did any such thing as it does not even have any legal capacity to do so.
The UN cannot sanction a foreign invasion of Syria or any other country because it is absolutely impossible under international law, Russian Deputy Foreign Minister Gennady Gatilov said, commenting on the issue. "The UN cannot do such things," he told the Russian media.
He went on to say that "Syria is a sovereign independent state," adding that "only the Syrian government can invite armed forces of the third countries onto its territory" while "the UN has no such right," as reported by Rossiyskaya Gazeta daily. The diplomat also said that "the fight against terrorism does not give any states or coalitions a free hand to establish their presence on Syrian territory."
International law indeed envisages no way for the UN or any other international body to sanction an invasion of one state's armed forces on the territory of another state. In fact, such actions are regarded as aggression under international law and are strictly prohibited.
UN General Assembly Resolution 3314 on the definition of aggression explicitly states that an "invasion or attack by the armed forces of a State of the territory of another State" as well as "any military occupation, however temporary" or "bombardment by the armed forces of a State against the territory of another State" is what particularly constitutes aggression.
However, all these facts did not prevent Mattis from claiming that it was the UN that sanctified the presence of the US troops on the Syrian territory without the consent of the Syrian government. "You know, the UN said that … basically we can go after ISIS. And we're there to take them out," the US defense secretary said, referring to the US actions in Syria as he answered a journalist's question on Monday.
Apparently, he implied that a call by UN on the international community and the US in particular to take action was more than enough to justify the US military's presence in Syria. Actually, the UN did issue such a call – in Resolution 2249 adopted by the Un Security Council in November 2015.
Resolution 2249 called on UN member states "that have the capacity to do so to take all necessary measures" and "to redouble and coordinate their efforts to prevent and suppress terrorist acts committed specifically by ISIL [Islamic State (IS, former ISIS/ISIL)]" as well as other terrorist groups.
However, it urged the states to do so "in compliance with international law" – something that the US officials often neglect when they assess the actions of the US military abroad.
The statements of the US defense secretary also provoked an angry reaction in Damascus. The Syrian government once again stated that the US troops are operating on Syrian territory without its consent and in violation of international law.
"The presence of the US forces or any foreign military presence in Syria without the consent of the Syrian government constitutes an act of aggression and an attack on the sovereignty of the Syrian Arab Republic as well as a gross violation of the Charter and principles of the United Nations," Syria's Foreign Ministry said, as cited by the SANA news agency.
It further said that the US presence "only leads to prolonging the crisis and further complicating it," adding that the real goal of the US in Syria apparently lies in obstructing the peace process. The ministry then once again called for the immediate and unconditional withdrawal of US forces from Syrian territory.
The statements made by Mattis are "absolutely baseless" and "irresponsible," Vyacheslav Matuzov, a political scientist and the head of the Russian-Arab Friendship and Business Cooperation Society, told RT, commenting on the issue. He went on to say that any foreign military presence on the territory of any state can be authorized solely by the legitimate government of that state.
"There is a clear position of the Syrian authorities, according to which the US troops are stationed on the Syrian territory illegally," he said, adding that there can be "no argument" about the legal status of US forces in Syria.
No comments yet.
Visits Since December 2009

Follow Aletho News on Twitter

My Tweets

Looking for something?

Archives

Calendar

Categories

Tags

Latest Comments
More Links

Contact:

atheonews (at) gmail.com

disclaimer

This site is provided as a research and reference tool. Although we make every reasonable effort to ensure that the information and data provided at this site are useful, accurate, and current, we cannot guarantee that the information and data provided here will be error-free. By using this site, you assume all responsibility for and risk arising from your use of and reliance upon the contents of this site.

This site and the information available through it do not, and are not intended to constitute legal advice. Should you require legal advice, you should consult your own attorney.

Nothing within this site or linked to by this site constitutes investment advice or medical advice.

Materials accessible from or added to this site by third parties, such as comments posted, are strictly the responsibility of the third party who added such materials or made them accessible and we neither endorse nor undertake to control, monitor, edit or assume responsibility for any such third-party material.

The posting of stories, commentaries, reports, documents and links (embedded or otherwise) on this site does not in any way, shape or form, implied or otherwise, necessarily express or suggest endorsement or support of any of such posted material or parts therein.

The word "alleged" is deemed to occur before the word "fraud." Since the rule of law still applies. To peasants, at least.

Fair Use

This site contains copyrighted material the use of which has not always been specifically authorized by the copyright owner. We are making such material available in our efforts to advance understanding of environmental, political, human rights, economic, democracy, scientific, and social justice issues, etc. We believe this constitutes a 'fair use' of any such copyrighted material as provided for in section 107 of the US Copyright Law. In accordance with Title 17 U.S.C. Section 107, the material on this site is distributed without profit to those who have expressed a prior interest in receiving the included information for research and educational purposes. For more info go to: http://www.law.cornell.edu/uscode/17/107.shtml. If you wish to use copyrighted material from this site for purposes of your own that go beyond 'fair use', you must obtain permission from the copyright owner.

DMCA Contact

This is information for anyone that wishes to challenge our "fair use" of copyrighted material.

If you are a legal copyright holder or a designated agent for such and you believe that content residing on or accessible through our website infringes a copyright and falls outside the boundaries of "Fair Use", please send a notice of infringement by contacting atheonews@gmail.com.

We will respond and take necessary action immediately.

If notice is given of an alleged copyright violation we will act expeditiously to remove or disable access to the material(s) in question.

All 3rd party material posted on this website is copyright the respective owners / authors. Aletho News makes no claim of copyright on such material.