The Deep State Breaks Surface
I confess I found it difficult to get worked up about the Cambridge Analytica affair. My reactions was "What awful people. But surely everybody realises that is what Facebook does?". It seemed to me hardly news, on top of which the most likely outcome is that it will be used as yet another excuse to introduce government controls on the internet and clamp down on dissenting views like those on this website, where 85% of all traffic comes through Facebook or Twitter.
But two nights ago my interest was piqued when, at the height of Cambridge Analytica's domination of the news cycle, the BBC gave it considerably less airtime than the alcohol abuse problems of someone named Ant. The evening before, the BBC had on Newsnight given the CEO of Cambridge Analytica the most softball interview imaginable. If the BBC is obviously downplaying something, it is usually defending a deep British Establishment interest.
It took me a minute to find out that Cambridge Analytica is owned by a British company, SCL Ltd, which in effect does exactly the same activities in the UK that Cambridge Analytica was undertaking in the US. I then looked up SCL on Bloomberg.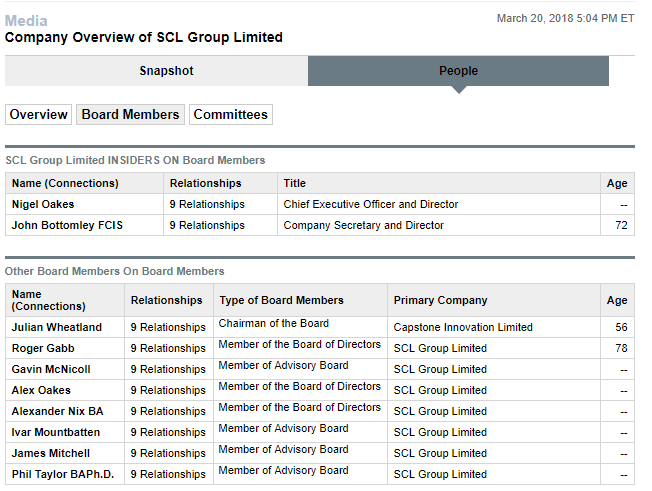 The name which jumped out at me of course was Lord Ivar Mountbatten, direct descendant of Queen Victoria and scion of the family closest friends with that of the UK's unelected monarch. The only person listed by Companies House as having "significant control" – ie over 25% of the shares – is Roger Gabb, the wine merchant known for large donations to the Tory Party. I have now spoken to people who know him fairly well who, I must note in fairness, universally say he is a kind and very bright man, but with no technical input in the kind of work performed by SCL/Cambridge Analytica.
SCL is as Establishment as a company can get. The most worrying aspect of this is that SCL is paid by the British government to manipulate public opinion particularly in the fields of "Security" and "Defence", and still more worryingly SCL – this group of ultra Tory money men seeking to refine government propaganda at the expense of you, the taxpayer – is cleared by the MOD to access classified government information.
I then did a news search on google for "Mountbatten" and "SCL" and it brought up zero results from corporate and state media. I then did a wider search not just of news sites, and found this excellent article from Liam O'Hare on Bella Caledonia. It said everything I had been planning to write, and probably says it better. Please do read it. Liam has actually done this to me before, getting there first. I suspect we may be the same person. Come to think of it, I have never seen a photo of us together.
PS Everyone of my generation will remember this joke. "What's white and flies across the sea at 300mph?" We had a more robust attitude to free speech in the 70's, and the maudlin deference to the "Royal family" had much less hold on the population.
3 Comments »
Gee, the British 'Establishment' uses 'Bribery and Sex Workers' to influence the outcome of elections…..Who would have thought that? Sounds very similar to what happens in the USA. Maybe the Brits were the ones who taught the Americans how to 'Control" reality, after all, Britain was the most successful Empire in history.
And, there's also a common theme in the two countries. The 'Richest Merchants' also have a way of always remaining in the 'Halls of Power', always emerging with more money and the Power that accompanies it.

I wonder who they are???

Comment by Brian Harry, Australia | March 22, 2018 |

An Apology For Lord Janner's Child Abuse Is Overdue
January 21, 2016 / Gilad Atzmon

Lord Greville Janner- The Chairman of the Holocaust Educational Trust..
By Gilad Atzmon
The British press reported yesterday that Lord Greville Janner (who passed away last month) was not properly investigated by police for allegations of child abuse and buggery (anal intercourse and bestiality). An independent review has found that The Crown Prosecution Service failed in its responsibility to bring charges against the peer 25 years ago.

The Telegraph wrote "Sir Richard Henriques, a retired High Court judge, found a series of failures in a review of the CPS's handling of past allegations relating to the Labour peer." Sir Richard went as far as describing such police neglect as "remarkable."

The report found that in 1991 there was sufficient evidence against Lord Janner to provide a realistic prospect of conviction for offences of indecent assault and buggery against a 14-year-old boy, known as "Complainant 1".

There was also sufficient evidence to prosecute Lord Janner in 2007 for indecent assault and buggery (again) Sir Richard found, adding that the peer should have been arrested and interviewed and his home searched.

The Daily Telegraph and other press outlets list the sex abuse allegations against Lord Janner, a 27 year Labour MP. But there is one thing The Telegraph and other British press outlets fail to mention. They omit the fact that at the time Lord Janner was allegedly sexually abusing young British orphans, sometimes, actually in his marital bed, he was the head of the British Jewish community.

Between 1978 and 1984 Lord Janner was the chairman of Board of Deputies of British Jews, a body with claims to represent British Jewry. And while inflicting shoah on British orphans, Lord Janner was a prominent advocate of Holocaust education. He was the Chairman of the Holocaust Educational Trust, the President of the Commonwealth Jewish Council, and Vice President of the World Jewish Congress.
At the least, all these prominent Jewish organisations ought to issue an apology or at least admit to gross misjudgement in letting a person who was a suspected paedophile remain a leader of prominent Jewish institutions for almost five decades. Would the English church enjoy such impunity? Would the British Muslim community get away with any of its leaders being associated with buggery and paedophilia? I'll let you ponder this one.
We have become inured to watching the Jewish state get away with racist policies, murder, ethnic cleansing, WMD and so on. But here in Britain, it is astonishing, yet far from being surprising, that the head of the Jewish communitymanaged to escape trial for decades over substantive charges of sexual assault, paedophilia and buggery.

If Jewish power is the capacity to silence the discussion of Jewish power, in the case of Lord Janner, it also managed to delete the fact that Britain's suspected arch sex offender was also the leader of the Jewish community.

Must watch – 60 minutes Australia – Westminster UK – high level child abuse exposé:


LORD JANNER DIES AGED 87

Former Labour MP Lord Janner has died aged 87 according to his family.
Janner was this month ruled unfit to stand trial for a string of alleged sex offences against boys dating back 50 years due to "deteriorating and irreversible" dementia.
Janner represented Leicester West in the Commons for 27 years from 1970 to 1997, but was suspended by the Labour Party in April over the allegations.

He was charged with 22 sexual offences dating back to the 1960s against nine alleged victims, the majority of whom were 16 or under at the time.
A further hearing had been set for March 7 ahead of a planned trial of facts in April.
The 87-year-old peer, was a prominent campaigner for Jewish organisations. He stood as both the former president of the Board of Deputies, and was the founder of the Holocaust Educational Trust.

A statement from Lord Janner's family said: "Lord Janner died peacefully on Saturday, 19th December after a long illness. He will be deeply missed. His family are now in the traditional period of mourning, and ask that this be respected."

A Board statement said: "Following the passing of Lord Janner after a long illness, our thoughts and prayers go out to the whole Janner family."

Sir Mick Davis, chairman of the Jewish Leadership Council, said: "The passing of Greville Janner marks the end of an era for the Jewish community.
"Our thoughts and prayers are with the Janner family at this most difficult time."
Chief Rabbi Ephraim Mirvis tweeted the following message: "Condolences to the Janner family on the passing of Lord Janner today. Our thoughts and prayers are with them."
Karen Pollock MBE, Chief Executive of the Holocaust Educational Trust, said: "In 1988 Greville Janner had the foresight to know we as a nation needed to know about and remember the Holocaust and so established the Holocaust Educational Trust. Our thoughts are with his family at this difficult time."
Lord Mendelsohn, President Commonwealth Jewish Council said: "Greville's contribution to Commonwealth Jewry will be long remembered. Our thoughts and prayers are with the family".
The Israeli Embassy in London tweeted they were "saddened to hear about the death of Lord Greville Janner. Our thoughts and prayers are with his family."

LORD JANNER
OPEN LETTER
2006

While doing some research on Lord Janner, following his attack on Ken Livingstone, for calling a Jewish reporter a concentration guard, I came across information you might find interesting?. If you want more information on Lord Janner, look it up on: http://www.theawarenesscenter.org .

This was a Jewish Website!

It exposed Jewish perverts within its community.

I enclose a list of questions Lord Janner needs to answer. I also feel that someone like yourself, would be interested in getting answers to these questions. Let me know what you think.

THE VITAL QUESTIONS JANNER MUST ANSWER!

QUESTIONS
Greville Janner must answer start with his pre-emptive visit in March 1991 to the Leicester Police. This visit would appear to have been prompted by the outburst at Leicester Magistrates Court of former children's home warden Frank Beck after he had been remanded for trial. As he was being led below, Beck shouted out a remark, which implied that Greville Janner should be facing prosecution. Beck's remark was very vague. It was only briefly reported in one or two newspapers and achieved no TV or radio coverage. Greville Janner is not publicity shy. Everything from his pink carnation buttonholes to his entry in Who's Who betokens his craving for attention. Public figures are often made the target for abuse by malignant cranks. Celebrities soon learn to ignore such irritations as an inevitable, if unwelcome, result of their high profiles. Any public figure innocent of anything remotely like the sexual abuse of youngsters would be utterly nonplussed by Beck's outburst and would shrug it off as the ravings of just another crank – and would presume that everybody else, including the police, would do likewise.

AN INNOCENT REACTION?

We therefore ask Janner:

1. Why did he feel it necessary to make an uninvited visit to the police to discuss the matter?

2. Why did he, a QC, think it necessary to secure the services of Sir David Napley, the most expensive lawyer in England, to accompany him on that visit?
3. Why did it take two hours to state that he was totally innocent of any crimes and utterly mystified by Beck's outburst? Would not a one-paragraph letter have sufficed for this purpose?

According to evidence given by Beck at his trial, he had written to the Director of Leicester Social Services in the late 1970s complaining about Greville Janner's relationship with one of the boys in his care, Paul Winston, then aged 14 or 15. As two prosecution witnesses attested, Beck took steps to terminate Janner's relationship with Winston by forbidding visits and outings and intercepting letters.
Janner pressed his attentions and at one point turned up at the home unannounced with a bicycle as a present for Winston.

We ask Janner:

4. Why did he not accept the judgement of Beck, who was in loco parentis and allow the relationship with Winston to lapse?

5. Had he been not notified at any time prior to 1991 that the Director of Social Services had received a letter of complaint about him? If so, why did he not issue a Writ for Libel against Beck?

6. Had he been interviewed by the police at any time prior to 1991 in connection with Beck's letter to the Director of Social Services and/or conduct alluded to by Beck in his court outburst?

According to Janner, when Beck realised that he was to be prosecuted for child sex abuse he contacted Janner and asked for a character reference and that Janner's refusal to provide such had prompted Beck to engage in a vendetta.

We ask Janner:

7. Why did he refuse Beck's request? Was it simply an act of revenge for Beck's termination of his relationship with Paul Winston, or did he have information, which reflected serious discredit on Beck? What was this information? Did he communicate this information to any appropriate authority? If so, to which and when? And if not, why not?

8. In view of the unhappy history of his contact with Beck prior to 1991, can he advance any suggestion as to why Beck might imagine that his application for a character reference to him would be successful? Could Beck's request be construed as a blackmail demand?

Greville Janner has not denied knowing Paul Winston during the late 1970s. In his House of Commons statement Janner made a point of asserting that his "wife and family" were involved with him in his efforts to "help" the boy.
According to Winston's evidence, he caught Janner's eye on a school visit to the House of Commons. Thereafter Janner sent Winston return rail tickets to visit him at Westminster on several occasions. On the third trip to London Janner took the boy to his home to stay overnight. Janner's wife and family were not present. Winston testified that he was given his own bedroom but as he cried from homesickness Janner took him to his bed to "comfort" him, whereupon they "cuddled and fondled" each other.

We ask Janner:

9. If not only he but his wife and family were involved in trying to help Winston, why did he arrange for Winston's first visit to his home – an overnight visit – to take place when his wife and family would be away?

In his House of Commons statement Janner declared that Winstons sexual assault allegations contained "not a shred of truth".

However, we ask Janner:

10. Did he show good judgement in inviting a young boy to stay overnight with him at his home whilst his wife and family were absent even if he did not take him to bed?

11. On how many occasions did he invite Winston to his home to stay overnight when his wife was present?

12. Did he in fact take Winston to bed to comfort him? Did this comforting involve him in cuddling or any other kind of physical contact?

13. Does he think it appropriate that a man in his position should share his bed with a teenage boy, even where no physical contact is involved?

Winston testified that he engaged in numerous sexual encounters with Janner in his suite at The Holiday Inn, Leicester. Apart from hanky-panky in the hotels swimming pool changing rooms, it was in a double bed that Janner's various types of sexual assault culminated in lubricant-assisted buggery.

All these sexual assaults detailed in Winston's testimony will also have been covered by Janner's all-purpose general denial.

However, we ask Janner:

14. Did he ever invite Winston to visit him at The Holiday Inn? If so, on how many occasions? On how many of these occasions were his wife or any members of his family present?

15. Did he ever invite Winston to stay overnight with him at the hotel? If so, why, bearing in mind the boy resided in Leicester? Again, if so, did they at any time-share the same bed?

16. If Winston at no time stayed overnight at the hotel, did the boy ever leave the public parts of the hotel and join him in his private apartment? If so, why?

Winston's relationship with Janner was maintained during his 13th, 14th and possibly 15th year. At some stage Winston was moved to the home administered by Beck. According to the testimony of two prosecution witnesses (a girl in care at the home and one of the staff members) Winston often boasted of being "a rent boy with friends in high places".

Rent boys as brazen as this, though by no means always effeminate, tend to adopt mannerisms, which signal their proclivities.

We ask Janner:

17. As a man of the world, did he not recognise the signs of Winston's sexual orientation – and his promiscuity? Did he show good judgement in entertaining such a youngster at his home or in hotels or having any contact with him other than in the presence of his wife and family and/or social workers?

That question also applies to the two-week holiday in Scotland (again at an expensive hotel) to which Janner treated Winston. During this holiday Winston claims he was "sexually abused" by Janner. Winston also volunteered in his evidence that he stole more than once from Janner's wallet.

We ask Janner:

18. Did his wife or any of his family accompany him on this holiday?

19. Did he and Winston share the same sleeping accommodation and/or the same bed? If so, why?

20. Why did he not terminate the holiday and return Winston to the home once he realised, as he must have done, that the boy was stealing from his wallet?

21. Why did he keep quiet about these thefts? Why did he not report them to the police – or at least to staff at the home? Why did he maintain contact with the boy after the thefts, continuing to buy him expensive presents? How could such pampering of a young thief help to reform him?

OTHER BOYS "HELPED"?

In view of Janner's general interest in youth welfare it may be that he has directed lavish help to other wayward or troubled young lads.

We ask Janner:

22. How many other boys has he helped in the way that he says he and his wife and family helped Paul Winston? If there were others, were each or any of these invited to stay overnight with him at his home or in hotels, or taken on holidays, without his wife and family being present?

Finally, of course, the management of the Beck trial by Mr. Justice Jowitt is an important issue in this whole affair. He attempted to prohibit media reporting of the trial, and then interrupted the examination of witnesses to prevent Greville Janner's name being mentioned.

We ask Janner:

23. Did he – or others acting in his interests – use extensive political, legal, or other more secretive contacts to see to it that the trial judge would be briefed as to his predicament and to pull every stroke to try and protect him?

There are other questions to be asked: questions which must be answered by The Lord Chancellor, the Director of Public Prosecutions, the Leicester Police and the Director of Leicester Social Services.

WHICH OFFICIALS JOINED HELP JANNER'S PLAN?

A NUMBER of senior public officials have got a lot of explaining to do if the widely held belief that the authorities engaged in a cover-up to protect Greville Janner is to be dispelled. The first candidate for questioning must be the Lord Chancellor, Lord Mackay of Clashfern, who as head of the Judiciary, must answer for the astounding conduct of the Judge in the trial of Frank Beck, Mr. Justice Edwin Jowitt.

We ask the Lord Chancellor:

1. Are there any kind of formal legal proceedings available to a person who knows he is to be mentioned in connection with criminal conduct during a forthcoming trial (in which he is not an accused or a witness) whereby he can make representations to the judge listed to try the case?

2. Are there any kind of lawful but informal means whereby a person in such a situation might make such representations to a trial judge?

3. Do exalted members of the legal profession have an exceptional right to make such representations to a trial judge?

4. If as we believe, his answers to the first three questions herein must be a definite NO, then how can he explain Judge Jowitts determination at the very outset of the trial to do all he could to shield Greville Janner?

We are unaware of any official statement issued by the Director of Public Prosecutions to the effect that a formal decision had been taken not to prosecute Janner. However, a number of newspapers reported that the DPP had "let it be known" that Janner would not be prosecuted and suggested that the reason for this was "lack of any evidence" to support the testimony of Janner's alleged victim, Paul Winston.

At a later stage we will be directing certain questions to the Chief Constable of the Leicester Police concerning his officers report to the DPP concerning the Winston/Janner relationship, but in the meanwhile, we ask the Director of Public Prosecutions:

1. Have there not been successful prosecutions for sexual assault – rape, for example – in which the sole witness was the victim, and where there was no conclusive supporting forensic evidence?

2. Have there not been successful prosecutions for incestuous child abuse long after there was any possibility of securing forensic or other evidence to support the allegations of the victim, who was often the sole witness?

3. Did not Paul Winston give the police very substantial and accurate detail in support of his allegations with regard to such things as Greville Janner's home bedroom and bedrooms at various hotels, Janner's person and myriad other relevant matters – which he could not possibly have invented?

4. Is it not often the case that men who prey on young boys deliberately seek out youngsters with insecure or non-existent family backgrounds and who are perhaps verging on delinquency or vagrancy, not only because such boys are inadequately supervised and often desperate for money (and love!) but also because the predators hope that such boys would be unlikely to voice complaints to the authorities and, if they did, their word would not be valued?

We have no reason to doubt that the Leicester Police did a thorough job of investigation. However, we would wish to be, assured on certain points. Therefore, we ask the Leicester Chief Constable:

1. Were the records of the Leicester Holiday Inn and the hotel in Scotland for the material times checked against Winston's story? Were the staff of those hotels traced and interviewed?

2. When the police interviewed Paul Winston for the first time (when they were conducting interviews with all the youngsters who had been in Frank Beck's care) was not the sole objective of the interview to obtain information about Beck? If so, would this not explain why Winston did not make any complaint against Janner in that interview?

3. What were the circumstances during the second interview with Winston, which prompted either the police to solicit – or Winston to volunteer – information about other adult sexual predators? How did Janner's name arise?

4. In the late 1970s did the Leicester Social Services notify the police that a letter had been received from the warden of one of its children's homes (Frank Beck) complaining about the relationship between Paul Winston and Greville Janner? If so, did the police interview Janner at the time? If not, why not?

This topic leads us on to our final respondent. We ask the Director of Leicester Social Services:

1. Was a letter received from one of its wardens, Frank Beck, complaining of a relationship between one of the departments wards. Paul Winston, and Greville Janner?

2. What action did the department take? Was the matter notified to the police? If not, why not? Was a warning-off letter or verbal warning issued to Janner? If not, why not?

Comment by Buddy Silver | March 23, 2018 |

HOW PEDOPIHLIA CAME TO HOLLYWOOD
BY BILLY WILDER

Screenwriter and director, Billy Wilder, has had an enormous impact on the public, as substantiated by his numerous Oscars and other film awards. Responsible for famous films like Hold Back the Dawn, Five Graves to Cairo, Double Indemnity, The Lost Weekend, Sunset Boulevard, Stalag 17, Sabrina and The Apartment, Wilder's cinema successes were granted him as he was just another pawn who was utilized with satanic acumen to help abolish society's established code of ethics. His own authorized biographer who worked closely with him, Maurice Zolotow, wrote:

"Of course, I did not know what I was getting into when I had started this. It became, as all such journeys have become, a journey to find out the secret springs of this most devious and perverse of Hollywood's personalities."

Wilder loved to transport the viewer into the depravity of his own heart and did this by tricking the censors who sought to enforce the old Hollywood Production Code of Hollywood's "Golden Age." Wilder recalls, "We had to operate cunningly to outwit the censors and this made us write more subtly." What subtleties did he scatter throughout his films? Perversion. In his movie, The Major and the Minor, Wilder admits that the motif was child sexuality, stating:

"Ray Milland falls in love with Ginger as a twelve year old child. We had here the first American movie about pedophilia. The Major is sexually aroused by her. He can't help himself. I was worried that audiences would be shocked by this story, but it seems that they were not."

This goes to show that if a story is entertaining and "cute," it can bypass the normal reaction to such filth and translate into apathetic disregard on the slippery slope of corruption. Where did this movie minister of perversion receive his material? Wilder was given his creative material by another supernatural force. In addition to stating that he is "demonically possessed and slightly crazed," Zolotow reports of Wilder:
"He could not stop his creative machinery from functioning. He was enslaved by his art…One sometimes felt as if one were moved by powerful invisible forces. I forgot to tell you that Wilder never starts a new screenplay without typing two words on the first page: Cum Deo ('With God'). He has a pantheistic feeling about the universe."

Demon possession leads many from the truths of God to the pantheistic lies of the New Age movement because Satan uses those who will serve him most faithfully in preparing humanity to embrace him as the god of this world. Wilder's responses upon completion of his show make it readily apparent which god he aligned himself with. Scientologist screenwriter of the Sound of Music, Ernest Lehman, recalls:

"He looked at the heavens and screeched F— you!" It was…a victory cry, as if he were calling out to God and saying,

'I completed this picture despite everything you did to make me surrender.'"

Dr. Lycurgus Starkey rightly announced on the NBC network: "His movies have overturned all the sexual mores, glorified promiscuity, glamorized prostitution and elevated adultery to a virtue." Dr. Starkey was prophetically right in predicting the social effect and outcome of Wilder's films that we currently face in our day. The atheist author of communism, Karl Marx, explains the reasons why this is so:

"The ideas of the ruling class are, in every age, the ruling ideas: i.e., the class which is the dominant material force in society is at the same time its dominant intellectual force. The class which has the means of material production at its disposal, has control at the same time over the means of mental production."

The gross immorality in Hollywood that makes its way on the screen and thus influences the masses reflects the lives of those who operate within it. An intimate friend of the late Steve McQueen related:

"He'd kill for a part in a movie…he'd suck anyone's [expletive]…he'd get f—– or f— anyone who'd get him a part in a show…then he'd wish-he'd pray- that person would have a heart attack or a stroke and die, and then there would be no way for anyone to know how McQueen had got the part."

This disgusting ambition is what keeps the infamous casting couch warm and desirous hopeful actors willing. Hollywood insider, Phyllis Diller, clarifies this fact:

"The casting couch is the name of the game in Hollywood. I know there are stars, especially women, who have made a career from sexual favors."

Would you invite a person whom you knew to be ethically bankrupt and an absolute moral degenerate into your home to influentially instruct your wife, your husband, and your children or loved ones? These are the very ones that America invites into their home every night via the television to submissively share their lives with.

Biblically condemned spiritual conundrums regularly occur in Hollywood. Faye Dunaway said that the ghost of Joan Crawford is haunting her. Actress Jean Seberg believed that her "devils" kept her from ever being free. She stated:

"The devils will stop that sort of stuff in a second. They ride right here. (Touching her collar bone with her fingers) Sitting here and here. There's one on each side…these are both unfriendly influences. They tell me to run my car into other cars, or drive off a cliff."

A friend later reflected on her life and pin pointed the cause as the "acting classes at Columbia Studios…[which] had the power to influence Jean's devils." Like countless others in the Hollywood movie star system, this lead to psychiatric hospitals and suicide. Actor Sal Mineo was in regular contact with psychics and spoke of the "vibrations" of James Dean's spirit that haunted him, stating, "I've got to get him off my back because I don't want to join him down there." Mineo was murdered under mysterious circumstances. Is fame worth the extorted fees that Satan demands of his servants of the silver screen?

As Alan Alda declared:

"There's plenty of money to be had…But you also lose your soul."

"THE JEWISH TALMUD IS ONE OF THE WONDERS OF THE WORLD"!

The official unabridged Soncino Edition of the Talmud published in 1935 was "Translated into English with Notes, Glossary and Indices" by such eminent Talmudic scholars as Rabbi Dr. I. Epstein, Rabbi Dr. Samuel Daiches, Rabbi Dr. Israel W. Slotki, M.A., Litt.D., The Reverend Dr. A. Cohen, M.A.', Ph.D., Maurice Simon, M.A., and the Very Reverend The Chief Rabbi Dr. J.H. Hertz wrote the "Foreword" for the Soncino Edition of the Talmud. The Very Reverend Rabbi Hertz was at the time the Chief Rabbi of England.

The world's leading authorities on the Talmud confirm that the official unabridged Soncino Edition of the Talmud translated into English follows the original texts with great exactness. It is almost a word-for-word translation of the original texts. In his famous classic "The History of the Talmud," Michael Rodkinson, the leading authority on the Talmud, in collaboration with the celebrated Reverend Dr. Isaac M. Wise states:

"THE TALMUD IS ONE OF THE WONDERS OF THE WORLD. During the twenty centuries of its existence…IT SURVIVED IN ITS ENTIRETY, and not only has the power of its foes FAILED TO DESTROY EVEN A SINGLE LINE, but it has not even been able materially to weaken its influence for any length of time. IT STILL DOMINATES THE MINDS OF A WHOLE PEOPLE, WHO VENERATE ITS CONTENTS AS DIVINE TRUTH…"

SANHEDRIN, 55b-55a: "What is meant by this? – Rab said: Pederasty with a child below nine years of age is not deemed as pederasty with a child above that. Samuel said: Pederasty with a child below three years is not treated as with a child above that (2) What is the basis of their dispute? – Rab maintains that only he who is able to engage in sexual intercourse, may, as the passive subject of pederasty throw guilt (upon the actual offender); whilst he who is unable to engage in sexual intercourse cannot be a passive subject of pederasty (in that respect) (3). But Samuel maintains: Scriptures writes, (And thou shalt not lie with mankind) as with the lyings of a woman (4). It has been taught in accordance with Rab: Pederasty at the age of nine years and a day; (55a) (he) who commits bestiality, whether naturally or unnaturally: or a woman who causes herself to be bestiality abused, whether naturally or unnaturally, is liable to punishment (5)."

This "divine truth" which "a whole people venerate" of which "not a single letter of it is missing" and today "is flourishing to such a degree as cannot be found in its history" is illustrated by the additional verbatim quotations which follow:

SANHEDRIN, 55b: "A maiden three years and a day may be acquired in marriage by coition, and if her deceased husband's brother cohabits with her, she becomes his. The penalty of adultery may be incurred through her; (if a niddah) she defiles him who has connection with her, so that he in turn defiles that upon which he lies, as a garment which has lain upon (a person afflicted with gonorrhea)."

(footnotes) "(2) His wife derives no pleasure from this, and hence there is no cleaving. (3) A variant reading of this passage is: Is there anything permitted to a Jew which is forbidden to a heathen. Unnatural connection is permitted to a Jew. (4) By taking the two in conjunction, the latter as illustrating the former, we learn that the guilt of violating the injunction `to his wife but not to his neighbor's wife' is incurred only for natural but not for unnatural intercourse."

SANHEDRIN, 69b "Our rabbis taught: If a woman sported lewdly with her young son (a minor), and he committed the first stage of cohabitation with her, -Beth Shammai says, he thereby renders her unfit for the priesthood (1). Beth Hillel declares her fit…All agree that the connection of a boy nine years and a day is a real connection; whilst that of one less than eight years is not (2); their dispute refers only to one who is eight years old.

KETHUBOTH, 11a-11b. "Rabba said, It means (5) this: When a grown up man has intercourse with a little girl it is nothing, for when the girl is less than this (6), it is as if one puts the finger in the eye (7), but when a small boy has intercourse with a grown up woman, he makes her as `a girl who is injured by a piece of wood' ".
(footnotes) "(5). Lit., `says'. (6) Lit., `here', that is, less than three years old. (7) Tears come to the eyes again and again, so does virginity come back to the little girl under three years."

KETHUBOTH, 11a-11b. "Rab Judah said that Rab said: A small boy who has intercourse with a grown up woman makes her (as though she were ) injured by a piece of wood (1). Although the intercourse of a small boy is not regarded as a sexual act, nevertheless the woman is injured by it as by a piece of wood."
(footnotes) "(1) Although the intercourse of a small boy is not regarded as a sexual act, nevertheless the woman is injured by it as by a piece of wood."

ABODAH ZARAH, 36b-37a. "R. Naham b. Isaac said: They decreed in connection with a heathen child that it would cause defilement by seminal emission (2) so that an Israelite child should not become accustomed to commit pederasty with it…From what age does a heathen child cause defilement by seminal emission? From the age of nine years and one day. (37a) for inasmuch as he is then capable of the sexual act he likewise defiles by emission. Rabina said: It is therefore to be concluded that a heathen girl (communicates defilement) from the age of three years and one day, for inasmuch as she is then capable of the sexual act she likewise defiles by a flux.

SOTAH, 26b. "R. Papa said: It excludes an animal, because there is not adultery in connection with an animal (4). Raba of Parazika (5) asked R. Ashi, Whence is the statement which the Rabbis made that there is no adultery in connection with an animal? Because it is written, Thou shalt not bring the hire of a harlot or the wages of a dog etc.; (6) and it has been taught: The hire of a dog (7) and the wages of a harlot (8) are permissible, as it is said, Even both of these (9) – the two (specified texts are abominations) but not four (10)…As lying with mankind. (12) But, said Raba, it excludes the case where he warned her against contact of the bodies (13). Abaye said to him, That is merely an obscene act (and not adultery), and did the All-Merciful prohibit (a wife to her husband) for an obscene act?"

Of the "sacred" Talmudic teachings of the "Sages," preserved since 500 A.D. and taught more widely today than ever before in Talmud-Torah schools in the U.S.A., perhaps nothing better illustrates "fools" with "reprobate minds" than the teaching in the Talmud book of Yebamoth that spittle on the top of the bed curtain proves that a wife has been guilty of adultery, as only lying down face upwards could she have spit up on it. Spitting several feet straight up! The Talmud states: "When a peddler leaves a house and the woman within is fastening her sinnar [breech-cloth] … . If spittle is found on the upper part of the curtained bed she must, said Rabbi, go." Footnote: "Even if there were no witnesses that misconduct took place." Further footnote: "Only the woman lying face upwards could have spat on the spot. Intercourse may, therefore, be suspected."

Comment by Buddy Silver | March 23, 2018 |
Visits Since December 2009

Follow Aletho News on Twitter

My Tweets

Looking for something?

Archives

Calendar

Categories

Tags

Latest Comments
More Links

Contact:

atheonews (at) gmail.com

disclaimer

This site is provided as a research and reference tool. Although we make every reasonable effort to ensure that the information and data provided at this site are useful, accurate, and current, we cannot guarantee that the information and data provided here will be error-free. By using this site, you assume all responsibility for and risk arising from your use of and reliance upon the contents of this site.

This site and the information available through it do not, and are not intended to constitute legal advice. Should you require legal advice, you should consult your own attorney.

Nothing within this site or linked to by this site constitutes investment advice or medical advice.

Materials accessible from or added to this site by third parties, such as comments posted, are strictly the responsibility of the third party who added such materials or made them accessible and we neither endorse nor undertake to control, monitor, edit or assume responsibility for any such third-party material.

The posting of stories, commentaries, reports, documents and links (embedded or otherwise) on this site does not in any way, shape or form, implied or otherwise, necessarily express or suggest endorsement or support of any of such posted material or parts therein.

The word "alleged" is deemed to occur before the word "fraud." Since the rule of law still applies. To peasants, at least.

Fair Use

This site contains copyrighted material the use of which has not always been specifically authorized by the copyright owner. We are making such material available in our efforts to advance understanding of environmental, political, human rights, economic, democracy, scientific, and social justice issues, etc. We believe this constitutes a 'fair use' of any such copyrighted material as provided for in section 107 of the US Copyright Law. In accordance with Title 17 U.S.C. Section 107, the material on this site is distributed without profit to those who have expressed a prior interest in receiving the included information for research and educational purposes. For more info go to: http://www.law.cornell.edu/uscode/17/107.shtml. If you wish to use copyrighted material from this site for purposes of your own that go beyond 'fair use', you must obtain permission from the copyright owner.

DMCA Contact

This is information for anyone that wishes to challenge our "fair use" of copyrighted material.

If you are a legal copyright holder or a designated agent for such and you believe that content residing on or accessible through our website infringes a copyright and falls outside the boundaries of "Fair Use", please send a notice of infringement by contacting atheonews@gmail.com.

We will respond and take necessary action immediately.

If notice is given of an alleged copyright violation we will act expeditiously to remove or disable access to the material(s) in question.

All 3rd party material posted on this website is copyright the respective owners / authors. Aletho News makes no claim of copyright on such material.