When Is a Massacre Not a Massacre?
On the day the Israeli Defence Force massacred dozens of unarmed Palestinians in Gaza and maimed over 400 more, our media has carefully avoided the use of the word massacre. Here is a Google search of News I did five minutes ago on the word "massacre".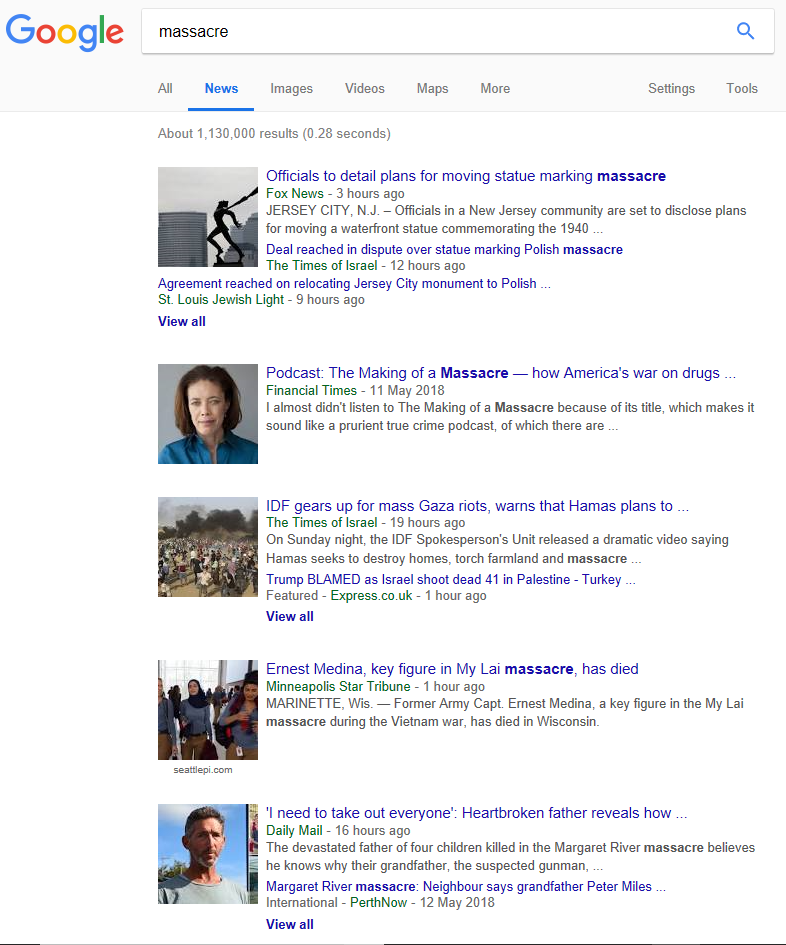 A massacre occurred today in which more people were killed than at Glencoe. All of them were unarmed and the majority were well over a hundred yards from the border fence. It says everything about the kind of nightmare fascist state Israel now is, that if you look through those news results for "massacre", the only mention you get of Palestinians is a claim by the Israeli Defence Force that the Palestinian Defence Forces were planning a massacre of Israelis.
The Turkish government have now come out with a statement condemning the massacre, and in the UK the Daily Express and the Daily Star have both reported that; but both have chosen to put the word "massacre" in the Turkish statement into inverted commas, as though it were not true.
The Western media far prefers the word "clashes" to "massacre". Because those terrible Palestinians insist upon demonstrating against the continuing theft of all their land and resources, and keep attacking innocent Israeli bullets with their heads and bodies. If you look through the Google search of News this time for "clashes", you discover that the western and Israeli media peculiarly have precisely the same preference for this entirely inappropriate word. That, again, is fascinating.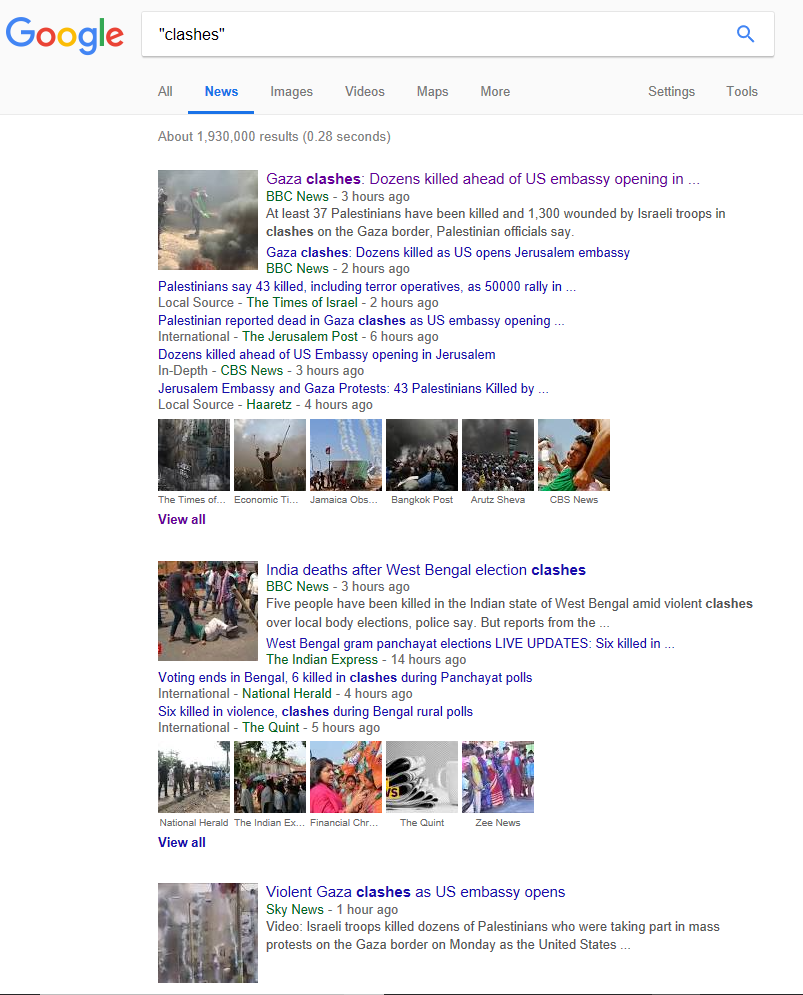 The gross injustice of the apartheid state of Israel appears immutable. The overwhelming force of the political and financial Establishment is behind Israel in the West, in the Russian oligarchy and even in most of the horribly corrupt leadership of Arab states. But the situation is not as dire as it seems, because the hold of those Establishment elites on the people they exploit has never been more shaky. Israel remains a touchstone issue. In order to help redress the terrible agony of the Palestinians, we must first effect a change in our own system of elite exploitation of the people at home. That change is coming.
3 Comments »
I feel paralyzed and impotent, unable to process all the reports of this current (weeks long) instance of unmitigated Zionist evil. Sadly, the light is about to be extinguished (just as the lights in Gaza have been effectively extinguished for a decade or so) on any remaining shred of hope for succor and deliverance of the legitimate rights and aspirations of the brave people of Palestine.

This is an excellent — as he writes, "fascinating" — perspective offered by Ambassador Murray.

Comment by roberthstiver | May 15, 2018 |

THE ANSWER IS SIMPLE = YOU DON'T MASSACRE ANIMALS – YOU SLAUGHTER THEM!

JEWS CLASS NON JEWS AS ANIMALS, SOOOOOOOOOOOOOOOOOOOO THEY DIDN'T MASSACRE DOZENS OF UNARMED PALESTINIANS!

GENTILES IN HALACHA
Foreword — Daat Emet
In this article R' Bar-Chayim discusses the attitude towards "Gentiles" in the Torah and in the Halacha and comes to an unambiguous conclusion:

"The Torah of Israel makes a clear distinction between a Jew, who is defined as 'man,' and a Gentile."

That is to say, any notion of equality between human beings is irrelevant to the Halacha. R' Bar-Chayim's work is comprehensive, written with intellectual honesty, and deals with almost all the aspects of Halachic treatment of non-Jews. It also refutes the statements of those rabbis who speak out of wishful thinking and, influenced by concepts of modern society, claim that Judaism does not discriminate against people on religious grounds. R' Bar-Chayim shows that all these people base their constructs NOT on the Torah but solely on the inclinations of their own hearts. He also shows that there are even rabbis who intentionally distort the Halachic attitude to Gentiles, misleading both themselves and the general public.

For the English readers' convenience we will briefly mention the topics dealt with in R' Bar-Chayim's article:

Laws in regard to murder, which clearly state that there is Halachic difference between murder of a Jew and of a Gentile (the latter is considered a far less severe crime).
A ban on desecrating the Sabbath to save the life of a Gentile.
A Jew's exemption from liability if his property (e. g. ox) causes damage to a Gentile's property. But if a Gentile's property causes damage to a Jew's property, the Gentile is liable.
The question of whether robbery of a Gentile is forbidden by the Torah's law or only by a Rabbinic decree.
A ban on returning a lost item to a Gentile if the reason for returning it is one's sympathy towards the Gentile and compassion for him.
The sum which a Gentile overpays in a business transaction due to his own error is forfeit; whether a Jew is permitted to intentionally deceive a Gentile is also discussed.
One who kidnaps a Jew is liable to death, but one who kidnaps a Gentile is exempt.
A Jew who hurts or injures a Gentile is not liable for compensation of damage, but a Gentile who hurts a Jew is liable to death.
One who overcharges a Gentile ought not return him the sum that the Gentile overpaid.
A Gentile — or even a convert to Judaism — may not be appointed king or public official of any sort (e. g. a cabinet minister).
One who defames a female proselyte (claiming that she was not virgin at the time of her marriage) is liable to neither lashes nor fine.
The prohibition to hate applies only to Jews; one may hate a Gentile.
One may take revenge against or bear a grudge towards Gentiles; likewise, the commandment "love your neighbour" applies only to Jews, not to Gentiles.
One who sees Gentile graveyards should curse: "Your mother shall be greatly ashamed…"
Gentiles are likened to animals.
If an ox damaged a Gentile maidservant, it should be considered as though the ox damaged a she-ass.
The dead body of a Gentile does not bear ritual impurity, nor does a Gentile who touches the dead body of a Jew become impure — he is considered like an animal who touched a dead body.
One is forbidden to pour anointing oil on a Jew, but there is no ban on pouring that oil on a Gentile because Gentiles are likened to animals.
An animal slaughtered by a Gentile is forbidden, even if the ritual slaughter performed was technically correct, because Gentiles are deemed like animals. (Daat Emet does not agree that this is the Halachic reason for invalidating a Gentile's ritual slaughter — but this is not the place to delve into the subject).
Their members (genitals) are like those of asses" — Gentiles are likened to animals.

Between the Jews and the Gentiles — In the Aggadah, the Kabbalah, and in Jewish Thought
R' Bar-Chayim's arguments and conclusions are clear, Halachically accurate, and supported by almost all the existent major Halachic works. It would be superfluous to say that R' Bar-Chayim fully embraces this racist Halachic outlook as the word of the Living G-d, as he himself pointed out in the "Conclusion" of his article:
"It is clear to every Jew who accepts the Torah as G-d's word from Sinai, obligatory and valid for all generations, that it is impossible to introduce 'compromises' or 'renovations' into it."
On the other hand, we want to make it clear that Daat Emet — as well as any reasonable people who do not embrace Halachic laws as the word of the Living G-d — are repulsed by such evil, racist discrimination.
In the Hebrew text we have abridged the second part of R' Bar-Chayim's article,
"Between Jews and Gentiles — In the Aggadah, the Kabbalah, and in Jewish Thought," because, in our view, the Halacha is the law which obligates every religious Jew while concepts of the Aggadah, the Kabbalah, and Jewish thought are not binding on anyone, as our rabbis have already written:
"And so the Aggadic constructs of the disciples of disciples, such as Rav Tanchuma and Rabbi Oshaya and their like — most are incorrect, and therefore we do not rely on the words of Aggadah" (Sefer HaEshkol, Laws of a Torah Scroll, p. 60a); we have expanded on this issue in the portion of Vayeshev.

GOOGLE:

THE JEWS ARE CALLED MEN

Tzfi'a 3

THE DISTINCTION BETWEEN JEWS AND GENTILES IN TORAH

Rabbi David Bar Chaim

Yeshivat Mercaz HaRav

A religion that approves, and which even authorizes abuses contrary to justice and the good government of men, and which even authorizes the tyranny of the great of the earth to the prejudice of peoples, cannot be true, nor truly be of divine origin, insofar as the laws and ordinances that would be divine would be just and equitable, and that any religion that would be divine would censure and condemn all that would be contrary to justice and the good government of men.

But the Jewish religion approves and authorizes many abuses that are contrary to justice, to right reason and the good government of men. And what is more, it suffers and authorizes many unjust vexations and even the tyranny of governments of the earth, to the great scandal and prejudice of the peoples, who groan and are unhappy and destitute under the yoke of its harsh and tyrannical financial domination.

Jews are the GREATEST RACISTS in the world, and this document proves it 100%.

People talk about the NWO, but are ignorant of who it is who wants a NWO.

THE JEWISH ZIONIST MESSIAH:
"The mashiach [Jewish messiah] will bring about the political and spiritual redemption of the Jewish people by bringing us back to Israel and restoring Jerusalem (Isaiah 11:11-12; Jeremiah 23:8; 30:3; Hosea 3:4-5). He will establish a government in Israel that will be the center of all world government, both for Jews and gentiles (Isaiah 2:2-4; 11:10; 42:1). He will rebuild the Temple and re-establish its worship (Jeremiah 33:18). He will restore the religious court system of Israel and establish Jewish law as the law of the land (Jeremiah 33:15)…The world after the messiah comes is often referred to in Jewish literature as Olam Ha-Ba (oh-LAHM hah-BAH), the World to Come…In the Olam Ha-Ba, the whole world will recognize the Jewish G-d as the only true G-d, and the Jewish religion as the only true religion (Isaiah 2:3; 11:10; Micah 4:2-3; Zechariah 14:9)."

— From "Mashiach: The Messiah", Judaism 101 —–

"With the exception of the USSR as a federated Eurasian state, all other continents will become united in a world alliance, at whose disposal will be an international police force. All armies will be abolished, and there will be no more wars. In Jerusalem, the United Nations (a truly United Nations) will build a Shrine of the Prophets to serve the federated union of all continents; this will be the seat of the Supreme Court of Mankind, to settle all controversies among the federated continents, as prophesied by Isaiah."

— David Ben-Gurion, first Prime Minister of the Jewish State of Israel.

OUR JEWISH AGENDA THE SHOAH

[Shalom Welcome to my website. I am Rabbi Solomon Cohen and I am happy to be your host. Please feel free to browse around the different topics that I will be discussing here by clicking on the individual tabs at the top of the page. This site is currently a work in progress and it is my hope to continue adding to it in the coming days. Kol Tuv, Rabbi Solomon Cohen]

In the Torah it is written:

"It shall be a jubilee unto you; and you shall return every man to his possession and you shall return every man to his family." In the Torah, the word for תשבה, teshuva, "return" is missing the letter ו (vav), ordinarily it would be spelled תשובה. The Zohar tells us that the Torah writes teshuva without the letter vav to hint at the year when the Jewish people will return to our land from the long and bitter exile. The gematria (numerical value) of teshuva is 708 (tav = 400; shin = 300; bet = 2; vav = 6). Therefore the missing vav in the word תשבה, as written in the Torah (which equals the number 6) was a prophecy that the Jews would be allowed to return to Israel minus 6 million of our people: "You shall return minus 6 million"; while the combined numerical value of the word teshuva = 708, indicates the year of our return.

Now you can see that the "Holocaust" was planned by Jews.

BENZION NETANYAHU THE KOSHER WIZARD OF THE JEWISH KKK

Benzion Netanyahu, (Benzion Mileikowsky), Polish-born Israeli historian and Zionist activist (born March 25, 1910, Warsaw, Russian Empire [now in Poland]—died April 30, 2012, Jerusalem), was the father of Israeli Prime Minister Benjamin Netanyahu and a longtime advocate (and one-time secretary) of Vladimir Jabotinsky, whose uncompromising Zionist Revisionist movement was pivotal in the fight for the state of Israel. The elder Netanyahu rejected a "two-state solution" as well as the possibility of political compromise between Jews and Arabs, and he publicly criticized his son's apparent willingness to make concessions to foster peace with the Palestinians. Netanyahu was the son of a Zionist rabbi who moved his family to British-mandated Palestine in 1920 and changed their name from Mileikowsky. He studied history at Hebrew University of Jerusalem (M.A., 1933) and at Dropsie College of Hebrew and Cognate Learning, Philadelphia (Ph.D., 1947). He spent his academic career teaching in Israel and the U.S., notably at Cornell University, Ithaca, N.Y., from which he retired. He also served as the editor of the Encyclopedia Hebraica and other Jewish scholarly publications and wrote extensively, though his critics denounced him as an ideologue and his books as polemics. His best-known work was the massive The Origins of the Inquisition in Fifteenth Century Spain (1995), in which he argued that the persecution of the Jews during the Inquisition was based entirely on racial hatred and not on the belief (mistaken, in Netanyahu's view) that they were not genuine Christian converts.

THE RACISM OF BENZION NETANYAHU

The late Benzion Netanyahu's appalling views on Arabs

"The tendency toward conflict is in the essence of the Arab." — Benzion Netanyahu, the prime minister's father, who died Monday (from a 2009 interview).

Below are excerpts from a lengthy April 3, 2009 interview in the Israeli daily Maariv conducted by Sari Makover Belikov with Benzion Netanyahu, Prime Minister Benjamin Netanyahu's father, who died Monday morning at age 102. They were translated into English and published the same day by Noam Sheizaf on his personal blog, Promised Land. Benzion Netanyahu, who had a deep, formative influence on the prime minister's thinking, and who will be widely remembered as a great Zionist visionary, held views on Arabs and war that were simply horrific.

According to the interview, Professor Netanyahu, then 99, a world-renowned historian of the Spanish Inquisition, spoke with perfect lucidity; in fact, he was about to leave for a working visit to the United States. The professor gave the interview without first telling the Prime Minister's Office. As walla.co.il reported, the prime minister tried to prevent its publication and even called Maariv's publisher, Ofer Nimrodi, on the matter. Finally it was agreed that because of Prof. Netanyahu's age, his son Iddo would be able to go over the father's answers prior to publication. Noam felt this gave even further confirmation that Prof. Netanyahu was in full control of his faculties during the interview, since his son Iddo surely would not have let Maariv publish a text which did not reflect his father's personality and views.

Excerpts:
On the "essence" of Arabs

Prof. Netanyahu: The Jews and the Arabs are like two goats facing each other on a narrow bridge. One must jump to the river – but that involves a danger of death. The strong goat will make the weaker one jump … and I believe the Jewish power will prevail.

Q: What does the Arabs' "jump" entail?

A: That they won't be able to face [anymore] war with us, which will include withholding food from Arab cities, preventing education, terminating electrical power and more. They won't be able to exist, and they will run away from here. But it all depends on the war, and whether we will win the battles with them.

Q: I suppose you don't believe in the peace process.

A: I don't see any signs that the Arabs want peace. … We will face fierce attacks from the Arabs, and we must react firmly. If we don't, they will go on and Jews will start leaving the country. … We just handed them a strong beating in Gaza, and they still bargain with us over one hostage. … If we gave them a beating that would really hurt them, they would have given us Gilad Shalit back.

Q: Operation Cast Lead was one of the worst beatings we ever handed on a civilian population.
A: That's not enough. It's possible that we should have hit harder.

Q: You don't like the Arabs, to say the least.
A: The Bible finds no worse image than that of the man from the desert. And why? Because he has no respect for any law. Because in the desert he can do as he pleases. The tendency toward conflict is in the essence of the Arab. He is an enemy by essence. His personality won't allow him any compromise or agreement. It doesn't matter what kind of resistance he will meet, what price he will pay. His existence is one of perpetual war.

Q: Is there any hope of peace?
A: Out of an agreement? No. The other side might keep the peace if it understands that doing anything [else] will cause it enormous pain. The two-state solution doesn't exist. There are no two peoples here. There is a Jewish people and an Arab population. … There is no Palestinian people, so you don't create a state for an imaginary nation. … They only call themselves a people in order to fight the Jews.

Q: So what's the solution?
A: No solution but force … strong military rule. Any outbreak will bring upon the Arabs enormous suffering. We shouldn't wait for a big uprising to start, but rather act immediately with great force to prevent them from carrying on. … If it's possible, we should conquer any disputed territory in the Land of Israel. Conquer and hold it, even if it brings us years of war. We should conquer Gaza, and parts of the Galilee, and the Golan. This will bring upon us a bloody war, since war is difficult for us – we don't have a lot of territory, while the Arabs have lots of space to retreat to. But that's the only way to survive here.

There is valuable experience [on this matter] we don't pay notice to. I mean the Ottoman rule over the Arabs. The Turks ruled over the Arabs for 400 years, and there was peace and quiet everywhere. The Arabs hated the Ottomans, but every little thing they did brought mass killings and hanging in towns squares. They were hanging people in Damascus, and Izmir … every town had hanging posts in its center. … The Arabs were so badly beaten, they didn't dare revolt. Naturally, I don't recommend the use of hangings as a show of force like the Turks did, I just want to show that the only thing that might move the Arabs from the rejectionist position is force.

On the peace process

Prof. Netanyahu: The problem with the Left is that it thinks the war with the Arabs is like all the wars that nations around the world are conducting. These wars end with a compromise after one side wins or after both sides get tired from war and understand that victory is not possible. But in the Arabs' case, their nature and character won't allow any compromise. When they talk of compromise, it's a way of deceiving. They want to make the other side stop giving its best efforts and fall into the trap of compromising. The Left helps them with that goal.

Q: If compromise replaces war, what is the damage?
A: Compromise is not realistic. It weakens our positions and brings us to a state of limpness, of false believes, of illusions. Every illusion is weakening.

On Arab citizens of Israel

Prof. Netanyahu: We don't have a real partnership with them. The Arab citizens' goal is to destroy us. They don't deny that they want to destroy us. Except for a small minority who is willing to live with us under certain agreements because of the economic benefits they receive, the vast majority of the Israeli Arabs would chose to exterminate us if they had the option to do so. Because of our power they can't say this, so they keep quiet and concentrate on their daily life.

I think we should speak to the Israeli Arabs in the language they understand and admire – the language of force. If we act with strength against any crime they commit, they will understand we show no forgiveness. Had we used this language from the start, they would have been more careful.

I am talking about strength that is based on justice. They should know that we will maintain a just attitude toward them, but a tough one. You don't kill or hurt people or deny their right to make a living just like that. In the villages that we rule, we need to grant them all the rights – infrastructure, and transportation and education … but they have to give things in return. If the teachers are inciting the students, we should close the schools and expel the teachers. … We should preserve their rights, but also ours.

On his son, Israel's prime minister

Prof. Netanyahu: Benjamin, or Bibi, is, in several aspects, a great man. He can influence and motivate people to do what's necessary. … He is loyal to his people, and has a sense of responsibility. … He is not one who prefers the comfort of compromise just to rid himself of pressure.

Q. Is he influenced by your opinions?
A: Sometimes I feel Bibi is influenced by them from a very early age, and sometimes I don't. We don't always have the same opinions…

Q: And still, how much do you think you've influenced his opinions today?
A: I have a general idea. Bibi might aim for the same goals as mine, but he keeps to himself the ways to achieve them, because if he gave expression to them, he would expose his goals.

Q: Is that your wish?
A: No, I just believe that this could be the case. Because he is smart. Because he is very careful. Because he has his ways of handling himself. I am talking about tactics regarding the revealing of theories that people with a different ideology might not accept. That's why he doesn't expose them – because of the reaction from his enemies as well as from the people whose support he seeks. It's an assumption, but it might be correct.

Comment by Buddy Silver | May 15, 2018 |

The Israeli Government is a vile disgusting "REGIME". They have no conscience when it comes to slaughtering men women and children. They are no better than those they accuse of committing "The Holocaust"……And The American government(NOT the American people) are vile and disgusting for 'Turning a blind eye' to "The Holocaust Mark II"……..

Comment by Brian Harry, Australia | May 15, 2018 |
Visits Since December 2009

Looking for something?

Archives

Calendar

Categories

Tags

Latest Comments
More Links

Contact:

atheonews (at) gmail.com

disclaimer

This site is provided as a research and reference tool. Although we make every reasonable effort to ensure that the information and data provided at this site are useful, accurate, and current, we cannot guarantee that the information and data provided here will be error-free. By using this site, you assume all responsibility for and risk arising from your use of and reliance upon the contents of this site.

This site and the information available through it do not, and are not intended to constitute legal advice. Should you require legal advice, you should consult your own attorney.

Nothing within this site or linked to by this site constitutes investment advice or medical advice.

Materials accessible from or added to this site by third parties, such as comments posted, are strictly the responsibility of the third party who added such materials or made them accessible and we neither endorse nor undertake to control, monitor, edit or assume responsibility for any such third-party material.

The posting of stories, commentaries, reports, documents and links (embedded or otherwise) on this site does not in any way, shape or form, implied or otherwise, necessarily express or suggest endorsement or support of any of such posted material or parts therein.

The word "alleged" is deemed to occur before the word "fraud." Since the rule of law still applies. To peasants, at least.

Fair Use

This site contains copyrighted material the use of which has not always been specifically authorized by the copyright owner. We are making such material available in our efforts to advance understanding of environmental, political, human rights, economic, democracy, scientific, and social justice issues, etc. We believe this constitutes a 'fair use' of any such copyrighted material as provided for in section 107 of the US Copyright Law. In accordance with Title 17 U.S.C. Section 107, the material on this site is distributed without profit to those who have expressed a prior interest in receiving the included information for research and educational purposes. For more info go to: http://www.law.cornell.edu/uscode/17/107.shtml. If you wish to use copyrighted material from this site for purposes of your own that go beyond 'fair use', you must obtain permission from the copyright owner.

DMCA Contact

This is information for anyone that wishes to challenge our "fair use" of copyrighted material.

If you are a legal copyright holder or a designated agent for such and you believe that content residing on or accessible through our website infringes a copyright and falls outside the boundaries of "Fair Use", please send a notice of infringement by contacting atheonews@gmail.com.

We will respond and take necessary action immediately.

If notice is given of an alleged copyright violation we will act expeditiously to remove or disable access to the material(s) in question.

All 3rd party material posted on this website is copyright the respective owners / authors. Aletho News makes no claim of copyright on such material.