Wheel Out the Skripal Story Again
Just as the World Cup had forced the British media to grudgingly acknowledge the obvious truth that Russia is an extremely interesting country inhabited, like everywhere else, by mostly pleasant and attractive people, we have a screaming reprise of the "Salisbury incident" dominating the British media. Two people have been taken ill in Amesbury from an unknown substance, which might yet be a contaminated recreational drug, but could conceivably be from contact with the substance allegedly used on the Skripals, presumably some of which was somewhere indoors all this time as we were told it could be washed away and neutralised by water.
Amesbury is not Salisbury – it is 10 miles away. Interestingly enough Porton Down is between Amesbury and Salisbury. Just three miles away from Muggleton Road, Amesbury. The news reports are not mentioning that much.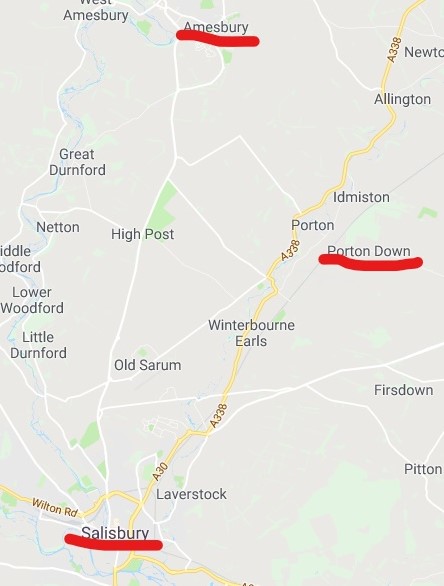 "I am all out of ideas Inspector. What can possibly be the source of these mysterious poisonings?"
Neither Porton Down nor the Organisation for the Prohibition of Chemical Weapons has any idea where the substance to which the Skripals were allegedly exposed was made. Boris Johnson's great "coup" of obtaining a majority vote at the OPCW to expand its powers to place blame for chemical attacks, has proven rather otiose as the OPCW has no evidence on which to base any blame for Salisbury. In fact, four months on, May and Johnson's shrill blaming of Russia remains entirely, 100% evidence free.
I do however wish to congratulate the neo-con warmongers of the Guardian newspaper for verbal dexterity. They have come up with a new formulation to replace the hackneyed "Of a type developed by Russia", to point the finger for a substance that could have been made by dozens of state or non state parties. The Guardian today came up with "Russian-created novichok". This cleverly employs a word that can encompass "developed" while also appearing to say "made". It also again makes out that novichok is a specific substance rather than a very broad class of substances. The Guardian's Steven Morris, by this brilliant attempt deliberately to mislead his readers, runs away with this week's award for lying neo-con media whore of the week. His achievement is particularly good as the rest of his report is largely a simple copy and paste from the Press Association.
I most certainly hope that the couple in Salisbury hospital recover from whatever is afflicting them. The media is, by making this the lead story on all broadcast news after last night's football, inviting us to make the connection to the Skripals. In which case I assume the couple were perfectly well for five hours after contact, able to be very active and even to eat and drink heavily, before being mysteriously instantly disabled at the same time despite different ages, sexes, weights, and metabolisms and random uncontrolled dosages.
Replicating that would be quite a feat.
1 Comment »
a smart marketing product designer, for a quick million hit, should take the piss out of this with a new brand and product name for yet another cheap vodka and perfume and name it "Novichok" "Of a type developed by Russia" by appointment to Her Majesty's MI5, and buy an awful full page advert for it in the Guardian. They'd all be splashing in it! Yes, you too could smell like a Russian oligarch. m\\

Comment by Michael Major\\ | July 4, 2018 |
Visits Since December 2009

Looking for something?

Archives

Calendar

Categories

Tags

Latest Comments
More Links

Contact:

atheonews (at) gmail.com

disclaimer

This site is provided as a research and reference tool. Although we make every reasonable effort to ensure that the information and data provided at this site are useful, accurate, and current, we cannot guarantee that the information and data provided here will be error-free. By using this site, you assume all responsibility for and risk arising from your use of and reliance upon the contents of this site.

This site and the information available through it do not, and are not intended to constitute legal advice. Should you require legal advice, you should consult your own attorney.

Nothing within this site or linked to by this site constitutes investment advice or medical advice.

Materials accessible from or added to this site by third parties, such as comments posted, are strictly the responsibility of the third party who added such materials or made them accessible and we neither endorse nor undertake to control, monitor, edit or assume responsibility for any such third-party material.

The posting of stories, commentaries, reports, documents and links (embedded or otherwise) on this site does not in any way, shape or form, implied or otherwise, necessarily express or suggest endorsement or support of any of such posted material or parts therein.

The word "alleged" is deemed to occur before the word "fraud." Since the rule of law still applies. To peasants, at least.

Fair Use

This site contains copyrighted material the use of which has not always been specifically authorized by the copyright owner. We are making such material available in our efforts to advance understanding of environmental, political, human rights, economic, democracy, scientific, and social justice issues, etc. We believe this constitutes a 'fair use' of any such copyrighted material as provided for in section 107 of the US Copyright Law. In accordance with Title 17 U.S.C. Section 107, the material on this site is distributed without profit to those who have expressed a prior interest in receiving the included information for research and educational purposes. For more info go to: http://www.law.cornell.edu/uscode/17/107.shtml. If you wish to use copyrighted material from this site for purposes of your own that go beyond 'fair use', you must obtain permission from the copyright owner.

DMCA Contact

This is information for anyone that wishes to challenge our "fair use" of copyrighted material.

If you are a legal copyright holder or a designated agent for such and you believe that content residing on or accessible through our website infringes a copyright and falls outside the boundaries of "Fair Use", please send a notice of infringement by contacting atheonews@gmail.com.

We will respond and take necessary action immediately.

If notice is given of an alleged copyright violation we will act expeditiously to remove or disable access to the material(s) in question.

All 3rd party material posted on this website is copyright the respective owners / authors. Aletho News makes no claim of copyright on such material.