The Impossible Photo
Russia has developed an astonishing new technology enabling its secret agents to occupy precisely the same space at precisely the same time.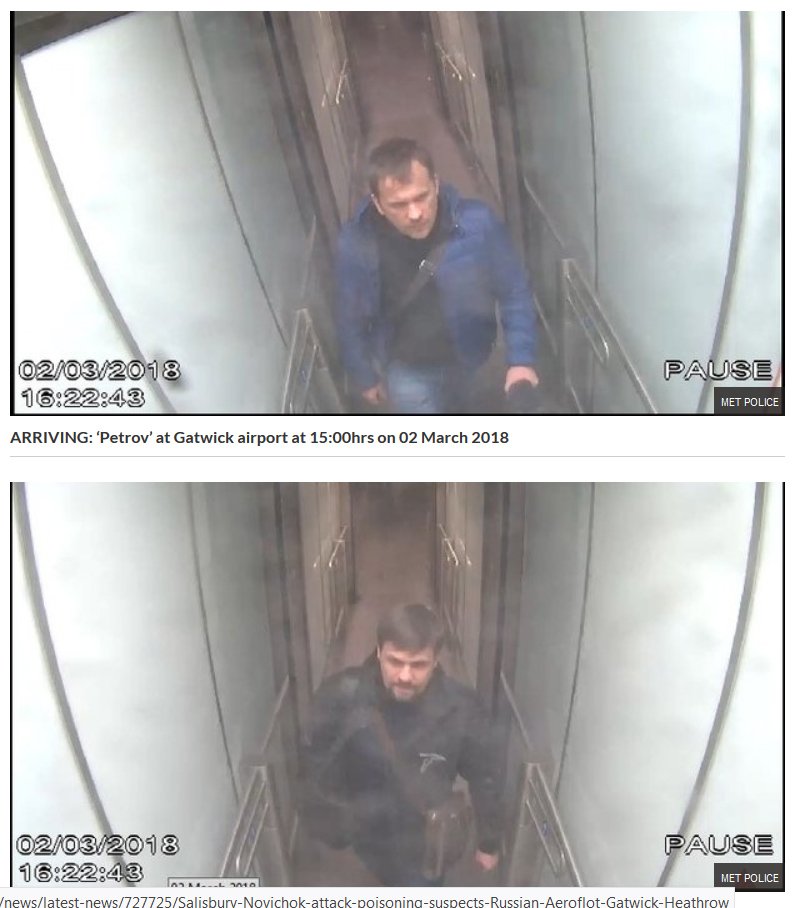 These CCTV images released by Scotland yard today allegedly show Alexander Petrov and Ruslan Boshirov both occupying exactly the same space at Gatwick airport at precisely the same second. 16.22.43 on 2 March 2018. Note neither photo shows the other following less than a second behind.
There is no physically possible explanation for this. You can see ten yards behind each of them, and neither has anybody behind for at least ten yards. Yet they were both photographed in the same spot at the same second.
The only possible explanations are:
1) One of the two is travelling faster than Usain Bolt can sprint
2) Scotland Yard has issued doctored CCTV images/timeline.
I am going with the Met issuing doctored images.
UPDATE
A number of people have pointed out a third logical possibility, that the photographs are not of the same place and they are coming through different though completely identical entry channels. The problem with that is the extreme synchronicity. You can see from the photos that the channel(s) are enclosed and quite long, and they would have had to enter different entrances to the channels. So it is remarkable they were at exactly the same point at the same time. Especially as one of them appears to be holding (wheeled?) luggage and one has only a shoulder bag.
I have traveled through Gatwick many times but cannot call to mind precisely where they are. Can anybody pinpoint the precise place in the airport? Before or after passport control? Before or after baggage collection? Before or after customs? The only part of the airport this looks like to me is shortly after leaving the plane after the bridge, and before joining the main gangway to passport control – in which case passengers are not split into separated channels at the stage this was taken. I can't recall any close corridors as long as this after passport control. But I am open to correction.
2 Comments »
Virtually anything of any importance that we see in the MSM cannot be believed or trusted. "9/11″ HAD to have been an 'Inside Job", because the complexity and scale of the devastation could not have been SO successful without serious co-ordinated planning. The 'Barons' are 'farming' the 'Serfs', and our rulers are getting away with blue bloody murder. Ain't Freedom and Democracy Grand???

LikeLike

Comment by Brian Harry, Australia | September 5, 2018 |

Meanwhile in Arkansas:

https://www.neonrevolt.com/2018/09/04/the-palladian-skullandbones-part-2-secretsocieties-thecabal-clintonfoundation-arkansas-skullandbonesanon-qanon-greatawakening-neonrevolt/#comments

LikeLike

Comment by Leland Roth | September 5, 2018 |
Visits Since December 2009

Looking for something?

Archives

Calendar

Categories

Tags

Recent Comments
More Links

Contact:

atheonews (at) gmail.com

Disclaimer

This site is provided as a research and reference tool. Although we make every reasonable effort to ensure that the information and data provided at this site are useful, accurate, and current, we cannot guarantee that the information and data provided here will be error-free. By using this site, you assume all responsibility for and risk arising from your use of and reliance upon the contents of this site.

This site and the information available through it do not, and are not intended to constitute legal advice. Should you require legal advice, you should consult your own attorney.

Nothing within this site or linked to by this site constitutes investment advice or medical advice.

Materials accessible from or added to this site by third parties, such as comments posted, are strictly the responsibility of the third party who added such materials or made them accessible and we neither endorse nor undertake to control, monitor, edit or assume responsibility for any such third-party material.

The posting of stories, commentaries, reports, documents and links (embedded or otherwise) on this site does not in any way, shape or form, implied or otherwise, necessarily express or suggest endorsement or support of any of such posted material or parts therein.

The word "alleged" is deemed to occur before the word "fraud." Since the rule of law still applies. To peasants, at least.

Fair Use

This site contains copyrighted material the use of which has not always been specifically authorized by the copyright owner. We are making such material available in our efforts to advance understanding of environmental, political, human rights, economic, democracy, scientific, and social justice issues, etc. We believe this constitutes a 'fair use' of any such copyrighted material as provided for in section 107 of the US Copyright Law. In accordance with Title 17 U.S.C. Section 107, the material on this site is distributed without profit to those who have expressed a prior interest in receiving the included information for research and educational purposes. For more info go to: http://www.law.cornell.edu/uscode/17/107.shtml. If you wish to use copyrighted material from this site for purposes of your own that go beyond 'fair use', you must obtain permission from the copyright owner.

DMCA Contact

This is information for anyone that wishes to challenge our "fair use" of copyrighted material.

If you are a legal copyright holder or a designated agent for such and you believe that content residing on or accessible through our website infringes a copyright and falls outside the boundaries of "Fair Use", please send a notice of infringement by contacting atheonews@gmail.com.

We will respond and take necessary action immediately.

If notice is given of an alleged copyright violation we will act expeditiously to remove or disable access to the material(s) in question.

All 3rd party material posted on this website is copyright the respective owners / authors. Aletho News makes no claim of copyright on such material.