Maduro Denies Hezbollah Ties, Mocks Pompeo's Charge As "Proven Lies"
One day after US Secretary of State Mike Pompeo claimed Hezbollah was "active" and operating inside of Venezuela, embattled President Nicolas Maduro responded in a televised speech in Caracas slamming Pompeo's allegation which had also hinted at Iranian connections as"lies that have been proven false."
According to Maduro, "Hezbollah is a legal political party within Lebanon's political life. Hezbollah is primarily a political party, with ministers, deputies, and elected officials."
"We do not have, nor have we had any political relations with the Hezbollah political party. There are many Lebanese living in Venezuela," he continued during the Friday statement, as translated by Al-Masdar News journalist Renato Velez. Acknowledging the historic roots of Arab communities in Latin America and Venezuela, he continued, "Long live the Lebanese, Syrian and Palestinian Arab colonies in Venezuela."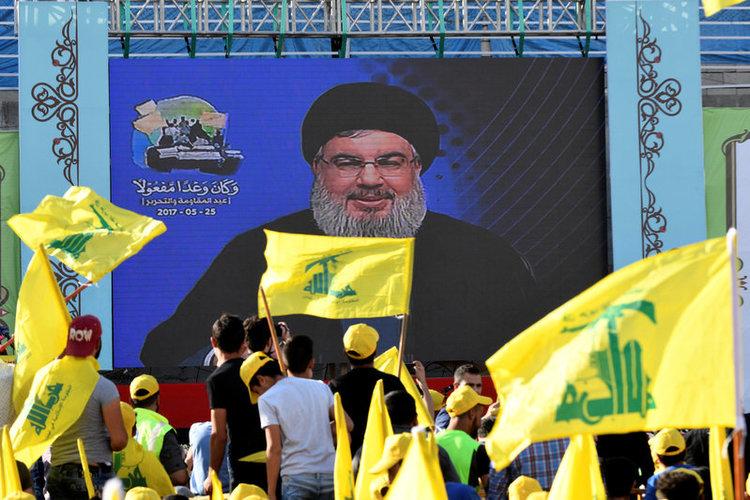 Hezbollah Secretary-General Hassan Nassrallah
"The U.S. will continue to spread lies – lies that have been proven false. The Lebanese in Venezuela have political freedom and Venezuela, in order to defend itself, does not need cells of anyone in the world. We will defend ourselves," he added.
He was responding specifically to Pompeo's Wednesday night interview with Fox Business wherein Pompeo implied the Maduro government was allowing the US-designated terror group to have a base of operations in Venezuela. We noted previously that what looked like an apparent failure to come up with an even remotely original narrative for another imminent American intervention, Pompeo asserted during the interview that "Hezbollah has active cells in Venezuela."
He said that "people don't recognize that Hezbollah has active cells" in the country, adding that "the Iranians are impacting the people of Venezuela and throughout South America. We have an obligation to take down that risk for America" he said further, as quoted by the Independent.
Ironically or not, when it comes to Hezbollah, which the US has long considered a terrorist organization, sanctions on people in Venezuela linked to the Iranian-backed Lebanese group have been imposed as far back as the George W Bush administration, seemingly in anticipation for just such an event.
Washington also believes Latin America has served as a base of fund-gathering for the group for some years, including through drugs and money-laundering schemes, according to past reports and to justify said close link, the media notes that Venezuela's former president Hugo Chavez formed tight links with Iran under Mahmoud Ahmedinejad's leadership. Supposedly that is a sufficient and necessary condition to conclude that Maduro is now harboring terrorists, which in turn would require a US "peacekeeping" mission.
And just so the US population does not lose plot, later in his Wednesday evening Fox interview, the former CIA director described Maduro as "evil" and insisted the US was intervening on behalf of ordinary Venezuelans who have suffered under his rule. In other words, yet another "humantiarian" coup under US auspices.
"We should not permit a country in our hemisphere to treat its own people this way," he said, despite Washington's – and the CIA's – dismal track record of fomenting government overhauls in the region. "American values – America's, not only our interests but our values – are at stake here." But it wasn't clear just which values he was referring to.
2 Comments »
It really is so easy in the USA to spread lies and propaganda, and this one, linking Hezbollah with President Maduro of Venezuela is ridiculous beyond belief. If the USA MEDIA allowed a national debate about this sort of rubbish the lies would be ridiculed and guys like Pompeo would be scorned by the American people.
But the M.I.C. machine just rolls on, unchallenged by the Mainstream Media, while REAL JOURNALISTS are sidelined and almost completely ignored
Joseph Goebbels would gasp in admiration if he could see how easy it is in the West today, to hoodwink BILLIONS of people Worldwide.

LikeLike

Comment by Brian Harry, Australia | February 9, 2019 |

"Rapture Mike" Pompeo's ridiculous attempt at Machiavelli-founded manipulating of public perception into believing there's a "terrorist threat" in Venezuela creates in the person hearing his psychobabble the challenge of deciding on laughing or crying.

Pompeo's record off-the-charts lie in this instance may as well have consisted of his asserting that Venezuela's Nicolas Maduro has a "secret pact" (like Dwight Eisenhower had with extraterrestrials, don't you know!) with off-planet aliens, known only by the dreaded Illuminati and ultra-secret societies: the Annunaki "Greys", leaders of the Galactic Federation, from the outer galaxy of Plee-aid-ees. Who knew Pompeo was such a big (psychopathic) fan of science fiction?…

LikeLike

Comment by Jerry Alatalo | February 9, 2019 |
Visits Since December 2009

Looking for something?

Archives

Calendar

Categories

Tags

Recent Comments
More Links

Contact:

atheonews (at) gmail.com

Disclaimer

This site is provided as a research and reference tool. Although we make every reasonable effort to ensure that the information and data provided at this site are useful, accurate, and current, we cannot guarantee that the information and data provided here will be error-free. By using this site, you assume all responsibility for and risk arising from your use of and reliance upon the contents of this site.

This site and the information available through it do not, and are not intended to constitute legal advice. Should you require legal advice, you should consult your own attorney.

Nothing within this site or linked to by this site constitutes investment advice or medical advice.

Materials accessible from or added to this site by third parties, such as comments posted, are strictly the responsibility of the third party who added such materials or made them accessible and we neither endorse nor undertake to control, monitor, edit or assume responsibility for any such third-party material.

The posting of stories, commentaries, reports, documents and links (embedded or otherwise) on this site does not in any way, shape or form, implied or otherwise, necessarily express or suggest endorsement or support of any of such posted material or parts therein.

The word "alleged" is deemed to occur before the word "fraud." Since the rule of law still applies. To peasants, at least.

Fair Use

This site contains copyrighted material the use of which has not always been specifically authorized by the copyright owner. We are making such material available in our efforts to advance understanding of environmental, political, human rights, economic, democracy, scientific, and social justice issues, etc. We believe this constitutes a 'fair use' of any such copyrighted material as provided for in section 107 of the US Copyright Law. In accordance with Title 17 U.S.C. Section 107, the material on this site is distributed without profit to those who have expressed a prior interest in receiving the included information for research and educational purposes. For more info go to: http://www.law.cornell.edu/uscode/17/107.shtml. If you wish to use copyrighted material from this site for purposes of your own that go beyond 'fair use', you must obtain permission from the copyright owner.

DMCA Contact

This is information for anyone that wishes to challenge our "fair use" of copyrighted material.

If you are a legal copyright holder or a designated agent for such and you believe that content residing on or accessible through our website infringes a copyright and falls outside the boundaries of "Fair Use", please send a notice of infringement by contacting atheonews@gmail.com.

We will respond and take necessary action immediately.

If notice is given of an alleged copyright violation we will act expeditiously to remove or disable access to the material(s) in question.

All 3rd party material posted on this website is copyright the respective owners / authors. Aletho News makes no claim of copyright on such material.