Data from two foreign polls tell a very different story about protests in Iran. The economy is tough, but a majority of Iranians back their government's security initiatives and reject domestic upheaval.
On November 15, angry Iranians began pouring onto the streets to protest sudden news of a 50% fuel price hike. A day later, peaceful demonstrations had largely dissipated, replaced instead by much smaller crowds of rioters who burned banks, gas stations, buses and other public and private property. Within no time, security forces hit the streets to snuff out the violence and arrest rioters, during which an unconfirmed number of people on both sides died.
Western commentators tried in vain to squeeze some juice out of the short-lived protests. "Iranian protesters strike at the heart of the regime's legitimacy," declared Suzanne Maloney of the Brookings Institution. France 24 asked the question, is this "a new Iranian revolution?" And the LA Times slammed Iran's "brutal crackdown" against its people.
They grasped for a geopolitical angle too: protests in neighboring Lebanon and Iraq that were based almost entirely on popular domestic discontent against corrupt and negligent governments, began to be cast as a regional insurrection against Iranian influence.
And despite the fact that the internet in Iran was disabled for nearly a week, unverified videos and reports curiously made their way outside to Twitter accounts of Iran critics, alleging that protestors were calling for the death of the Supreme Leader, railing against Iran's interventions in the region and calling for a fall of the "regime."
Clearly, the initial protests were genuine – a fact that even the Iranian government admitted immediately. Reducing petrol subsidies on the cheapest fuel in the region has been an issue on Iran's political agenda for years, one that became more urgent after the US exited the Iran nuclear deal last year and began to tighten the sanctions screws on Iran again.
To try and understand Iranian reactions in the past twelve days, let's look at two opinion polls conducted jointly by the University of Maryland's Center for International and Security Studies at Maryland (CISSM) and Toronto-based IranPolls in the immediate aftermath of the 2017/2018 protests/riots – and in May, August and October 2019, when the US "maximum pressure" campaign was in full gear.
What leaps out immediately from the earlier 2018 poll is that Iranians were frustrated with a stagnant economy – and 86% of them specifically opposed a hike in the price of gasoline, the main impetus for protests this November.
Ironically, this month's gasoline price hike was meant to generate upward of $2.25 billion earmarked for distribution to Iran's 18 million most hard-hit families. In effect, the government was softening the fuel subsidy reduction with payouts to the country's neediest citizens.
The 2018 poll also lists respondents' single biggest woes, ranging from unemployment (40%), inflation and high cost of living (13%), low incomes (7%),financial corruption and embezzlement (6%), injustice (1.4%), lack of civil liberties (0.3%), among others.
These numbers suggest the 2018 protests were overwhelmingly in response to domestic economic conditions– and not over Iran's foreign policy initiatives or "widespread repression" that was heavily promoted by western media and politicians at the time.
The same Suzanne Maloney quoted above on this month's protests, insisted in a 2018 Washington Post article: "The people aren't just demonstrating for better working conditions or pay, but insisting on wholesale rejection of the system itself."
In fact, in the 2018 poll, only 16% of Iranians agreed with the statement "Iran's political system needs to undergo fundamental change," with a whopping 77% disagreeing.
Like protests this month in Iran, the 2017-18 demonstrations also morphed into small but violent riots, and Iranian security forces hit the streets to stop the chaos. But in the aftermath of those events – and despite endless foreign headlines about the "brutality" of the security reaction – Iranians overwhelmingly sided with their government's treatment of rioters.
Sixty-three percent of those polled in 2018 said the police used an appropriate amount of force, and another 11% said they used "too little force." Overall, 85% of Iranians agreed that "the government should be more forceful to stop rioters who use violence or damage property."
This Iranian reaction must be understood in context of Iran's very insecure neighborhood, region-wide terrorism often backed by hostile states and a relentless escalation against Iranian interests after Donald Trump became US president. His "maximum pressure" campaign has only worsened matters, and Iranians consider themselves in a state of war with the United States – on constant guard against subversion, sabotage, espionage, eavesdropping, propaganda, border infiltration, etc.
Earlier this decade, the US military declared the internet an "operational domain"of war, and cyber warfare has already been widely acknowledged as the future battle frontier in conflicts. Iran was one of the early victims of this new warfare, when the suspected US/Israeli Stuxnet virus disrupted its nuclear program.
The US military has set up war rooms of servicemen dedicated to manipulating social media and advancing US propaganda interests. The British army has launched a "social media warfare" division, its initial focus, the Middle East. Israel has been at the online propaganda game forever, and the Saudis have recently invested heavily in influencing discourse on social media.
It should therefore come as no surprise that the Iranian government shut down the internet during this crisis. Expect this to become the new normal in US adversary states when chaos looms and foreign information operations are suspected.
The western media themes of corruption, violent repression, popular rejection of the Islamic Republic and its regional alliances have been consistent since the 2009 protests that followed contentious elections in Iran. They flared up briefly in early 2011, when western states were eager for an "Iranian Spring" to join the Arab Spring, and became popular narratives during 2017-18 protests when social media platforms adopted them widely.
This November, those narratives sprung to the surface again. So let's examine what Iranians thought about these claims in October when CISSM/IranPolls published their latest, extremely timely survey.
Iran's regional military activities
Sixty-one percent of Iranians support retaining military personnel in Syria to contain extremist militants that could threaten Iran's security and interests. Polls taken since March 2016 confirm the consistency of this view inside Iran, with a steady two-thirds (66%) of respondents supporting an increase in Iran's regional role.
Asked what would happen if Iran conceded to US demands and ended the US-sanctioned Islamic Revolutionary Guard Corps (IRGC) activities in Syria and Iraq, 60% of Iranians thought it would make Washington demand more concessions – only 11% thought it would make the US more accommodating.
Moreover, the October 2019 report says negative attitudes toward the United States have never been higher in CISSM/IranPoll's 13 years of conducting these surveys in Iran. A hefty 86% of Iranians do not favor the US, and those who say their view of the US is very unfavorable has skyrocketed from 52% in 2015 to 73% today.
They could care less that Washington has sanctioned the IRGC and its elite Quds Force Commander Qassem Soleimani, who is the most popular national figure of those polled, with eight in ten Iranians viewing him favorably. If anything, a hefty 81% of Iranians said the IRGC's Mideast activities has made Iran "more secure."
As for the IRGC's role in Iran's domestic economy – a favorite subject of western foes who cast the military group as a malign and corrupt instrument of the state – today 63% of Iranians believe the IRGC should be involved "in construction projects and other economic matters," as well as continuing their security role. In times of crisis, they're viewed as a vital institution: the IRGC and Iranian military scored top points with the public (89% and 90% respectively) for assisting the population during crippling floods last Spring, which displaced half a million Iranians.
Economy and corruption
Seventy percent of Iranians view their economy as "bad" today, a figure that has stayed surprisingly consistent over the past 18 months, despite the imposition of US sanctions last year. The majority blame domestic mismanagement and corruption for their economic woes, but a rising number also blame US sanctions, which is possibly why 70% of Iranians prefer aiming for national self-sufficiency over increasing foreign trade.
Asked about the "impact (of sanctions) on the lives of ordinary people," 83% of Iranians agreed there was a negative impact on their lives. Oddly, since the US exited the JCPOA, economic pessimism has dropped from 64% in 2018 to 54% last month-mainly, the poll argues, because Iranians feel the US can't realistically pressure Iran much further with sanctions. Accordingly, 55% of Iranians blame domestic economic mismanagement and corruption for Iran's poor economy versus 38% who blame foreign sanctions and pressure.
The blame for much of this mismanagement and corruption is pinned on the administration of President Hassan Rouhani, whose favorability numbers dropped under 50% for the first time, to reach 42% this August. Fifty-four percent of Iranians think his government isn't trying much to fight corruption.
In contrast, 73% believe the Iranian judiciary is much more engaged in fighting economic corruption, up 12% since May.
On the economic front, it appears that Iranians have largely been disappointed by the promises and vision of this administration, which could benefit its Principlist opponents in upcoming parliamentary elections. The fuel tax hike two weeks ago was a necessary evil and a brave move by Rouhani, despite the mismanagement of its public rollout. Unfortunately, Iranians, who have railed against subsidy removals for years, are unlikely to be forgiving anytime soon.
On the political front, Iranians appear to be largely in lockstep with their government's foreign policy and military initiatives, viewing the IRGC's activities – domestic and regional – very favorably, and supporting Iran's involvement in neighboring Iraq and Syria, both for security reasons against terrorism and because they believe in an active regional role for Iran. In terms of support for their leaders, a majority of Iranians view favorably the IRGC's Soleimani (82%), followed by Foreign Minister Mohammad Javad Zarif (67%) and Judiciary Head Ebrahim Raisi (64%), which covers an unexpectedly broad spectrum of political viewpoints in the country.
In light of these numbers, it is fair to say that there is no "second revolution" on Iran's horizon, nor any kind of significant rupture between government and populace on a whole host of key political, economic and security issues. Foreign commentators can spin events in Iran all they want, but so far Iranians have chosen security and stability over upheaval every time.
*Poll numbers in this article have been rounded up or down to the nearest unit.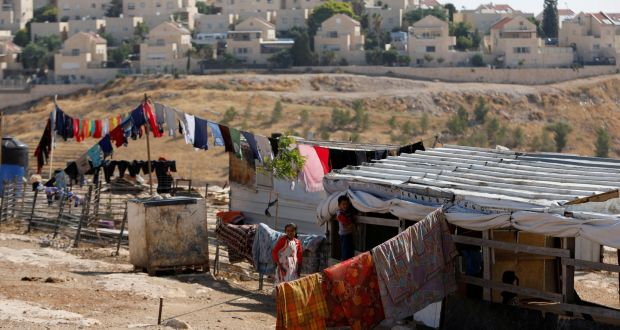 Palestinian children play outside their dwelling in al-Eizariya town in the Israeli-occupied West Bank with the Jewish settlement of Maale Adumim in the background.
"I believe the security situation will improve (in J&K), it will allow the refugees to go back, and in your lifetime, you will be able to go back … and you will be able to find security, because we already have a model in the world."
"I don't know why we don't follow it. It has happened in the Middle East. If the Israeli people can do it, we can also do it." 
The above reported remarks by India's consul-general in New York Sandeep Chakravorty while addressing an audience of Kashmiri Pandits raised some dust in the Indian media. But his job or career is no mortal danger.
For, Chakravorty must be an intelligent man and probably estimated that he was only articulating from a Track 1.5 platform the Modi government's surreptitious policy in J&K  — following the Israeli footfalls of forcible occupation and colonisation of lands inhabited by alienated people. 
Whether the policy is doable or not is for time to tell. To my mind, the final word is not yet available whether even the brutal Israeli policy will work or not. Besides, circumstances are vastly different, and Kashmir is not an analogous situation. 
The main difference is that although the Indian state resorted to the use of force, much like Israel had done in Palestinian lands, the security situation has only deteriorated over the years, over decades. There are no two opinions that even half a million troops could not achieve anything by way of enduring results in the Kashmir valley. 
The ground realities in the valley militate against repression and state terrorism as viable policy option for a country such as India. The stark evidence of it lies in the government's decision in August to change the status of J&K, which is an admission of failure rather than a mark of triumphant glory. 
Consul-general Chakravorty seems unaware how Israel went about systematically to prepare an external environment first by subduing the Arab countries that surrounded it and harboured sympathy, and were willing to support the Palestinian cause. Arguably, India too should begin with defeating and subduing Pakistan first? But, honestly, such an option is not available for India in our thermonuclear era, now or ever, the bravado of our ruling elite and their acolytes notwithstanding. 
Then, there is the western support for Israel, which helps it to get away with murder. The underlying factors here are complex and deep rooted in history. At its core, the western countries are constantly forced into an attitude of atonement for their anti-semitism that has a long and loathsome history dating back centuries. Remember the notorious Dreyfus affair in France — leave alone the slaughter of Jews in the Holocaust, which makes Angela Merkel wobbly in the legs even today when she mentions Israel. 
Israel plays the "anti-semitic card' very effectively. In actual practice, any criticism of Israeli state violations against Palestinians is instantly discredited as being "antisemitic". Today, US Congresswomen Ilhan Omar and Rashida Tlaib and British Labour Party leader Jeremy Corbyn are in the crosshairs of the Israeli lobby for this reason. Corbyn's sin is that he has pledged to cut military trade with Israel and move to officially recognise a Palestinian state, if elected to power. 
The well-known commentator Finian Cunningham recently wrote, "This conflation of valid criticism of the Israeli state with being "anti-Jew" is a cynical distortion which is wielded to give Israel impunity from international law. It plays on moral blackmail of critics by equating the historical persecution of Jews and in particular the Nazi holocaust with the sanctity of the modern Israeli state." 
Unfortunately, there is a notion even amongst educated Indians (including bureaucrats in the Indian Foreign Service) that linking up with the Jewish organisations would enable India to piggy ride on the Israeli lobby in the US. The false notion largely stems from sinister claims about the influence of "Jewish money" — and, it is not of recent origin. Didn't Brajesh Mishra, the NSA under Atal Bihari Vajpayee, envisage a US-Israel-India condominium? 
The heart of the matter is that India is not Israel. Unlike Judaism, Hinduism is not an Abrahamic religion and it is not joined at the hips with the Christian world. This is one thing. Second, while large sections of Hindus too have suffered cruel persecution through centuries, it happened to be at the hands of their co-religionists. Clearly, there is no reason for atonement on the part of the West. 
Third, while Indian-Americans are a prosperous community relatively, their clout in the Wall Street is minimal. Unlike the "Jewish lobby". Simply put, following the Israeli footfall on the occupation and colonisation of the Palestinian homeland or the territories illegally annexed during wars will not take India very far in regard of the J&K situation. 
The bottom line is that the western opinion on Kashmir is supportive of neither India nor Pakistan. It always rooted for the "Third Option" — an independent and sovereign state of Kashmir. The official US position, in particular, always made it a point to stress that any solution should take into account the "wishes of the Kashmiri people." 
In the prevailing geopolitical situation in Asia, an independent Kashmir state will be a strategic asset for Washington. Surely, any colonisation of Kashmir Valley by non-Kashmiris grates against the US interests. Israel, on the contrary, is itself a western creation on the map of the Middle East and the US condones Israel's war crimes and aggressive state policies as a matter of regional strategy. 
One would imagine that an Indian diplomat of the rank of ambassador would know that discretion is the better part of valour. Yet, he voiced maverick opinions like a run-of-the mill rabble-rouser on the Hindutva platform, which, he should be intelligent enough to grasp, would only serve to confirm Pakistani allegations regarding the Modi government's intentions behind the change of status of J&K. The politicisation of the Foreign Service, which such sordid episodes highlight, won't serve any good.
More Links

Contact:

atheonews (at) gmail.com

Disclaimer

This site is provided as a research and reference tool. Although we make every reasonable effort to ensure that the information and data provided at this site are useful, accurate, and current, we cannot guarantee that the information and data provided here will be error-free. By using this site, you assume all responsibility for and risk arising from your use of and reliance upon the contents of this site.

This site and the information available through it do not, and are not intended to constitute legal advice. Should you require legal advice, you should consult your own attorney.

Nothing within this site or linked to by this site constitutes investment advice or medical advice.

Materials accessible from or added to this site by third parties, such as comments posted, are strictly the responsibility of the third party who added such materials or made them accessible and we neither endorse nor undertake to control, monitor, edit or assume responsibility for any such third-party material.

The posting of stories, commentaries, reports, documents and links (embedded or otherwise) on this site does not in any way, shape or form, implied or otherwise, necessarily express or suggest endorsement or support of any of such posted material or parts therein.

The word "alleged" is deemed to occur before the word "fraud." Since the rule of law still applies. To peasants, at least.

Fair Use

This site contains copyrighted material the use of which has not always been specifically authorized by the copyright owner. We are making such material available in our efforts to advance understanding of environmental, political, human rights, economic, democracy, scientific, and social justice issues, etc. We believe this constitutes a 'fair use' of any such copyrighted material as provided for in section 107 of the US Copyright Law. In accordance with Title 17 U.S.C. Section 107, the material on this site is distributed without profit to those who have expressed a prior interest in receiving the included information for research and educational purposes. For more info go to: http://www.law.cornell.edu/uscode/17/107.shtml. If you wish to use copyrighted material from this site for purposes of your own that go beyond 'fair use', you must obtain permission from the copyright owner.

DMCA Contact

This is information for anyone that wishes to challenge our "fair use" of copyrighted material.

If you are a legal copyright holder or a designated agent for such and you believe that content residing on or accessible through our website infringes a copyright and falls outside the boundaries of "Fair Use", please send a notice of infringement by contacting atheonews@gmail.com.

We will respond and take necessary action immediately.

If notice is given of an alleged copyright violation we will act expeditiously to remove or disable access to the material(s) in question.

All 3rd party material posted on this website is copyright the respective owners / authors. Aletho News makes no claim of copyright on such material.