Snapback sanctions on Iran isn't open-and-shut case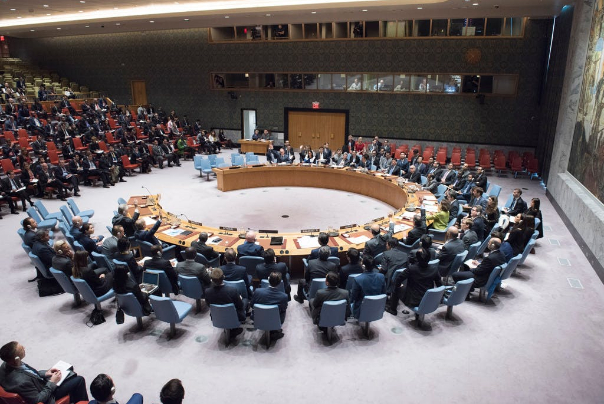 The UN Security Council resoundingly defeated a US resolution to indefinitely extend UN arms embargo on Iran, with only Dominican Republic endorsing the American move, New York, August 14, 2020
The Iran nuclear issue moves to centerstage of international security with US President Donald Trump's remarks Saturday that Washington "will be doing a snapback" against Iran — announcing Washington's intention to push for restoration of all pre-2015 UN sanctions against Iran. Trump added, "You will be watching it next week."
Also, Trump apparently poured cold water on Russian President Vladimir Putin's proposal Friday for a video summit of the veto-holding permanent members of the UN Security Council plus Germany and Iran (that were the original signatories of the JCPOA) to discuss the 2015 Iran nuclear deal and Persian Gulf security issues. He saw no urgency. Trump vaguely hinted that he would revisit the subject "after November".
Clearly, the optics of the "snapback" sanctions is that Washington is hanging tough and the "maximum pressure" approach is further tightening.
But having said that, Trump ultimately considers himself to be the consummate deal maker — and is strategising an approach of calibrated brinkmanship.
For a start, he hopes to extract out of Russia and China some sort of self-restraint that at least until the US elections are over in November, they wouldn't provide Iran with military technology. On the other hand, by side-stepping Putin's proposal — which effectively resuscitates the dispute resolution mechanism of the "6+1" format of the original signatories of the JCPOA — Trump avoids any controversies in the US domestic politics in the run-up to the November election where his "maximum pressure" approach embellishes his strongman image.
Of course, Moscow has a dubious history of heeding such US expectations in the past — when it delayed the delivery of S-300 missiles to Iran for several years due to US and Israeli pressure, forcing Tehran to sue Moscow for compensation. But circumstances have changed. US-Russia relations are tense, while Russia and Iran are partners in regional security.
Equally, Russia and China have worked in tandem on the diplomatic plane and over the JCPOA, Beijing has adopted a line which upfront rejects the Trump administration's locus standii to invoke snapback sanctions. Again, China-Iran relations have matured and the two countries are expected to conclude in a conceivable future a 25-year $400 billion comprehensive strategic partnership agreement.
Significantly, Putin's statement on Friday underscored Moscow's convergence with Tehran and reiterated Moscow's rejection of Washington's "maximum pressure" approach against Iran. The following elements of Putin's statement are to be noted:
"Iran faces groundless accusations."
"Resolutions are being drafted (by Washington) with a view to dismantling decisions that had been unanimously adopted by the Security Council."
"Russia maintains its unwavering commitment to the JCPOA."
Russia's Collective Security Concept for the Persian Gulf Region (which Iran welcomed and US ignored) "outlines concrete and effective paths to unravelling the tangle of concerns" in Persian Gulf region.
"There is no place for blackmail or dictate in this (Gulf) region, no matter the source. Unilateral approaches will not help bring about solutions."
There is imperative need to build an inclusive security architecture in the Persian Gulf.
Indeed, Trump is playing his cards close to his chest. The US move on "snapback" sanctions will come up for a decision before the rotating presidency of the UN Security Council, which will be called upon to take a view on the admissibility of the American contention that although Trump publicly repudiated the JCPOA, since it did not formally intimate the same to the UN SC, it still enjoys the prerogative to act under the security council's Resolution 2231 that provided an international legal basis for the "snapback" clause.
Indonesia chairs the presidency through August and Jakarta and Tehran enjoy friendly relations. The next in line for September is Niger, which may be susceptible to US pressure. By October, Russia's turn comes to chair the presidency. How far Washington will push the envelope through the August-September period remains to be seen.
Without doubt, a UN sanctions snapback could have predictable consequences for any form of trade with Iran, as it demands from member states to exercise caution when transacting with Iranian financial institutions, and permits countries to inspect vessels or aircraft suspected of carrying cargo in violation of UN sanctions provisions on Iran in national or international waters. Russia and China may decide to take advantage of the new Iranian market for their weapons exports. China's stance has been exceptionally strong. Of course, all bets are off if Iran carries through its threats of a withdrawal from the Nuclear Non-Proliferation Treaty in the case of UN sanctions reimposition.
In sum, instead of focusing on sanctions snapback, the issue of critical importance in the coming weeks will be the ability of the E3 (France, UK and Germany) — and potentially Russia and China — to take advantage of the time available to engage with the US on the sidelines.
The key to unlocking the current dispute lies largely in Washington, which is insisting  on a resolution of the current impasse and on limiting Iranian nuclear activities. Washington in turn will have to offer some incentives to Iran. And those incentives need to be worked out through creative negotiation, as they devolve upon the existing unilateral US sanctions regime on Iran. The good part is that none of the JCPOA protagonists stands to gain out of the snapback sanctions.
Arguably, Trump is applying "maximum pressure" on other JCPOA countries by threatening snapback sanctions, while keeping an open mind on Putin's proposal to discuss all issues in a "6+1" format once the November election is out of the way. It is a fair assumption that Moscow anticipated Trump's response on the above lines.
After all, Iran figured in the last phone conversation in late July between Trump and Putin a fortnight ago and Putin's latest proposal followed up that discussion. Iran was kept in the loop, too. (Interestingly, following the visit by Iran's FM Javad Zarif to Moscow in late July, Tehran Times newspaper had commented that a "possible revival of diplomatic initiatives between Iran and the US" under Putin's mediation was to be expected.)
Moscow is yet to react to Trump's "Probably-not" remark of Saturday apropos the Putin proposal. But the Tass report took note that "Washington will probably want to wait until presidential elections in the country end." Beijing and Paris have so far voiced support for Putin's proposal, while London and Berlin are watching from the sidelines.
As for Tehran, it is still savouring the sweet taste of the defeat of the US resolution at the UN Security Council on Friday to extend an arms embargo on Iran that is due to expire in October. (here  and here ) In the final analysis, however, Tehran's choice will be to directly negotiate with Washington.
No comments yet.
More Links

Contact:

atheonews (at) gmail.com

Disclaimer

This site is provided as a research and reference tool. Although we make every reasonable effort to ensure that the information and data provided at this site are useful, accurate, and current, we cannot guarantee that the information and data provided here will be error-free. By using this site, you assume all responsibility for and risk arising from your use of and reliance upon the contents of this site.

This site and the information available through it do not, and are not intended to constitute legal advice. Should you require legal advice, you should consult your own attorney.

Nothing within this site or linked to by this site constitutes investment advice or medical advice.

Materials accessible from or added to this site by third parties, such as comments posted, are strictly the responsibility of the third party who added such materials or made them accessible and we neither endorse nor undertake to control, monitor, edit or assume responsibility for any such third-party material.

The posting of stories, commentaries, reports, documents and links (embedded or otherwise) on this site does not in any way, shape or form, implied or otherwise, necessarily express or suggest endorsement or support of any of such posted material or parts therein.

The word "alleged" is deemed to occur before the word "fraud." Since the rule of law still applies. To peasants, at least.

Fair Use

This site contains copyrighted material the use of which has not always been specifically authorized by the copyright owner. We are making such material available in our efforts to advance understanding of environmental, political, human rights, economic, democracy, scientific, and social justice issues, etc. We believe this constitutes a 'fair use' of any such copyrighted material as provided for in section 107 of the US Copyright Law. In accordance with Title 17 U.S.C. Section 107, the material on this site is distributed without profit to those who have expressed a prior interest in receiving the included information for research and educational purposes. For more info go to: http://www.law.cornell.edu/uscode/17/107.shtml. If you wish to use copyrighted material from this site for purposes of your own that go beyond 'fair use', you must obtain permission from the copyright owner.

DMCA Contact

This is information for anyone that wishes to challenge our "fair use" of copyrighted material.

If you are a legal copyright holder or a designated agent for such and you believe that content residing on or accessible through our website infringes a copyright and falls outside the boundaries of "Fair Use", please send a notice of infringement by contacting atheonews@gmail.com.

We will respond and take necessary action immediately.

If notice is given of an alleged copyright violation we will act expeditiously to remove or disable access to the material(s) in question.

All 3rd party material posted on this website is copyright the respective owners / authors. Aletho News makes no claim of copyright on such material.