Snopes: 'Misleading' to Correctly Point Out Biden's Cancer Charity Spent Millions On Salaries, Zero On Research
The Biden Cancer Initiative spent the majority of the millions it brought in on salaries and zero on research but pointing that out is "misleading," according to Snopes.
The New York Post exposed Biden's shady "charity" in an article last week titled, "Tax filings reveal Biden cancer charity spent millions on salaries, zero on research":
The Biden Cancer Initiative was founded in 2017 by the former vice president and his wife Jill Biden to "develop and drive implementation of solutions to accelerate progress in cancer prevention, detection, diagnosis, research and care and to reduce disparities in cancer outcomes," according to its IRS mission statement. But it gave out no grants in its first two years, and spent millions on the salaries of former Washington DC aides it hired.

The charity took in $4,809,619 in contributions in fiscal years 2017 and 2018, and spent $3,070,301 on payroll in those two years. The group's president, Gregory Simon, raked in $429,850 in fiscal 2018 (July 1, 2018 to June 30, 2019). https://t.co/bukDnvSGU8

— Corey R. Lewandowski (@CLewandowski_) November 15, 2020

The charity took in $4,809,619 in contributions in fiscal years 2017 and 2018, and spent $3,070,301 on payroll in those two years. The group's president, Gregory Simon, raked in $429,850 in fiscal 2018 (July 1, 2018 to June 30, 2019), according to the charity's most recent federal tax filings.

Simon, a former Pfizer executive and longtime health care lobbyist who headed up the White House's cancer task force in the Obama administration, saw his salary nearly double from the $224,539 he made in fiscal 2017, tax filings show.
"Sometimes disinformation states the facts correctly but frames them misleadingly," Snopes' Bethania Palma said in a "fact-checking" article on Monday.
"Although the charity spent no money on cancer research grants, this fact is misleadingly framed in that the Biden Cancer Initiative wasn't a grant-giving organization," Snopes said.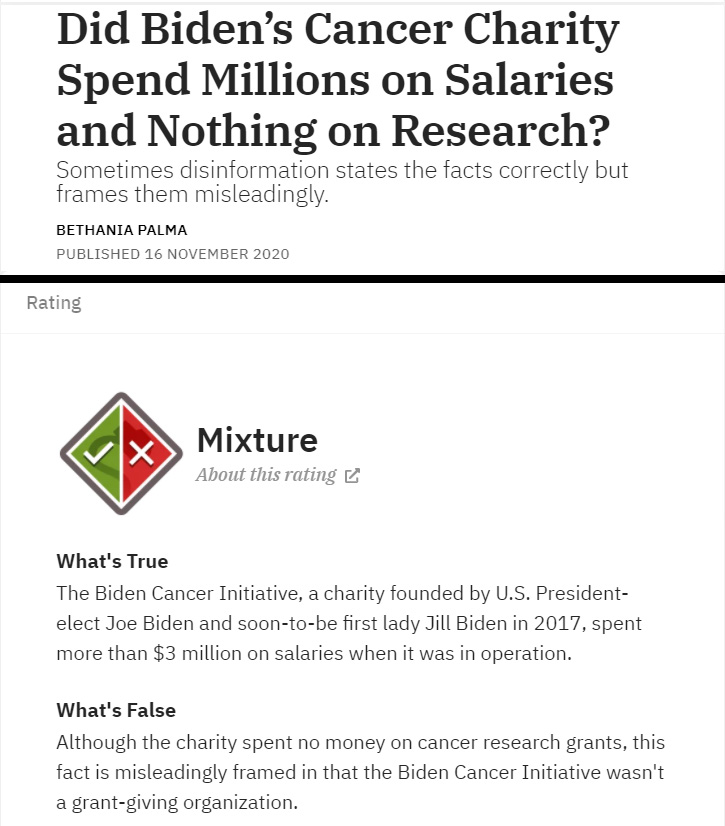 Though Snopes acknowledged the "charity" spent over $3 million on salaries, they failed to mention that was the majority of the $4,809,619 total they took in. They also failed to mention that Simon was a longtime health care lobbyist.
Snopes reported that Simon told them the organization was dedicated to "creating collaborations among companies, universities, nonprofits, patient groups, researchers, and the government" and their mission "was to work with patients from the bottom up to make things change."
Sounds legit!
1 Comment »
Visits Since December 2009

Looking for something?

Archives

Calendar

Categories

Tags

Recent Comments
More Links

Contact:

atheonews (at) gmail.com

Disclaimer

This site is provided as a research and reference tool. Although we make every reasonable effort to ensure that the information and data provided at this site are useful, accurate, and current, we cannot guarantee that the information and data provided here will be error-free. By using this site, you assume all responsibility for and risk arising from your use of and reliance upon the contents of this site.

This site and the information available through it do not, and are not intended to constitute legal advice. Should you require legal advice, you should consult your own attorney.

Nothing within this site or linked to by this site constitutes investment advice or medical advice.

Materials accessible from or added to this site by third parties, such as comments posted, are strictly the responsibility of the third party who added such materials or made them accessible and we neither endorse nor undertake to control, monitor, edit or assume responsibility for any such third-party material.

The posting of stories, commentaries, reports, documents and links (embedded or otherwise) on this site does not in any way, shape or form, implied or otherwise, necessarily express or suggest endorsement or support of any of such posted material or parts therein.

The word "alleged" is deemed to occur before the word "fraud." Since the rule of law still applies. To peasants, at least.

Fair Use

This site contains copyrighted material the use of which has not always been specifically authorized by the copyright owner. We are making such material available in our efforts to advance understanding of environmental, political, human rights, economic, democracy, scientific, and social justice issues, etc. We believe this constitutes a 'fair use' of any such copyrighted material as provided for in section 107 of the US Copyright Law. In accordance with Title 17 U.S.C. Section 107, the material on this site is distributed without profit to those who have expressed a prior interest in receiving the included information for research and educational purposes. For more info go to: http://www.law.cornell.edu/uscode/17/107.shtml. If you wish to use copyrighted material from this site for purposes of your own that go beyond 'fair use', you must obtain permission from the copyright owner.

DMCA Contact

This is information for anyone that wishes to challenge our "fair use" of copyrighted material.

If you are a legal copyright holder or a designated agent for such and you believe that content residing on or accessible through our website infringes a copyright and falls outside the boundaries of "Fair Use", please send a notice of infringement by contacting atheonews@gmail.com.

We will respond and take necessary action immediately.

If notice is given of an alleged copyright violation we will act expeditiously to remove or disable access to the material(s) in question.

All 3rd party material posted on this website is copyright the respective owners / authors. Aletho News makes no claim of copyright on such material.