Israel woman who refused to take part in the country's 'killing, violence and destruction' released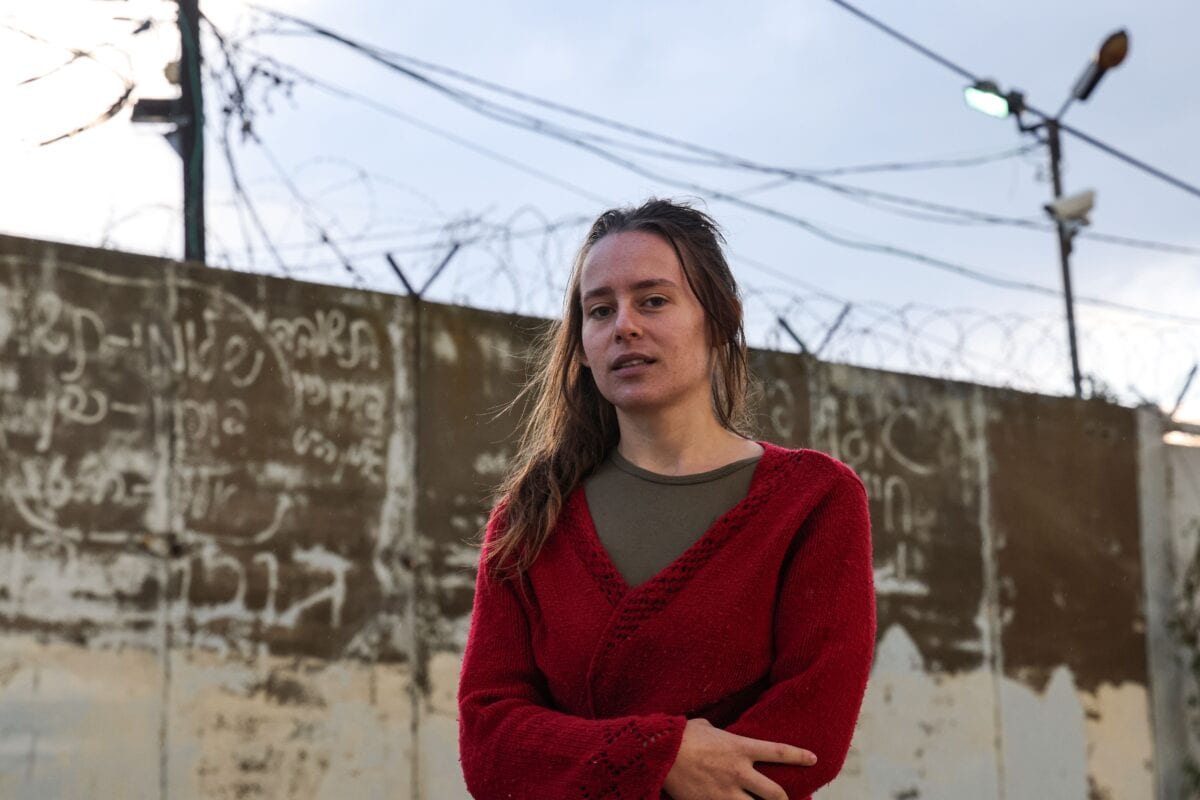 19-year-old conscientious objector, Hallel Rabin, poses outside the "number six" military prison near Atlit in northern Israel on November 20, 2020, [EMMANUEL DUNAND/AFP via Getty Images]
Nineteen-year-old Israeli woman, Hallel Rabin, who refused to complete her military service in the occupied Palestinian territories rejecting any involvement in what she called "killing, violence and destruction" has been released.
Rabin was kept in detention in a military prison for a total of 56 days for refusing to serve in the Israeli army and was facing a further 80 days in jail. But after four hearings, an army board finally accepted that her pacifism was sincere and not driven by "political considerations", which would have landed her more prison time.
Initially members of the Israeli army's "conscience committee" concluded that Rabin "opposes Israeli violence directed at the Palestinians" and this, according to the committee, is not regarded as conscientious objection, but political opposition. As such, the committee decided to imprison her.
Conscientious objectors in Israel are still limited in number and influence. They are seen as a minor departure from the norm and are considered by most Israelis to be traitors. Societies in the occupation state are still captive to colonial extremism, national and religious racism.
The army plays a central role in Israeli society and can impact a young person's social status and job prospects. This is one of the ways in which some 20 per cent of the Israeli population that are Palestinians are discriminated against in the country. Job prospects and general access to state services are denied because they do not serve in the army.
Israel's Ynet news reported Rabin standing at the gate of an army jail saying she was "the happiest person in the world".
"My lawyer called me this morning and told me, 'you're free'," she said.
Asked about Rabin's case, the army noted that enlistment is mandatory and those who request "an exemption due to conscience-related reasons" are entitled to a hearing before a relevant committee.
2 Comments »
That WALL behind this 19 year old conscientious objector has a remarkable resemblance to The Berlin Wall that we used to hear about all the time in the '60's and '70's…….We never hear anything about the Israeli/Palestinian Wall in the Western Press, I wonder why?

LikeLike

Comment by brianharryaustralia | November 24, 2020 |
More Links

Contact:

atheonews (at) gmail.com

Disclaimer

This site is provided as a research and reference tool. Although we make every reasonable effort to ensure that the information and data provided at this site are useful, accurate, and current, we cannot guarantee that the information and data provided here will be error-free. By using this site, you assume all responsibility for and risk arising from your use of and reliance upon the contents of this site.

This site and the information available through it do not, and are not intended to constitute legal advice. Should you require legal advice, you should consult your own attorney.

Nothing within this site or linked to by this site constitutes investment advice or medical advice.

Materials accessible from or added to this site by third parties, such as comments posted, are strictly the responsibility of the third party who added such materials or made them accessible and we neither endorse nor undertake to control, monitor, edit or assume responsibility for any such third-party material.

The posting of stories, commentaries, reports, documents and links (embedded or otherwise) on this site does not in any way, shape or form, implied or otherwise, necessarily express or suggest endorsement or support of any of such posted material or parts therein.

The word "alleged" is deemed to occur before the word "fraud." Since the rule of law still applies. To peasants, at least.

Fair Use

This site contains copyrighted material the use of which has not always been specifically authorized by the copyright owner. We are making such material available in our efforts to advance understanding of environmental, political, human rights, economic, democracy, scientific, and social justice issues, etc. We believe this constitutes a 'fair use' of any such copyrighted material as provided for in section 107 of the US Copyright Law. In accordance with Title 17 U.S.C. Section 107, the material on this site is distributed without profit to those who have expressed a prior interest in receiving the included information for research and educational purposes. For more info go to: http://www.law.cornell.edu/uscode/17/107.shtml. If you wish to use copyrighted material from this site for purposes of your own that go beyond 'fair use', you must obtain permission from the copyright owner.

DMCA Contact

This is information for anyone that wishes to challenge our "fair use" of copyrighted material.

If you are a legal copyright holder or a designated agent for such and you believe that content residing on or accessible through our website infringes a copyright and falls outside the boundaries of "Fair Use", please send a notice of infringement by contacting atheonews@gmail.com.

We will respond and take necessary action immediately.

If notice is given of an alleged copyright violation we will act expeditiously to remove or disable access to the material(s) in question.

All 3rd party material posted on this website is copyright the respective owners / authors. Aletho News makes no claim of copyright on such material.