US official: Indonesia could get billions in funding in return for normalisation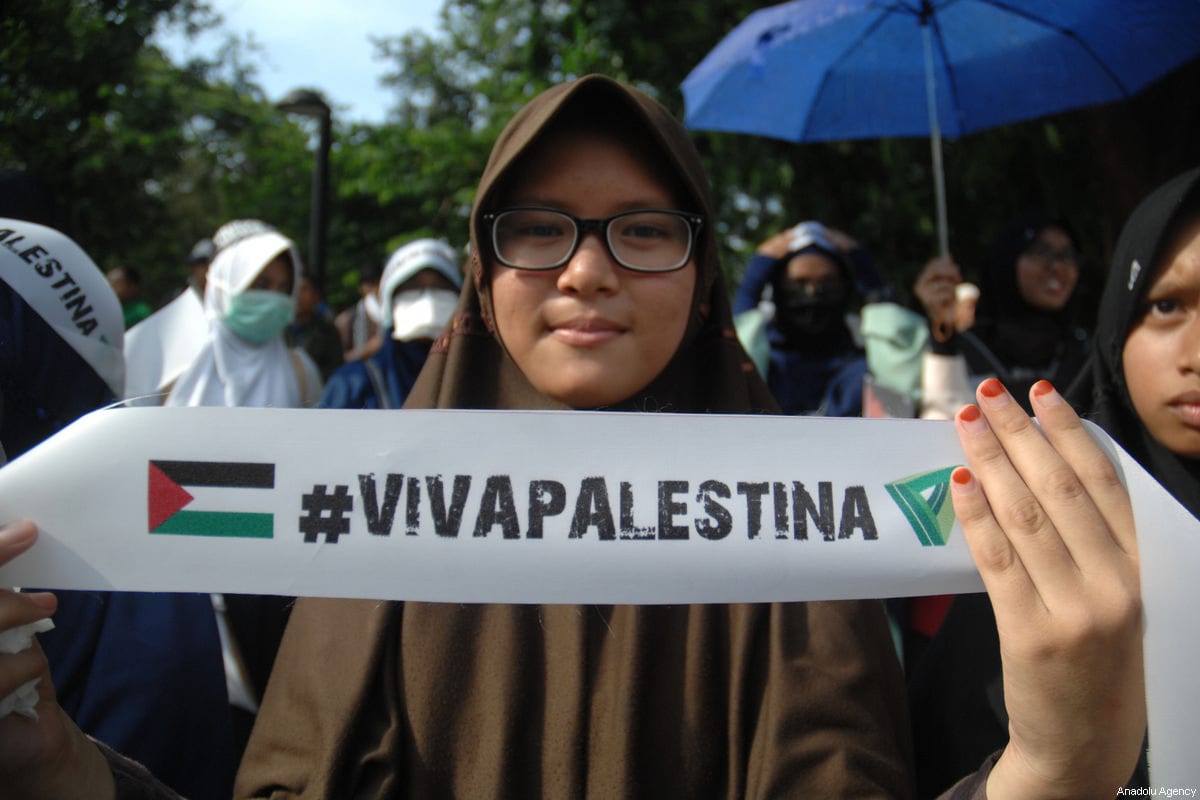 Indonesian Muslims protest outside the US ambassador's office in Indonesia against US recognition of Jerusalem as the capital of Israel, in Jakarta on December, 8, 2017 [Dasril Roszandi / Anadolu Agency]
Indonesia could see billions of dollars in additional funding from the US if it agreed to normalise ties with Israel, a US official has said.
Bloomberg quoted Chief Executive of the United States Agency for International Development (USAID), Adam Buehler, as saying that the agency could double its investments in Indonesia, which currently amount to about $1 billion, if Jakarta establishes diplomatic relations with Israel.
"We are talking to Indonesia about this … if they are ready for it, we will be happy to provide them with financial support that is greater than what we actually offer now."
The US official said he would not be surprised if the aid provided by the agency to Indonesia, the most populous Muslim country, increases by one or two billion dollars if Jakarta establishes diplomatic relations with Israel.
US and Israeli leaders say that they expect more countries to join the wave of normalisation which began in August with the announcement that the UAE had agreed to sign a peace deal with the occupation state. This was quickly followed by Bahrain, Sudan and Morocco.
The United States hopes that Oman and Saudi Arabia will sign similar deals in the future, although Buehler said it is not likely that USAID will provide assistance to the two countries because the rules do not allow the agency to invest in high-income countries.
Late last month Indonesia reaffirmed its firm support for Palestinian independence.
A non-permanent member of the UN Security Council, Indonesia presents one of its main goals on the council as dealing with the Palestinian question. It has had no formal relations with the occupation state of Israel since it was formed on Palestinian land in 1948. In support of Palestine, Jakarta issued a tax exemption on Palestinian imports.
In turn, Israel has taken soft measures against Indonesia such as banning tourists from the country but has made overtures towards it in recent years in order to influence the process of normalisation.
No comments yet.
Visits Since December 2009

Looking for something?

Archives

Calendar

Categories

Tags

Recent Comments
More Links

Contact:

atheonews (at) gmail.com

Disclaimer

This site is provided as a research and reference tool. Although we make every reasonable effort to ensure that the information and data provided at this site are useful, accurate, and current, we cannot guarantee that the information and data provided here will be error-free. By using this site, you assume all responsibility for and risk arising from your use of and reliance upon the contents of this site.

This site and the information available through it do not, and are not intended to constitute legal advice. Should you require legal advice, you should consult your own attorney.

Nothing within this site or linked to by this site constitutes investment advice or medical advice.

Materials accessible from or added to this site by third parties, such as comments posted, are strictly the responsibility of the third party who added such materials or made them accessible and we neither endorse nor undertake to control, monitor, edit or assume responsibility for any such third-party material.

The posting of stories, commentaries, reports, documents and links (embedded or otherwise) on this site does not in any way, shape or form, implied or otherwise, necessarily express or suggest endorsement or support of any of such posted material or parts therein.

The word "alleged" is deemed to occur before the word "fraud." Since the rule of law still applies. To peasants, at least.

Fair Use

This site contains copyrighted material the use of which has not always been specifically authorized by the copyright owner. We are making such material available in our efforts to advance understanding of environmental, political, human rights, economic, democracy, scientific, and social justice issues, etc. We believe this constitutes a 'fair use' of any such copyrighted material as provided for in section 107 of the US Copyright Law. In accordance with Title 17 U.S.C. Section 107, the material on this site is distributed without profit to those who have expressed a prior interest in receiving the included information for research and educational purposes. For more info go to: http://www.law.cornell.edu/uscode/17/107.shtml. If you wish to use copyrighted material from this site for purposes of your own that go beyond 'fair use', you must obtain permission from the copyright owner.

DMCA Contact

This is information for anyone that wishes to challenge our "fair use" of copyrighted material.

If you are a legal copyright holder or a designated agent for such and you believe that content residing on or accessible through our website infringes a copyright and falls outside the boundaries of "Fair Use", please send a notice of infringement by contacting atheonews@gmail.com.

We will respond and take necessary action immediately.

If notice is given of an alleged copyright violation we will act expeditiously to remove or disable access to the material(s) in question.

All 3rd party material posted on this website is copyright the respective owners / authors. Aletho News makes no claim of copyright on such material.