Mission Accomplished: The Corbett Report Removed From YouTube
I posted Episode 398 of The Corbett Report podcast, "Science Says," around 10 PM Japanese Standard Time on Friday, April 9th, 2021, and then went to bed. Sometime shortly after midnight, the main Corbett Report channel was removed from YouTube.
And, just like that, 14 years of work—some 1700+ videos, 569,000+ subscribers and 90 million+ video views—was erased from the digital ether. . . . Well, the GooTube portion of that digital ether, anyway.
Given that I've been promoting YouTube alternatives since at least 2009, and given that I have made video after video after video after video after video warning my audience that I would be banned from GooTube, and given that I even delivered a presentation last year noting that The Library of Alexandria is on Fire, it's safe to say that this news did not catch me off guard. Learning about the banning after waking up on Saturday morning, my only thought was, "Well, that took longer than I expected."
Indeed, it was not surprising in any sense that this was the report that led to GooTube purging my main channel. When you release a video on an account that already has two strikes for information that "contradicts the World Health Organization (WHO) or local health authorities' medical information about COVID-19" and that video itself contains information calling those very authorities' pronouncements into question, you better believe the thought that this might be your last YouTube upload crosses your mind when you push that publish button. Heck, the "offending" podcast even centers around an op-ed comparing COVID skeptics to terrorists and calling for the UN to mount a "counteroffensive" against them. Of course this video was going to be censored.
What's more, this had been a particularly difficult report to post in the first place. After rendering and uploading to GooTube, the GooTube censorship copyright check flagged the 30-second clip of "Bill Nye Saves the World" embedded in my commentary on The Weaponization of Science and refused to post the video. So I had to cut the offending 30 seconds (specifically, the extremely scientific video for Rachel Bloom's highly educational song, "My Sex Junk," which can still be enjoyed in the audio version of the podcast), re-render the episode and re-upload it. Then, after that video processed, I performed one quick check before hitting "publish" and noted that the fancy transitions that Corbett Report video editor Broc West had used for this episode (which had worked perfectly fine in the previous two renders) were now suddenly glitching. Banging my head on the keyboard in dismay, I went back into the project, manually changed all of the transitions and rendered and uploaded the entire episode for the third time.
And in the span of those three renders, my initial excitement at the prospect that I would actually get a podcast episode rendered, uploaded and published before 5 PM on a Friday night evaporated. Venting my spleen at Broc over my bad luck, I made the obvious "joke":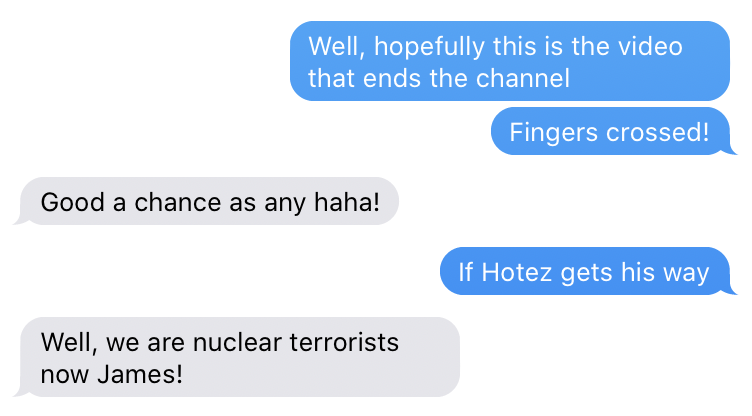 So, as you can see, this turn of events was not unexpected.
In a sense, it's even more fitting that it was specifically a video about the philosophy of science that ended the channel. Not a documentary about the central banking system. Not an expose of false flag terrorism. Not a hard-hitting report on geopolitics or hidden history. No, a podcast about science that quotes Thomas Kuhn and highlights the growing politicization of science.
I say it's "fitting" that such a report would be the one to do in the channel not only because I have been exploring this theme over and over in different ways since the very earliest days of The Corbett Report (since at least Episode 006 of the podcast, to be precise), but because in a sense the removal of The Corbett Report's YouTube channel provides the ironically hilarious answer to a question that I had as a bright-eyed, bushy-tailed and naive undergrad over two decades ago.
You see, as I explained at the beginning of The Weaponization of Science video, I began my university career as an aspiring physics major. But after a semester spent in chemistry labs, applied mathematics courses and physics tutorials, I decided one day that I wanted to take my life in a completely different direction. So I dropped all my science courses for the upcoming semester and replaced them with English courses.
As one of the very, very few scientifically inclined students in the entire English department, I found that I was particularly on guard against all the eye-rollingly ignorant ways that those in the humanities attempted to add gravitas to their arguments by shoehorning inaccurate analogies about poorly understood scientific concepts (like "relativity" and "quantum mechanics") into their lectures and papers. And so it was that I found myself approaching one professor during his office hours after he made a remark about how science was "politically determined."
"How can science be politically determined?" I demanded of him indignantly. "If I drop this tape dispenser off your desk it's going to fall at 9.81 m/s2 regardless of who is in political office."
My professor, for his part, had only to prompt me to consider the inquisition's investigation of Galileo for me to realize his point. Yes, scientists can be intimidated into proclaiming whatever the authorities—political, religious or otherwise—tell them to proclaim, even if it goes against their experimental results. The Galileo example may have been a particularly blunt one (and may or may not be apocryphal), but it hit the mark.
I never forgot that lesson. It is part of what has informed my work on the various pseudoscience fads, trends and hoaxes that have been foisted on the masses over the preceding century, from eugenics to Malthusian fearmongering to the catastrophic anthropogenic climate change myth.
Fast forward 20+ years and here I am daring to point out how the neo-inquisitionists are purging all criticism of their pseudoscientific pronouncements and . . . poof. Channel gone. Which kind of proves my point, doesn't it?
Now, as I do not need to tell my regular audience, none of the videos are actually gone. Every single video has been backed up to LBRY. Years worth of videos are also backed up to BitChute, and, to a lesser extent, Minds and Archive.org. Every video since 2011 is downloadable directly from my servers. But if you don't know that by this point, perhaps you're not really ready to follow The Corbett Report into the Brave New (post-YouTube) Internet. Newsflash: this is 2021. If you're still using YouTube to get your news, history and political information then you've got bigger problems than just the loss of The Corbett Report.
I've said it before and I'll say it again: the "infowar" is not an analogy but a stone cold sober reality, and the fact that The Corbett Report was able to use a major enemy information platform to propagate the truth to the slumbering masses for 14 years is a major victory in and of itself.
So long, GooTube. Thanks for helping me to unlock so many minds. You will not be missed.
3 Comments »
I guess ignorance and pure stupidity has become a virtue and not to mention common sense flew out the window with all the rest but I truly believe it is a small minority who believe it is nothing more than Rich Corp. scum having fun at the Peoples expense one again and their Government Stooges who are too stupid to figure out that they are on the Corp. Menu too

LikeLike

Comment by wteach64 | April 12, 2021 |

I'm so sorry for the censorship of Goo Tube. In solidarity from Brazil.

LikeLike

Comment by Baby Siqueira Abrao | April 12, 2021 |

Well, something about who controls you is what you can not criticize. But it's more than that. It's a form of communist Russian Bolshevism: disappearance.

It's practiced in Israel. Imprisonment without habeas corpus. Imprisonment without trial. Or a trial after trial and imprisonment upon imprisonment.

England–and its accomplice, America–is doing it to Julian Assange. What's his crime? Or, to expose warfare, as shown in "Collateral Damage": can't criticize those who control you.

Unless the citizenry rises against it, this boot upon the face will continue.

As for Israel, Americans of moral character must rise against alliance with racism and genocide and theft by military might.

As for Assange, both British and Americans must rise against the imprisonment without trial.

Otherwise, aren't you part of what your government does?

LikeLike

Comment by michael | April 12, 2021 |
Visits Since December 2009

Looking for something?

Archives

Calendar

Categories

Tags

Recent Comments
More Links

Contact:

atheonews (at) gmail.com

Disclaimer

This site is provided as a research and reference tool. Although we make every reasonable effort to ensure that the information and data provided at this site are useful, accurate, and current, we cannot guarantee that the information and data provided here will be error-free. By using this site, you assume all responsibility for and risk arising from your use of and reliance upon the contents of this site.

This site and the information available through it do not, and are not intended to constitute legal advice. Should you require legal advice, you should consult your own attorney.

Nothing within this site or linked to by this site constitutes investment advice or medical advice.

Materials accessible from or added to this site by third parties, such as comments posted, are strictly the responsibility of the third party who added such materials or made them accessible and we neither endorse nor undertake to control, monitor, edit or assume responsibility for any such third-party material.

The posting of stories, commentaries, reports, documents and links (embedded or otherwise) on this site does not in any way, shape or form, implied or otherwise, necessarily express or suggest endorsement or support of any of such posted material or parts therein.

The word "alleged" is deemed to occur before the word "fraud." Since the rule of law still applies. To peasants, at least.

Fair Use

This site contains copyrighted material the use of which has not always been specifically authorized by the copyright owner. We are making such material available in our efforts to advance understanding of environmental, political, human rights, economic, democracy, scientific, and social justice issues, etc. We believe this constitutes a 'fair use' of any such copyrighted material as provided for in section 107 of the US Copyright Law. In accordance with Title 17 U.S.C. Section 107, the material on this site is distributed without profit to those who have expressed a prior interest in receiving the included information for research and educational purposes. For more info go to: http://www.law.cornell.edu/uscode/17/107.shtml. If you wish to use copyrighted material from this site for purposes of your own that go beyond 'fair use', you must obtain permission from the copyright owner.

DMCA Contact

This is information for anyone that wishes to challenge our "fair use" of copyrighted material.

If you are a legal copyright holder or a designated agent for such and you believe that content residing on or accessible through our website infringes a copyright and falls outside the boundaries of "Fair Use", please send a notice of infringement by contacting atheonews@gmail.com.

We will respond and take necessary action immediately.

If notice is given of an alleged copyright violation we will act expeditiously to remove or disable access to the material(s) in question.

All 3rd party material posted on this website is copyright the respective owners / authors. Aletho News makes no claim of copyright on such material.