How well do the vaccines protect from death? The two most recent weekly reports from Public Health Scotland give us death data by vaccination status, and by subtracting one from the other we can work out how many Covid patients died in the week July 9th-15th. The results are shown below.
We see that 38 people died with Covid that week, 37 of whom were over 50. Twenty-eight (74%) were fully vaccinated (18 of whom were over 80 and 24 were over 70). Thirty-three (87%) had had at least one dose. Just five (13%) were unvaccinated.
To fully interpret these we need to know how many people were vaccinated in each age group. The problem with obtaining this information is that the official Scottish statistics appear to use the same method as the NHS for estimating vaccine coverage, which gives figures which exceed the likely more accurate estimates of Public Health England by around 5%.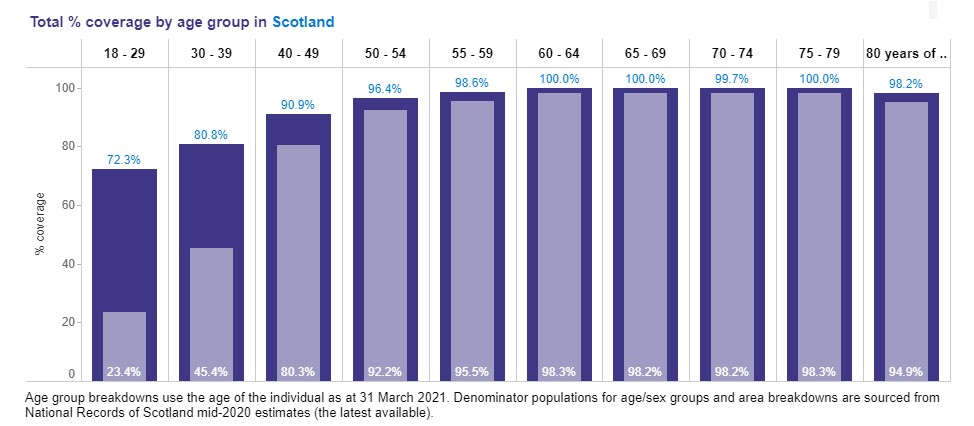 This means the official Scottish figures show extremely high coverage in the over-60s, implausibly hitting 100% in three of the age bands. If we compare this to the latest PHE figures we can see that the corresponding figures in England, taken from the NIMS database, are more like 90-95% than 100%. In fact, the PHE figures are generally around 10 percentage points lower than the PHS figures for the under-70s. That's a lot.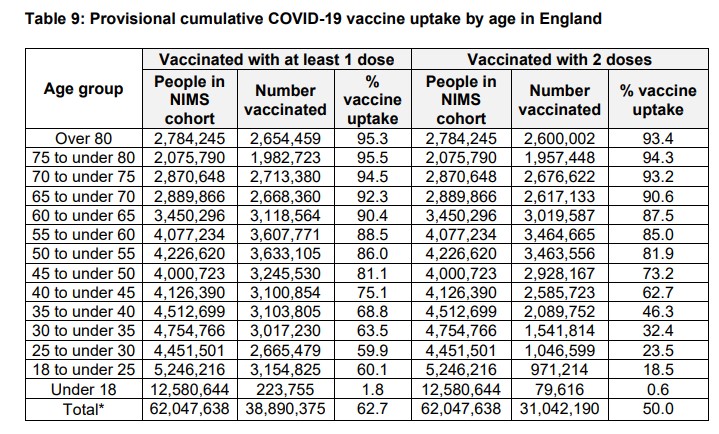 Even if the Scottish really are more keen on vaccination than the English (not unlikely, if only because of the smaller minority ethnic population), we know from the English figures that the NHS estimates appear, as mentioned, to overestimate vaccine coverage by around 5%. I'm going to use a very rough estimate then that around 93% of the over-50s in Scotland have had at least one dose (compared to around 90% in England) and around 91% are fully vaccinated (compared to around 88% in England).
Looking at just the deaths in the over 50s now (so dropping the one in the under 50s), this means that 89% of the deaths in the week 9th-15th July were in the 93% who were vaccinated with at least one dose; 76% of the deaths were in the 91% who were fully vaccinated; and 11% of the deaths were in the 7% who were unvaccinated. This does imply that the vaccines are having some protective effect, but not as much as we might have expected from other sources such as PHE which claim the vaccines are 75-99% effective against death.
Note that these figures suggest that those who had received only one dose were particularly vulnerable to death, as they made up only around 2% of the over-50s population but accounted for 14% of the deaths. Since almost all the over-50s had been offered two doses by this point, this means those who had only one may have had particular reason to avoid the second, such as a bad reaction to the first, or simply being otherwise more vulnerable.
We can use these figures to do a crude estimate of the vaccine effectiveness against death. The four deaths in the seven percent who were unvaccinated imply that if the vaccines have no effect there would have been 57 deaths in total (4/0.07), or 52 deaths in the 91% who were fully vaccinated. There were 28 deaths in the fully vaccinated, meaning the vaccines reduced the expected deaths among the over-50s by 46%. This is 46% overall protection, not protection in addition to protection from infection and hospitalisation, and is considerably below the 75-99% PHE estimate.
This is a very crude estimate, however, as 20 of the deaths were in the over-80s. Once we have more data from the recent surge we may be able to get a better estimate.
An error has occurred; the feed is probably down. Try again later.

More Links

Contact:

atheonews (at) gmail.com

Disclaimer

This site is provided as a research and reference tool. Although we make every reasonable effort to ensure that the information and data provided at this site are useful, accurate, and current, we cannot guarantee that the information and data provided here will be error-free. By using this site, you assume all responsibility for and risk arising from your use of and reliance upon the contents of this site.

This site and the information available through it do not, and are not intended to constitute legal advice. Should you require legal advice, you should consult your own attorney.

Nothing within this site or linked to by this site constitutes investment advice or medical advice.

Materials accessible from or added to this site by third parties, such as comments posted, are strictly the responsibility of the third party who added such materials or made them accessible and we neither endorse nor undertake to control, monitor, edit or assume responsibility for any such third-party material.

The posting of stories, commentaries, reports, documents and links (embedded or otherwise) on this site does not in any way, shape or form, implied or otherwise, necessarily express or suggest endorsement or support of any of such posted material or parts therein.

The word "alleged" is deemed to occur before the word "fraud." Since the rule of law still applies. To peasants, at least.

Fair Use

This site contains copyrighted material the use of which has not always been specifically authorized by the copyright owner. We are making such material available in our efforts to advance understanding of environmental, political, human rights, economic, democracy, scientific, and social justice issues, etc. We believe this constitutes a 'fair use' of any such copyrighted material as provided for in section 107 of the US Copyright Law. In accordance with Title 17 U.S.C. Section 107, the material on this site is distributed without profit to those who have expressed a prior interest in receiving the included information for research and educational purposes. For more info go to: http://www.law.cornell.edu/uscode/17/107.shtml. If you wish to use copyrighted material from this site for purposes of your own that go beyond 'fair use', you must obtain permission from the copyright owner.

DMCA Contact

This is information for anyone that wishes to challenge our "fair use" of copyrighted material.

If you are a legal copyright holder or a designated agent for such and you believe that content residing on or accessible through our website infringes a copyright and falls outside the boundaries of "Fair Use", please send a notice of infringement by contacting atheonews@gmail.com.

We will respond and take necessary action immediately.

If notice is given of an alleged copyright violation we will act expeditiously to remove or disable access to the material(s) in question.

All 3rd party material posted on this website is copyright the respective owners / authors. Aletho News makes no claim of copyright on such material.