EuroMOMO Analysis Indicates That Europe's Third Wave Was A Blip
Has Europe seen two mortality peaks or three? According to many news outlets, the continent experienced a deadly third wave of COVID-19 during the spring of 2021.
"Europe is enduring a grim spring", says an FT article dated 4th April. "Covid-19 infections, hospitalisations and deaths are rising in many countries", it goes on to claim. The article presents data suggesting that March saw elevated COVID-19 death rates in a number of European countries.
This characterisation is borne out by Our World in Data's chart of the daily number of confirmed COVID-19 deaths for the European Union – which is shown below. (The chart for Europe as a whole is highly similar.)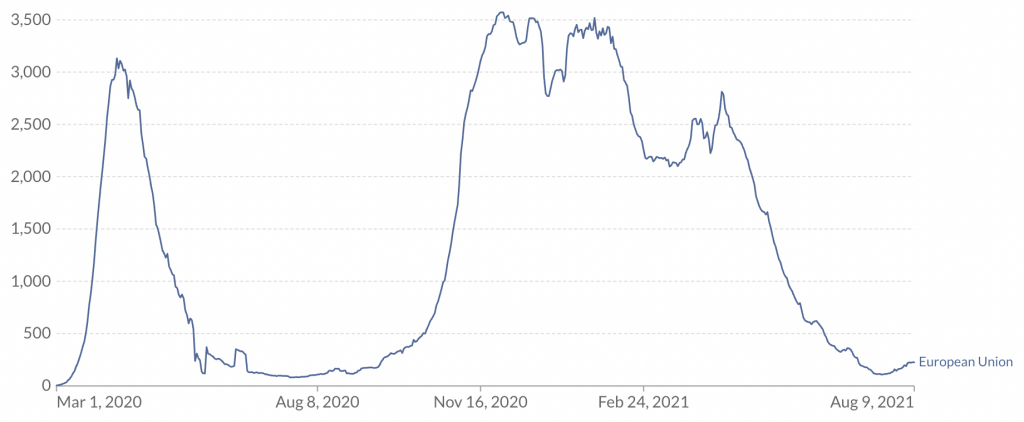 According to the chart, there was a peak of mortality in the spring of 2020, corresponding to the first wave (which afflicted countries such as Italy, Spain and the UK). Then there was another peak of mortality in the winter, corresponding to the second wave (when countries such as Poland, Czechia and Hungary were also afflicted).
And the chart indicates there was an additional peak of mortality in the spring of 2021, corresponding to the third wave. This peak is lower than the first two, but still quite considerable. On 13th April, there were more than 2,800 COVID-19 deaths in Europe (compared to just under 3,600 at the peak of the second wave).
Yet as I've noted repeatedly, "confirmed COVID-19 deaths" can be misleading, since some of the people who die of COVID-19 (either shortly after a positive test, or with COVID-19 on the death certificate) would have died anyway. Excess mortality provides a far better gauge of the pandemic's impact.
Estimates of excess mortality for 26 European countries are provided by researchers at EuroMOMO. The chart below plots excess mortality z-scores (numbers of standard deviations above or below the average) from week 1 of 2020 to week 27 of 2021. I've omitted the last three weeks of data, as these are subject to revision.
The first and second wave peaks are clearly visible: the former can be seen at week 14 of 2020, and the latter at week 3 of 2021. By comparison, the peak of the third wave (at week 16 of 2021) is barely noticeable.
It does technically rise above the red line, which the researchers oddly classify as a "substantial increase". However, increases of this magnitude are seen every few months going all the way back to 2017. Hence the third peak cannot be regarded as a major epidemic wave.
Part of the difference between the two charts may be due to the composition of countries. For example, EuroMOMO does not cover Poland, Romania or Czechia. Having said that, the countries it does include make up the vast majority of Europe's population, so this probably can't account for much.
The EuroMOMO analysis indicates that Europe has seen two mortality peaks, not three. In terms of excess mortality, the third wave was just a blip.
No comments yet.
Visits Since December 2009

Looking for something?

Archives

Calendar

Categories

Tags

Recent Comments
More Links

Contact:

atheonews (at) gmail.com

Disclaimer

This site is provided as a research and reference tool. Although we make every reasonable effort to ensure that the information and data provided at this site are useful, accurate, and current, we cannot guarantee that the information and data provided here will be error-free. By using this site, you assume all responsibility for and risk arising from your use of and reliance upon the contents of this site.

This site and the information available through it do not, and are not intended to constitute legal advice. Should you require legal advice, you should consult your own attorney.

Nothing within this site or linked to by this site constitutes investment advice or medical advice.

Materials accessible from or added to this site by third parties, such as comments posted, are strictly the responsibility of the third party who added such materials or made them accessible and we neither endorse nor undertake to control, monitor, edit or assume responsibility for any such third-party material.

The posting of stories, commentaries, reports, documents and links (embedded or otherwise) on this site does not in any way, shape or form, implied or otherwise, necessarily express or suggest endorsement or support of any of such posted material or parts therein.

The word "alleged" is deemed to occur before the word "fraud." Since the rule of law still applies. To peasants, at least.

Fair Use

This site contains copyrighted material the use of which has not always been specifically authorized by the copyright owner. We are making such material available in our efforts to advance understanding of environmental, political, human rights, economic, democracy, scientific, and social justice issues, etc. We believe this constitutes a 'fair use' of any such copyrighted material as provided for in section 107 of the US Copyright Law. In accordance with Title 17 U.S.C. Section 107, the material on this site is distributed without profit to those who have expressed a prior interest in receiving the included information for research and educational purposes. For more info go to: http://www.law.cornell.edu/uscode/17/107.shtml. If you wish to use copyrighted material from this site for purposes of your own that go beyond 'fair use', you must obtain permission from the copyright owner.

DMCA Contact

This is information for anyone that wishes to challenge our "fair use" of copyrighted material.

If you are a legal copyright holder or a designated agent for such and you believe that content residing on or accessible through our website infringes a copyright and falls outside the boundaries of "Fair Use", please send a notice of infringement by contacting atheonews@gmail.com.

We will respond and take necessary action immediately.

If notice is given of an alleged copyright violation we will act expeditiously to remove or disable access to the material(s) in question.

All 3rd party material posted on this website is copyright the respective owners / authors. Aletho News makes no claim of copyright on such material.