Vaccine Safety Update #15
This is the 15th of the round-ups of Covid vaccine safety reports and news compiled by a group of medical doctors who are monitoring developments but prefer to remain anonymous in the current climate (find the 14th one here).
By no means is this part of an effort to generate alarm about the vaccines or dissuade anyone from getting inoculated. It should be read in conjunction with the Daily Sceptic's other posts on vaccines, which include both encouraging and not so encouraging developments. At the Daily Sceptic we report all the news about the vaccines whether positive or negative and give no one advice about whether they should or should not take them. Unlike with lockdowns, we are neither pro-vaccine nor anti-vaccine; we see our job as reporting the facts, not advocating for or against a particular policy. The vaccine technology is novel and the vaccines have not yet fully completed their trials, which is why they're in use under temporary and not full market authorisation. This has been done on account of the emergency situation and the trial data was largely encouraging on both efficacy and safety. For a summary of that data, see this preamble to the Government's page on the Yellow Card reporting system. (Dr Tess Lawrie in June wrote an open letter to Dr June Raine, head of the MHRA, arguing that: "The MHRA now has more than enough evidence on the Yellow Card system to declare the COVID-19 vaccines unsafe for use in humans," a claim that has been 'fact checked' here.) Boris Johnson has now said that the vaccine "doesn't protect you against catching the disease, and it doesn't protect you against passing it on". We publish information and opinion to inform public debate and help readers reach their own conclusions about what is best for them, based on the available data.
Summary of Adverse Events in the U.K.
According to an updated report published on October 21st, the MHRA Yellow Card reporting system has recorded a total of 1,236,485 events based on 375,493 reports. The total number of fatalities reported is 1,715.
Pfizer (22.9 million first doses, 19.9 million second doses) now has one Yellow Card in 187 people vaccinated. Deaths: 1 in 40,603 people vaccinated (564).
AstraZeneca (24.9 million first doses, 24.1 million second doses) has one Yellow Card in 106 people vaccinated. Deaths: 1 in 22,616 people vaccinated (1,101).
Moderna (1.5 million first doses, 1.2 million second doses) has one Yellow Card in 89 people vaccinated. Deaths: 1 in 78,947 people vaccinated (19).
Overall, one in every 131 people vaccinated (0.76%) have experienced a Yellow Card adverse event. The MHRA has previously estimated that the Yellow Card reporting rate may be approximately 10% of actual figures.
Thrombosis & Embolism (all types) = 7,105
Anaphylaxis = 1,367
Acute Cardiac = 16,299
Pericarditis/Myocarditis (Heart inflammation) = 4,342
Headaches & Migraines = 123,251
Blindness = 427
Deafness = 608
Spontaneous Abortions = 603 miscarriages + 13 foetal deaths/stillbirths
Facial Paralysis incl. Bell's Palsy = 1,769
Strokes and CNS haemorrhages = 2,677
Guillain-Barré Syndrome = 500
Pulmonary Embolism & Deep Vein Thrombosis = 3,510
Seizures = 2,888
Paralysis = 1,181
Tinnitus/Vertigo – 3,066 (Pfizer) + 6,584 (AZ) + 323 (Moderna) + 26 (Unknown) = 9,999
Tremor = 11,502
Nosebleeds = 3,135
Dizziness = 35,704
Vomiting = 15,892
Reproductive/Breast Disorders – = 44,548
Further analysis can be found via the U.K. Freedom Project.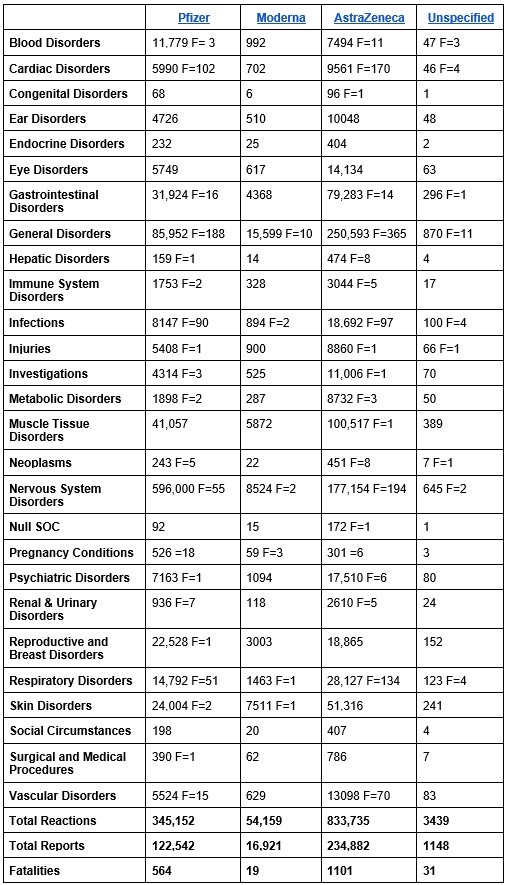 Source: Pfizer; Moderna; AstraZeneca; Unspecified. "F" denotes fatal.
No comments yet.
More Links

Contact:

atheonews (at) gmail.com

Disclaimer

This site is provided as a research and reference tool. Although we make every reasonable effort to ensure that the information and data provided at this site are useful, accurate, and current, we cannot guarantee that the information and data provided here will be error-free. By using this site, you assume all responsibility for and risk arising from your use of and reliance upon the contents of this site.

This site and the information available through it do not, and are not intended to constitute legal advice. Should you require legal advice, you should consult your own attorney.

Nothing within this site or linked to by this site constitutes investment advice or medical advice.

Materials accessible from or added to this site by third parties, such as comments posted, are strictly the responsibility of the third party who added such materials or made them accessible and we neither endorse nor undertake to control, monitor, edit or assume responsibility for any such third-party material.

The posting of stories, commentaries, reports, documents and links (embedded or otherwise) on this site does not in any way, shape or form, implied or otherwise, necessarily express or suggest endorsement or support of any of such posted material or parts therein.

The word "alleged" is deemed to occur before the word "fraud." Since the rule of law still applies. To peasants, at least.

Fair Use

This site contains copyrighted material the use of which has not always been specifically authorized by the copyright owner. We are making such material available in our efforts to advance understanding of environmental, political, human rights, economic, democracy, scientific, and social justice issues, etc. We believe this constitutes a 'fair use' of any such copyrighted material as provided for in section 107 of the US Copyright Law. In accordance with Title 17 U.S.C. Section 107, the material on this site is distributed without profit to those who have expressed a prior interest in receiving the included information for research and educational purposes. For more info go to: http://www.law.cornell.edu/uscode/17/107.shtml. If you wish to use copyrighted material from this site for purposes of your own that go beyond 'fair use', you must obtain permission from the copyright owner.

DMCA Contact

This is information for anyone that wishes to challenge our "fair use" of copyrighted material.

If you are a legal copyright holder or a designated agent for such and you believe that content residing on or accessible through our website infringes a copyright and falls outside the boundaries of "Fair Use", please send a notice of infringement by contacting atheonews@gmail.com.

We will respond and take necessary action immediately.

If notice is given of an alleged copyright violation we will act expeditiously to remove or disable access to the material(s) in question.

All 3rd party material posted on this website is copyright the respective owners / authors. Aletho News makes no claim of copyright on such material.