Elon Musk responds to Mike Huckabee's request for Twitter to remove online anonymity
Former Arkansas governor Mike Huckabee has asked Elon Musk to remove online anonymity if his Twitter bid becomes successful, sparking concern from privacy advocates about how Musk will "authenticate all humans" and whether it will involve users handing over ID to use the platform.
"I hope @elonmusk will insist that all Twitter posters use their real names & not be keyboard cowards hiding behind silly little sophomoric screen names. Be man enough or woman enough (if you even know what that is) to stand by what you say! If you can't own it don't say it," Huckabee tweeted.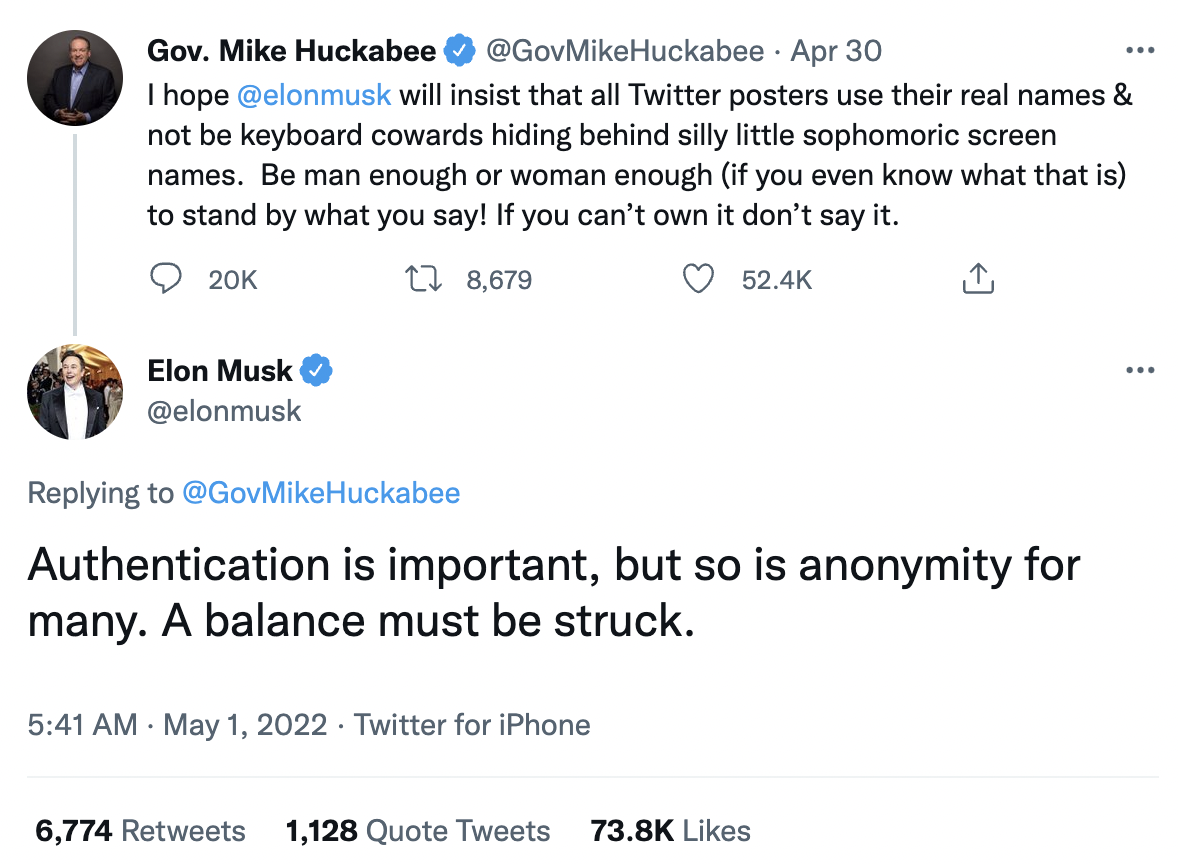 Twitter has distinguished itself from other platforms like Facebook by allowing users to use pseudonyms. For that reason, people who need anonymity, like whistleblowers and dissidents in repressive regimes, people living in countries where anonymity is the difference between life and death, or even those who have opinions that go against the mainstream, have had a place where they can speak freely without fear of retribution.
In a new tweet, Musk replied to Huckabee indicating that there will be a balance when it comes to authenticating users vs preserving anonymity.
In a series of tweets, US Naval Academy's associate professor of Cybersecurity Law Jeff Kosseff explained why Twitter should continue to allow anonymity.
"The Musk/Twitter press release states that the company will authenticate 'all humans.' I'm not sure what this means, but there is at least a chance that it could compromise users' ability to be anonymous. In this thread I explain some concerns with this possibility," Kosseff wrote.
"At least some high-profile commentators have interpreted it as banning anonymity/requiring ID verification. If that is the case, and it applies to "all humans" (rather than just making verification an option for everyone), then that could threaten some of the values that have helped to define and distinguish Twitter from platforms like Facebook that have always required real names."
Twitter itself supported anonymity in a 2021 blog post, citing a PhD graduate who was able to express her frustration with the lack of job prospects without fearing her current employer would retaliate or losing potential employers.
"Being able to express vulnerability and the messiness of real life is important to Brooke, which is why she Tweets under a pseudonym," the post read. "This is the handle where she can be herself, including talking frankly about the challenges of job searching, without worrying about turning off a potential employer."
If Twitter were to collect ID on users, dictatorial governments would be able to pressure it to provide personally identifiable data of critics, journalists, and dissidents. That would contradict Musk's stand of free speech stance.
No comments yet.
More Links

Contact:

atheonews (at) gmail.com

Disclaimer

This site is provided as a research and reference tool. Although we make every reasonable effort to ensure that the information and data provided at this site are useful, accurate, and current, we cannot guarantee that the information and data provided here will be error-free. By using this site, you assume all responsibility for and risk arising from your use of and reliance upon the contents of this site.

This site and the information available through it do not, and are not intended to constitute legal advice. Should you require legal advice, you should consult your own attorney.

Nothing within this site or linked to by this site constitutes investment advice or medical advice.

Materials accessible from or added to this site by third parties, such as comments posted, are strictly the responsibility of the third party who added such materials or made them accessible and we neither endorse nor undertake to control, monitor, edit or assume responsibility for any such third-party material.

The posting of stories, commentaries, reports, documents and links (embedded or otherwise) on this site does not in any way, shape or form, implied or otherwise, necessarily express or suggest endorsement or support of any of such posted material or parts therein.

The word "alleged" is deemed to occur before the word "fraud." Since the rule of law still applies. To peasants, at least.

Fair Use

This site contains copyrighted material the use of which has not always been specifically authorized by the copyright owner. We are making such material available in our efforts to advance understanding of environmental, political, human rights, economic, democracy, scientific, and social justice issues, etc. We believe this constitutes a 'fair use' of any such copyrighted material as provided for in section 107 of the US Copyright Law. In accordance with Title 17 U.S.C. Section 107, the material on this site is distributed without profit to those who have expressed a prior interest in receiving the included information for research and educational purposes. For more info go to: http://www.law.cornell.edu/uscode/17/107.shtml. If you wish to use copyrighted material from this site for purposes of your own that go beyond 'fair use', you must obtain permission from the copyright owner.

DMCA Contact

This is information for anyone that wishes to challenge our "fair use" of copyrighted material.

If you are a legal copyright holder or a designated agent for such and you believe that content residing on or accessible through our website infringes a copyright and falls outside the boundaries of "Fair Use", please send a notice of infringement by contacting atheonews@gmail.com.

We will respond and take necessary action immediately.

If notice is given of an alleged copyright violation we will act expeditiously to remove or disable access to the material(s) in question.

All 3rd party material posted on this website is copyright the respective owners / authors. Aletho News makes no claim of copyright on such material.