BASF Prepares To Slash Ammonia Production In Germany Amid Worsening NatGas Crunch
German chemicals company BASF SE paid an extra 800 million euros ($809.5 million) to keep its plants operating in the second quarter compared with a year earlier amid skyrocketing natural gas prices. The impact of high energy prices has forced the company to make a difficult decision: slash the production of ammonia, which could have potential consequences for farming to the food industry.
"We are reducing production at facilities that require large volumes of natural gas, such as ammonia plants," BASF Chief Executive Martin Brudermuller said in a conference call after an earnings report.
Brudermuller said BASF would tap external suppliers to fill the deficit as German plants reduced output. He warned about potential supply disruptions that could boost fertilizer costs for farmers.
Reuters details how ammonia plays a critical role in manufacturing nitrogen-based fertilizers, plastic-making, and diesel exhaust fluid. A byproduct of ammonia production is high-purity carbon dioxide (CO2) which is heavily used in the food industry.
The news of BASF reducing ammonia production because of soaring NatGas prices comes as Russian state-owned energy producer Gazprom PJSC is expected to halve supplies via Nord Stream 1 to Europe to about 20% today. EU member states agreed Tuesday to reduce NatGas demand by 15% over the next eight months, though countries like Germany, without any liquefied natural gas (LNG) port terminals to replace Russian pipeline NatGas, might have to make more considerable sacrifices.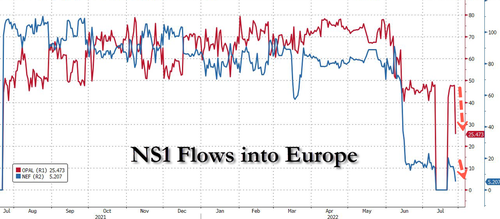 Benchmark NatGas prices in Europe at the Dutch TTF hub hit their highest level since March. Prices have shot up 35% in a week, over 200 euros per megawatt-hour (MWh), as Putin turns the screws on Europe by reducing pipeline capacity to Europe.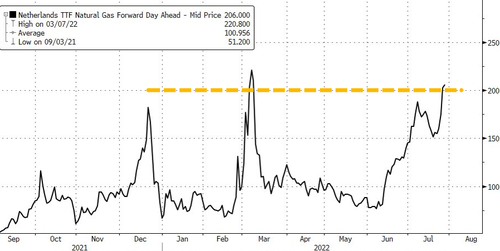 "Chemical companies are the biggest industrial natural-gas users in Germany, and ammonia is the single most gas-intensive product within that industry," Reuters said.
Arne Rautenberg, a fund manager at Union Investment, said ammonia is a prime candidate by chemical companies to cut production first over the NatGas supply squeeze.
"In the northern hemisphere, nitrogen fertilizer is applied primarily during the spring. It can also be produced in the United States and shipped to Europe," Rautenberg said, adding that the CO2 supply for the food industry could experience disruptions.
The chemical industry lobby VCI indicates German ammonia production has been curbed (some of which began last October) considerably because of soaring energy prices. This could soon impact industries that rely heavily on ammonia and ripple through the economy already facing recession.
1 Comment »
It seems that Russia has Europe by the short and curlies. How much more will it take before the politicians and their manipulators – the globalists – are in the crosshairs?

LikeLike

Comment by Bill Francis | July 28, 2022 |
More Links

Contact:

atheonews (at) gmail.com

Disclaimer

This site is provided as a research and reference tool. Although we make every reasonable effort to ensure that the information and data provided at this site are useful, accurate, and current, we cannot guarantee that the information and data provided here will be error-free. By using this site, you assume all responsibility for and risk arising from your use of and reliance upon the contents of this site.

This site and the information available through it do not, and are not intended to constitute legal advice. Should you require legal advice, you should consult your own attorney.

Nothing within this site or linked to by this site constitutes investment advice or medical advice.

Materials accessible from or added to this site by third parties, such as comments posted, are strictly the responsibility of the third party who added such materials or made them accessible and we neither endorse nor undertake to control, monitor, edit or assume responsibility for any such third-party material.

The posting of stories, commentaries, reports, documents and links (embedded or otherwise) on this site does not in any way, shape or form, implied or otherwise, necessarily express or suggest endorsement or support of any of such posted material or parts therein.

The word "alleged" is deemed to occur before the word "fraud." Since the rule of law still applies. To peasants, at least.

Fair Use

This site contains copyrighted material the use of which has not always been specifically authorized by the copyright owner. We are making such material available in our efforts to advance understanding of environmental, political, human rights, economic, democracy, scientific, and social justice issues, etc. We believe this constitutes a 'fair use' of any such copyrighted material as provided for in section 107 of the US Copyright Law. In accordance with Title 17 U.S.C. Section 107, the material on this site is distributed without profit to those who have expressed a prior interest in receiving the included information for research and educational purposes. For more info go to: http://www.law.cornell.edu/uscode/17/107.shtml. If you wish to use copyrighted material from this site for purposes of your own that go beyond 'fair use', you must obtain permission from the copyright owner.

DMCA Contact

This is information for anyone that wishes to challenge our "fair use" of copyrighted material.

If you are a legal copyright holder or a designated agent for such and you believe that content residing on or accessible through our website infringes a copyright and falls outside the boundaries of "Fair Use", please send a notice of infringement by contacting atheonews@gmail.com.

We will respond and take necessary action immediately.

If notice is given of an alleged copyright violation we will act expeditiously to remove or disable access to the material(s) in question.

All 3rd party material posted on this website is copyright the respective owners / authors. Aletho News makes no claim of copyright on such material.