Mainstream Media Continues To Push False 'COVID Heart' Narrative To Explain Excess Deaths
CBS joins the chorus of mainstream media outlets promoting the false narrative that covid is the cause of a sharp increase in excess heart failure deaths around the world. The concept of "covid heart" has been thoroughly debunked by multiple studies, yet the lie continues to persist because of media disinformation.
An early report that set in motion fears of a Covid-heart disease connection was published in JAMA Cardiology on July 27, 2020. German researchers claimed that 78% of recently recovered Covid-19 patients had "abnormal" signs on their cardiac magnetic resonance scans and 60% showed signs of inflamed heart muscle, a condition known as myocarditis. Those astonishing numbers were covered in nearly 400 news outlets. The report has so far been viewed more than 900,000 times — a rarity for academic papers.
Soon after its publication, however, the paper was criticized for statistical and methodologic errors. It eventually underwent a long but much quieter correction that indicated that many of the abnormalities were only marginally more common among those recovering from Covid-19 than among similar control individuals who had not had Covid-19.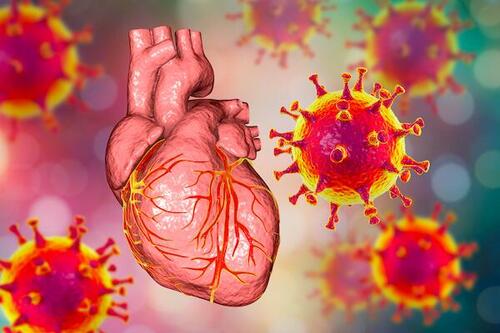 The assertion of the existence of covid heart serves a useful purpose, however, as it conveniently helps to distract from the very real threat of myocarditis caused by mRNA vaccines.  Studies show a direct connection between covid vaccination, boosters, and risk of heart failure, specifically in younger people. The corporate media continues to ignore these studies in favor of the covid heart claim.
The CBS report presents a correlation as proof of causation: The explosion in heart failure happened in parallel with the pandemic, therefore, they say it "must be covid" that is causing the damage. But there was one other event that also happened in parallel with the heart failure spike – The introduction of experimental mRNA vaccines which have never been used before.
In reality, there is no evidence of a significant increase in risk of heart problems from contraction of covid, and there are no studies yet that use unvaccinated people as a control group to determine if vaccines help or hurt a patient's chances. Medical officials simply assume that the deaths of younger people are due to them being "less likely" to have been vaccinated. The complete absence of objective scientific analysis has contributed to a lack of understanding surrounding covid risks versus vaccine risks. Mainstream outlets have consistently proven they are only interested in repeating establishment positions and protecting the status quo.
Why don't medical authorities use unvaccinated people as a control group for their observations? Why do they continue to promote assumptions rather than definitive evidence?  One can only theorize, but this behavior suggests a desire to hide certain findings and mislead the public rather than uncover the facts.
1 Comment »
The reason unvaccinated people are not used as a control group is because it is much easier to sustain a lie, continue receiving a good income, and avoid prosecution for malpractice (or worse), than to admit the truth and face the consequences.

LikeLike

Comment by Bill Francis | February 19, 2023 |
More Links

Contact:

atheonews (at) gmail.com

Disclaimer

This site is provided as a research and reference tool. Although we make every reasonable effort to ensure that the information and data provided at this site are useful, accurate, and current, we cannot guarantee that the information and data provided here will be error-free. By using this site, you assume all responsibility for and risk arising from your use of and reliance upon the contents of this site.

This site and the information available through it do not, and are not intended to constitute legal advice. Should you require legal advice, you should consult your own attorney.

Nothing within this site or linked to by this site constitutes investment advice or medical advice.

Materials accessible from or added to this site by third parties, such as comments posted, are strictly the responsibility of the third party who added such materials or made them accessible and we neither endorse nor undertake to control, monitor, edit or assume responsibility for any such third-party material.

The posting of stories, commentaries, reports, documents and links (embedded or otherwise) on this site does not in any way, shape or form, implied or otherwise, necessarily express or suggest endorsement or support of any of such posted material or parts therein.

The word "alleged" is deemed to occur before the word "fraud." Since the rule of law still applies. To peasants, at least.

Fair Use

This site contains copyrighted material the use of which has not always been specifically authorized by the copyright owner. We are making such material available in our efforts to advance understanding of environmental, political, human rights, economic, democracy, scientific, and social justice issues, etc. We believe this constitutes a 'fair use' of any such copyrighted material as provided for in section 107 of the US Copyright Law. In accordance with Title 17 U.S.C. Section 107, the material on this site is distributed without profit to those who have expressed a prior interest in receiving the included information for research and educational purposes. For more info go to: http://www.law.cornell.edu/uscode/17/107.shtml. If you wish to use copyrighted material from this site for purposes of your own that go beyond 'fair use', you must obtain permission from the copyright owner.

DMCA Contact

This is information for anyone that wishes to challenge our "fair use" of copyrighted material.

If you are a legal copyright holder or a designated agent for such and you believe that content residing on or accessible through our website infringes a copyright and falls outside the boundaries of "Fair Use", please send a notice of infringement by contacting atheonews@gmail.com.

We will respond and take necessary action immediately.

If notice is given of an alleged copyright violation we will act expeditiously to remove or disable access to the material(s) in question.

All 3rd party material posted on this website is copyright the respective owners / authors. Aletho News makes no claim of copyright on such material.