Brother of 'Guantanamo Diary' author denied entry to US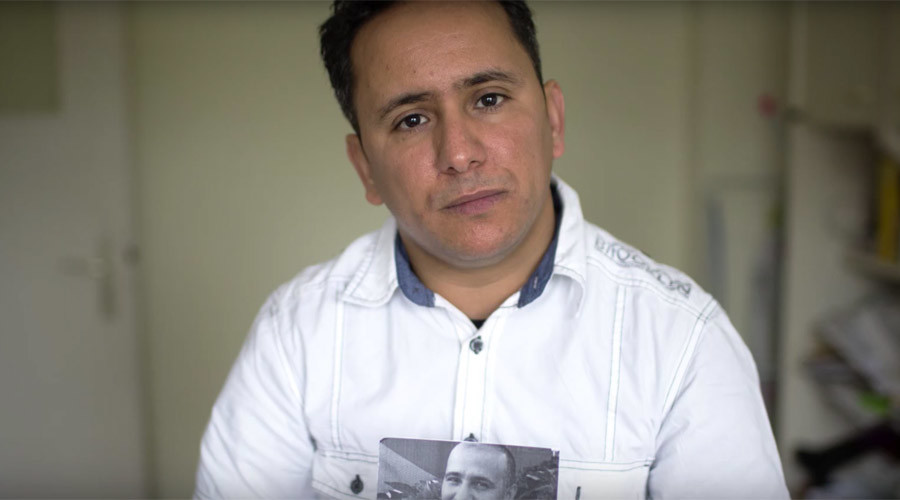 Yahdih Ould Slahi holds up a photo of his brother Mohamedou in a May 2016 video by American Civil Liberties Union © acluvideos / YouTube
US authorities detained, interrogated and sent back a German citizen flying in to campaign for the release of his brother – author of the best-selling "Guantanamo Diary," who has been imprisoned and tortured at the US camp since 2002.
Mohamedou Ould Slahi's memoir, heavily redacted by government censors, was published in 2015 and quickly became a best-seller. The Mauritanian native was arrested in 2001 and rendered to Jordan for interrogation by the CIA. He was transferred to Guantanamo Bay the following year.
His younger brother Yahdih, a German citizen, has campaigned for Mohamedou's release for years. Yahdih was supposed to attend a number of events in the US this week, seeking to persuade Guantanamo's Periodic Review Board to set Mohamedou free at the June 2 hearing.
When Yahdih Slahi arrived at the John F. Kennedy airport in New York on Saturday, however, he was detained by US Customs and Border Patrol (CBP) agents, questioned for hours, and sent back to Germany the following day, The Intercept reported.
"He was asked questions about his family, his brother, and what he knew about why his brother was in Guantánamo," said Hina Shamsi of the American Civil Liberties Union. "It was a harrowing, stressful, and exhausting experience."
Yahdih Slahi is a German citizen who lives in Düsseldorf, and would have been able to enter the US under the visa waiver program that Germany participates in. The CBP gave no explanation for denying Slahi entry.
In his memoir, Mohamedou Slahi described being held in isolation and subjected to beatings, extreme cold, sleep deprivation, sexual abuse, a simulated kidnapping, and a simulated execution. At one point, his captors tried to trick him by showing him a forged letter from his mother, Yahdih recounted in 2015. The ploy failed because the forgery misspelled Slahi's name – and because, unbeknownst to his jailers, Slahi's mother was illiterate.
Mohamedou Slahi admits that he fought in Afghanistan in the early 1990s with what became Al-Qaeda– when the organization was backed by the US in its struggle against the socialist government in Kabul. While he had nothing to do with Al-Qaeda since 1992, Slahi did stay in touch with his cousin and former brother-in-law, Mahfouz Ould al-Walid, who served as a lieutenant to Osama Bin Laden.
Slahi was never charged with any crime, but the 2010 decision to release him has been held up by government appeals.
"The judge said there was no evidence in 2010 to hold him. There's certainly not evidence now. The Chief Prosecutor said when he resigned in 2007, that there was no evidence then," Slahi's attorney Nancy Hollander told RT in January 2015.
Slahi's family and friends hope the Periodic Review Board will recommend his release at the June 2 hearing. The inter-agency panel ruled on Monday to set free an Afghan man, known only as Obaidullah, who was held at Guantanamo for 14 years.
It took a decade of fighting with the government for the Guantanamo Diary, written in 2005, to see the light of day. Slahi is the first Guantanamo prisoner to publish a memoir while still at the camp. He has not been allowed to receive a copy of his book.
No comments yet.
Visits Since December 2009

Looking for something?

Archives

Calendar

Categories

Tags

Recent Comments
More Links

Contact:

atheonews (at) gmail.com

Disclaimer

This site is provided as a research and reference tool. Although we make every reasonable effort to ensure that the information and data provided at this site are useful, accurate, and current, we cannot guarantee that the information and data provided here will be error-free. By using this site, you assume all responsibility for and risk arising from your use of and reliance upon the contents of this site.

This site and the information available through it do not, and are not intended to constitute legal advice. Should you require legal advice, you should consult your own attorney.

Nothing within this site or linked to by this site constitutes investment advice or medical advice.

Materials accessible from or added to this site by third parties, such as comments posted, are strictly the responsibility of the third party who added such materials or made them accessible and we neither endorse nor undertake to control, monitor, edit or assume responsibility for any such third-party material.

The posting of stories, commentaries, reports, documents and links (embedded or otherwise) on this site does not in any way, shape or form, implied or otherwise, necessarily express or suggest endorsement or support of any of such posted material or parts therein.

The word "alleged" is deemed to occur before the word "fraud." Since the rule of law still applies. To peasants, at least.

Fair Use

This site contains copyrighted material the use of which has not always been specifically authorized by the copyright owner. We are making such material available in our efforts to advance understanding of environmental, political, human rights, economic, democracy, scientific, and social justice issues, etc. We believe this constitutes a 'fair use' of any such copyrighted material as provided for in section 107 of the US Copyright Law. In accordance with Title 17 U.S.C. Section 107, the material on this site is distributed without profit to those who have expressed a prior interest in receiving the included information for research and educational purposes. For more info go to: http://www.law.cornell.edu/uscode/17/107.shtml. If you wish to use copyrighted material from this site for purposes of your own that go beyond 'fair use', you must obtain permission from the copyright owner.

DMCA Contact

This is information for anyone that wishes to challenge our "fair use" of copyrighted material.

If you are a legal copyright holder or a designated agent for such and you believe that content residing on or accessible through our website infringes a copyright and falls outside the boundaries of "Fair Use", please send a notice of infringement by contacting atheonews@gmail.com.

We will respond and take necessary action immediately.

If notice is given of an alleged copyright violation we will act expeditiously to remove or disable access to the material(s) in question.

All 3rd party material posted on this website is copyright the respective owners / authors. Aletho News makes no claim of copyright on such material.