Aussie Feds Raid News Corp Journalist's Home After Government Spying Exposé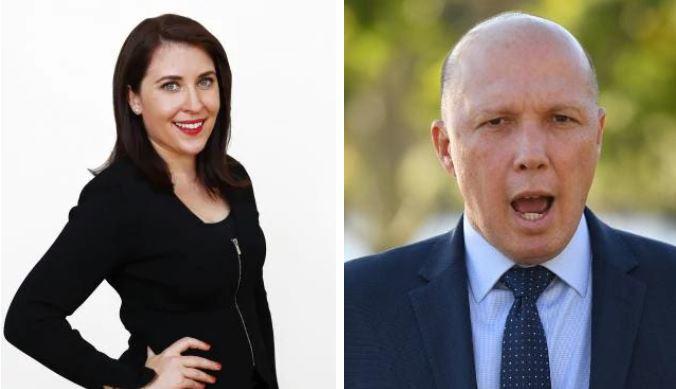 News Corp Australia's Annika Smethurst, Home Affairs minister Peter Dutton​​​​
Australian federal police officers are raiding the home of News Corp Australia journalist Annika Smethurst over an April, 2018 story accusing the government of radical new espionage powers allowing the Australian Signals Directorate (ASD) to monitor citizens for the first time, according to the Daily Telegraph (via the Herald Sun).
Ms Smethurst, the political editor for News Corp Sunday titles including The Sunday Telegraph, was at home preparing to leave for work this morning when several Australian Federal Police officers arrived with a warrant from an ACT magistrate giving them authority to search her home, computer and mobile phone.

Ms Smethurst complied with the warrant and is presently waiting for the raid to be completed. She has declined to answer questions apart from confirming her identity. –Herald Sun
Smethurst's article revealed that the emails, bank accounts and text messages of Australian citizens could be secretly accessed by government spies without a trace under the proposal, as long as the Defense and Home Affairs ministers approved the plan.
The raid comes three weeks after the federal election returned the Morrison government to power, leaving Home Affairs minister Peter Dutton at the helm.
Ms Smethurst's original story included images of top-secret letters between the secretary of Home Affairs, Mike Pezzullo, and his counterpart in Defence, Greg Moriarty, outlining a plan to potentially allow government hackers to "proactively disrupt and covertly remove" onshore cyber threats by "hacking into critical infrastructure." –Herald Sun
Current Australian law prohibits the ASD from spying on citizens – a power left to the Australian Federal Police (AFP) and the Australian Security Intelligence Organization, the country's domestic spy agency.
Smethhurt revealed that Dutton and former Defense Minister Marise Payne had reviewed the proposal, however it had not moved beyond that stage to be formally presented to the government.
1 Comment »
"Current Australian law prohibits the ASD from spying on citizens – a power left to the Australian Federal Police (AFP) and the Australian Security Intelligence Organization, the country's domestic spy agency".

"ASIO(The country's domestic spy agency)….Says it all really. Australia is a member of "The Five Eyes", and anyone who thinks that the Law is protecting them from government surveillance is being extremely naïve. And, given the treatment that Julian Assange is receiving from two of the other "Five Eyes", Britain and the USA, we should all expect that we are being "Monitored".

LikeLike

Comment by Brian Harry, Australia | June 4, 2019 |
Visits Since December 2009

Looking for something?

Archives

Calendar

Categories

Tags

Latest Comments
More Links

Contact:

atheonews (at) gmail.com

Disclaimer

This site is provided as a research and reference tool. Although we make every reasonable effort to ensure that the information and data provided at this site are useful, accurate, and current, we cannot guarantee that the information and data provided here will be error-free. By using this site, you assume all responsibility for and risk arising from your use of and reliance upon the contents of this site.

This site and the information available through it do not, and are not intended to constitute legal advice. Should you require legal advice, you should consult your own attorney.

Nothing within this site or linked to by this site constitutes investment advice or medical advice.

Materials accessible from or added to this site by third parties, such as comments posted, are strictly the responsibility of the third party who added such materials or made them accessible and we neither endorse nor undertake to control, monitor, edit or assume responsibility for any such third-party material.

The posting of stories, commentaries, reports, documents and links (embedded or otherwise) on this site does not in any way, shape or form, implied or otherwise, necessarily express or suggest endorsement or support of any of such posted material or parts therein.

The word "alleged" is deemed to occur before the word "fraud." Since the rule of law still applies. To peasants, at least.

Fair Use

This site contains copyrighted material the use of which has not always been specifically authorized by the copyright owner. We are making such material available in our efforts to advance understanding of environmental, political, human rights, economic, democracy, scientific, and social justice issues, etc. We believe this constitutes a 'fair use' of any such copyrighted material as provided for in section 107 of the US Copyright Law. In accordance with Title 17 U.S.C. Section 107, the material on this site is distributed without profit to those who have expressed a prior interest in receiving the included information for research and educational purposes. For more info go to: http://www.law.cornell.edu/uscode/17/107.shtml. If you wish to use copyrighted material from this site for purposes of your own that go beyond 'fair use', you must obtain permission from the copyright owner.

DMCA Contact

This is information for anyone that wishes to challenge our "fair use" of copyrighted material.

If you are a legal copyright holder or a designated agent for such and you believe that content residing on or accessible through our website infringes a copyright and falls outside the boundaries of "Fair Use", please send a notice of infringement by contacting atheonews@gmail.com.

We will respond and take necessary action immediately.

If notice is given of an alleged copyright violation we will act expeditiously to remove or disable access to the material(s) in question.

All 3rd party material posted on this website is copyright the respective owners / authors. Aletho News makes no claim of copyright on such material.