Report: COVID vaccine adverse effects, huge numbers
A long-standing private organization, the National Vaccine Information Center, has analyzed the US government's database, the Vaccine Adverse Event Reporting System (VAERS).
As of May 7, 2021, VAERS lists 192,954 adverse-event reports associated with COVID vaccines. [1]
These events cover the spectrum from mild transient effects to death.
VAERS has always has multiple problems.
One: Doctors aren't required by law to report adverse effects. Many of them wouldn't risk blowback by doing so.
Two: There is no comprehensive effort to determine whether an adverse effect is actually caused by a vaccine.
Three: Patients can make adverse-effect reports—but are often hesitant to do so.
Four: By far the biggest problem is: most Americans aren't even aware that VAERS exists.
Therefore, on balance, UNDER-REPORTING adverse effects is the primary defect of VAERS.
Many efforts have been made to estimate the degree of under-reporting. These estimates state the VAERS numbers should be multiplied by 10, all the way to 100, to obtain an accurate picture of adverse effects.
Ten times the current number of COVID vaccine adverse effects would equal 1,929,540. A hundred times the current number=19,295,400. Either way, the number is staggering.
The death reports are escalating by the day. As of May 7—4,057.
Here are other very troubling categories of VAERS adverse effects, as of May 7. Permanent Disability=2,475. Doctor's Office Visit=32,801. Emergency Doctor/Room=25,566. Hospitalized=11,538. Birth Defect=112. Life-Threatening=3,548.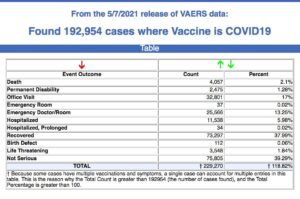 Yet, public officials and news outlets continue to repeat the mantra, "safe and effective," and urge everyone to take the shot.
Every person who receives the vaccine is supposed to be informed of the risks beforehand. I assure you NO ONE is being given these adverse effect numbers, plus the advice to multiply the numbers by 10 or 100.
Lack of informed consent runs contrary to every medical code.
I can also assure you the FDA, which is considering whether to give full approval to the current COVID vaccines, isn't multiplying the adverse-effect numbers by 10 or 100.
Here is something else to consider. Even multiplying the VAERS numbers by 100 may not be sufficient, because the RNA COVID shots are employing a new technology which a) has never been used on the public before and b) isn't a vaccine at all; it's a genetic treatment.
As I've shown in recent articles, the entire field of genetic research is riddled with lies, pretense, and unpredictable ripple-effect consequences. The notion of inserting a single genetic change into a person and limiting its effects to an announced goal is a fiction. Unexpected changes occur. And their negative disruptive effects, long-term, are unknown.
Those effects will never be listed in any database.
---
SOURCE:
[1] https://www.medalerts.org/vaersdb/findfield.php?TABLE=ON&GROUP1=CAT&EVENTS=ON&VAX=COVID19
2 Comments »
I will not be accepting a Vaccine for Covid 19, now, or in the future…..This "Pandemic" is a fraud……

LikeLike

Comment by brianharryaustralia | May 17, 2021 |

Onward ever faster to Ouchwitz with the covaids death needle

Pfizer macht frei because the satanic pedovore elitist trash have enough of useless eaters dirtying their playground.

LikeLike

Comment by Martillo | May 18, 2021 |
An error has occurred; the feed is probably down. Try again later.

More Links

Contact:

atheonews (at) gmail.com

Disclaimer

This site is provided as a research and reference tool. Although we make every reasonable effort to ensure that the information and data provided at this site are useful, accurate, and current, we cannot guarantee that the information and data provided here will be error-free. By using this site, you assume all responsibility for and risk arising from your use of and reliance upon the contents of this site.

This site and the information available through it do not, and are not intended to constitute legal advice. Should you require legal advice, you should consult your own attorney.

Nothing within this site or linked to by this site constitutes investment advice or medical advice.

Materials accessible from or added to this site by third parties, such as comments posted, are strictly the responsibility of the third party who added such materials or made them accessible and we neither endorse nor undertake to control, monitor, edit or assume responsibility for any such third-party material.

The posting of stories, commentaries, reports, documents and links (embedded or otherwise) on this site does not in any way, shape or form, implied or otherwise, necessarily express or suggest endorsement or support of any of such posted material or parts therein.

The word "alleged" is deemed to occur before the word "fraud." Since the rule of law still applies. To peasants, at least.

Fair Use

This site contains copyrighted material the use of which has not always been specifically authorized by the copyright owner. We are making such material available in our efforts to advance understanding of environmental, political, human rights, economic, democracy, scientific, and social justice issues, etc. We believe this constitutes a 'fair use' of any such copyrighted material as provided for in section 107 of the US Copyright Law. In accordance with Title 17 U.S.C. Section 107, the material on this site is distributed without profit to those who have expressed a prior interest in receiving the included information for research and educational purposes. For more info go to: http://www.law.cornell.edu/uscode/17/107.shtml. If you wish to use copyrighted material from this site for purposes of your own that go beyond 'fair use', you must obtain permission from the copyright owner.

DMCA Contact

This is information for anyone that wishes to challenge our "fair use" of copyrighted material.

If you are a legal copyright holder or a designated agent for such and you believe that content residing on or accessible through our website infringes a copyright and falls outside the boundaries of "Fair Use", please send a notice of infringement by contacting atheonews@gmail.com.

We will respond and take necessary action immediately.

If notice is given of an alleged copyright violation we will act expeditiously to remove or disable access to the material(s) in question.

All 3rd party material posted on this website is copyright the respective owners / authors. Aletho News makes no claim of copyright on such material.