Facebook to fact-check and suppress individual users
Personal Facebook accounts that are flagged by Facebook's fact-checkers for repeatedly sharing "misinformation" will now have all their posts suppressed in the news feed as part of the tech giant's latest crackdown on content that challenges the narratives of its fact-checking partners.
Facebook also announced that it will start dissuading its users from liking pages that are flagged by its fact-checkers via a pop-up that forces users to complete an additional step before they can like the page. When users attempt to like flagged pages, this pop up appears, tells users that the page has "repeatedly shared false information," and asks them to choose whether to "Go Back" or "Follow Page Anyway."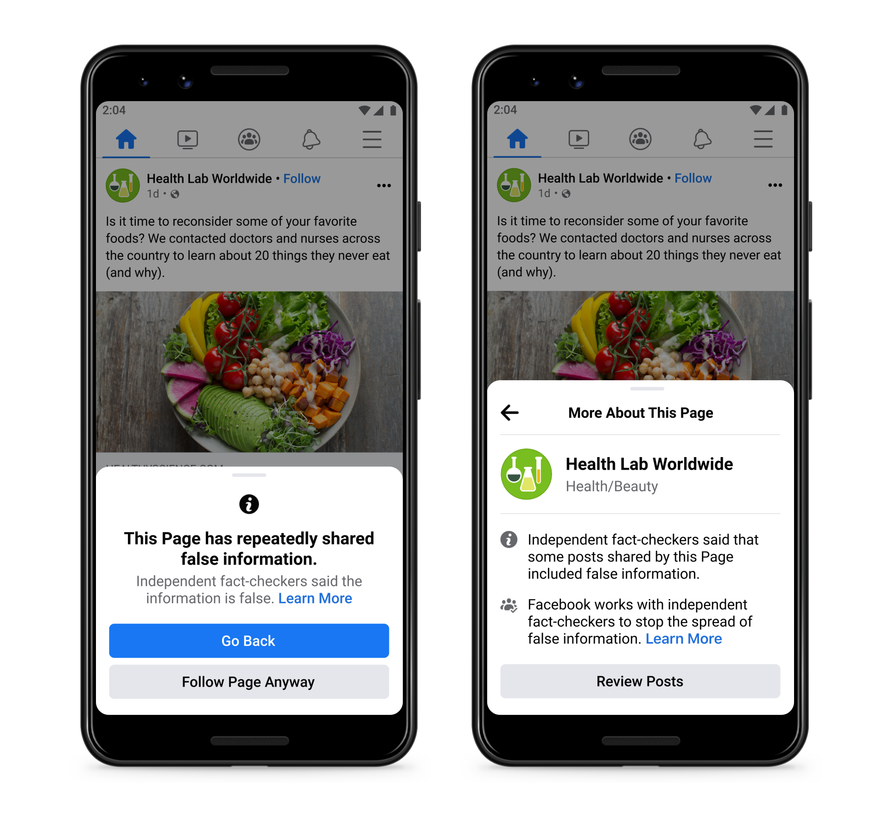 Additionally, the tech giant will start presenting users with a redesigned notification when their posts are flagged by fact-checkers. This new notification will encourage users to view the fact-check and delete their post.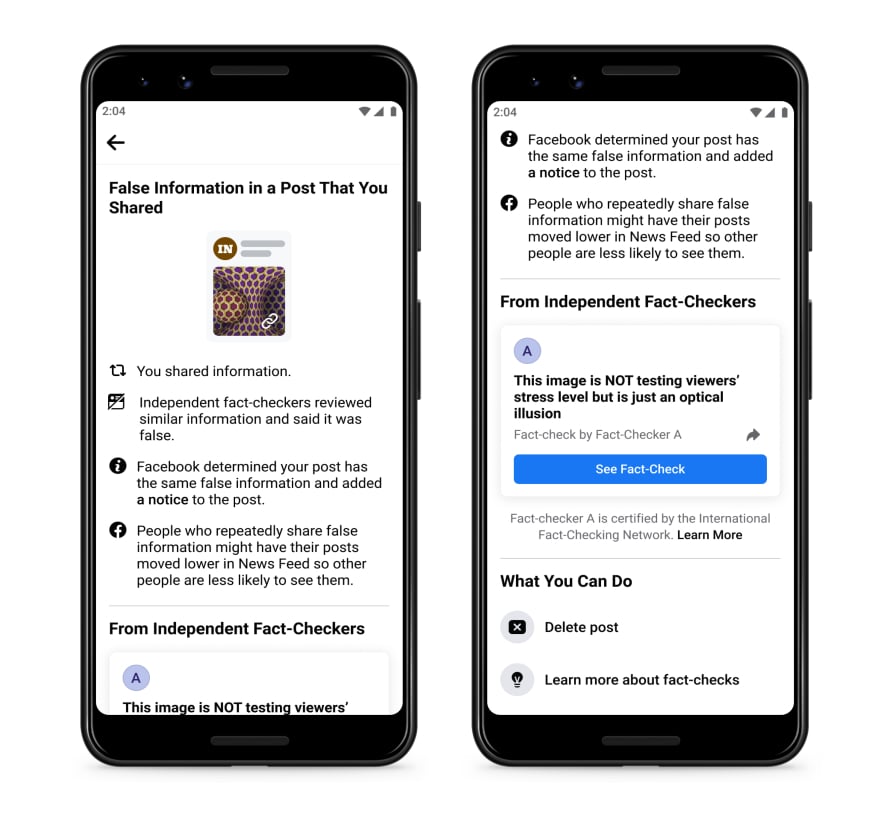 The targeting of personal accounts is one of the most far-reaching Facebook censorship measures to date with an enforcement measure that previously only affected pages, groups, and domains, now applying to all of Facebook's 2.8 billion users.
Facebook's announcement comes days after one of its third-party fact-checkers, Politifact, quietly walked back its Wuhan lab leak fact-check.
For over a year, countless Facebook users have had their posts censored based on this fact-check which branded the idea that COVID-19 was created in a lab as a "debunked conspiracy theory." But now that the mainstream media and fact-checkers have finally admitted this may not be a conspiracy, they're allowed to discuss the Wuhan lab leak as a potential coronavirus cause with impunity.
Those who were censored based on this retracted fact-check would have had the reach of their flagged posts slashed by as much as 95%. And under Facebook's new rule targeting personal account, entire accounts could now be suppressed based on erroneous fact-checks.
2 Comments »
The funny thing is they already started doing these things, they've done it directly to me, and I'm a little nobody. You don't even have to be a big name or have a big following anymore. I've been messaged by people that liked my page recently telling me that they've received a warning about liking my page before doing so, screenshots included with their messages. They already do that fact check process to attempt to force you into deleting content. Funny how they start doing stuff first and then announce after the fact. I've experienced all of this stuff personally, firsthand 😕

Comment by Jack Sutter | May 26, 2021 |

Mr Zukerburg, just like his 'mates' in America's "1%", do NOT want anyone dissagreeing with the Tripe they put on their sites. "This is just how Nazi Germany started"(Basil Fawlty).

There's far more people who have woken up than Zukerberg thinks. His view of the World is the wrong one, Not ours.
To Hell with him and his corrupted crappy Facebook…..Who Cares?

Comment by brianharryaustralia | May 26, 2021 |
Visits Since December 2009

Looking for something?

Archives

Calendar

Categories

Tags

Recent Comments
More Links

Contact:

atheonews (at) gmail.com

Disclaimer

This site is provided as a research and reference tool. Although we make every reasonable effort to ensure that the information and data provided at this site are useful, accurate, and current, we cannot guarantee that the information and data provided here will be error-free. By using this site, you assume all responsibility for and risk arising from your use of and reliance upon the contents of this site.

This site and the information available through it do not, and are not intended to constitute legal advice. Should you require legal advice, you should consult your own attorney.

Nothing within this site or linked to by this site constitutes investment advice or medical advice.

Materials accessible from or added to this site by third parties, such as comments posted, are strictly the responsibility of the third party who added such materials or made them accessible and we neither endorse nor undertake to control, monitor, edit or assume responsibility for any such third-party material.

The posting of stories, commentaries, reports, documents and links (embedded or otherwise) on this site does not in any way, shape or form, implied or otherwise, necessarily express or suggest endorsement or support of any of such posted material or parts therein.

The word "alleged" is deemed to occur before the word "fraud." Since the rule of law still applies. To peasants, at least.

Fair Use

This site contains copyrighted material the use of which has not always been specifically authorized by the copyright owner. We are making such material available in our efforts to advance understanding of environmental, political, human rights, economic, democracy, scientific, and social justice issues, etc. We believe this constitutes a 'fair use' of any such copyrighted material as provided for in section 107 of the US Copyright Law. In accordance with Title 17 U.S.C. Section 107, the material on this site is distributed without profit to those who have expressed a prior interest in receiving the included information for research and educational purposes. For more info go to: http://www.law.cornell.edu/uscode/17/107.shtml. If you wish to use copyrighted material from this site for purposes of your own that go beyond 'fair use', you must obtain permission from the copyright owner.

DMCA Contact

This is information for anyone that wishes to challenge our "fair use" of copyrighted material.

If you are a legal copyright holder or a designated agent for such and you believe that content residing on or accessible through our website infringes a copyright and falls outside the boundaries of "Fair Use", please send a notice of infringement by contacting atheonews@gmail.com.

We will respond and take necessary action immediately.

If notice is given of an alleged copyright violation we will act expeditiously to remove or disable access to the material(s) in question.

All 3rd party material posted on this website is copyright the respective owners / authors. Aletho News makes no claim of copyright on such material.