YouTube deletes video of Georgia mom's testimony against mask mandates for kids
YouTube has once again deleted a video showing Courtney Ann Taylor speaking out against the mask wearing mandate imposed on children in schools in the US state of Georgia.
This time, the viral video recorded during a school board meeting got taken down from the YouTube channel of Grabien, Tom Elliot's distributed news prep service.
Elliot revealed in a thread on Twitter that YouTube censored the video for a violation of community guidelines and medical misinformation rules.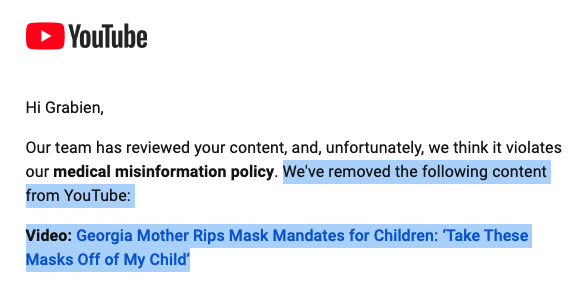 However, Elliot, who unsuccessfully appealed the decision, believes not only that parents should have the right to voice their opinion on whether their children wear masks – but that Taylor's comments did not actually violate YouTube's policy quoted in the removal notice.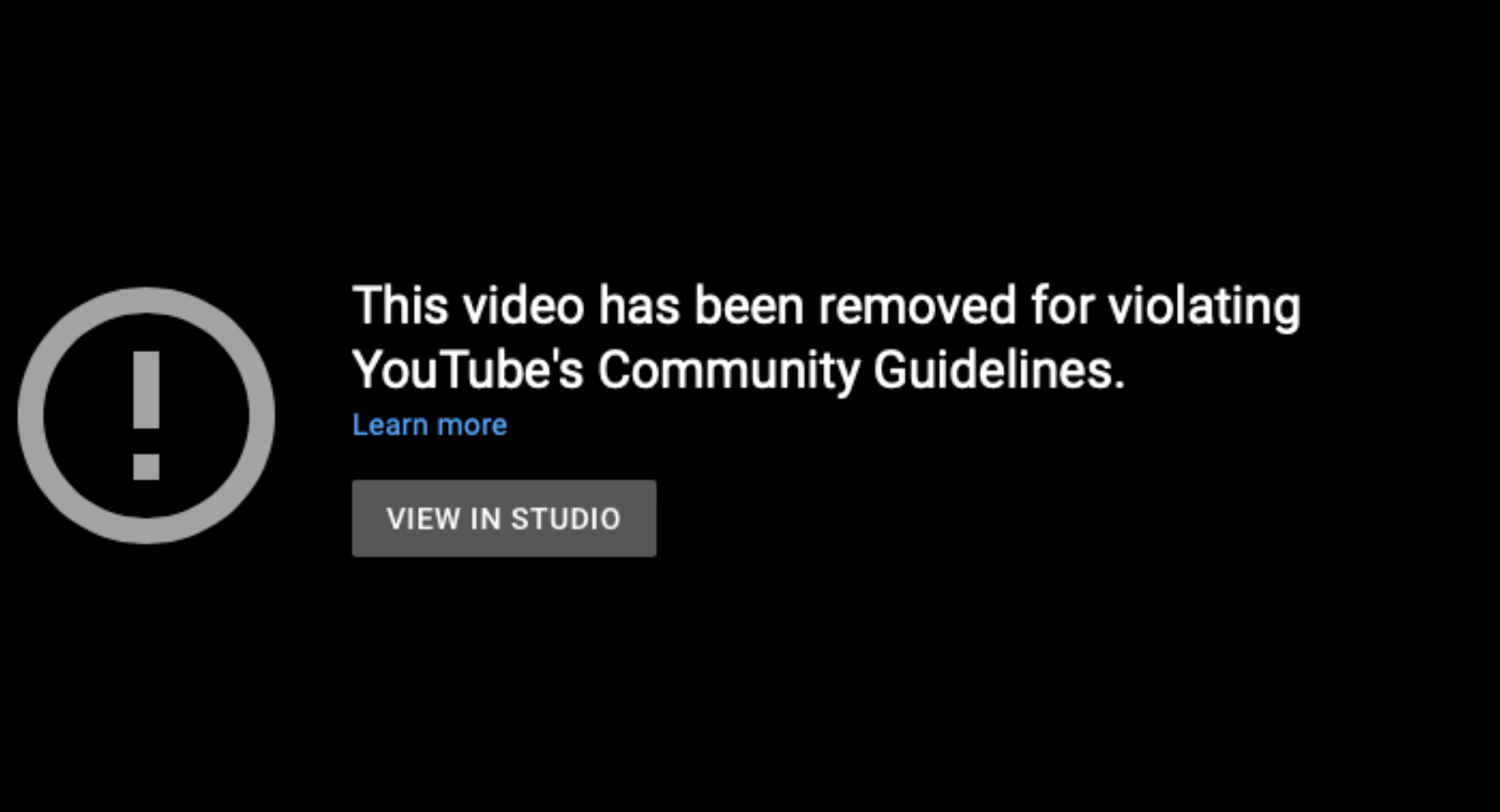 YouTube insists that its coronavirus-related moderation and censorship is based on the position of health authorities, most notably the WHO, yet not even this organization recommends that children must wear masks.
Elliot links to the WHO website where the topic of children and masks is discussed, with the UN agency concluding that there is no scientifically-based reason to make children wear masks.
Even though this is the argument Elliot used in his appeal, YouTube remained steadfast in its intention to prevent users from seeing the video, insisting that it does violate the medical misinformation policy, and justifying this as the need to be "a safe place for all."
For those wondering what Taylor said and how it might be interpreted as spreading Covid misinformation, he provided a link to the Grabien website that has the video, uploaded on another platform, and a transcript.
Taylor is heard urging the school board to end the mandatory wearing of masks by children as unjustified, considering not only the availability of vaccines for adults, but also the fact that the virus does not affect young children. Taylor then shares that her 6-year-old had asked her to tell the school that she doesn't want to wear a mask any longer.
Previously, YouTube deleted the same video uploaded by journalist Kyle Becker, but left it on large corporate channels like CBS and Fox, once again affirming the trend of catering to this type of users over independent creators.
No comments yet.
An error has occurred; the feed is probably down. Try again later.

More Links

Contact:

atheonews (at) gmail.com

Disclaimer

This site is provided as a research and reference tool. Although we make every reasonable effort to ensure that the information and data provided at this site are useful, accurate, and current, we cannot guarantee that the information and data provided here will be error-free. By using this site, you assume all responsibility for and risk arising from your use of and reliance upon the contents of this site.

This site and the information available through it do not, and are not intended to constitute legal advice. Should you require legal advice, you should consult your own attorney.

Nothing within this site or linked to by this site constitutes investment advice or medical advice.

Materials accessible from or added to this site by third parties, such as comments posted, are strictly the responsibility of the third party who added such materials or made them accessible and we neither endorse nor undertake to control, monitor, edit or assume responsibility for any such third-party material.

The posting of stories, commentaries, reports, documents and links (embedded or otherwise) on this site does not in any way, shape or form, implied or otherwise, necessarily express or suggest endorsement or support of any of such posted material or parts therein.

The word "alleged" is deemed to occur before the word "fraud." Since the rule of law still applies. To peasants, at least.

Fair Use

This site contains copyrighted material the use of which has not always been specifically authorized by the copyright owner. We are making such material available in our efforts to advance understanding of environmental, political, human rights, economic, democracy, scientific, and social justice issues, etc. We believe this constitutes a 'fair use' of any such copyrighted material as provided for in section 107 of the US Copyright Law. In accordance with Title 17 U.S.C. Section 107, the material on this site is distributed without profit to those who have expressed a prior interest in receiving the included information for research and educational purposes. For more info go to: http://www.law.cornell.edu/uscode/17/107.shtml. If you wish to use copyrighted material from this site for purposes of your own that go beyond 'fair use', you must obtain permission from the copyright owner.

DMCA Contact

This is information for anyone that wishes to challenge our "fair use" of copyrighted material.

If you are a legal copyright holder or a designated agent for such and you believe that content residing on or accessible through our website infringes a copyright and falls outside the boundaries of "Fair Use", please send a notice of infringement by contacting atheonews@gmail.com.

We will respond and take necessary action immediately.

If notice is given of an alleged copyright violation we will act expeditiously to remove or disable access to the material(s) in question.

All 3rd party material posted on this website is copyright the respective owners / authors. Aletho News makes no claim of copyright on such material.