Video producer Matt Orfalea censored again for calling out YouTube censorship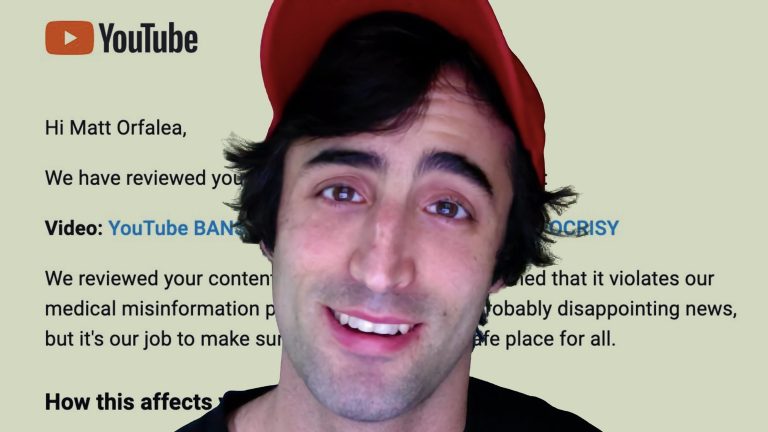 After he published a video discussing YouTube's censorship last month, video producer Matt Orfalea was censored and had his channel demonetized. Now, YouTube has targeted Orfalea once again and removed another video where he and his guest, independent journalist Alison Morrow, called out the tech giant's censorship.
In the video, which is titled "YouTube BANS Reporter Exposing YouTube HYPOCRISY," Orfalea and Morrow recapped the escalating YouTube censorship they have both faced.
This censorship began in June when Orfalea's YouTube channel was suspended for uploading what he described as "unpublished rough cuts" of a video highlighting YouTube's censorship of ivermectin.
Orfalea was then demonetized in July after YouTube flagged a seven year old, 13 second parody video for allegedly violating its "violent criminal organizations" policy. After facing backlash, YouTube admitted "error" but did not re-monetize his videos.
A few days after Orfalea was demonetized, he was a guest on Morrow's channel in a video where she highlighted how mainstream media outlets are allowed to violate YouTube's "medical misinformation" policy without facing sanctions. This video was censored and then reinstated after YouTube faced pushback for taking it down.
In the "YouTube BANS Reporter Exposing YouTube HYPOCRISY" video, Morrow suggested that her video may have been removed because of Orfalea's guest appearance and speculated that YouTube's artificial intelligence (AI) could be flagging people that have previously been sanctioned by YouTube and then censoring videos from other creators that associate with those that have been flagged.
"This is just a perfect example of what's happening now," Orfalea added. "Where we have this caste system, this blatant double standard… so clearly, as you've described, this is not about protecting viewers from misinformation, this is about allowing, you know, some privileged class of journalists… corporate media and allow them to say things without being challenged."
Shortly after Orfalea posted this video where he and Morrow criticized YouTube for its censorship, YouTube took it down for allegedly violating the platform's "medical misinformation" rules.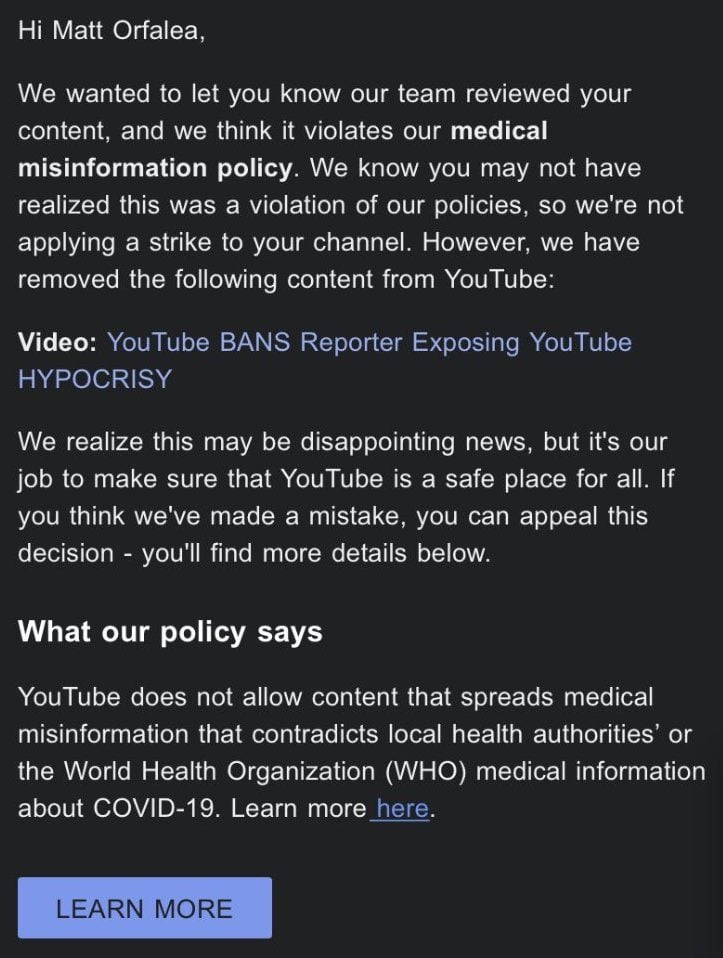 Orfalea appealed but YouTube rejected the appeal and told him: "We reviewed your content carefully, and have confirmed that it violates our medical misinformation policy."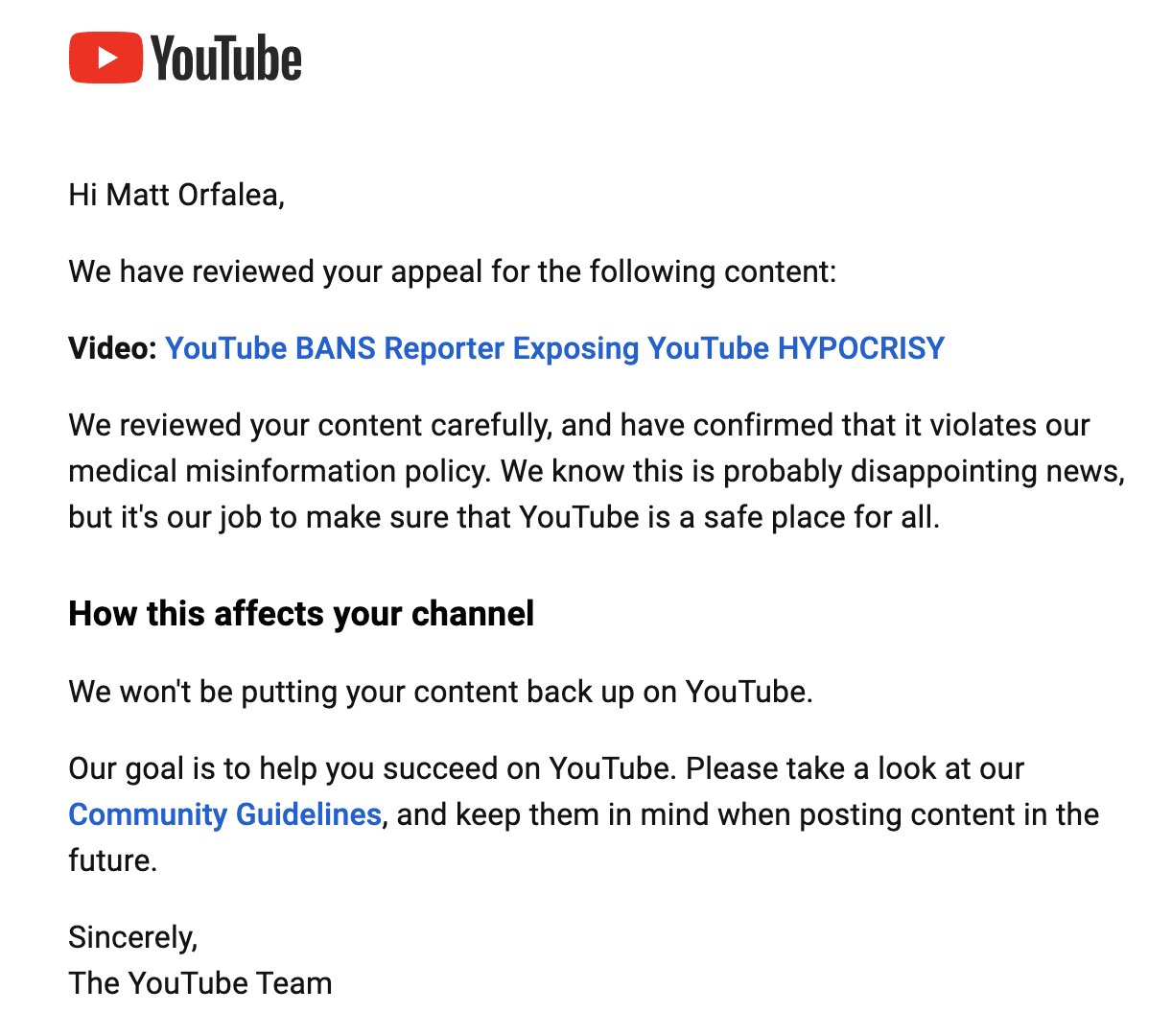 "I've been dealing with this insanity for almost a full month now," Orfalea said after YouTube rejected his appeal. "YT reinstated Alison's video. So they should reinstate my video, referencing hers, too!"
YouTube's consistent targeting of Orfalea is reflective of the double standard on YouTube between independent creators and mainstream media outlets that he called out in this now-censored video.
Independent creators are 20x less likely to top coronavirus search results, 14x less likely to be recommended on election related content, and 10x less likely to top search results for some other newsworthy events.
YouTube's CEO Susan Wojcicki has also admitted that the platform's recommendation algorithm was changed in response to the media's radicalization theory and said the platform won't recommend YouTubers for breaking news.
Related: 🛡 Big Tech's double standard on "conspiracy theories" when they come from mainstream media
3 Comments »
"Our beautiful heaven on Earth has morphed into a nightmarish hell on Earth over the last century and a quarter. The cause has been the incremental and multigenerational Jewification that has infiltrated into every aspect of our lives. It has slowly corroded and corrupted the moral fabric of the family unit and society as a whole; to the point where our very survival as a species is now in dire risk. Through their almost complete ownership of the matrix with its ubiquitous distractions to degrade humanity they are trying their best to coerce and assimilate us to believe that resistance is futile. It isn't." Mark R. Elsis, A Violent Insane Asylum (53 Pages) https://GoogleCensorship.com

Comment by jaguaroysteroberon98948 | July 14, 2021 |

You will believe what the "Tech Giants", Media Owners, and the Corrupted Politicians, tell you to believe………" Resistance is futile……..

"The are no facts, just opinions"……(Nietzsche)

LikeLike

Comment by brianharryaustralia | July 14, 2021 |
Visits Since December 2009

Looking for something?

Archives

Calendar

Categories

Tags

Recent Comments
More Links

Contact:

atheonews (at) gmail.com

Disclaimer

This site is provided as a research and reference tool. Although we make every reasonable effort to ensure that the information and data provided at this site are useful, accurate, and current, we cannot guarantee that the information and data provided here will be error-free. By using this site, you assume all responsibility for and risk arising from your use of and reliance upon the contents of this site.

This site and the information available through it do not, and are not intended to constitute legal advice. Should you require legal advice, you should consult your own attorney.

Nothing within this site or linked to by this site constitutes investment advice or medical advice.

Materials accessible from or added to this site by third parties, such as comments posted, are strictly the responsibility of the third party who added such materials or made them accessible and we neither endorse nor undertake to control, monitor, edit or assume responsibility for any such third-party material.

The posting of stories, commentaries, reports, documents and links (embedded or otherwise) on this site does not in any way, shape or form, implied or otherwise, necessarily express or suggest endorsement or support of any of such posted material or parts therein.

The word "alleged" is deemed to occur before the word "fraud." Since the rule of law still applies. To peasants, at least.

Fair Use

This site contains copyrighted material the use of which has not always been specifically authorized by the copyright owner. We are making such material available in our efforts to advance understanding of environmental, political, human rights, economic, democracy, scientific, and social justice issues, etc. We believe this constitutes a 'fair use' of any such copyrighted material as provided for in section 107 of the US Copyright Law. In accordance with Title 17 U.S.C. Section 107, the material on this site is distributed without profit to those who have expressed a prior interest in receiving the included information for research and educational purposes. For more info go to: http://www.law.cornell.edu/uscode/17/107.shtml. If you wish to use copyrighted material from this site for purposes of your own that go beyond 'fair use', you must obtain permission from the copyright owner.

DMCA Contact

This is information for anyone that wishes to challenge our "fair use" of copyrighted material.

If you are a legal copyright holder or a designated agent for such and you believe that content residing on or accessible through our website infringes a copyright and falls outside the boundaries of "Fair Use", please send a notice of infringement by contacting atheonews@gmail.com.

We will respond and take necessary action immediately.

If notice is given of an alleged copyright violation we will act expeditiously to remove or disable access to the material(s) in question.

All 3rd party material posted on this website is copyright the respective owners / authors. Aletho News makes no claim of copyright on such material.