Pfizer-backed CDC Foundation partnered with Facebook to fund social media tactics to increase "vaccine uptake"
The Pfizer-sponsored CDC Foundation has teamed up with Big Tech and Big Pharma giants Facebook and Merck, among others, in order to promote Covid vaccines.
The pressure group calls itself the Alliance for Advancing Health Online and some details about its purpose and organization are revealed in an email sent to the White House and obtained and shared by the Informed Consent Action Network (ICAN).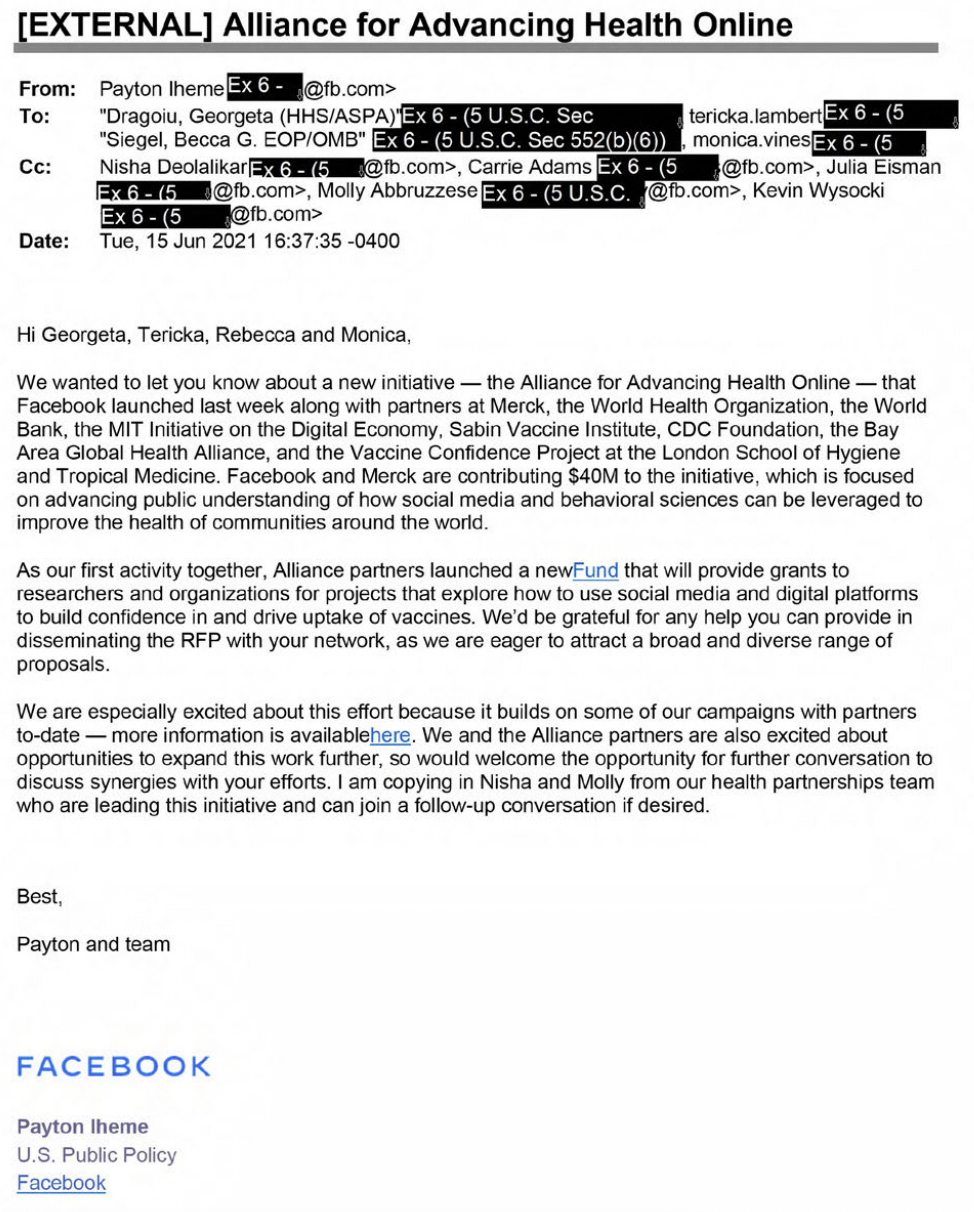 Other than the CDC Foundation, Facebook's partners are the World Health Organization, the World Bank, the MIT Initiative on the Digital Economy, Sabin Vaccine Institute, the Bay Area Global Health Alliance, and the Vaccine Confidence Project at the London School of Hygiene and Tropical Medicine.
During the fiscal years 2014 through 2018, the CDC Foundation reportedly received $79.6 million from companies Pfizer, Biogen, Merck, and others. Pfizer continues to be listed as a current donor.
ICAN noted that it emerges from the email – sent by Facebook's US Public Policy head Payton Iheme – that the purpose of the initiative is to use social media and platforms "to build confidence in and drive uptake of vaccines."
ICAN is a network whose mission is to promote putting authority over health choices in the hands of people whom these decisions affect, and parse out true medical information from that tainted by financial interest and advertising, which, they say, leads to "medical coercion" rather than tangible understanding of issues.
Now the group is suggesting there is conflict in the CDC Foundation forming an alliance to drive home the message of the need to get vaccinated as a matter of public health concern – when those selling the vaccines are members of that alliance. This is particularly pertinent as Facebook has been censoring some criticism of Pfizer vaccines.
The Centers for Disease Control and Prevention (CDC) is the US public health agency, but it is a handy technicality in this and similar instances that the CDC Foundation has been set up as a private nonprofit incorporated in Georgia, established by Congress through the Public Health Service Act.
Facebook and Merck are throwing in $40 million each to start off the operation, and the money will go towards research into "advancing public understanding of how social media and behavioral sciences can be leveraged to improve the health of communities around the world."
The first grants will be given to researchers and organizations who are exploring ways of using social media and digital platforms to build confidence in and drive uptake of vaccines, the email said.
Facebook's representative also wrote that the corporation and its partners in the alliance are looking to expand their work.
2 Comments »
Good find! Thanks, here's one for you, WHY the UK achieved victory! We can do this here. Watch this… strong stuff, attorney's have been sending notice to those who are forcing mandates that their actions are crimes against humanity. Perps are being warned that they will be held accountable. That's why whole nations have now begun abandoning mandates.

Watch this awesome video below by a UK attorney on how people have the power and are now notifying the perpetrators that they are commiting crimes and that they will be held accountable. So they are backing off.

Here's vid link https://zggg98sgwbg1gh.bitchute.com/RQ9un8QqOkYD/rm7Tl3rlIQPh.mp4

LikeLike

Comment by ldholm | January 19, 2022 |

Facebook has been constantly warning everyone about Vaccine critics, every time they attempt to get the Truth out, to the people, calling them anti-vaxxers, truth deniers, and any other "put down" they can invent, just to discredit the TRUTH……Zukerberg is a lowlife truth denier.

LikeLike

Comment by brianharryaustralia | January 19, 2022 |
More Links

Contact:

atheonews (at) gmail.com

Disclaimer

This site is provided as a research and reference tool. Although we make every reasonable effort to ensure that the information and data provided at this site are useful, accurate, and current, we cannot guarantee that the information and data provided here will be error-free. By using this site, you assume all responsibility for and risk arising from your use of and reliance upon the contents of this site.

This site and the information available through it do not, and are not intended to constitute legal advice. Should you require legal advice, you should consult your own attorney.

Nothing within this site or linked to by this site constitutes investment advice or medical advice.

Materials accessible from or added to this site by third parties, such as comments posted, are strictly the responsibility of the third party who added such materials or made them accessible and we neither endorse nor undertake to control, monitor, edit or assume responsibility for any such third-party material.

The posting of stories, commentaries, reports, documents and links (embedded or otherwise) on this site does not in any way, shape or form, implied or otherwise, necessarily express or suggest endorsement or support of any of such posted material or parts therein.

The word "alleged" is deemed to occur before the word "fraud." Since the rule of law still applies. To peasants, at least.

Fair Use

This site contains copyrighted material the use of which has not always been specifically authorized by the copyright owner. We are making such material available in our efforts to advance understanding of environmental, political, human rights, economic, democracy, scientific, and social justice issues, etc. We believe this constitutes a 'fair use' of any such copyrighted material as provided for in section 107 of the US Copyright Law. In accordance with Title 17 U.S.C. Section 107, the material on this site is distributed without profit to those who have expressed a prior interest in receiving the included information for research and educational purposes. For more info go to: http://www.law.cornell.edu/uscode/17/107.shtml. If you wish to use copyrighted material from this site for purposes of your own that go beyond 'fair use', you must obtain permission from the copyright owner.

DMCA Contact

This is information for anyone that wishes to challenge our "fair use" of copyrighted material.

If you are a legal copyright holder or a designated agent for such and you believe that content residing on or accessible through our website infringes a copyright and falls outside the boundaries of "Fair Use", please send a notice of infringement by contacting atheonews@gmail.com.

We will respond and take necessary action immediately.

If notice is given of an alleged copyright violation we will act expeditiously to remove or disable access to the material(s) in question.

All 3rd party material posted on this website is copyright the respective owners / authors. Aletho News makes no claim of copyright on such material.