Canada wants to make financial aspects of Emergencies Act permanent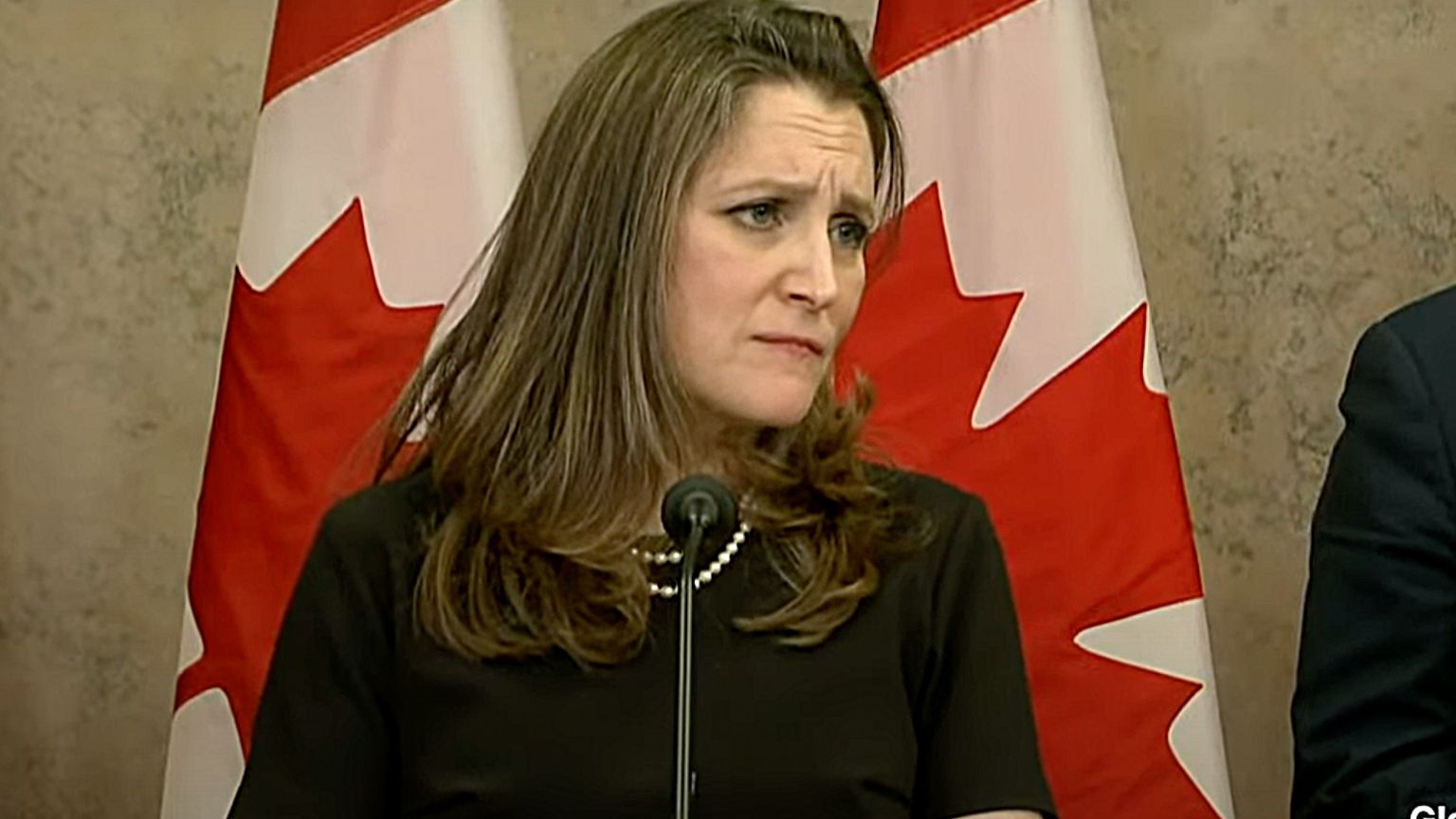 Canada's Deputy Prime Minister Chrystia Freeland wants to make permanent the invasive financial surveillance system introduced as part of the "Emergencies Act" to crush the civil liberties protests.
Freeland had announced the initial powers earlier this week to freeze the bank accounts of those who support the protests.
"As of today, all crowdfunding platforms, and the payment service providers they use, must register with FINTRAC and must report large and suspicious transactions to FINTRAC (Financial Transactions and Reports Analysis Centre of Canada)," Freeland said at the time. "This will help mitigate the risk that these platforms receive illicit funds; increase the quality and quantity of intelligence received by FINTRAC; and make more information available to support investigations by law enforcement into these illegal blockades."
"This is about following the money. This is about stopping the financing of these illegal blockades. We are today serving notice, if your truck is being used in these illegal blockades your corporate accounts will be frozen."
Under the Emergencies Act, banks are required to freeze accounts without the need for a court order.
Freeland explained: "The government is issuing an order with immediate effect under the Emergencies Act, authorizing Canadian financial institutions to temporarily cease providing financial services where the institution suspects that an account is being used to further the illegal blockades and occupations. This order covers both personal and corporate accounts."
But now, Freeland has announced that she plans to make some of the emergency measures permanent.
The government also intends to introduce new legislation to make new authorities for FINTRAC.
"We used all the tools that we had prior to the invocation of the Emergencies Act and we determined we needed some additional tools," Freeland announced in a panel interview on Zoom.
"Some of those tools we will be putting forward measures to put those tools permanently in place. The authorities of FINTRAC, I believe, do need to be expanded to cover crowdsourcing platforms and payment platforms."
5 Comments »
"Under the Emergencies Act, banks are required to freeze accounts without the need for a court order".

If that isn't Fascism, I don't know what is……

But, of course, this could start a "RUN" on the Banks, with people withdrawing their money before the government has a chance to "confiscate" it……..

LikeLike

Comment by brianharryaustralia | February 19, 2022 |

Banks have started to encounter "technical difficulties " in disbursing funds to customers withdrawing or transferring.

Comment by judyathomeblog | February 19, 2022 |

The bastards have thought of everything……

LikeLike

Comment by brianharryaustralia | February 19, 2022 |

Once upon a time highwaymen (or bushrangers in Australia) rode horses and wore a mask. Nowadays, everyone is forced to wear a mask, and the only way you can identify a highwayman is by the letters MP after his/her name, or someone sitting behind a bank counter.

Comment by Bill Francis | February 20, 2022 |

I was a Bank employee for 26 years and worked in Branches that had 25 or more staff. Today, those branches would have maybe 3 or 4 staff in the office. The Banks DO NOT want you in there. You have to do everything "on line" and be bored silly, trying to get a problem solved, while endless "marketing messages are drummed into your brain…….The Bastards have thought of every way to annoy you……

LikeLike

Comment by brianharryaustralia | February 20, 2022 |
More Links

Contact:

atheonews (at) gmail.com

Disclaimer

This site is provided as a research and reference tool. Although we make every reasonable effort to ensure that the information and data provided at this site are useful, accurate, and current, we cannot guarantee that the information and data provided here will be error-free. By using this site, you assume all responsibility for and risk arising from your use of and reliance upon the contents of this site.

This site and the information available through it do not, and are not intended to constitute legal advice. Should you require legal advice, you should consult your own attorney.

Nothing within this site or linked to by this site constitutes investment advice or medical advice.

Materials accessible from or added to this site by third parties, such as comments posted, are strictly the responsibility of the third party who added such materials or made them accessible and we neither endorse nor undertake to control, monitor, edit or assume responsibility for any such third-party material.

The posting of stories, commentaries, reports, documents and links (embedded or otherwise) on this site does not in any way, shape or form, implied or otherwise, necessarily express or suggest endorsement or support of any of such posted material or parts therein.

The word "alleged" is deemed to occur before the word "fraud." Since the rule of law still applies. To peasants, at least.

Fair Use

This site contains copyrighted material the use of which has not always been specifically authorized by the copyright owner. We are making such material available in our efforts to advance understanding of environmental, political, human rights, economic, democracy, scientific, and social justice issues, etc. We believe this constitutes a 'fair use' of any such copyrighted material as provided for in section 107 of the US Copyright Law. In accordance with Title 17 U.S.C. Section 107, the material on this site is distributed without profit to those who have expressed a prior interest in receiving the included information for research and educational purposes. For more info go to: http://www.law.cornell.edu/uscode/17/107.shtml. If you wish to use copyrighted material from this site for purposes of your own that go beyond 'fair use', you must obtain permission from the copyright owner.

DMCA Contact

This is information for anyone that wishes to challenge our "fair use" of copyrighted material.

If you are a legal copyright holder or a designated agent for such and you believe that content residing on or accessible through our website infringes a copyright and falls outside the boundaries of "Fair Use", please send a notice of infringement by contacting atheonews@gmail.com.

We will respond and take necessary action immediately.

If notice is given of an alleged copyright violation we will act expeditiously to remove or disable access to the material(s) in question.

All 3rd party material posted on this website is copyright the respective owners / authors. Aletho News makes no claim of copyright on such material.