Twitter is questioned over Hunter Biden laptop story censorship
In October 2020, just before the election, the New York Post published a story about Hunter Biden's potentially corrupt dealings when his father, Joe Biden, was vice president. The story was based on damning emails obtained from a laptop Hunter left at a repair shop in Delaware.
Twitter censored the story over the "origins of the material" and suspended the New York Post's account for two weeks. The online platforms also prevented users from sharing the story.
A few weeks ago, The New York Times confirmed the authenticity of what the New York Post called the "laptop from hell."
Now, Republican members of the House Election Integrity Caucus, led by Rep. Claudia Tenney, in a letter addressed to Twitter CEO Parag Agrawal, are asking for answers about the censorship of the story.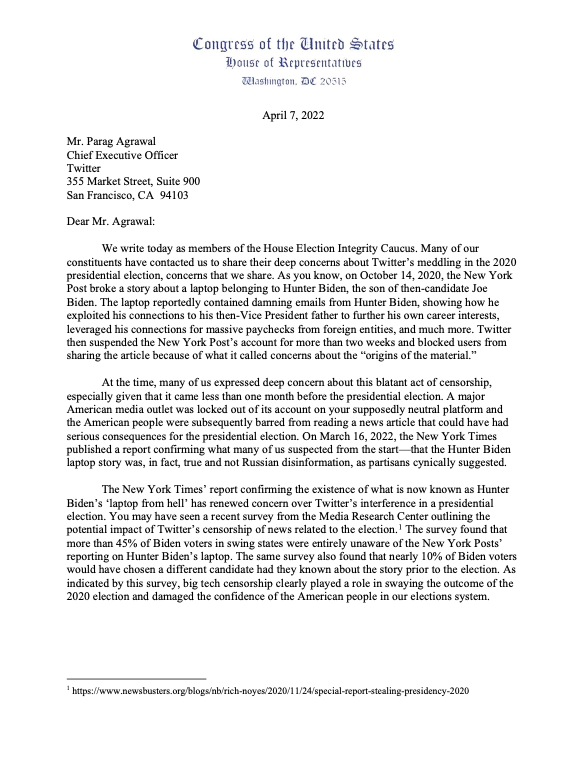 "Big Tech oligarchs have grown far too powerful, censoring free speech that challenges their preferred narrative and their handpicked politicians," Tenney told FOX Business. "In 2020, this reached a new low."
"Twitter's actions to silence the New York Post and others undoubtedly swayed the outcome of the presidential election. The free flow of information is key to a healthy democracy and to free and fair elections. Congress must be unequivocal in its response and hold Big Tech accountable."
The Republicans want Twitter to "provide answers to the American people." They also want Congress to "break up big tech, take an axe to Section 230, and ensure Silicon Valley elites can no longer interfere in our elections."
They argue that the laptop contained damning emails that could have worked in President Trump's favor.
"The laptop reportedly contained damning emails from Hunter Biden, showing how he exploited his connections to his then-vice president father to further his own career interests, leveraged his connections for massive paychecks from foreign entities, and much more," the lawmakers wrote.
"Twitter then suspended the New York Post's account for more than two weeks and blocked users from sharing the article because of what it called concerns about the 'origins of the material."
They added that the suspension prevented people from "reading a news article that could have had serious consequences for the presidential election."
The New York Times confirming the authenticity of the laptop has "renewed concern over Twitter's interference in a presidential election," according to the lawmakers.
In the letter, the legislators demand answers to several questions from Agrawal, including who "made the decision to censor the New York Post's story on Hunter Biden's 'laptop from hell.'" They also want to know if Twitter collaborated "with any individuals directly or indirectly involved with the Biden campaign" when it censored the story.
1 Comment »
RICO violation. Section 230 violation. Sedition. There is no way to compensate the world for the harm Twitter, Facebook, the Zionist MSM and more have done to the human journey.

Seize their assets. Convert platforms to public domain.

LikeLike

Comment by rediscover911com | April 11, 2022 |
More Links

Contact:

atheonews (at) gmail.com

Disclaimer

This site is provided as a research and reference tool. Although we make every reasonable effort to ensure that the information and data provided at this site are useful, accurate, and current, we cannot guarantee that the information and data provided here will be error-free. By using this site, you assume all responsibility for and risk arising from your use of and reliance upon the contents of this site.

This site and the information available through it do not, and are not intended to constitute legal advice. Should you require legal advice, you should consult your own attorney.

Nothing within this site or linked to by this site constitutes investment advice or medical advice.

Materials accessible from or added to this site by third parties, such as comments posted, are strictly the responsibility of the third party who added such materials or made them accessible and we neither endorse nor undertake to control, monitor, edit or assume responsibility for any such third-party material.

The posting of stories, commentaries, reports, documents and links (embedded or otherwise) on this site does not in any way, shape or form, implied or otherwise, necessarily express or suggest endorsement or support of any of such posted material or parts therein.

The word "alleged" is deemed to occur before the word "fraud." Since the rule of law still applies. To peasants, at least.

Fair Use

This site contains copyrighted material the use of which has not always been specifically authorized by the copyright owner. We are making such material available in our efforts to advance understanding of environmental, political, human rights, economic, democracy, scientific, and social justice issues, etc. We believe this constitutes a 'fair use' of any such copyrighted material as provided for in section 107 of the US Copyright Law. In accordance with Title 17 U.S.C. Section 107, the material on this site is distributed without profit to those who have expressed a prior interest in receiving the included information for research and educational purposes. For more info go to: http://www.law.cornell.edu/uscode/17/107.shtml. If you wish to use copyrighted material from this site for purposes of your own that go beyond 'fair use', you must obtain permission from the copyright owner.

DMCA Contact

This is information for anyone that wishes to challenge our "fair use" of copyrighted material.

If you are a legal copyright holder or a designated agent for such and you believe that content residing on or accessible through our website infringes a copyright and falls outside the boundaries of "Fair Use", please send a notice of infringement by contacting atheonews@gmail.com.

We will respond and take necessary action immediately.

If notice is given of an alleged copyright violation we will act expeditiously to remove or disable access to the material(s) in question.

All 3rd party material posted on this website is copyright the respective owners / authors. Aletho News makes no claim of copyright on such material.