YouTube CEO announces "misinformation research and initiatives" partnership with Latino rights group
YouTube CEO Susan Wojcicki has revealed that the platform will be partnering with the largest national Latino civil rights and advocacy organization in the United States, UnidosUS, on "misinformation research and initiatives."
While Wojcicki didn't reveal any further details of this partnership, she reiterated that YouTube is "working every day to fight misinformation."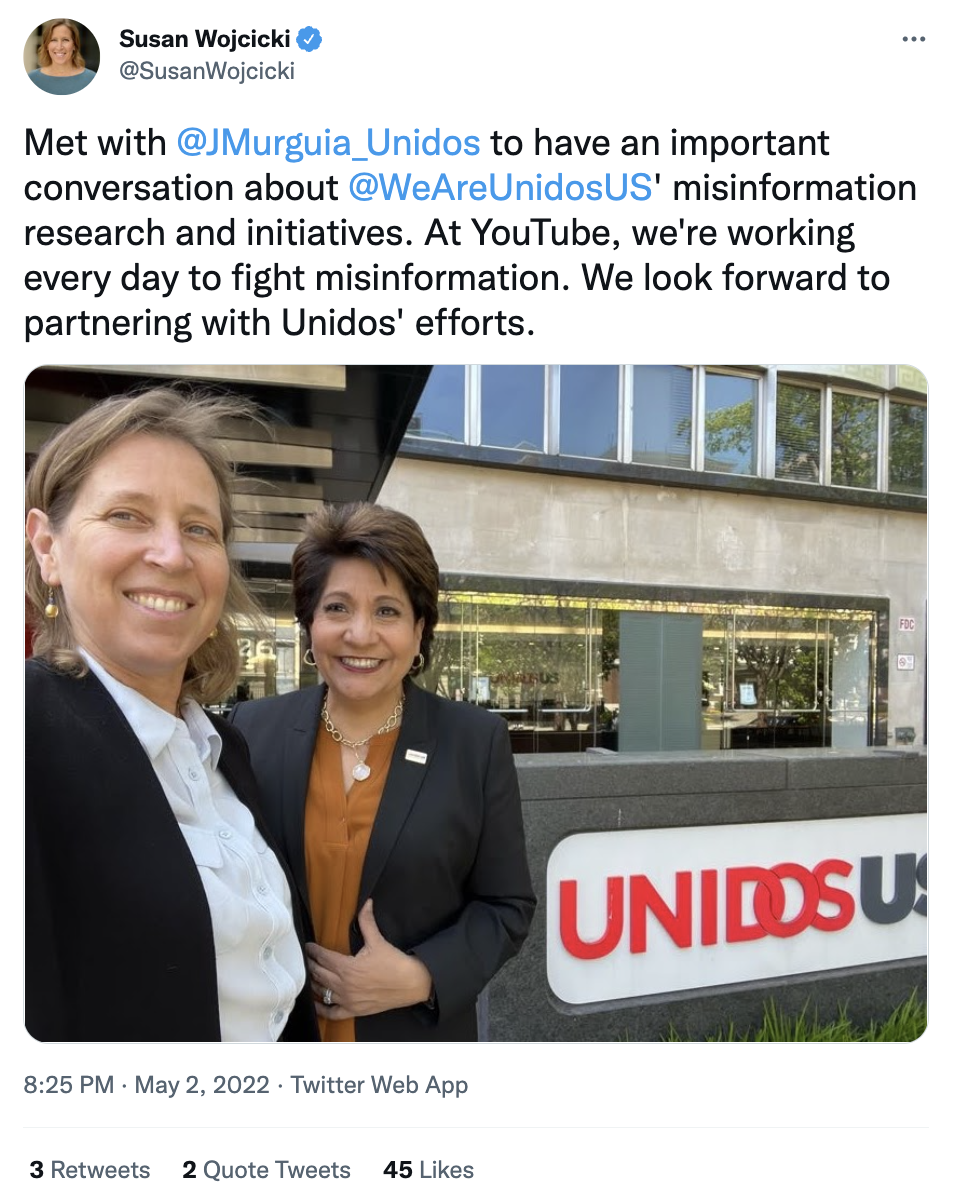 Wojcicki previously described tackling misinformation as one of her top priorities and YouTube has deleted more than a million videos for containing what it deems to be "COVID misinformation."
UnidosUS President and CEO Janet Murguía echoed Wojcicki's enthusiasm for targeting online misinformation in a tweet about the partnership.
"Eager as well to move forward on the key issue of addressing disinfo & misinformation in English & Spanish," Murguía tweeted.
Murguía added that she's united with the Congressional Hispanic Caucus (CHC) on UnidosUS's efforts.
Wojcicki met with members of the CHC last week to discuss Spanish-language misinformation. After the meeting, the CHC said that addressing Spanish-language "dis/misinformation" is an "urgent priority."
Although the specifics of YouTube and UnidosUS's partnership have yet to be disclosed, UnidosUS has previously pressured Big Tech platforms to "address" misinformation.
Last October, the group cut ties with Facebook after former employee Frances Haugen's shared internal documents that suggested the tech giant was aware of the platform having a negative impact on some users.
"We have called attention repeatedly to concerns about the negative impact that the proliferation of hate and misinformation on the platform has had on the Latino community," Murguía stated at the time. "We know now that Facebook's failure to adequately address those concerns was deliberate and resulted in even greater levels of hate and misinformation on the site."
Last December, Murguía lamented that Congress has never held a hearing dedicated to Facebook's "failure to address Spanish-language misinformation" and demanded that Meta CEO Mark Zuckerberg "tell Congress why Facebook perpetuates Spanish-language misinformation."
Related: 🛡 How the term "misinformation" was weaponized as an online censorship tool amid the coronavirus pandemic
1 Comment »
What gives You Tube the idea that only IT knows the TRUTH???……(along with the ratbag that runs Facebook, Twitter etc etc……not to mention the New York Times, Wapo, and the Mainstream media in general.

And if RUPERT("Goebbels") Murdoch, reports anything at all, on any of His Media……treat it as a LIE…….

LikeLike

Comment by brianharryaustralia | May 4, 2022 |
More Links

Contact:

atheonews (at) gmail.com

Disclaimer

This site is provided as a research and reference tool. Although we make every reasonable effort to ensure that the information and data provided at this site are useful, accurate, and current, we cannot guarantee that the information and data provided here will be error-free. By using this site, you assume all responsibility for and risk arising from your use of and reliance upon the contents of this site.

This site and the information available through it do not, and are not intended to constitute legal advice. Should you require legal advice, you should consult your own attorney.

Nothing within this site or linked to by this site constitutes investment advice or medical advice.

Materials accessible from or added to this site by third parties, such as comments posted, are strictly the responsibility of the third party who added such materials or made them accessible and we neither endorse nor undertake to control, monitor, edit or assume responsibility for any such third-party material.

The posting of stories, commentaries, reports, documents and links (embedded or otherwise) on this site does not in any way, shape or form, implied or otherwise, necessarily express or suggest endorsement or support of any of such posted material or parts therein.

The word "alleged" is deemed to occur before the word "fraud." Since the rule of law still applies. To peasants, at least.

Fair Use

This site contains copyrighted material the use of which has not always been specifically authorized by the copyright owner. We are making such material available in our efforts to advance understanding of environmental, political, human rights, economic, democracy, scientific, and social justice issues, etc. We believe this constitutes a 'fair use' of any such copyrighted material as provided for in section 107 of the US Copyright Law. In accordance with Title 17 U.S.C. Section 107, the material on this site is distributed without profit to those who have expressed a prior interest in receiving the included information for research and educational purposes. For more info go to: http://www.law.cornell.edu/uscode/17/107.shtml. If you wish to use copyrighted material from this site for purposes of your own that go beyond 'fair use', you must obtain permission from the copyright owner.

DMCA Contact

This is information for anyone that wishes to challenge our "fair use" of copyrighted material.

If you are a legal copyright holder or a designated agent for such and you believe that content residing on or accessible through our website infringes a copyright and falls outside the boundaries of "Fair Use", please send a notice of infringement by contacting atheonews@gmail.com.

We will respond and take necessary action immediately.

If notice is given of an alleged copyright violation we will act expeditiously to remove or disable access to the material(s) in question.

All 3rd party material posted on this website is copyright the respective owners / authors. Aletho News makes no claim of copyright on such material.