The DHS' latest appointment to the Disinformation Board adds to its credibility problem
Michael Chertoff himself has pushed false claims about disinformation and is a prime example of how boards such as this shouldn't exist
The US administration is getting further entangled in missteps, in an attempt to create a credible Disinformation Governance Board.
The latest addition to the outfit, former Department of Homeland Security Secretary Michael Chertoff – now nominated as the board's adviser by the same agency – is unlikely to add to the credibility or clear up "confusion" about the board's role – given that he, too, in the past peddled misinformation, reports say.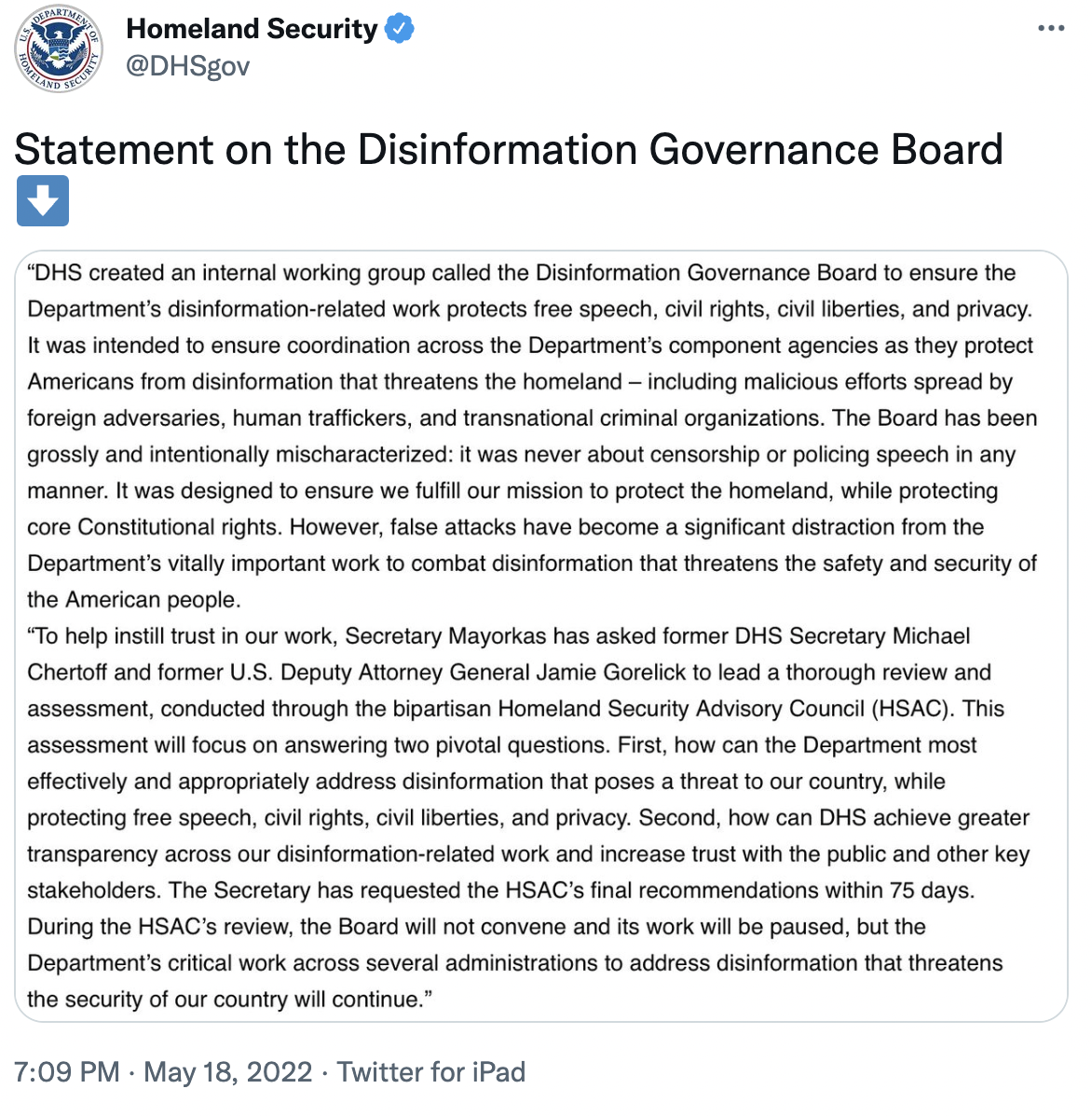 The infamous case of the Hunter Biden laptop is at the center of it all, as more officials who have pushed the now-debunked theory that the emails retrieved from the device were not authentic but a Russian conspiracy are getting appointed to the board.
This new government body is often referred to by critics as the "Ministry of Truth" – a reference to Orwell's "1984" where the said ministry served a purpose opposite of "truth" – its job was to falsify historical events in order to advance government propaganda.
Chertoff – along with former CIA director Leon Panetta and several others who also in the past broadcast what turned out to be false claims that the publishing of the Biden emails was "a Russian operation" are now joining the board in advisory roles.
The necessity to do something to save face shortly after this body was launched comes because of the actions of its executive director, Nina Jankowicz, who also believes that the emails coming to light were the result of "a Russian influence operation."
Chertoff himself said in the wake of the 2020 election – ahead of which the Biden laptop story was suppressed and censored by Big Tech and Big Media – that it was the Russians who got their hands on the emails and that those saying they were recovered from Hunter Biden's abandoned computer were "preposterous."
Nearly two years later, however, there has been no evidence to prove otherwise. The authenticity of emails messages has been forensically verified, and the repair shop owner, John Paul Mac Isaac, said that Hunter Biden left the laptop there in 2019 and never came back.
Isaac first gave a copy of the hard drive to the FBI later that year, and then to President Trump's associates, who forwarded the documents to the New York Post.
6 Comments »
If the rumor that Michael Chertoff is stepping in to the position which Nina Jankowicz resigned, great! This is reminiscent of Henry Kissinger stepping down from heading the 9-11 Commission before the Commission got started—to be replaced by myth-maker/myth-preserver Philip Zelikow. Probably, Philip Zelikow was on the list of candidates for heading the Ministry of Truth.

It is reported that "Chertoff" in Russian means "son of the devil". He was a co-author of the "Patriot" Act.

Chertoff's mother was an El Al airline employee—and said to have been a Mossad agent.

Comment by John Edward Kendrick | May 21, 2022 |

Can Michael Chertoff do Karioki?

Imagine him sing-songing a Kairoki, "By way of deception thou shalt do war on misinformation and the Bill of Rights."

Imagine him introduced at the White House by Karine Jean-Pierre after she fumbles a question about what ice cream Joe Biden likes and she then embraces and bids a very affectionate farewell to Nina Jankowicz.

The mind reels day after day…

Comment by michael | May 21, 2022 |

Chertoff is a JewSOB money-grubber extraordinaire who, as I recall, left his DHS perch and immediately signed on in executive positions with hardware manufacturers of the very sort that were being awarded millions/billions of dollars to emplace here, there, and everywhere machinery and IT systems purposing the monitoring of and spying on Americans. How much an uber-multi-millionaire has this cadaver-visaged/eyes-of-death Beltway Bandit become? And now he's baaaack? Aaaaack!

Good, essential report. Thanks.

Comment by roberthstiver | May 21, 2022 |

In just about every position of power in the upper reaches of the American Government, Judiciary, Pentagon, CIA, MIC, Homeland security etc etc, you will find a "Dual Passport Holder"…….

America, has been 'taken over' from within.

Is it any wonder that, Israeli PM(at the time) Ariel Sharon said(significantly, just after "9/11") "Don't worry about American pressure on Israel, we, the Jewish people, control America, and the Americans know it"……..

"Every American should be afraid…..very afraid"….(as they say in Hollywood)

Comment by brianharryaustralia | May 21, 2022 |

I am indeed very afraid…and outraged, Brian…and powerless in the face of immense, evil power and money and influence and agenda….

But let us pity and have solidarity with the Palestinians above all else….

Comment by roberthstiver | May 21, 2022 |

I think the Palestinians have a bleak future, living next door to "The Devil", who are skilled at playing the(Holocaust) victim, but, are every bit as bad as those 'nasty' Germans were, to them. If there is a GOD(who was Jewish, apparently), I doubt the Palestinians will get a fair deal……….

Comment by brianharryaustralia | May 21, 2022 |
More Links

Contact:

atheonews (at) gmail.com

Disclaimer

This site is provided as a research and reference tool. Although we make every reasonable effort to ensure that the information and data provided at this site are useful, accurate, and current, we cannot guarantee that the information and data provided here will be error-free. By using this site, you assume all responsibility for and risk arising from your use of and reliance upon the contents of this site.

This site and the information available through it do not, and are not intended to constitute legal advice. Should you require legal advice, you should consult your own attorney.

Nothing within this site or linked to by this site constitutes investment advice or medical advice.

Materials accessible from or added to this site by third parties, such as comments posted, are strictly the responsibility of the third party who added such materials or made them accessible and we neither endorse nor undertake to control, monitor, edit or assume responsibility for any such third-party material.

The posting of stories, commentaries, reports, documents and links (embedded or otherwise) on this site does not in any way, shape or form, implied or otherwise, necessarily express or suggest endorsement or support of any of such posted material or parts therein.

The word "alleged" is deemed to occur before the word "fraud." Since the rule of law still applies. To peasants, at least.

Fair Use

This site contains copyrighted material the use of which has not always been specifically authorized by the copyright owner. We are making such material available in our efforts to advance understanding of environmental, political, human rights, economic, democracy, scientific, and social justice issues, etc. We believe this constitutes a 'fair use' of any such copyrighted material as provided for in section 107 of the US Copyright Law. In accordance with Title 17 U.S.C. Section 107, the material on this site is distributed without profit to those who have expressed a prior interest in receiving the included information for research and educational purposes. For more info go to: http://www.law.cornell.edu/uscode/17/107.shtml. If you wish to use copyrighted material from this site for purposes of your own that go beyond 'fair use', you must obtain permission from the copyright owner.

DMCA Contact

This is information for anyone that wishes to challenge our "fair use" of copyrighted material.

If you are a legal copyright holder or a designated agent for such and you believe that content residing on or accessible through our website infringes a copyright and falls outside the boundaries of "Fair Use", please send a notice of infringement by contacting atheonews@gmail.com.

We will respond and take necessary action immediately.

If notice is given of an alleged copyright violation we will act expeditiously to remove or disable access to the material(s) in question.

All 3rd party material posted on this website is copyright the respective owners / authors. Aletho News makes no claim of copyright on such material.