Melting ice brings Chinese threat closer, warns Armed Forces chief
Melting ice caps will enable China's military forces to "reach into the Atlantic", the Chief of the Defence Staff has warned.

At an address on Wednesday, Admiral Sir Tony Radakin urged people to consider what effect climate change would have on the security of the nation.

In his annual Royal United Services Institute address, Sir Tony said: "We also need to consider the melting of the ice caps in the coming decades, which will: unleash a difficult new competition for minerals and resources; halve the time it takes for shipping to travel between Asia and Europe; and surely China's military forces will start to reach into the Atlantic?"

The High North becoming more open and accessible due to melting ice caps has been worrying military figures for some time.

As the former first sea lord, Sir Tony previously warned that, as the transit time between Europe and Asia inevitably shortens, so too can the West expect to see China sailing its "growing navy" through the shorter route.

https://www.telegraph.co.uk/news/2022/12/14/chinas-military-could-reach-atlantic-ice-caps-melt-warns-armed/
Chinese ships may be able to sail through the Northeast Passage for a couple of weeks weeks in summer, but would have a job getting back home again through two meter ice: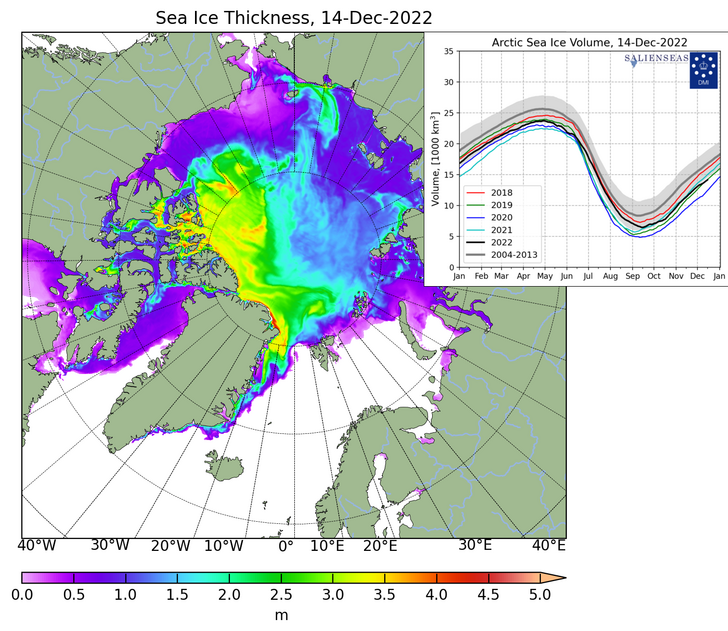 In fact this year the Passage was still blocked as late as mid August, and was blocked again by October.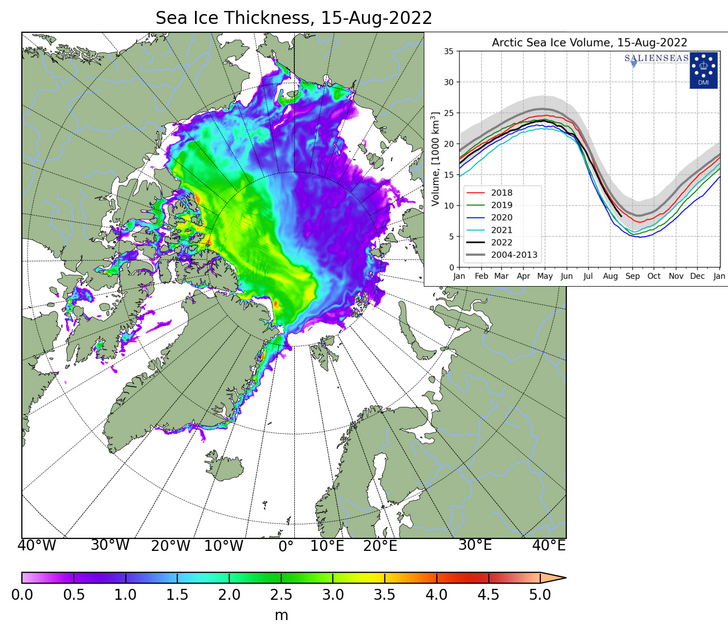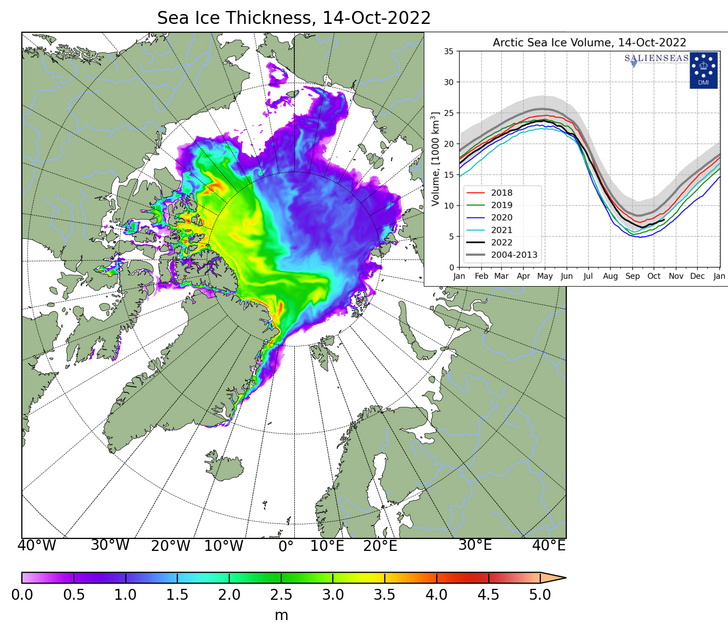 And none of this is going to change for one very good reason. By autumn the sun in the Arctic is already going down over the horizon. And without the sun, the sea quickly refreezes.
It is absurd to believe that China or any other country would send its navy out into the Arctic Ocean in these circumstances.
Which leads to the question why Tony Radakin is making a fool of himself. The only conclusion I can come to is that he is under orders to play the climate card, so as to scare the public.
6 Comments »
"Which leads to the question why Tony Radakin is making a fool of himself. The only conclusion I can come to is that he is under orders to play the climate card, so as to scare the public".

Just look at the scare campaign behind the "Covid Pandemic" Total, Full on, scary headlines, every day for 2 1/2 years.

Keeping "The People" scared, is one of the highest priorities of any government…..First you scare them, and then you offer them the solution, (which you had previously prepared).

Americans, and the rest of us, CANNOT trust our very powerful MEDIA Oligarchs (particularly, the "Evil American", Rupert Merde-Och.

LikeLike

Comment by brianharryaustralia | December 16, 2022 |

There are many climate scientists who debunk the hoax that we have an imminent crisis on our hands, with the polar caps melting and polar bears about to block traffic in Los Angeles. But the globalists keep milking this hoax because the masses buy it, just as they bought into the covid hoax, and are using it to tighten the control over mankind. In a way I can't really blame the globalists for looking down on the rest of us and believing that they are a superior group of humanity who need to reduce population and subject everyone to their will. We give them that vision and the power to manipulate us through our passivity and lack of interest in our own future. So, when it has all been completed, we will have earned it.

LikeLike

Comment by Peter | December 16, 2022 |

BE wary when politician(s) are trying to scare you…….First they scare you, and then they 'ferk' you.

LikeLike

Comment by brianharryaustralia | December 16, 2022 |

Well, they have been "ferking" us for many decades, before they kicked the scare tactics into high gear. I don't worry about politicians, Schwab, Gates, Harari and such. I worry about the sheeple that just go about their business as if nothing threatening is on the horizon. They are the ones who got royally "ferked" and still don't know it, and have caused the rest of us to get "ferked" by proxy.

Comment by Peter | December 16, 2022 |

Good word, 'ferked'……so meaningful, but not offensive…..

LikeLike

Comment by brianharryaustralia | December 16, 2022 |

Climate change is nothing more than the globalist recouping the cost of purchasing the weather modification technology developed by the US military contractors who own the patents. Climate change is the excuse used to explain the effects of weather modification being used to melt the ice. The poles are rich in minerals

LikeLike

Comment by raggs12 | December 16, 2022 |
An error has occurred; the feed is probably down. Try again later.

More Links

Contact:

atheonews (at) gmail.com

Disclaimer

This site is provided as a research and reference tool. Although we make every reasonable effort to ensure that the information and data provided at this site are useful, accurate, and current, we cannot guarantee that the information and data provided here will be error-free. By using this site, you assume all responsibility for and risk arising from your use of and reliance upon the contents of this site.

This site and the information available through it do not, and are not intended to constitute legal advice. Should you require legal advice, you should consult your own attorney.

Nothing within this site or linked to by this site constitutes investment advice or medical advice.

Materials accessible from or added to this site by third parties, such as comments posted, are strictly the responsibility of the third party who added such materials or made them accessible and we neither endorse nor undertake to control, monitor, edit or assume responsibility for any such third-party material.

The posting of stories, commentaries, reports, documents and links (embedded or otherwise) on this site does not in any way, shape or form, implied or otherwise, necessarily express or suggest endorsement or support of any of such posted material or parts therein.

The word "alleged" is deemed to occur before the word "fraud." Since the rule of law still applies. To peasants, at least.

Fair Use

This site contains copyrighted material the use of which has not always been specifically authorized by the copyright owner. We are making such material available in our efforts to advance understanding of environmental, political, human rights, economic, democracy, scientific, and social justice issues, etc. We believe this constitutes a 'fair use' of any such copyrighted material as provided for in section 107 of the US Copyright Law. In accordance with Title 17 U.S.C. Section 107, the material on this site is distributed without profit to those who have expressed a prior interest in receiving the included information for research and educational purposes. For more info go to: http://www.law.cornell.edu/uscode/17/107.shtml. If you wish to use copyrighted material from this site for purposes of your own that go beyond 'fair use', you must obtain permission from the copyright owner.

DMCA Contact

This is information for anyone that wishes to challenge our "fair use" of copyrighted material.

If you are a legal copyright holder or a designated agent for such and you believe that content residing on or accessible through our website infringes a copyright and falls outside the boundaries of "Fair Use", please send a notice of infringement by contacting atheonews@gmail.com.

We will respond and take necessary action immediately.

If notice is given of an alleged copyright violation we will act expeditiously to remove or disable access to the material(s) in question.

All 3rd party material posted on this website is copyright the respective owners / authors. Aletho News makes no claim of copyright on such material.