America's Frontline Doctors scrambled for new host after WebFlow pulled support due to Amazon "misinformation" rule
Amazon could have forced America's Frontline Doctors (AFLDS) offline had the organization not acted quickly to look for an alternative. The Big Tech company seems to have taken issue with the organization for claiming COVID-19 vaccines may not be worth it in children.
America's Frontline Doctors had its website built with WebFlow, which is ultimately hosted on Amazon Web Services (AWS).
Amazon, like other Big Tech, deemed the organization's content to be "misinformation" and issued a notice last month that it should be removed from AWS.
"We wanted to reach out to you about your project, americasfrontlinedoctors.org. This project is hosting misinformation about vaccines and was reported as objectionable content to AWS," the notice from WebFlow stated. "AWS is the service we use at Webflow to host our websites so we can no longer host americasfrontlinedoctors.org."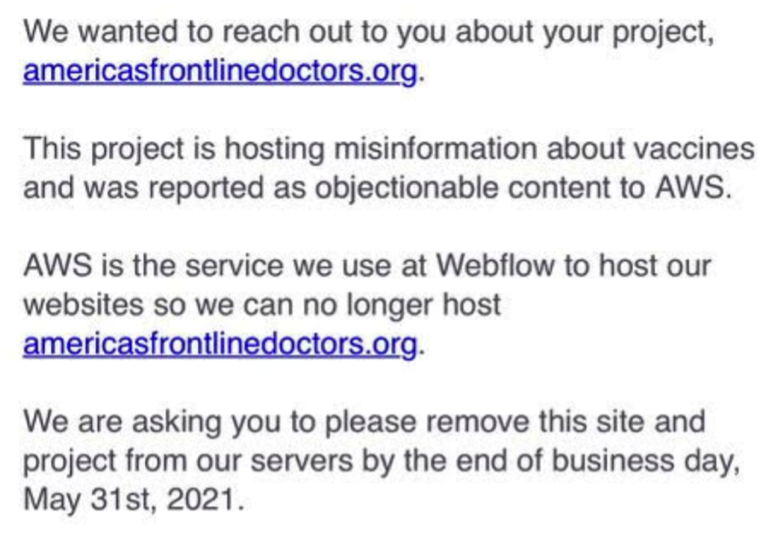 Amazon gave the organization until May 31 to switch to a different host.
The notice forced AFLDS to rebuild its website from scratch using servers located around the globe.
"We were forced to take immediate action because we will never allow Jeff Bezos and Amazon to censor us from speaking freely about medical treatments, medical studies and individual liberty, or from challenging the government narrative surrounding COVID-19 vaccines," the AFLDS said in a statement.
"Jeff Bezos and Amazon cannot argue with our scientific data and facts, so they would rather delete us entirely," the statement added. "We have already been blacklisted on social media, and cannot host videos on YouTube. We must build our own internet servers that cannot be silenced by Big Tech, Big Pharma or Big Government."
AFLDS is an organization that claims to be committed to "providing Americans with science-based facts about COVID-19 and fighting the politicization of medicine and media censorship."
It first became popular when it held a censored press conference where some of its members promoted hydroxychloroquine, an FDA-approved medication that the WHO and CDC at the time insisted is not effective against COVID.
Amazon's notice came a few days after AFLDS filed a motion seeking a temporary restraining order (TRO) at a federal court against the vaccination of children under the age of 16. The organization argued that the emergency use authorization (EUA) allowing the vaccination of kids should not have been granted.
1 Comment »
God Bless America's frontline doctors and all the others fighting Genocide on the people by Corp. Powers and Government Stooges who have delegated their responsibilities to the corp. power for greed and there are many coming forth every day and they can still be found on the internet and knowledge is power but by not searching out knowledge makes us all ignorant and weak as a society

Comment by wteach64 | June 22, 2021 |
Visits Since December 2009

Looking for something?

Archives

Calendar

Categories

Tags

Recent Comments
An error has occurred; the feed is probably down. Try again later.

More Links

Contact:

atheonews (at) gmail.com

Disclaimer

This site is provided as a research and reference tool. Although we make every reasonable effort to ensure that the information and data provided at this site are useful, accurate, and current, we cannot guarantee that the information and data provided here will be error-free. By using this site, you assume all responsibility for and risk arising from your use of and reliance upon the contents of this site.

This site and the information available through it do not, and are not intended to constitute legal advice. Should you require legal advice, you should consult your own attorney.

Nothing within this site or linked to by this site constitutes investment advice or medical advice.

Materials accessible from or added to this site by third parties, such as comments posted, are strictly the responsibility of the third party who added such materials or made them accessible and we neither endorse nor undertake to control, monitor, edit or assume responsibility for any such third-party material.

The posting of stories, commentaries, reports, documents and links (embedded or otherwise) on this site does not in any way, shape or form, implied or otherwise, necessarily express or suggest endorsement or support of any of such posted material or parts therein.

The word "alleged" is deemed to occur before the word "fraud." Since the rule of law still applies. To peasants, at least.

Fair Use

This site contains copyrighted material the use of which has not always been specifically authorized by the copyright owner. We are making such material available in our efforts to advance understanding of environmental, political, human rights, economic, democracy, scientific, and social justice issues, etc. We believe this constitutes a 'fair use' of any such copyrighted material as provided for in section 107 of the US Copyright Law. In accordance with Title 17 U.S.C. Section 107, the material on this site is distributed without profit to those who have expressed a prior interest in receiving the included information for research and educational purposes. For more info go to: http://www.law.cornell.edu/uscode/17/107.shtml. If you wish to use copyrighted material from this site for purposes of your own that go beyond 'fair use', you must obtain permission from the copyright owner.

DMCA Contact

This is information for anyone that wishes to challenge our "fair use" of copyrighted material.

If you are a legal copyright holder or a designated agent for such and you believe that content residing on or accessible through our website infringes a copyright and falls outside the boundaries of "Fair Use", please send a notice of infringement by contacting atheonews@gmail.com.

We will respond and take necessary action immediately.

If notice is given of an alleged copyright violation we will act expeditiously to remove or disable access to the material(s) in question.

All 3rd party material posted on this website is copyright the respective owners / authors. Aletho News makes no claim of copyright on such material.